How to make your own Sensory Resources
I love thinking of ways to provide children with simple everyday opportunities to engage in sensory play activities and experiences. I truly believe it is one of the best forms of play that educators and parents can offer young children.
I also believe being exposed to sensory play in different forms is a big reason why my daughter Ruby was able to overcome many of her sensory processing challenges. I worked hard to make sure she was exposed to many different textures, smells and play experiences since she was a baby and I've seen how it has worked to desensitize her fear in many areas so you can certainly see why I feel it is so important!
Sensory play is not just 'messy play' (although I do love the many benefits of messy play!). Even if you don't feel comfortable providing everyday messy play experiences there is no excuse not to regularly provide access to simple sensory play for all ages with just a few simple resources or tools.
And before you tell me you don't have the time or budget…. take a wander through the DIY projects shared below for a little inspiration and motivation to get cracking making your own sensory paths, walls and toys – many you can also create WITH the children!
I'm sharing some of my favourite projects from around the web as well as highlighting the creative DIY skills of some of our Empowered Ed Facebook Community Educators.

Make a Sensory Wall!
Sensory walls invite investigation, exploration using different senses and opportunities to extend on language skills. No need to overthink how to set one up though – if you don't have a wall space you can use why not try the back of a door, a wooden board, fence, or length of material you can hang from a tree branch.
Take a look at some of the ideas shared below to help get those creative juices flowing!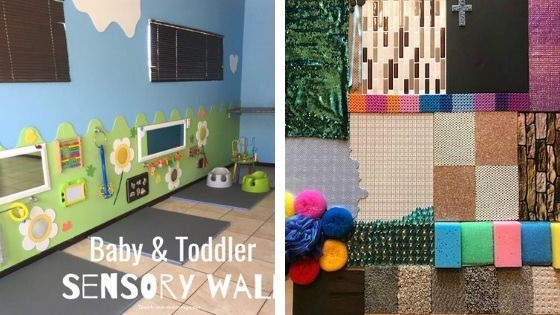 Inspiration above left to right…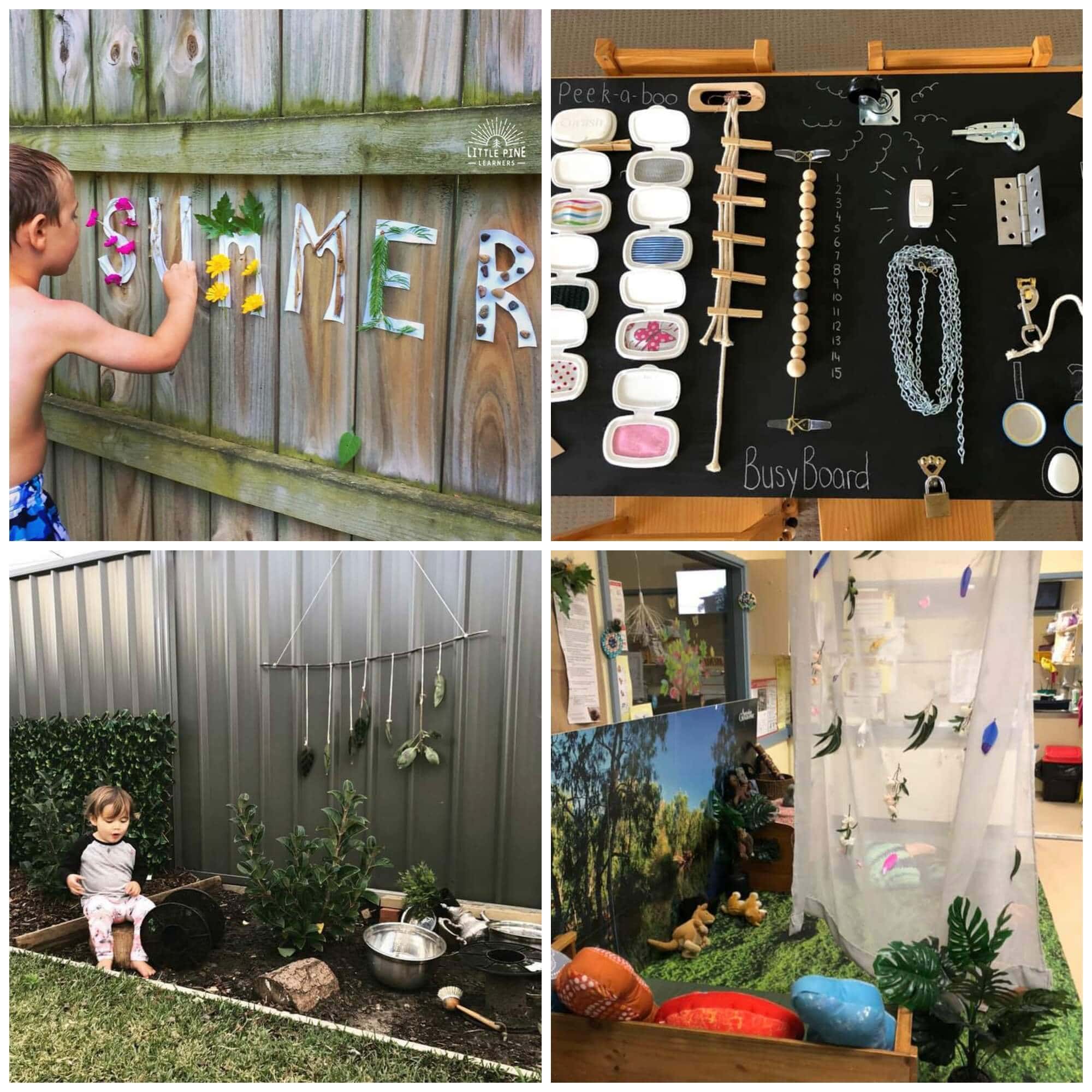 Inspiration above beginning top left…
Empowered Educator Tara

 

used sticky contact paper to make this interactive sensory wall to invite creativity outdoors!

Empowered Educator Brooke

made this inviting busy board – so many different textures, sounds and sights for little fingers to investigate!

Empowered Educator Brooke

upcycled an old hoop and added a curtain to create this simple sensory space.

Empowered Educator Clare

adds to the sensory fun for her toddlers using just a stick and other simple textured materials hanging low on the fence. Love the shiny, reflective real tea set and bowls to play with in the dirt patch too!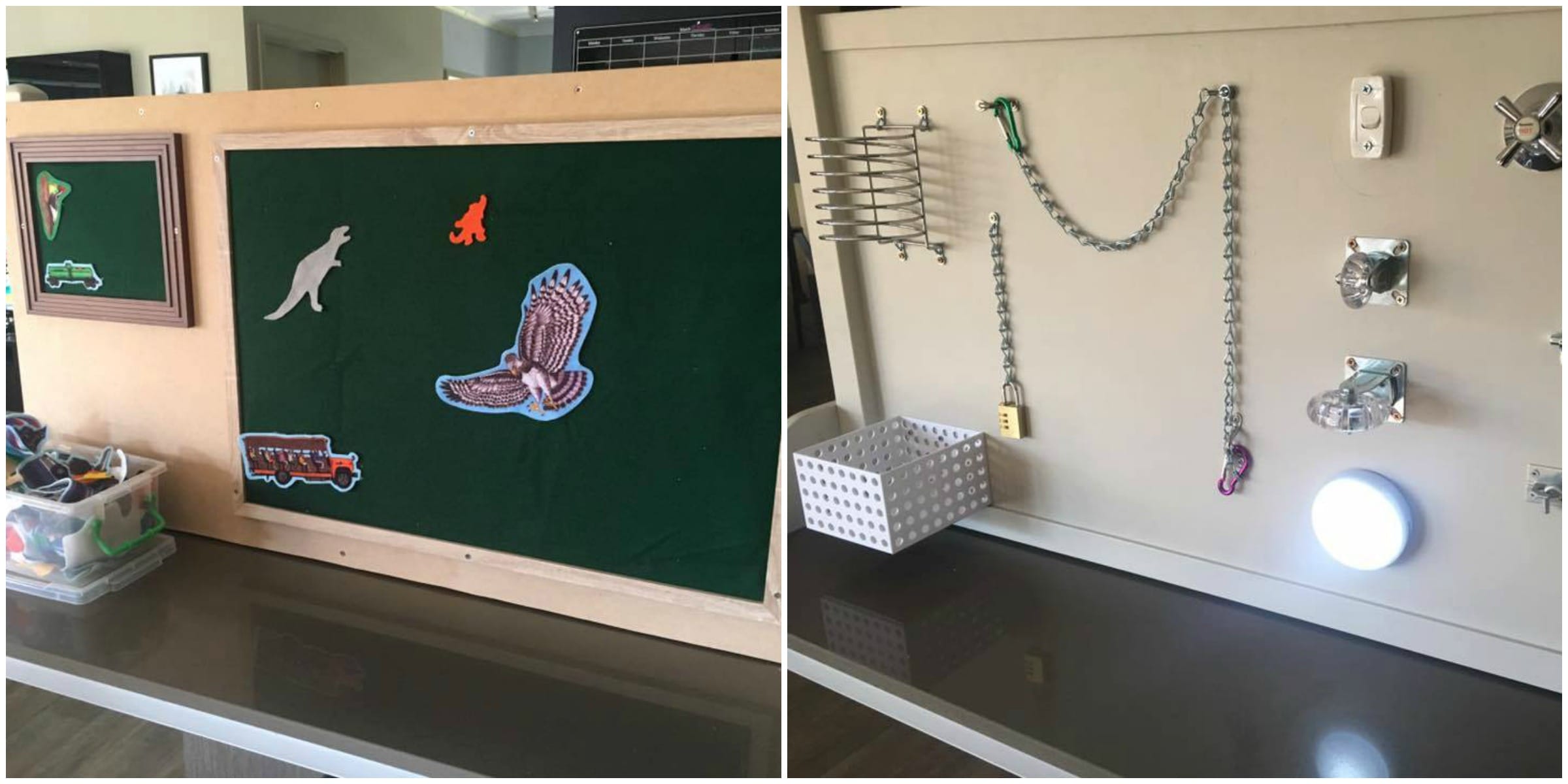 DIY Inspiration above with this clever 2 sided sensory board from Empowered Educator Member Lisa…
Fine motor sensory fun for little fingers with a feltboard on one side….
And a tinker board with everyday materials to explore on the other side!
Make a Sensory Path!
Sensory pathways don't need to break the budget or take a landscape builder to put together. Collect a few different everyday materials, decide on what you can use for your edging (that you will no doubt already have lying around somewhere) then put it together any way you like – short or long it is up to you. Why not ask the children to help you with the design and construction and work on it together as a group project?
If you need a little inspiration to take the next step (yep, see what I did there ha!) take a look through these ideas from some of our clever Empowered Educator Facebook Group Community Members.
Empowered Educator

Madonna

shows us how different lengths of timber come together to form edging for this simple sensory pathway. Sand, pebbles, gravel, soil and more, invite children to explore with their senses while having fun outdoors!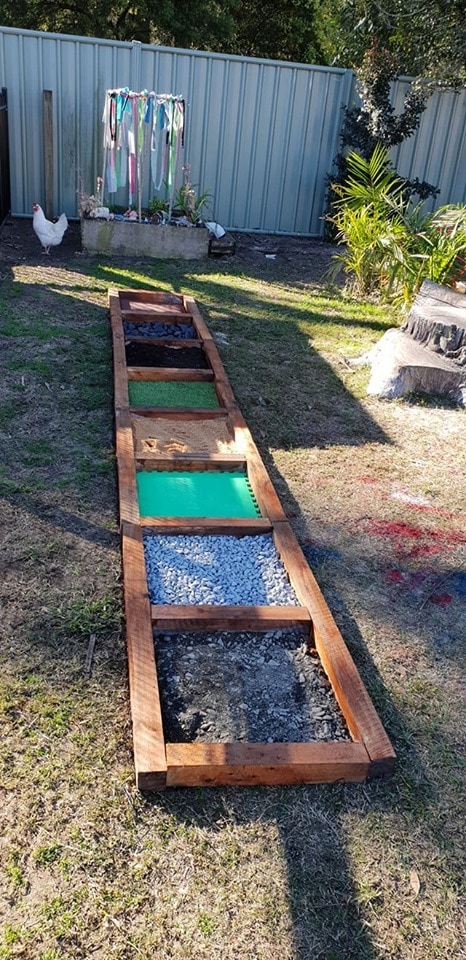 Empowered Educator Debbie

shared with us this easy to setup and relocate sensory path. This path also provides children with the opportunity to move the materials around to build their own pathway and encourage experimentation and problem solving!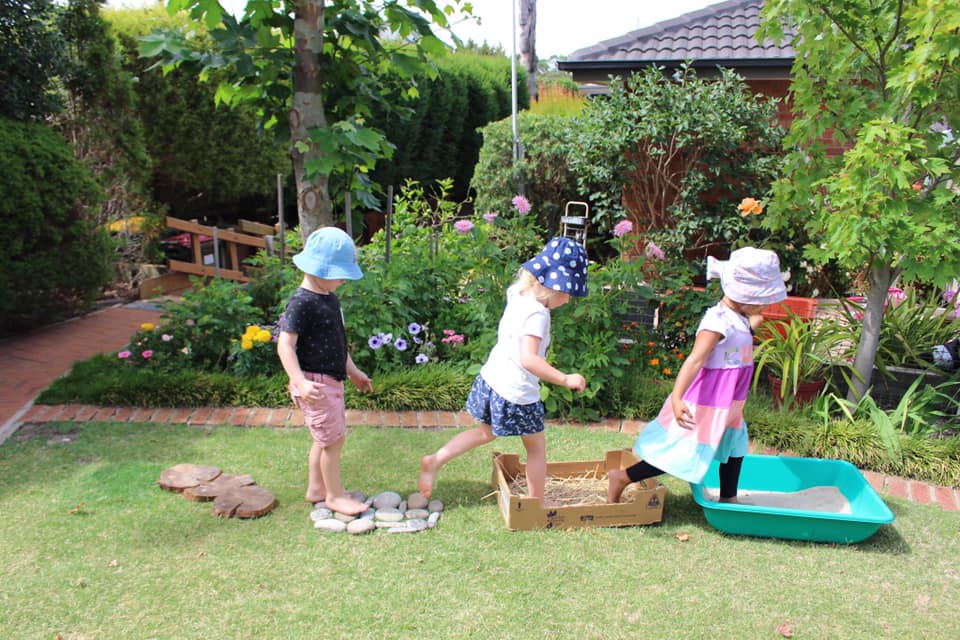 Empowered Educator Mignon

has lifted this little space with the addition of her DIY sensory path – simple textures for small feet and hands to explore!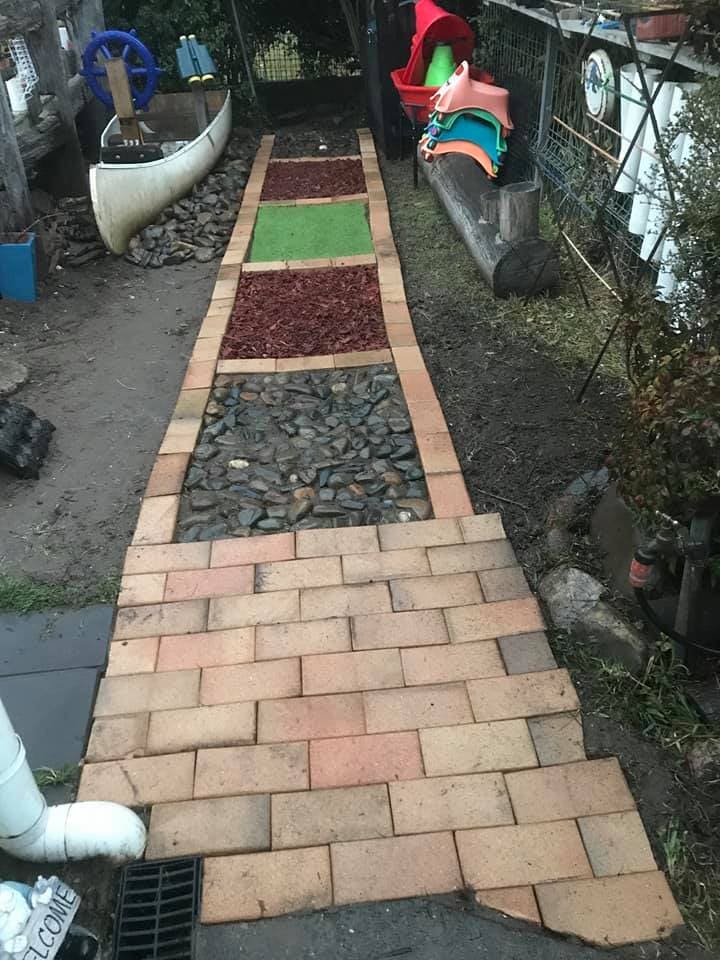 Empowered Educator Emma

has added a range of different textures into her pathway and used wooden blocks to form the edging and separate the textured step areas.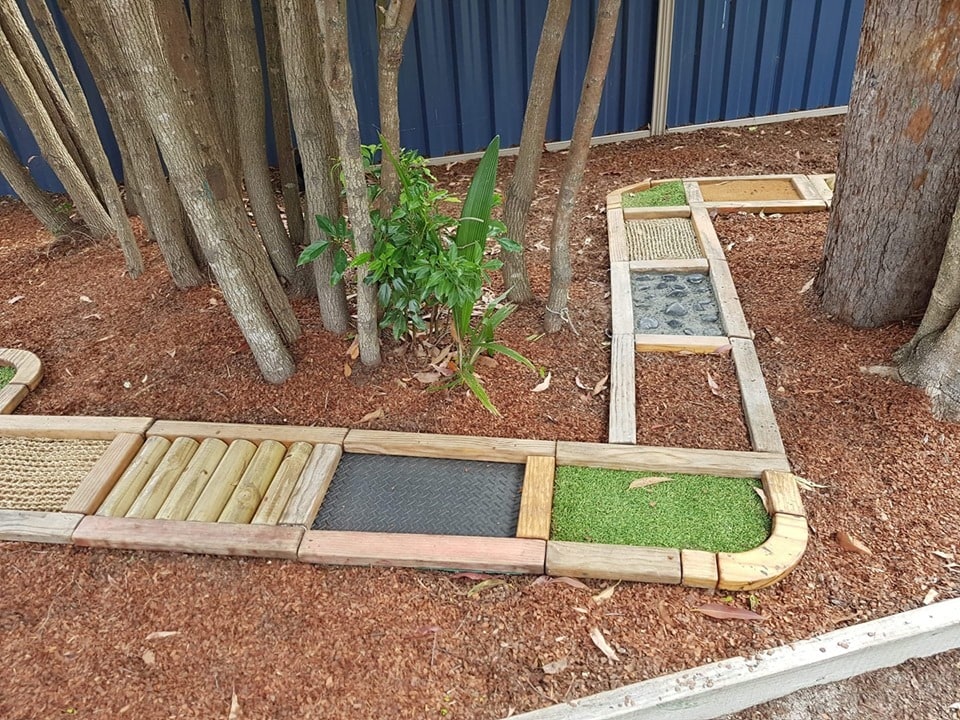 Empowered Educator Michelle

shared her version of a sensory path with us recently – love the use of simple paving bricks to form the edging!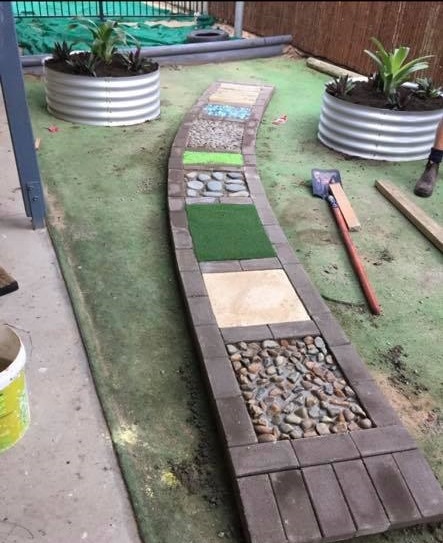 DIY Sensory Toys to Make!!
Not sure how to engage babies and toddlers in simple but fun sensory play experiences? Try making some of your own resources using the ideas below!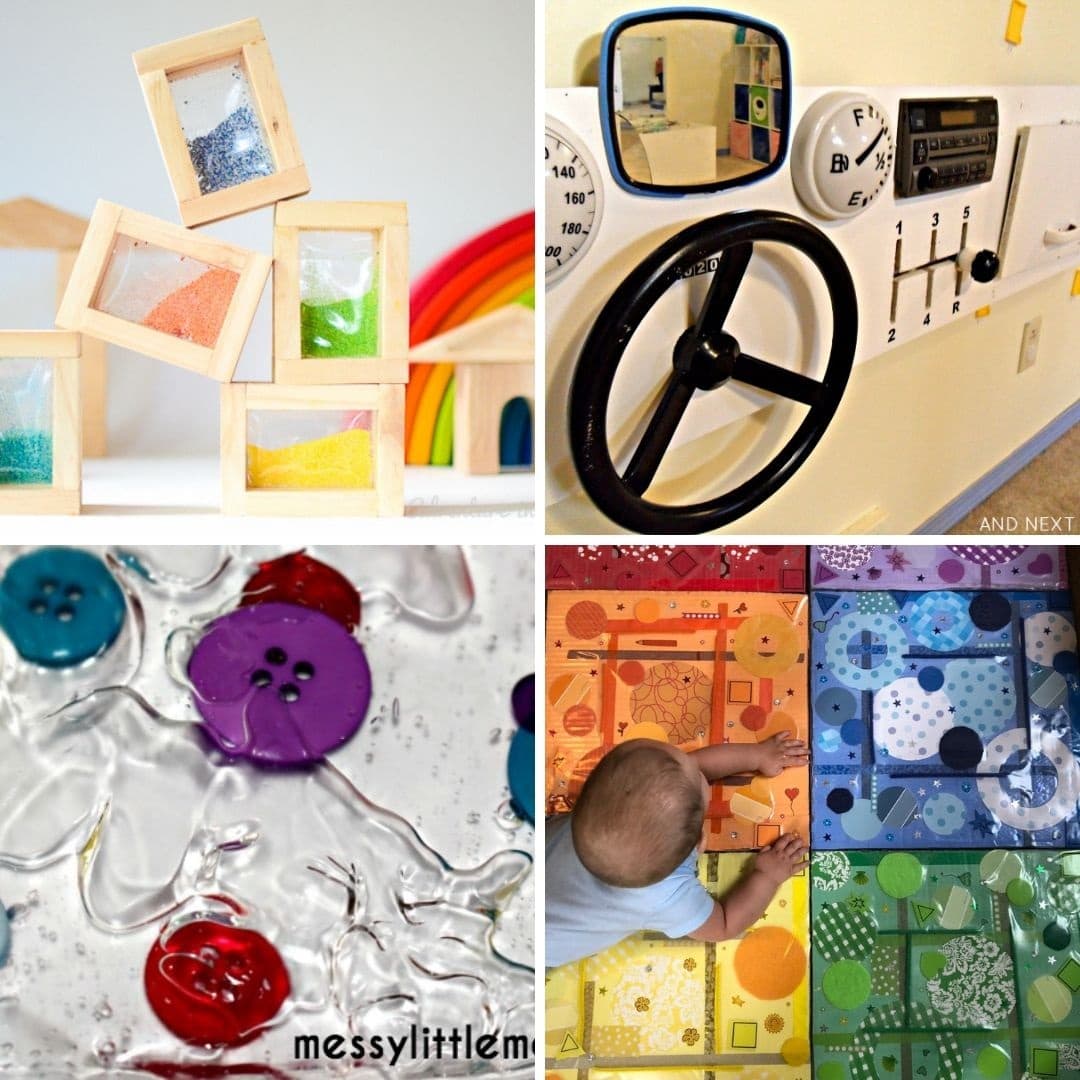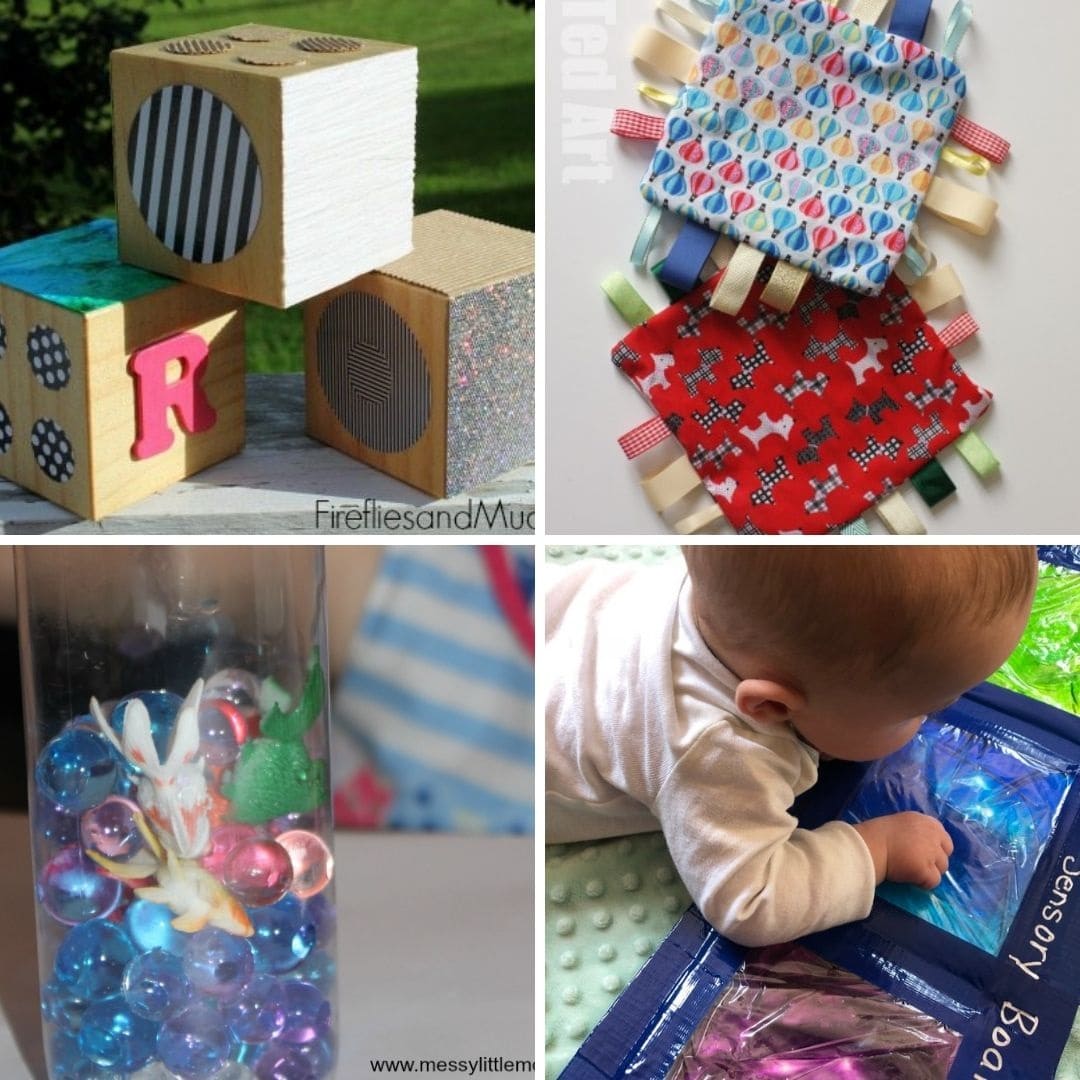 Why not join our Empowered Ed Community – you will find early childhood educators from around the world sharing ideas, inspiration and support!

If you loved this post why not Pin it – you can also follow my Sensory Play Board on Pinterest.