Description
HOW WILL THIS ACTIVITY PLANNER BUNDLE MAKE
PROGRAMMING EASIER FOR ME?
The Play Planners Bundle is packed with over 210 play based activity ideas already linked to learning outcomes, forward planning ideas, templates, program tips and learning space setup ideas for early years educators working with ages babies through to 8 year olds. An excellent E-book resource pack perfect for early childhood educators wanting to offer engaging play based activities and experiences but not wanting to spend all their free time planning and linking to complicated learning outcomes and developmental areas!
This planner gives educators back the time they need and want to spend with the children while still allowing them to meet all documentation and planning requirements. Suitable for family day care educators, centre based leaders and educators, vacation care programs, OSHC, home daycare providers, home-school, occasional care and nannies from around the world! No matter the age group you are currently working with this bundle will become a valuable resource you find yourself using again and again!
The Play Planners simplify and speed up programming and planning for educators by using The Empowered Ed 'Keep it Simple' system.
Choose the activities you want from the planner's 7 comprehensive learning and developmental areas already linked to learning outcomes – choose a few from each area or just focus on the specific areas you need to add to your plan that week!
Check the simple activity directions, materials needed, prep required (All activities are easy to setup and use mostly materials you probably already have or can be easily sourced from the $2 shop or op/thrift shops!)
Add chosen activities to the program template by matching activity learning area to each box heading of the same name – this is a HUGE timesaver as no codes, numbers or additional linking required – I've already done the hard work for you! You can use your own current program template or app though if you prefer – there is no requirement to use the template supplied!
If required come back to follow up with the bonus extension idea already provided for the activity.
Includes Programming Templates (Print or Type Into):
Fillable PDF programming templates to type into or simply print and write .
105 play based learning activity ideas already linked to learning outcomes and goals in each planner. Over 210 activity suggestions in total with simple materials lists and steps to follow.
A simple way to ditch the complicated codes, colour and number systems to connect observations and planning.
Extension & forward planning ideas for every activity – use the same basic materials in many different ways and save time and money!
Activities that only use simple, budget friendly materials – most are upcycled or recycled to encourage less waste and easily found in op shops or second hand markets. There are no complicated, over the top activities or huge resources required lists in this book!!
Play ideas, easy planning strategies and simple everyday tips for early years educators working with children between the ages of 3 months to school age!
A focus on incorporating sustainable practice simply everyday through environment changes and easily sourced materials and resources for both indoor and outdoor play.
Photos & step by step directions to guide weekly planning and preparation.
Quick and easy navigation for busy educators on the go. Simply click on the hyperlinked sections on the content page (on desktop, laptop or mobile devices) to jump to the learning area you need an activity for!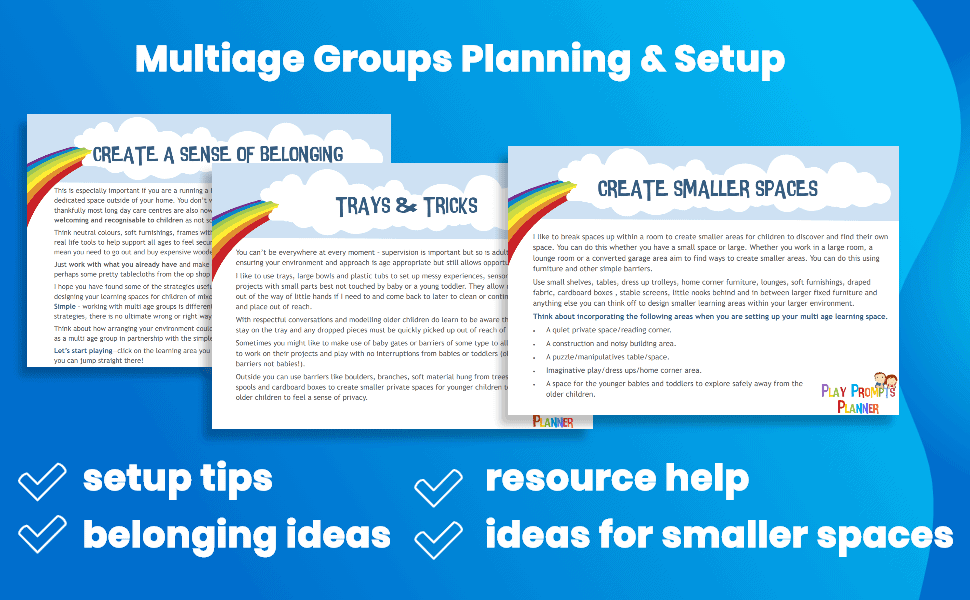 Planner 2
Activities suitable for Babies from 3 months through to school age – Outside School Hours Care environments.
Tips & strategies to help set up learning spaces and activities (without the stress!) for early childhood educators working with multi age groups, babies, toddlers.
Strategies to help you get past the 'it's to hard to plan for different ages in the same space' and "I don't know what to plan for this week, they just want to play' challenges.
My essential resource cupboard list to get you started and stop you buying more 'stuff'.
BONUS 2 x weekly/fortnightly plan packs already filled out for you with activities from Play Planner #1 to help get you started and give you a break from planning!
What do you receive after purchase?
You will receive a confirmation email with an official receipt and links to download the following files immediately after payment is completed:


2 x E-book Planners in PDF format to download and save to your computer or tablet (264 pages & 268 pages!)

Blank PDF Program Templates for you to use again and again.

2 x Bonus Weekly Plans Packs –programs already completed for you!