I've been having a little break from blogging this week as i was beginning to feel as though it was taking time away from other things i love to do! I still need to work on my blogging/life balance but it is a work in progress!
The extra time did allow me some space to finish a few sewing projects and to try out some new recipes for the family…which i shall share later in the week!
We've been enjoying the glorious weather over this Easter long weekend and have been out exploring in the yard…….I am really loving the fact that as the toddler twosome are growing they are already learning about fruit and vegetables, eggs and life cycles all from their own backyard.
Growing your own vegetables and collecting eggs are such wonderful learning experiences for children of all ages and i am enjoying being able to offer the girls these opportunities as i wasn't able to until now with Miss Teen. As a single parent i was often in rented accommodation when she was little and although i craved large spaces for her to play and grow in, it just wasn't possible on the scale we now enjoy. I truly understand now how lucky we are…and how rewarding it is after working so hard towards this dream!
I am also more educated though now on ways to incorporate gardening with children even if you only have a small area or even just a balcony to work with…..but those ideas are for another post!
In the last few days we have been busy exploring …….
The oranges growing over the back fence……
I can reach it…..i know i can….Disregard the frisbee around the neck…i didn't put it there i promise…it's Tara's new fave game!
We discovered passionfruit growing on the vine…..smaller than oranges…very interesting!
She actually went back to compare with the oranges a few times which was fascinating to watch!
So exciting searching for and finding those little globes…..
We have been bringing our basket up each afternoon to collect the eggs from the 'chookies'!
And marvelling at the wonder of bananas growing….we had to be lifted up to touch them but i couldn't get a photo at the same time!
Great fun helping Dad place bags over the bananas to help ripen the fruit and keep the bats away!
Always the adventurer……
Not sure you're doing that right Daddy!
I'll have to come and help!
What have you been up to outdoors this weekend? I'm a little late with hosting the Kid's Co-Op link up this week but i know you will understand! As always i gained lots of inspiration from visiting many of the wonderful activities linked up last week!
I particularly enjoyed this post from Carrots are Orange as they discovered and explored a series of movements based on hopping and jumping. Marnie always offers such fun yet thought provoking posts and activities and i encourage you to pop over for a visit…you won't be disappointed!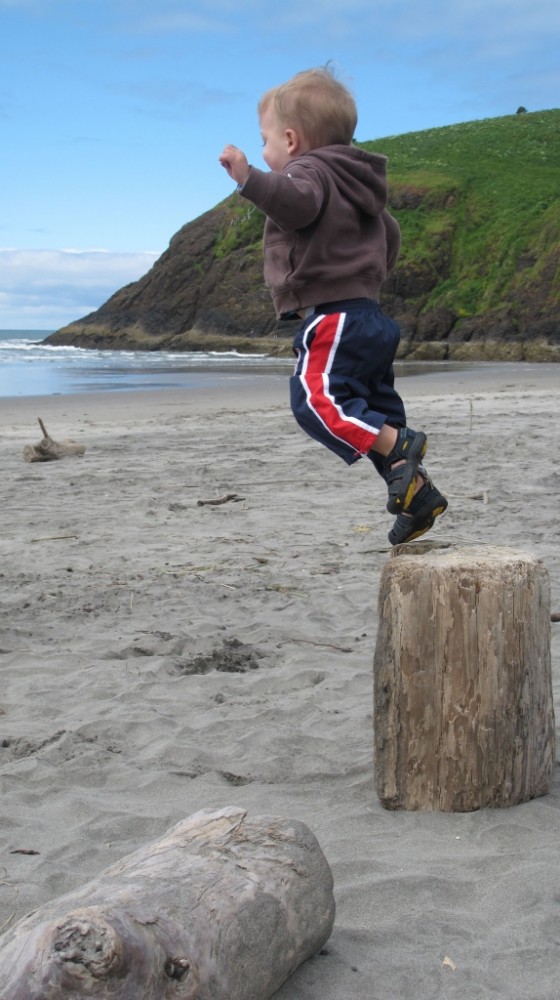 Time now to link up for this week….I can't wait to see what gems i discover this time! Please link any play, activity or craft post from toddlers to teens and enjoy visiting other fellow bloggers for inspiration! it's always nice to show some love by commenting or sharing a post too!
You can also visit the Kid's Co-Op
Facebook page
to look through an album featuring all of the participating Kid's Co-Op hosts' own blogs….and who knows…perhaps you could be featured on one or more of them next week!!!
Don't forget to grab our badge (in the sidebar) to display if you link up!