We've been enduring a month of never ending rain and awful weather so i am really loving our front and back verandahs at the moment!
Although it has been raining it is still hot and humid and the toddler twosome are loving their water play just as much as ever!
Because we have been focusing on fine motor activities mainly for Ruby's benefit i decided to turn their love of water into a fun learning opportunity……
I set up a tub of water on our little table on the verandah, added a few slightly inflated balloons and a couple of wire strainers……
I then encouraged the girls to use their 'nets' to catch the balloon 'fish'! They truly had so much fun with this simple activity and it has stayed on the verandah for a week now!
It was a fantastic exercise to strengthen and challenge their fine motor skills as well as their coordination. Ruby also found the slimy surface of the wet balloons a challenging experience that she needed to work through slowly before she became comfortable handling the balloons without the strainer.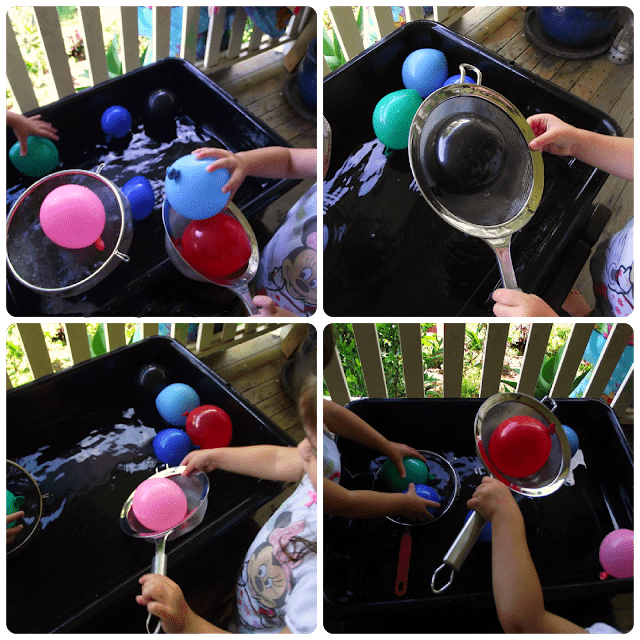 Catching the fish also provided an opportunity to discuss the concept of full and empty as well as how many balloons could fit in their 'net'. We also practiced our colour recognition skills…i called out the colour 'fish' i wanted them to find and then the girls had to catch the right colour and name it!
The girls had to practice using their wrist to dip and catch…..
As well as how to turn over and tip the fish balloons back into the water….
At times this proved quite difficult for Ruby and again she experimented with using 2 hands to achieve her outcome. Reaching across, scooping and dropping proved useful for her work with crossing the midline  too.
I loved how Tara extended the activity and her skill level by finding a plastic spoon to scoop and balance with. She showed great pride in this achievement!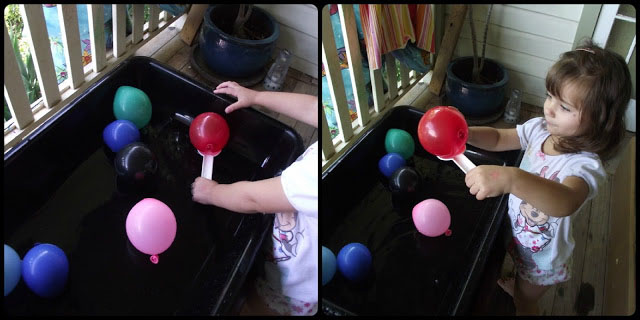 I really was so pleased with this activity…it covered so many areas of development we are focusing on even though it seems so basic (which it is of course!).
It provided a challenge for the senses with the slippery, slimy balloons and wet water, fine motor skills with the handling of the strainer…scooping, balancing and tipping over, colour recognition, hand eye coordination and crossing the midline practice!
Best of all it kept them busy and they had lots of fun after a particularly 'fraught' day inside cooped up! Perhaps you might have some fun with it to!
Sorry for the recent lack of posts…. I have been a little stressed about the looming results of Tara's recent surgery but I am happy to share that we now have the results and the surgeon has told us that she removed all of the growth and she now has the all-clear. We are all so relieved and I have started to let out that breath I have been holding!
Have a lovely week all x
Jodie Clarke is an early childhood professional supporting educators who want and need to stay passionate about the work they do! She has 30 years hands-on experience in the early childhood and human services sectors across many different roles.
Jodie is mum to 3 in Australia and has already helped thousands of educators with their work through her popular blog posts, activity ideas, online training and e-books.