I've been collecting empty roller deodorant bottles for a little while now because i wanted to share a  favourite activity from my early days of child care with the toddler twosome.
It's a fantastic frugal activity for practising fine motor skills and also for those children that don't really like getting their hands to messy with paint!
I just love recycling items from around the house and turning them into creative learning opportunities full of fun…there really is no need to buy expensive products to have a little fun with your toddler at home!
After using the last drops of roll on deodorant simply slide a butter knife in between the side of the roller and container as shown below….it's quite easy really, you just have to wiggle it in place and then it is a simple matter of popping out the ball!
Give it a thorough wash and then fill with whatever paint you like. I used some watered down acrylic but i have also previously just used water paint and even my
Cornflour paint
 . You don't want it to be too thick though so it is a good idea to add a little water too or the roller will stick.
Push the roller ball back onto the bottle, give it a shake and you are good to go!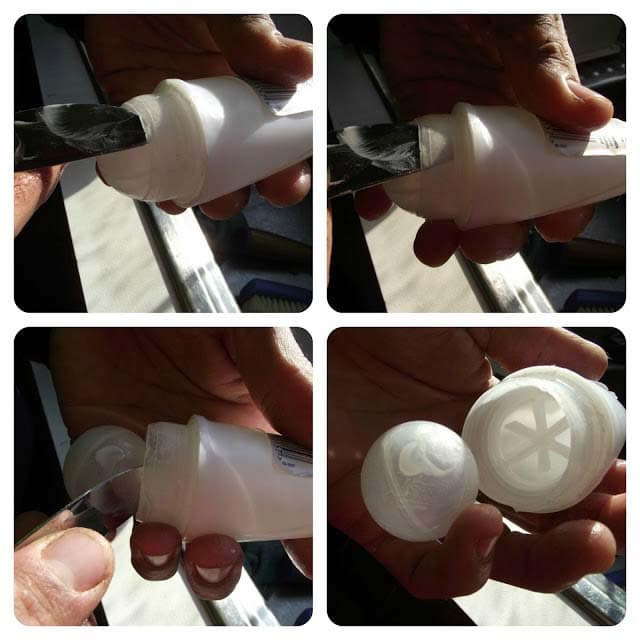 All ready for a little roller painting fun…it's a good idea to do a few test runs first to get the paint flowing before offering otherwise it can prove difficult to use the first time for toddlers…
So many opportunities for fine motor fun and exploration as they push down and try to roll, play with the roller ball to see how it works and putting the lids on and off is lots of fun too!
Ruby took quite a while to decide which one she wanted to use….mainly based on the packaging i think! She was happy to begin painting without touching the paint for quite a while…as she got a little braver she began to explore the roller and get a little more paint on her fingers each time.
It really is a great activity for those sensory sensitive children who don't like to get paint on their fingers though as there is no real need for them to have to touch it and yet they can still be creative and watch their patterns forming….
The toddler twosome enjoyed creating lines, dots and splatters with their roller bottles…..they made lovely colourful prints i think.
Ruby was overjoyed when she realised she could make splatters with the bottle by using it in a different way…once she started we went through an awful lot of paper i can tell you!
Tara preferred to make lines and splodges…..
Dabbing was lots of fun and took lots of control to do….
This is Ruby's 'face'…i can see it…can you? She was very proud of it!
A fun, easy and frugal activity which left us with lots of masterpieces to share with family and adorn our walls…..I hope you give it a try!
Jodie Clarke is an early childhood professional supporting educators who want and need to stay passionate about the work they do! She has 30 years hands-on experience in the early childhood and human services sectors across many different roles.
Jodie is mum to 3 in Australia and has already helped thousands of educators with their work through her popular blog posts, activity ideas, online training and e-books.