Runny noses and sneezes have taken hold of the toddler twosome again this week so I have been trying to introduce a few quieter toddler friendly activities that still allow them to have fun with some play based learning but also just sit and rest at times to.
We live in an old federation style house which I absolutely love but it is freezing in Winter…it is nicer outside and healthier for the twins to be in the sunshine and fresh air when sick so on a particularly chilly Aussie morning we headed out the back with our coloured window blocks for some experimenting…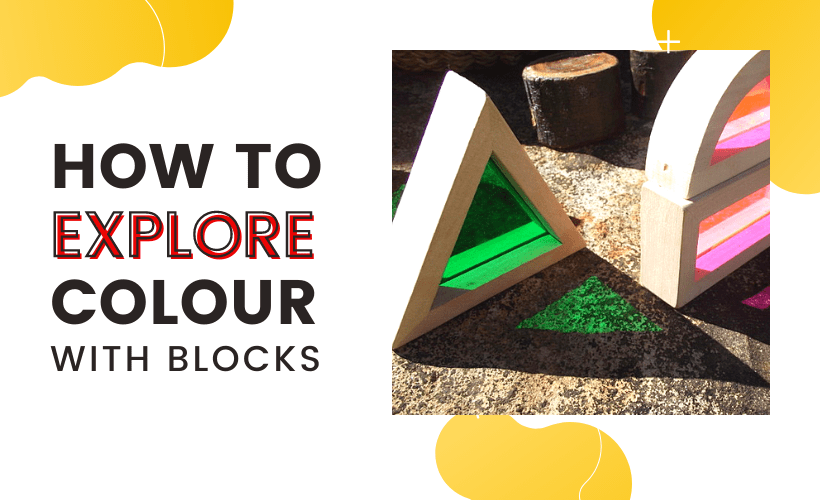 These blocks have been played with a lot inside and on the verandah but I thought it would be nice to have a little play with them out in the full sun because that is where they really provide a magical experience!
I wanted to explore how they would interact with them on different surfaces and textures so we moved around the yard with our little basket….there are lots of photos sorry but they were just so pretty and the toddler twosome were playing so beautifully with them !!! I won't be offended if you scroll through!!
I first set them up on some of our big boulders and the girls moved them around to make colourful patterns…we talked about how to make the shapes bigger and smaller by turning them different angles, how to make sure the sun was shining through them and why it didn't work if their shadow covered the blocks…..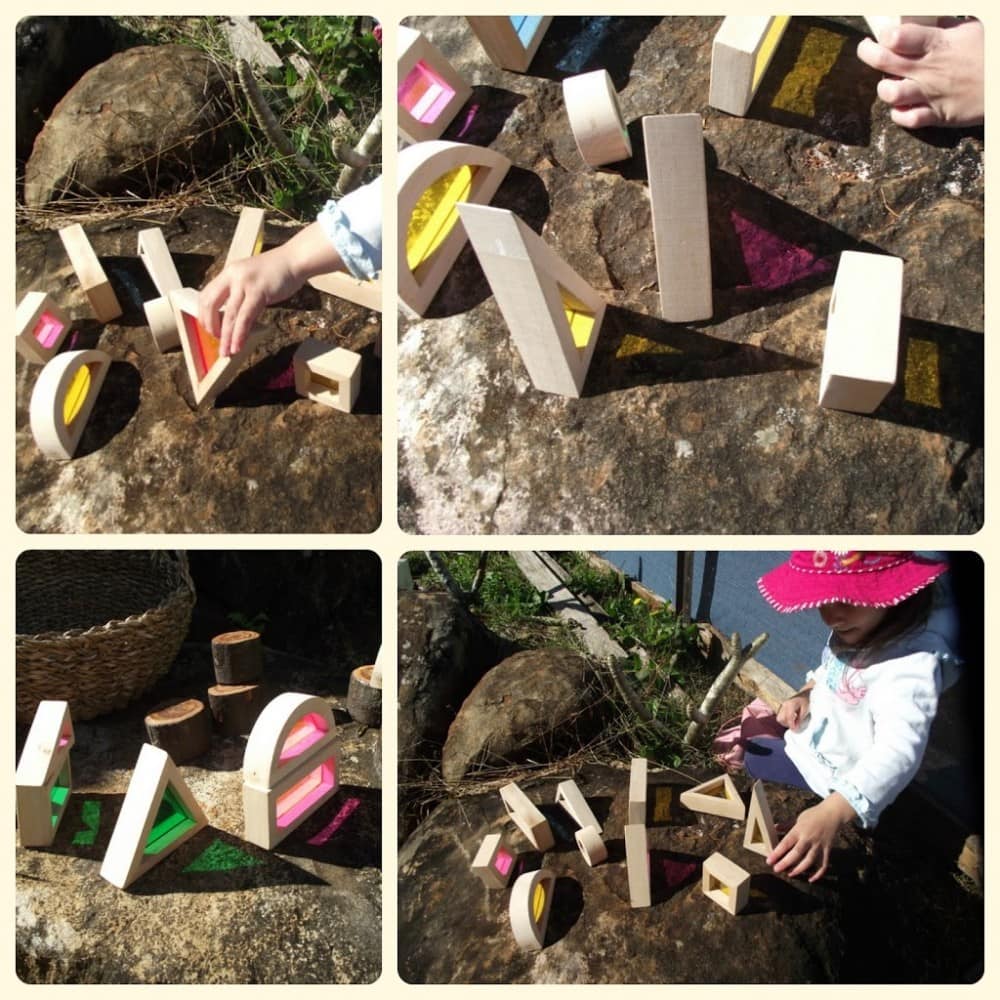 There was lots of stacking and moving around to find the perfect shape and colour, they also pulled out some of tree blocks to use as a base….They had to use their problem solving skills as the rocks were uneven and the blocks fell over frequently!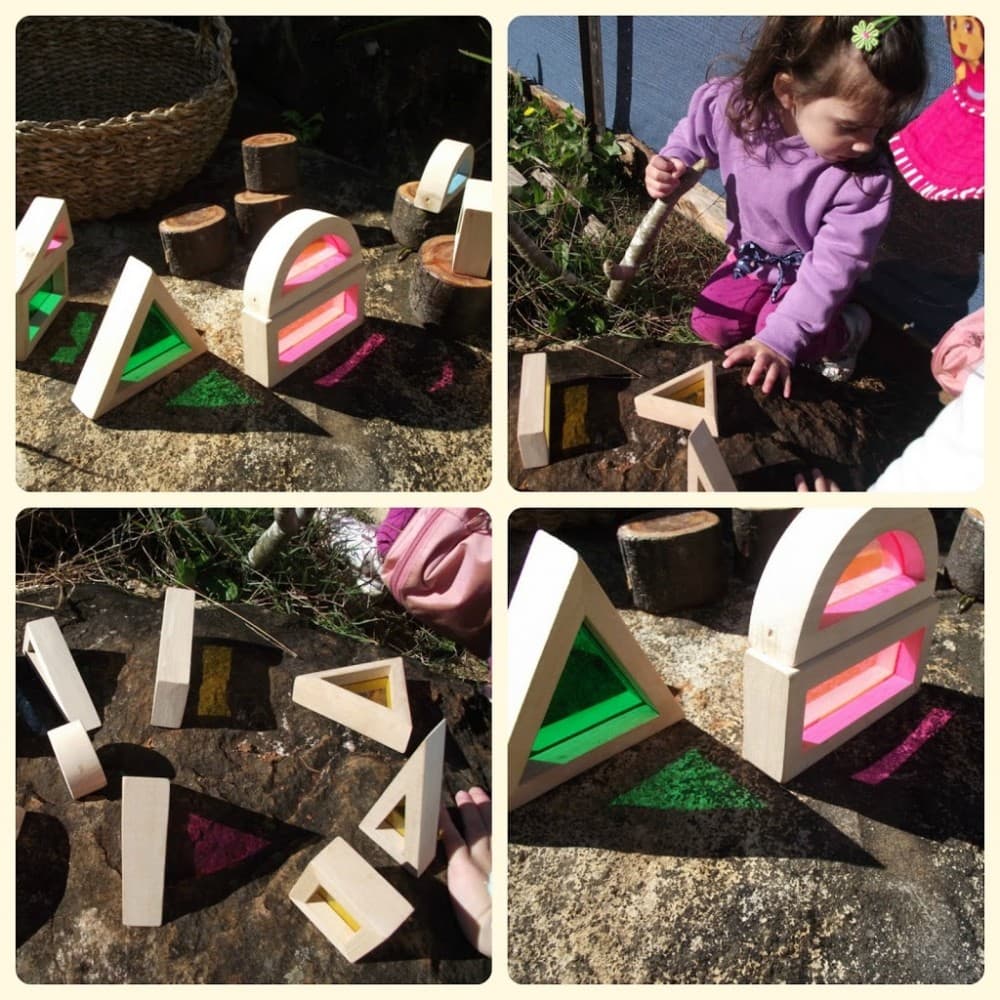 An added bonus of using the boulders was that both girls were able to find their own space and create in the way they wanted to and yet still come back to play when they felt inclined to work together.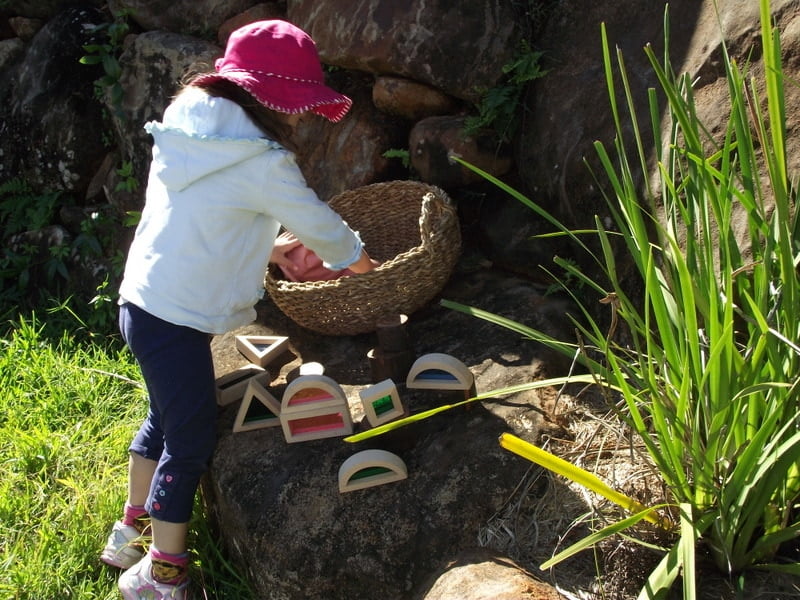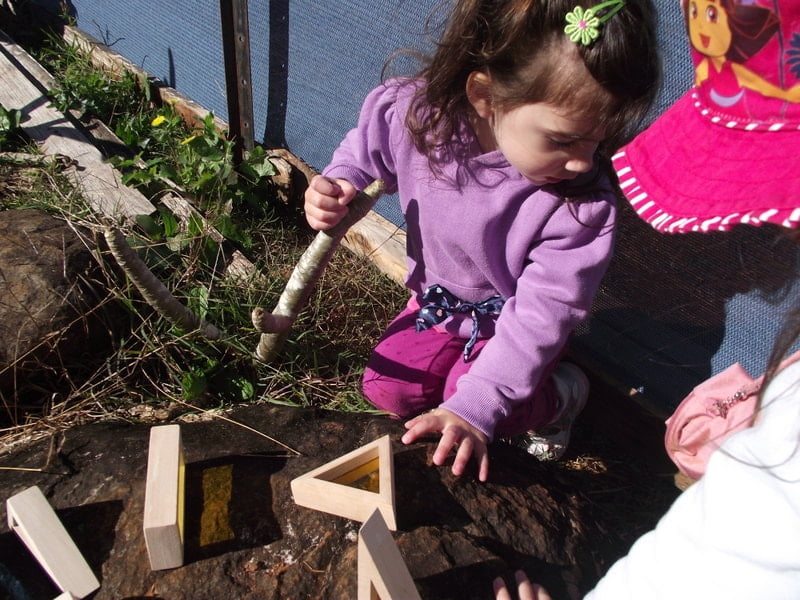 It's important to have some space as a toddler when you are feeling off colour but still wanting to play!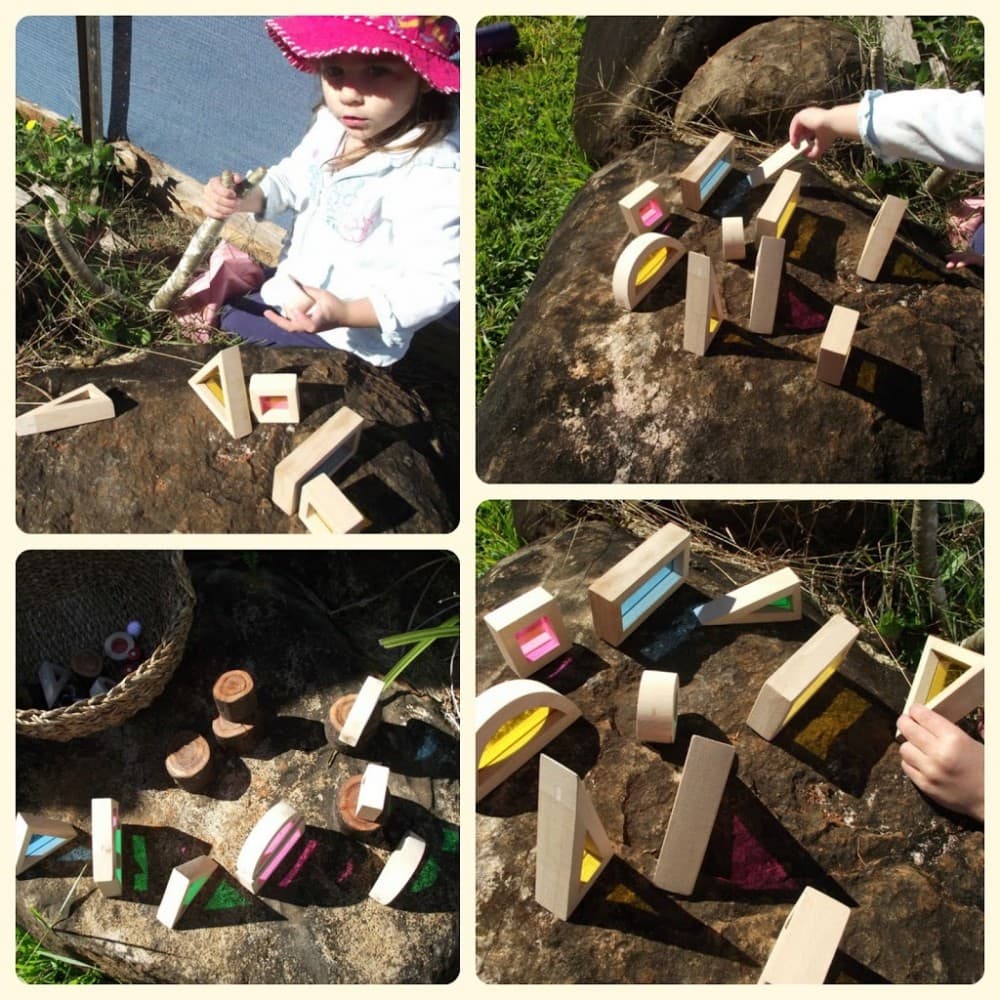 Tara then excitedly discovered that if she moved the blocks to the edge of the rock the colour would shine on the grass…..if she put her finger there it became pink too….amazing!!
This led to a whole new game of discovery and learning…and they found that without any prompting from me….sometimes it's important to just sit back and watch or you will miss that toddler genius at work!
As they turned around from that game we noticed that the blocks formed colourful shadows on the fence mesh  but you had to hold them at just the right angle…..
It was also pretty exciting to see their own shadows too!
Ruby then began carting the blocks over to her 'rock growing' area (I know…sweet right?) and she was fascinated with the clear colours that formed on the surface of the dirt. This was much easier than balancing them on the rocks and I noticed she became a lot busier with the building aspect of the play  on this surface.
Meanwhile I placed a few of the blocks into our rice tub as a play prompt…..Tara loved this idea as she could bury the blocks into the rice and it made them easier to manoeuvre and construct in the way she wanted to….
They also made some lovely bright colours on the rice which was fun to scoop up and pour only to discover the colours then disappeared!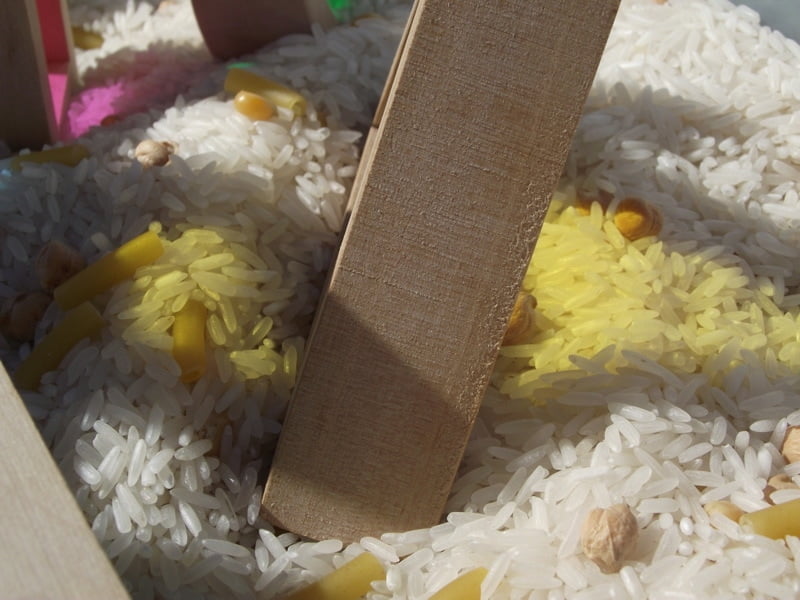 Our new
Sand and Rock Quarry
provided another texture for the blocks and the colours showed up beautifully on the white sand…..
As the sand is shallow and softer it made it easy for the girls to position the blocks where they wanted them and to move easily to change the shapes and patterns made….They also made fantastic towers and obstacles for the cars and animals!
By this time it had actually been a huge morning and I was trying to herd them inside for lunch (yes I do mean herd them…they are wily when they want to stay outside!!) I put the basket of blocks on the table while I hung out the washing and when I turned around this is what I discovered…
Elmo being told to look through the coloured window and the building of a 'gate' for Elmo (Ruby's current best friend)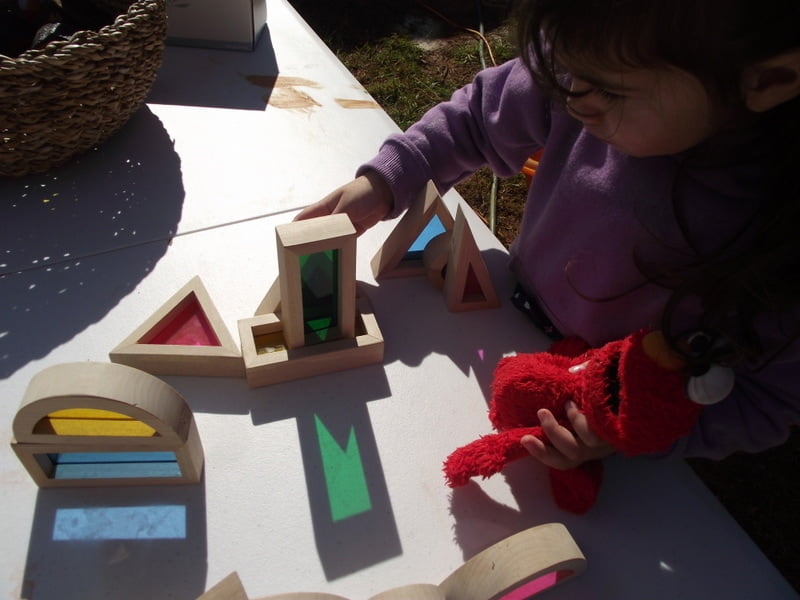 Building trains and gates became the game and I heard 'red means stop' quite a few times! But they did eventually help me pack everything back into the basket!
These blocks will certainly be coming outside with us again though…so many opportunities for problem solving, discovery and play…funny how everything seems to be just that little bit more exciting when it's outdoors!
What ways do you find to explore colour outside?
Why not take some blocks (any blocks) outside to play today!