I am so excited to share this little project with you…..we finally finished it this weekend and I can't tell you how overjoyed I was to see the toddler twosome playing in it ALL DAY!!!
I do warn you that there are even more photos in this post than I usually overload you with but with these sort of projects I think it is better to tell the story visually rather than with lots of words (although knowing me there probably will be lots of words anyway…sorry)!
If you are a regular reader of The Empowered Educator you will know that we are creating a natural play space in our backyard for our twin toddlers as well as for my  family day care business. You might like to read through our Creating a Boulder Sandpit and Landscaping with Toddlers article if this is your first visit!
We are so lucky to have the space that we do but it has been a long road to get some landscaping completed with twins 'helping'…so it is especially exciting to finally see some of the projects in my head come to fruition!
Here's how we created our rock quarry for kids…..
First we had to clear the space of rubble left from excavating and other landscaping projects, then rake over the dirt……
His patient self then began lining up the bush rocks we unearthed around the property…we tried to go for flat similar shaped boulders that would make a perfect natural balance beam/stepping stones down to the sandpit…..
When he was happy with the design and that the rocks were all stable and not able to roll (some needed to be dug in a little, some just needed pacing with rubble and dirt) we moved onto the next step.
It's important not to have such large boulders wobbling under children's feet or worse still able to topple onto them so don't skip over that step!
We then laid some weed mat that we had left over from the sandpit construction and filled with a light layer of sand to hold it in place.
Over the next week the girls and I collected rocks from around the yard and I began to play with the design I wanted. I originally began making a dry creek bed but when I saw the girls playing in the strip of sand as I was collecting rocks this week I realised it would be more fun for them if we left a road in the middle for trucks to be pushed up and down.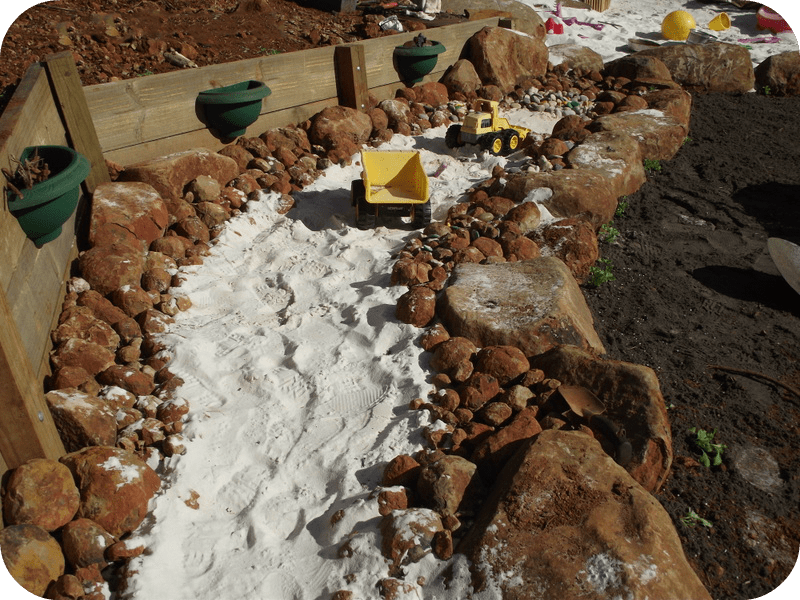 I also wanted them to have access to various loose parts materials to add to their play so I fastened a few old garden pots I found in the shed to the retaining wall. I drilled a hole in the bottom so water can run out and then filled them with coloured rocks, sticks the girls collected, some shells from a recent beach trip, a few of our tree blocks and other bits and pieces from around the yard.
They were very popular and started off all kinds of imaginative play….
A few smooth river rocks offered a different texture to the red bush rocks and the coloured stones were like little treasures waiting to be found. There were even a few little peg people who seemed to be hiding in the rocks!
The shells provided a little time to stop and 'hear' the sea as they were pressed against little ears……
And then it was back to the important work of filling trucks and discovering new treasures as they moved down the path….I just sat back and watched…it was such a lovely moment watching them play with something we had created and that they had helped shape to their own play specifications.
There was lots of balancing on the rock stepping stones……..
But no one was getting Tara out of her quarry….once she found the end of the road held even more rocks of all shapes and sizes she was intent on rearranging her trucks and loads numerous times!
The quarry provides many opportunities for sensory exploration and I noticed the boots came off pretty quickly as toes explored small and large rocks, soft sand and hard gravel……
This project kept us busy most of the weekend but there was a little time to pick a lovely basket of passionfruit…..
Then pick a few herbs from the girls own herb & strawberry planters and then help Mummy plant a few flower seedlings around the rocks and along the top of the retaining wall. All of the plants around the quarry and sandpit will have small flowers and I am hoping they become another 'loose part' for play.
I will be encouraging the children to pick them and use them in their sand and quarry play!
As the sun began to go down on another weekend Ruby was still very busy collecting rocks to take out to Daddy in her wheelbarrow…they are clearing a bit more of the rubble and laying some topsoil…there will be grass here again one day!
I do love a productive weekend…not to mention one that wears twin toddlers out!
If you would like more ideas and inspiration like this and to also connect with other early childhood educators from around the world why not join the Empowered Educator Community on Facebook!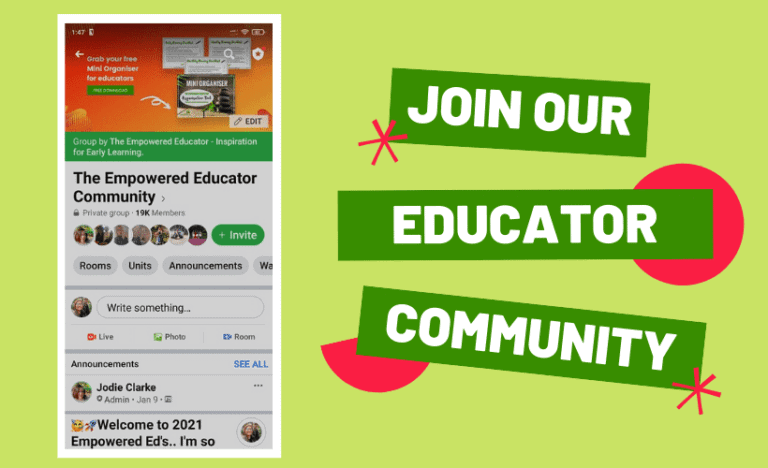 Jodie Clarke is an early childhood professional supporting educators who want and need to stay passionate about the work they do! She has 30 years hands-on experience in the early childhood and human services sectors across many different roles.
Jodie is mum to 3 in Australia and has already helped thousands of educators with their work through her popular blog posts, activity ideas, online training and e-books.