I'm sharing a little project with you today that has been a while in the making but is so easy to do no matter how much space you have. Kids love to make noise and music and this little table has both those covered!
All you need is some washed recycled tins (I know you have them somewhere!!), a little cord or twine, some paint and a recycled spool which you will often find in the industrial areas and if you ask nicely they will usually give you a few for free. If you can't lay your hands on one…no matter, you can hang your musical tins anywhere you fancy!
After collecting and washing tins over a few weeks we were ready to paint! This is the first and probably only time you will see my girls in aprons…they wanted to try them but I really do find they are more trouble than they are worth!
I laid out some trays with a few different colours of kid's acrylic paint…and stood back….way back!
I'm not going to tell you it wasn't a messy activity because it was…but it kept them so engrossed and they found so many different ways to paint the tins….inside, outside, on the top, on the bottom. It was a great challenge for their fine motor and coordination skills as the tins often wanted to roll away.
I did actually divide up the tins between both girls before painting as frankly it was just easier to avoid the squabbles…and I was having one of those tough days! I did let the girls choose a few of their own though and found it very interesting that Ruby went for the smaller tins and Tara went for the big ones….
She really, really loved that big tin and spent so much time getting it just the way she wanted!
No one…and I do mean no-one was allowed to touch it until she was satisfied with her work.
I was loving all the colour they were using although I decided to keep a few just silver too…..I could see the vision in my head of how I wanted to use them…
It was a little bit of a challenge (good parent speak for really, really difficult) to get them to finish and come inside.
There  was so much paint on those tins I think it took over a week for them to completely dry! But the joy of cleaning magically got them passing me the paint pots…the toddler twosome do love to clean a table and wash hands!
I am never without my bucket of water close by when we do these sorts of activities.
When they were finally dry, His Patient Self drilled a few holes for me (yes I could have done it myself but hey, I did the messy part!) I then gave them a coat of clear lacquer to hopefully keep the paint colours on the tins for awhile while outdoors. They dried after an afternoon in the sun.
And to be perfectly honest….they then sat on my shelf in a basket for quite a few weeks while we worked on other projects in the backyard. Last weekend I kept looking at the spool and instead of making a wall as I had planned I thought it would work well to use them around the spool table.
We threaded some twine through the tin holes drilled earlier and then tied a knot to keep them in place…His Patient Self again got out his trusty drill and made holes all around the wooden spool edge.
It was then a simple matter of threading the cord through those holes and again using a knot to secure. We placed them at different heights to help create different sounds. I added a bowl of 'banging tools' and the girls were ready to explore their new backyard addition!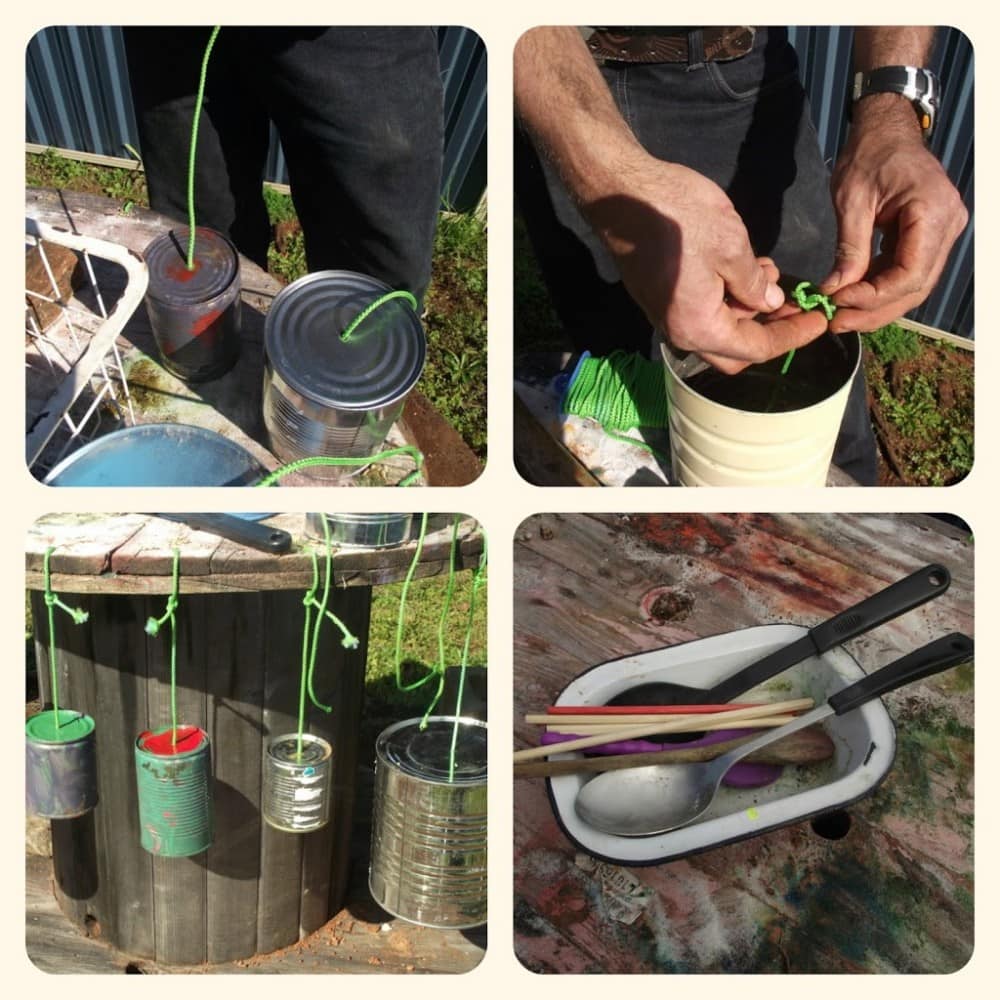 They absolutely love it…they both walk around and around banging, tapping, finding new tools (two big sticks are their current favourite) and singing. They also worked out that if they hold the big tins they can use them like drums and tap their sticks on the top.
I often see them down there now trying out different styles of banging and exploring how to produce different sounds.
I do love when I see the girls playing with something we all had a hand in creating….not to mention something that used mainly recycled materials and cost next to nothing to make! What do you think?