This week we are sharing a favourite sensory activity from our outdoor weekend play…… sensory bubblewrap roller painting!
We recently received a parcel that also contained this fantastic bit of packaging….think I was more excited with the packaging possibilities than the actual crafting goodies I had ordered! It was simply a cardboard roll with a little bubblewrap around it.
We were all still a little under the weather with the Winter ills on the weekend but the sunshine was glorious so I set up this easy activity on a patch of grass (yes, we do actually have SOME in the yard thank goodness!).
I turned over the girls paddling pool to use as a low table (so weary little legs didn't have to stand!) set out some leftover paint from the day before, a few brushes, a large sheet of cardboard packaging brought home from Daddy's work and left them to it to explore!
Tara was in painting heaven and couldn't wait to cover all the bubbles and then get rolling….
There was lots of opportunity for discussion about the beautiful patterns the bubble rollers were making!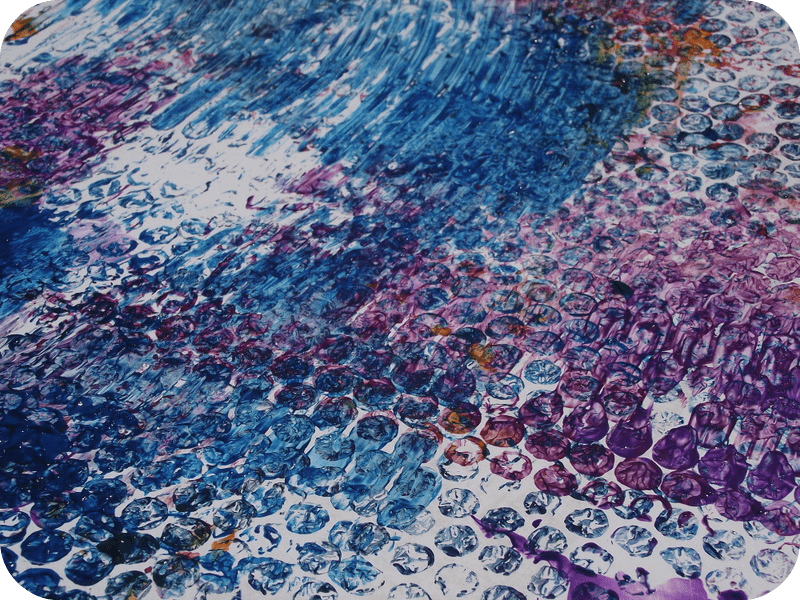 My
sensory sensitive
twin Ruby found it harder to get involved in the activity. The wet paint on the bubble wrap proved to be a real challenge for her tactile system and although she did paint a little of the wrap and do a few rolls she soon asked for me to take off the wrap….she just really wanted the cardboard cylinder.
She did enjoy turning the wrap over and flattening it to make a pattern on the cardboard though…this way the paint and bubbles weren't in contact with her fingers as she smoothed it down.
Meanwhile, Tara could not get enough and just kept using the brushes to add more paint and then keep rolling to make different patterns. Kept her so busy which allowed me a little more time to spend with Ruby as she struggled with the sensory inputs.
I helped her to pull off the wrap and then she used one of the shaving brushes (which she finds easier with her current grip) to paint her roll. It's important to challenge our SPD learners but we also need to allow them to direct their own play and feel comfortable about the way they feel is 'safest' for them to be engaged.
Once that paper was off Ruby was very serious about covering her roll with paint…love how she stood back to check out the job as she went along!
She showed me that she could make patterns too without having the bubble wrap on and was so pleased with her efforts!
Tara just kept adding more paint and rolling….you'd be surprised how much paint a 3 yr old can use on such a small space!
Before using the cylinders I had added some bubblewrap to the ends and taped so that the rolls could be used in a different way.
Tara finally discovered this and began stamping all over the place…she was very impressed with the circle prints she made!
Stamping allowed different hand muscles to be used than when painting with a brush and rolling so it was a lovely extension to the activity.
Such an easy activity that was easy to modify so that both girls could enjoy it. Moral of this story is always check out your packaging 😉
Find more ideas like this for early learning and network with other early childhood educators from around the world in The Empowered Ed Community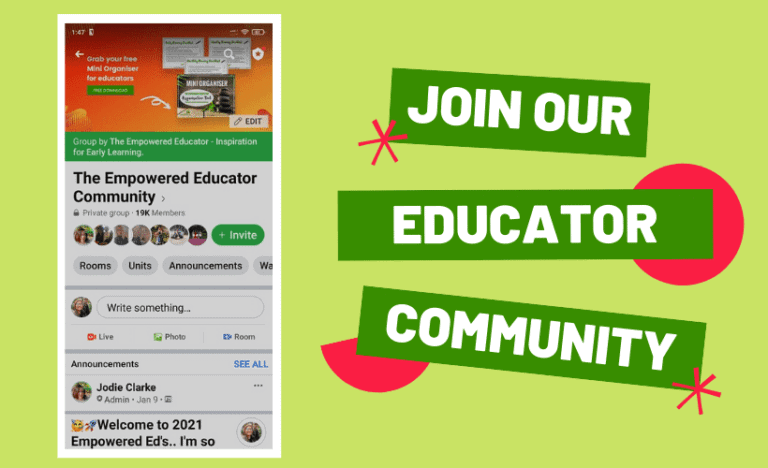 Jodie Clarke is an early childhood professional supporting educators who want and need to stay passionate about the work they do! She has 30 years hands-on experience in the early childhood and human services sectors across many different roles.
Jodie is mum to 3 in Australia and has already helped thousands of educators with their work through her popular blog posts, activity ideas, online training and e-books.