Instead of a feature this week I thought I would share one of our own favourite activities from our week! When His patient self brought home a whole stack of tinfoil goodies that were being thrown out at his work you can only imagine how excited I was (Yes I know, bit sad…but there are always so many possibilities with recycled finds!)
The toddler twosome have been really interested in threading and sewing as well as pasting with bits and pieces lately so these turned out to be the perfect materials…it was a fantastic activity for their fine motor and coordination skills.
We started with a few tart trays, some sparkly bits and pieces and some cornflour paste with a little wood glue mixed in to make it stronger.
And then I just watched the creativity flow…there were no rules…they just added what they wanted to.
And I must say this kept them busy for ages…we did have to talk about needing more glue if they were going to add so many sequins and other goodies or they would just fall off but they soon understood what they needed to do!
Of course 'baby' presided over the activities as usual….why won't they let me put some clothes on those dolls??
When they had finished with the huge pile of circle trays we moved onto the rectangle trays and they got lots of glue and sparkly decorations too!
When they got up from their nap they were just about dry so I set out some leftover twine from our
outdoor music spool
, used the hole punch to put a few holes around the edges of the trays and the girls began sewing!
They had so much fun experimenting with these and then began requesting holes in some paper so they could keep going….this activity really had some longevity!
When there were only a few left I got then to help me thread and tie a few of the trays together to make some hanging mobiles.
They are now hanging all around the house and are very pretty swaying outside in the wind! Simple fun but they love pointing them out to anyone that walks into the house. Love those proud little faces when they see their artwork on display!
Do you have anything around the house you could make some sparkly mobiles with? Why not let that imagination run free and have a rummage in the recycle bin! I would love to see your creations so why not share them in our
Empowered Educator Facebook Group.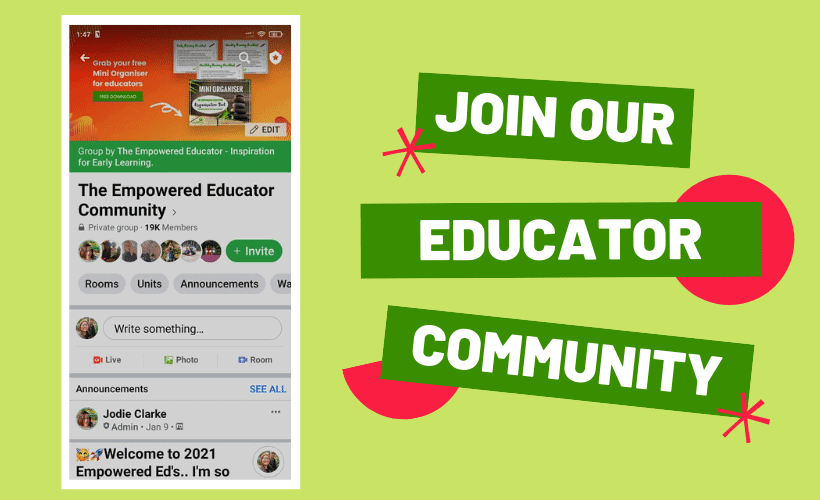 Jodie Clarke is an early childhood professional supporting educators who want and need to stay passionate about the work they do! She has 30 years hands-on experience in the early childhood and human services sectors across many different roles.
Jodie is mum to 3 in Australia and has already helped thousands of educators with their work through her popular blog posts, activity ideas, online training and e-books.