It's been a little while since I have found time to share with you in this bloggy space but I couldn't resist making time to showyou a couple of little DIY upcycling projects we finished over the weekend.
Life has been pretty hectic this month as I started advertising and taking new enrolments for my home daycare business. I'm sure I will find my rhythm soon and be back on top of blogging and just plain parenting….but if I have to wander away again from here at times you will know why!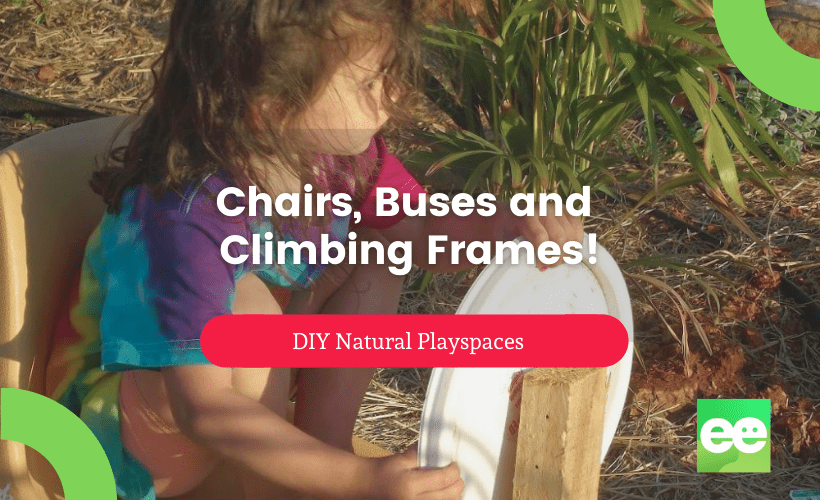 It was nice to spend the weekend outdoors in glorious Spring sunshine and under brilliant blue skies…and a great opportunity to get into a few projects with the old plastic schoolchairs I had managed to pick up very cheaply from our local rubbish revolve centre.
I remember these chairs well…especially sticking to them in Summer! For only a few bucks each I came home with quite a few……
I got the toddler twosome out the back scrubbing them clean with me. Such busy work and I could tell they felt very important and helpful!
Then came the "simple" task of removing a few of the chairs from their frames. I thought it would be a quick job with the drill but we soon realised that they had put special security screws in and we had to use a few *ahem* persuasive methods to part those two!
When we had the seats all separated from the frames his patient self screwed them onto one of our old fence posts…these things are heavy but I love the look of them so i keep trying to find ways to use them.
They are pretty heavy but easy enough to move around with two people.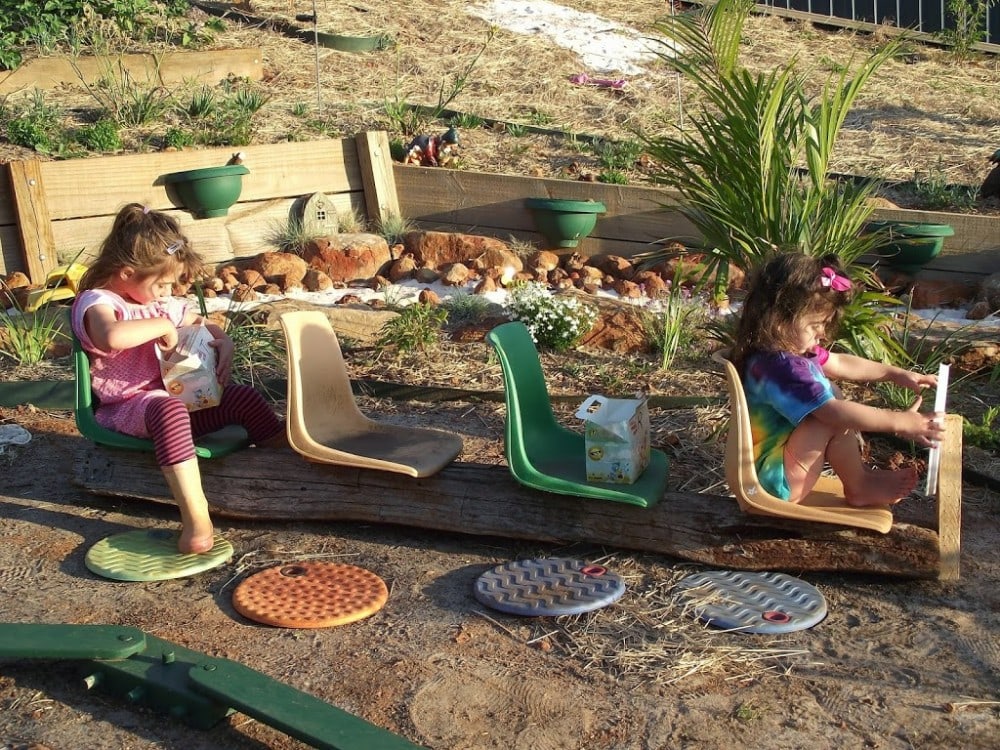 A little steering wheel (large round plastic lid) was added and then it was all aboard!
Ruby was not giving up the coveted position of driver without a fight it seemed……
The girls love making buses and trains inside with chairs and other bits and pieces so I thought this might be a fun way for them to bring the game outside. Very simple to put together with a drill and some screws and it keeps them busy for ages!!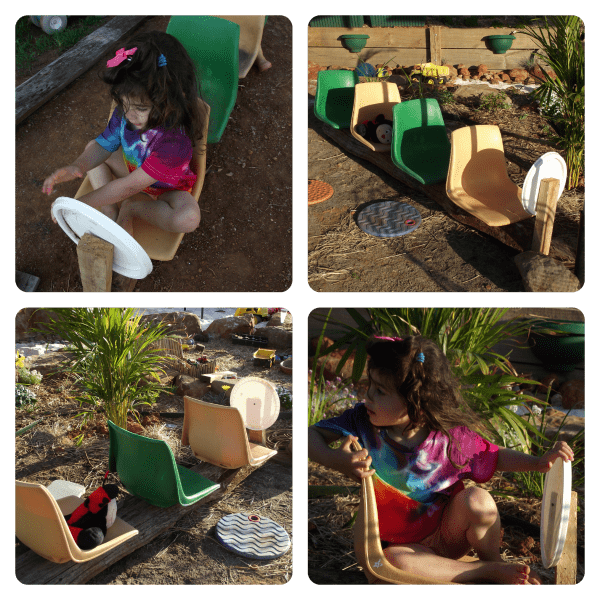 I put it over beside our quarry and i think it suits this spot rather well……………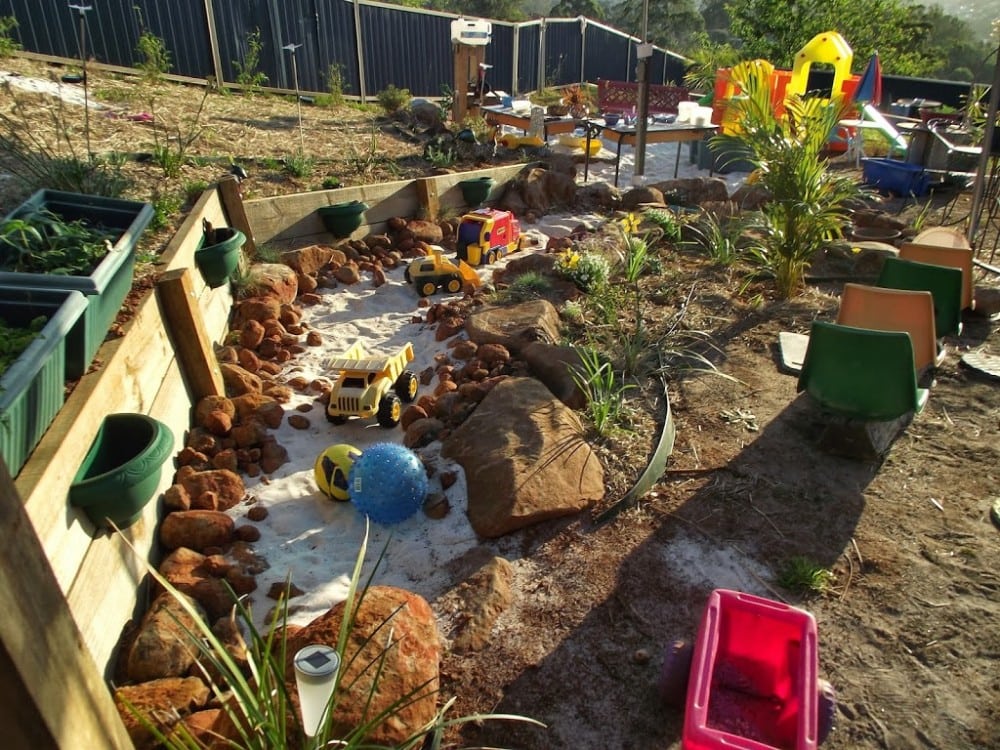 But now I had 4 leftover metal frames from the chair seats so I decided to turn them into balancing and climbing trestles for family day care.
This sort of equipment costs a fortune in the educational catalogues and are therefore beyond my reach but I have been wanting to extend upon the girls current interest in climbing and balancing so I came up with this diy solution.
We purchased a few pine boards and his patient self added some easy little cleats tot he bottom of each end with scrap wood. His little apprentice watched him the whole time!
We then raided the garage for some old spray paint cans and began transforming the frames into something bright and fun!
We ended up with some lovely bright trestles …just the perfect size to be within the height safety regulations for home daycare.
I put the boards onto the frames (the cleat hits the bar at top to stop them sliding away. They will need a coat of weather resistant lacquer but that job will have to be done when I have a moment away from the toddler twosome!
Trestle boards are so much fun for climbing, balancing and jumping off…..
And for walking, coordination and risk taking…………………….. 
The trestles and planks were just the right height for toddlers and preschoolers and I was really pleased with how well they worked and that we could actually recycle the whole of the chair!
I set up an obstacle course and they followed it a few times and then chose to construct their own.
And after all that work it was time for a little cooling off under the sprinkler…with umbrealla and chairs too of course!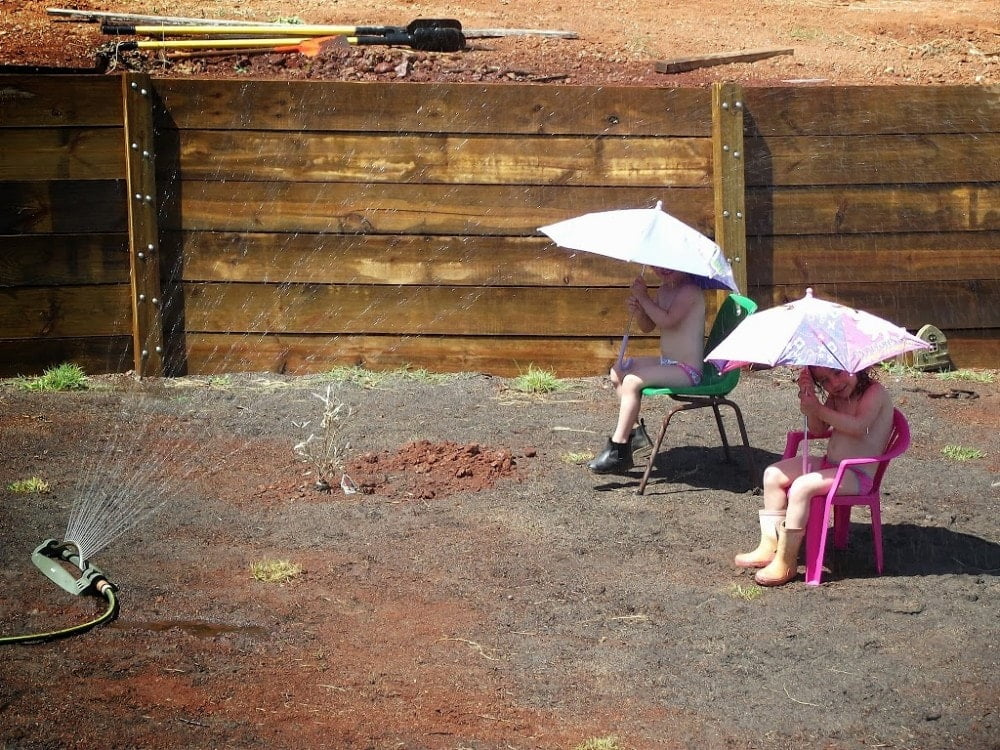 Jodie Clarke is an early childhood professional supporting educators who want and need to stay passionate about the work they do! She has 30 years hands-on experience in the early childhood and human services sectors across many different roles.
Jodie is mum to 3 in Australia and has already helped thousands of educators with their work through her popular blog posts, activity ideas, online training and e-books.