I'm always trying to think of new ways to get messy with the kids and this sensory moon sand play has been one of our favourites so I just had to share with you all!
Moon sand has such a lovely texture, silky but crumbly, moist but dry in places….it's very hard to describe but it is a brilliant sensory activity!
It's also easy to make and keep for a while so it is a budget friendly resource too. Just make sure to keep the lid off it or it will go mouldy. It will dry out nicely and go crumbly again in the sun but add a little water and you will have moon sand back again!
Want to make your own? Stick with me, it couldn't be easier!
How to Make Moon Sand
Here's what you need….
6 Cups Sand
3 Cups cornflour (NOT gluten free, it doesn't work as well unfortunately)
1 Cup vegetable oil
1 Cup water
2 tsp glycerine (just for shine…optional)
What To Do Now
Dump all the dry ingredients into a large tray, tub or bowl and mix together well…the kids will love to help you out with this task!
Then add your liquids and again mix well….and enjoy the sensory experience yourself as it feels great!
You will end up with a moist, silky but crumbly mixture that also moulds well…now you have yourself a batch of moon sand!
You can set up an invitation to play like I did below with some loose parts and baking tins, bowls and moulds or you can just let the children choose how they want to play with it.
My girls loved making little towers and moulds with some little silicone cake bowls and turning the tub into an animal area.
The next day we pulled it out again and decided to make it martian green! I sprinkled a little edicol dye over the moon sand and asked the kids to mix it through until the sand was all green.
They didn't need to be told twice as they love mixing colour through things and loved the bright green which prompted a lot of discussion.
I also added a little treasure bowl of red pebbles that we had been using in our recent
wheelbarrow fairy garden
and this changed the activity entirely.
Suddenly there were cakes to be made and all manner of baking to be done! There was much scooping, spooning and sprinkling, fantastic for those fine motor skills as they picked up the small pebbles.
Then the baking got really serious with lots of mixing, pouring, moulding of cakes  and decorating with 'icing'.
This really is an activity for all the senses, especially touch as it isn't as confronting as wet, sticky sand. It's softer and easier to brush off. It also dries quicker and is therefore perfect for those SPD kiddos who may have aversions to wet grainy textures.
The hands really get a work out with this sort of activity. They can use lots of different muscles as they mould, pat, build and bake.
You can also talk about colours, texture and the creations their imaginations have helped to form.
It's good old fashioned sensory play. Messy? Yes. But easily hosed off before heading back inside and they will be engrossed with this for ages!
When was the last time you got messy with a little sensory play?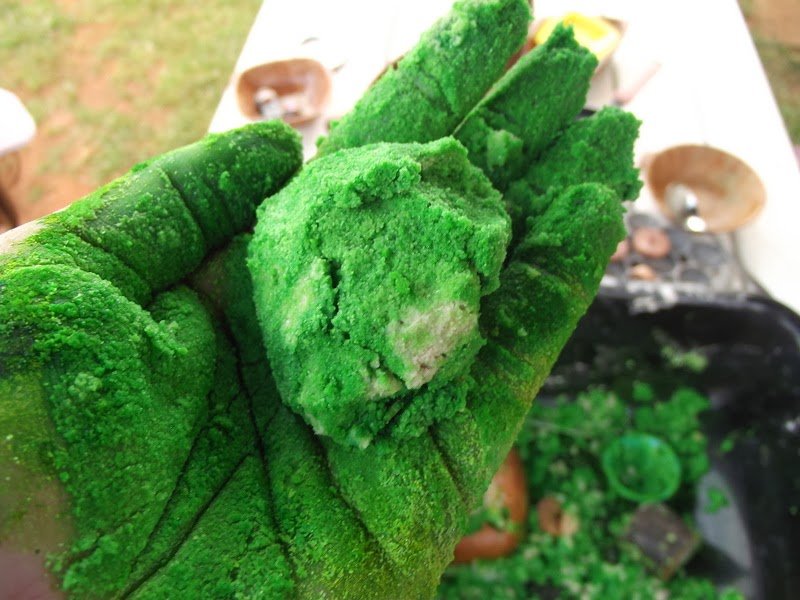 On Pinterest? Pin the image below to refer back to later when you are looking for this play recipe again!
Follow me on Instagram, Pinterest or Facebook for more play based ideas and learning!
Jodie Clarke is an early childhood professional supporting educators who want and need to stay passionate about the work they do! She has 30 years hands-on experience in the early childhood and human services sectors across many different roles.
Jodie is mum to 3 in Australia and has already helped thousands of educators with their work through her popular blog posts, activity ideas, online training and e-books.