These plastic bottle Christmas bells are a great Christmas activity for early learning educators and I love that they use an upcycled plastic bottle rather than having to buy new supplies. This is a bit of a messy activity but the fun is in the process!
As a family day care educator and parent of twin toddlers I'm no stranger to mess! Some the kids make on their own, some I help them to make as I truly believe in the importance of messy, sensory play and activities and I don't want to stand in the way of this important opportunity to encourage and promote play based learning just because I might be worried about how the floor or tables look after a messy play activity.
Messy activities are wonderful for fostering a child's growth across many of the developmental areas including, physical, social, emotional, intellectual, language/communication and sensory.
Some of the benefits of offering messy play and activities to children include: 
Strengthening of fine motor skills 
Helping to develop imagination and creativity
Sensory awareness – touch, taste, smell
Expressing self through use of different materials and touch
Opportunities to investigate, explore, experiment and build
Introduction of basic science concepts –exploration, experimenting, cause and effect
Children can observe and marvel at the outcomes of their efforts
Help to develop concentration and problem solving skills
Provide opportunities to concentrate, speak and listen as well as observe
Provide an outlet for feelings and thoughts
Provides opportunities to explore and work with friends
Fantastic isn't it?? 
Although I love offering messy play activities it is still important that I am able to clean our craft area quickly as we also use this table for our lunch, morning and afternoon tea and I can often have babies crawling on the floor too.
And when you have 5 children who all want your attention and you are on your own; cleaning must be quick, simple and something the children can help with at times!
I often get told that I must love mess due to the play experiences I offer children in my care as well as my own twins…I'll let you in on a secret, I really don't, I am a bit of a neat freak perfectionist which as you can imagine doesn't really work well for a parent and educator!
However, as long as I have a cleaning system and a few strategies that work for me during the day I'm not likely to get stressed about a messy floor during play.
I use a carpet/floor sweeper during the day so I don't need to pull out the heavy vacumn all the time and have stray cords around young children. But often areas of the floor and play mats will also need mopping especially if I have babies and toddlers in care that day. I usually try to use a near dry mop with a little spray of water and detergent to get me through until I can safely haul out the large mop and bucket.
How to make plastic bottle Christmas bells
So let's see it in action…we recently began making Christmas decorations which means glue, mess and glitter….but fun too I promise! I think our recycled bottle bells look so special hanging up that I just had to share with you.
Recycled Bottle Christmas Bells
Here's what you need…
A collection of washed and dried plastic soft drink, water or juice bottles. I used some small and some large, just use whatever you have in the recycle tub!
Some coloured foil, glitter, tinsel or any Christmassy type collage materials you wish to use. Shiny is good though as this helps the bells catch the light beautifully outside.
Some paste (I just use my cornflour paste recipe) and kids PVA glue mixed together
Brushes for painting the glue onto the bottles
Here's what you do…
If you are doing this activity with under 5's it is a good idea to prepare the bells in advance. Simply cut off the bottom and then cut 2cm or so strips about 2 thirds of the way up the bottle towards the neck of the bottle as you can see in the pictures below.
Get yourself a cuppa, settle in a comfy spot and using your fingers roll each strip up to form curls. I promise it doesn't take long! If you are doing this activity with older children they can enjoy doing this part of the activity with you.
When you have your bells ready it is time to decorate and make them really sparkle!
Lay out a tray with some sparkly goodies, paste and brushes and then let them decorate their bell however they want to! This activity kept my 3 yr olds busy for quite some time and Miss Teen had just as much fun creating something special too.
This is a fantastic activity for all ages to practise those fine motor skills!
We set ours aside to dry for an afternoon and then raided our Christmas decoration box to find a few more sparkly pieces to add to the bells
Using some string, cord or ribbon, tie on your sparkly pieces and then thread through the bottle leaving enough string at the top to hang with. I used a sparkly ornament ball at the top of the Christmas string to act as a stopper in the mouth of the bottle. Be creative, I wanted ours to make some music in the wind so we added some little bells. They are actually doing quite a good job of keeping some of the larger birds away from our garden too which is an added bonus!
I usually do activities involving glitter and foil outside but due to the stormy weather we gave this one a go inside. Don't they look great! If you have mad your own DIY Christmas decorations why not share them with us in our Empowered Educator Facebook Group.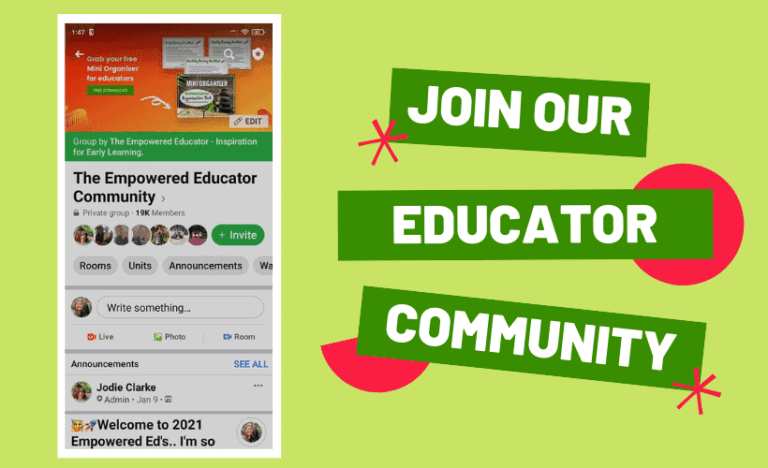 Are you on Pinterest? I have a dedicated early learning Christmas board HERE. Why not pin this post to save for later?

Jodie Clarke is an early childhood professional supporting educators who want and need to stay passionate about the work they do! She has 30 years hands-on experience in the early childhood and human services sectors across many different roles.
Jodie is mum to 3 in Australia and has already helped thousands of educators with their work through her popular blog posts, activity ideas, online training and e-books.