I know it's probably getting a little late for Christmas gift ideas but I just couldn't resist showing you the Santa pots my family day care children helped make to give to their parents as Christmas gifts.
Obviously this isn't an entirely child led craft (which I personally feel is fine as long as the majority of projects you do are child led – it's all about finding a balance!) but I wanted the present for parents to be a little thank you from me as well for entrusting their children's care to me throughout the year.I'm really pleased with how they turned out and I think they look quite festive!
This won't be a step by step post because they are so easy you really don't need detailed instructions – I promise!
There are a couple of things to let you know though if you want to make some of your own.
How to make Santa Pots for Christmas Gardening Gifts
Here's what you need….
Terracotta pots
Waterproof sealer
Red paint
Chalkboard paint
Silver washers
Flower or small plant
Potting mix
You can use any size terracotta pot, I chose small ones as I had quite a few to purchase so it helped to keep it a budget friendly gift.
Here's What you Do Now…
When using plain terracotta pots you will need to seal the inside first with a waterproof membrane or your pot will not hold water well and the plant will probably only last a few weeks. We also painted a layer on the outside as an undercoat. You'll find it at your local hardware store and it's not expensive in a small tin.
If you have older children they can help you to then paint the pots a nice Santa red.  His patient self actually did this step as we just wouldn't have achieved the effect I wanted with 2 and 3 year olds and if I am to be honest I'm pretty sure he thought I wouldn't get it right either 😉
Use some masking tape to mark off an area for your black santa belt. We used chalkboard paint for this so we could write a little message or the kids could do a drawing to personalise their pot.
When your pot is dry , glue on some shiny silver washers with a little waterproof glue to form your Santa buckle. The kids enjoyed helping with this part!
Now you are ready for planting…the fun part for the kids. They each chose the 'perfect' flower and began filling their Santa pots with potting mix and arranging it with great care.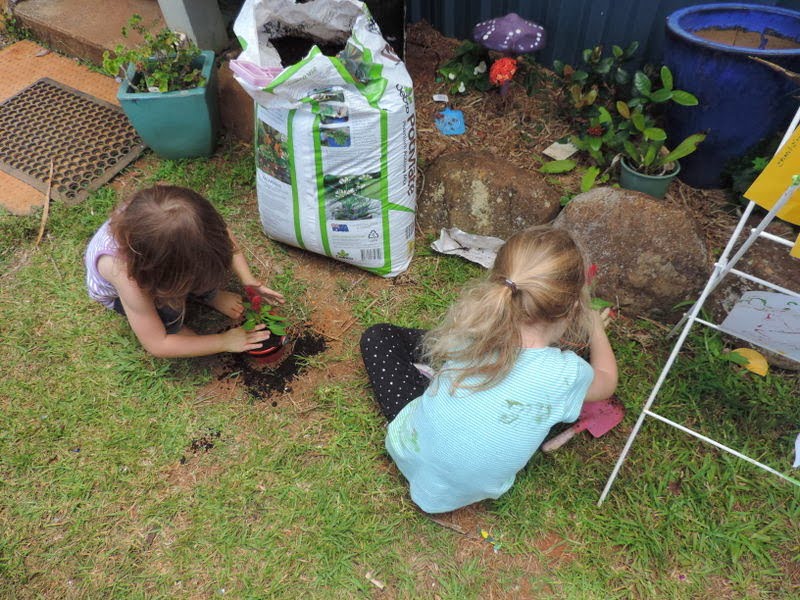 We do a lot of gardening here so I could pretty much leave them to it but for those children not used to gardening it's a great opportunity to show them how to lift seedlings and separate the roots a little before adding potting mix, settling the plant and then topping up and patting down until everything is stable.
It's then time to get the watering cans out and water those little beauties..
Yes, that is green water…we were recycling from the water trough and I don't think the plant minded. Green water is obviously optional though when watering 😉
A little wipe around the pots to give them a clean and then they were placed on the table to settle until home time. I also wrote names and the year on the bottom of the pots to ensure we didn't get any of the inevitable mix ups!
Excuse the awful photos but you can also use the chalkboard belt to add a merry Christmas message….
Or the name of who made the pot….
Outdoor play
and appreciating the environment around us is a big part of my curriculum so I was pleased to be able to incorporate a little planting along with painting to help the children give a very special gift to their parents this Christmas.
They were awfully proud of their efforts and many also told their parents how to look after the flower….moments like those remind me why I love to work with children.
You don't need a group of kids to make these, they are perfect for a child's gift to a grandparent or to a special friend. Perhaps you just want to make one for yourself or for your own friend, and why not? Enjoy and Merry Christmas!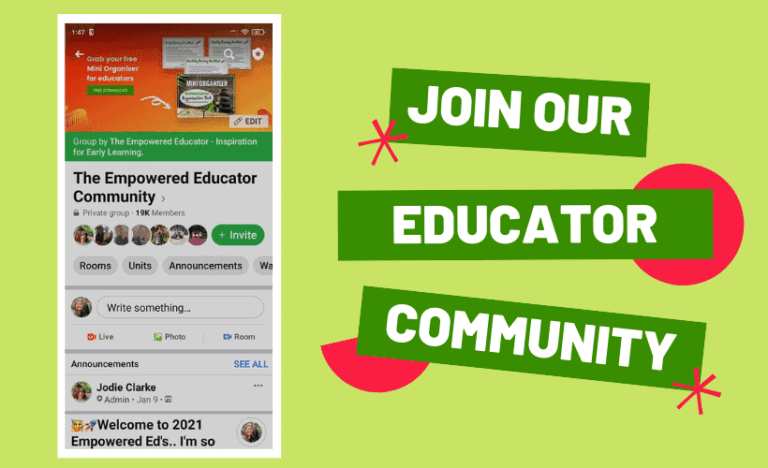 Jodie Clarke is an early childhood professional supporting educators who want and need to stay passionate about the work they do! She has 30 years hands-on experience in the early childhood and human services sectors across many different roles.
Jodie is mum to 3 in Australia and has already helped thousands of educators with their work through her popular blog posts, activity ideas, online training and e-books.