I love introducing the sensory experience of clay to younger children and also thinking up ways to make it a more challenging activity.
We did some finger painting on bubble wrap recently and both the toddlers and the preschoolers loved the feel of the bubbles under their fingertips as they squelched through some warm cornflour paint.
I decided to extend upon their interest in the bubble wrap experience and add it to a planned clay activity outside.
And what  a lovely sensory morning it turned out to be!
I used some old postal padded bags (the ones with bubble wrap on the inside) and cut them open to make 4 bubble wrap place mats for the clay. They weren't fancy but they were just a base so no need to make them look pretty!
I then added a few baskets of different textured natural materials…some soft feathers, hard matchsticks, smooth glass pebbles and some smaller pieces of bubble wrap cut from a large sheet I had received with a parcel.
The materials and small pots of water I put beside each placemat were explored even before the clay was passed out….
I sat down and did a little creating myself (very soothing on a busy morning I must say!) while the girls explored the clay and materials and expressed themselves in the way that they wanted.
The small pieces of bubble wrap were pressed into the clay and smoothed down with water. There was lots of conversation about the bumpy mats and the popping of the bubbles when they tried to smooth the pieces into the clay.
They also discovered that if they peeled back their pieces of bubble wrap after they had pressed them into the clay they could make wonderful circle imprints!I really enjoyed watching them work through the process and express joy with what they were creating….so simple but such important work!
Smooth gems were pressed into rough pinch pots and larger circle imprints were discovered when lifted out. Combined with the bubble imprints it was a whole new angle to explore!
The creations were varied and such an expression of their own creativity and thought processes at the time.
There was a 'sparkly pot', 'a rocket with wings', 'a bus' and 'a tree with branches on it'. I could show you my creation but you might fall over laughing…..
Such concentration, creativity and problem solving….
Tara discovered that when the clay dried it made her skin 'crinkle' and feel tight. She enjoyed smoothing it up her arms and then wiping it off with the wet cloth. She was fascinated by how quickly it dried and how it looked on her hands.
I considered asking for a nice clay facial but then thought better of it when I noticed Ruby smoothing it through her hair 'to make it white'. I don't need any help there thanks!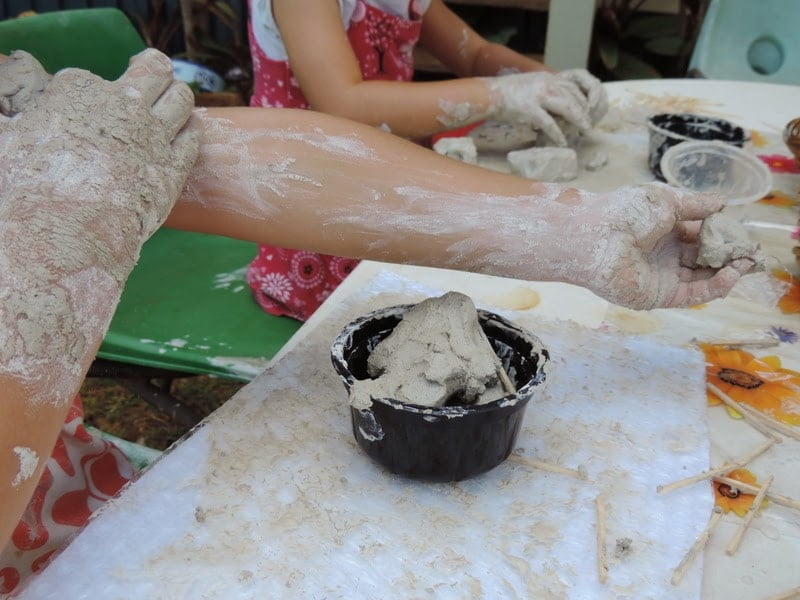 Clay is such a wonderful sensory experience for children and although it looks very messy I simply hosed off the table and the kids washed their hands in a bucket of water before we went inside.
By giving the girls a pot of water each they were able to decide how they wanted to use it, when and how much. They all chose to use it in different ways…some poured onto the mats, others dipped fingers tentatively in, others chose to squelch between their hands to soften the clay.
The addition of water to the table also allowed the bubble wrap to be smoothed into the clay and for little fingers to mold and stick materials to their creations.
We all enjoyed this simple sensory fun and I was particularly pleased with how the addition of the bubble wrap mats and pieces extended the experience.
How do you like to play with clay or bubble wrap?
Jodie Clarke is an early childhood professional supporting educators who want and need to stay passionate about the work they do! She has 30 years hands-on experience in the early childhood and human services sectors across many different roles.
Jodie is mum to 3 in Australia and has already helped thousands of educators with their work through her popular blog posts, activity ideas, online training and e-books.