It's probably a little late to be sharing a Mother's day gift idea with you but I was so pleased with how these turned out that I just had to share.
They are the perfect gift for kids to make for any occasion really so you aren't limited just to mother's day.
Regular readers will know I love to recycle materials from around the home for our craft and as I currently have a cupboard full of empty glass jars I thought this simple craft would be a perfect gift for my family day care mums. These glow jars are simple enough to modify for toddlers and preschoolers and even school age children would enjoy showing their creative side with these.
Want to know how? It couldn't be easier….
Making your own glow jar – What do you need?
Clean jars saved from the pantry – I used larger ones for the older children and smaller ones for the younger children.
Brightly coloured crepe or tissue paper cut or torn roughly into squares/rectangles
PVA glue thinned with water
Glue brushes
Tea light or LED candles
Here's what you do…..
Put the jars, glue and crepe paper onto a table and encourage the children to paste paper onto the jar in any way they want to! Tara decided she needed to add a wooden ball to hers because the kid likes to be different!
Watching how each child approached the task of gluing was fascinating. Ruby loved the feel of the PVA and crepe paper between her fingers and she loved that the purple colour came out of the paper onto her hands and coloured the glue purple.
Others enjoyed covering as much of their jar with paper and glue as possible.
Tara decided she needed to line her colours up in patterns of gold and purple and this took quite some time. I fear this beautiful girl may have inherited some of mummy's perfectionist personality!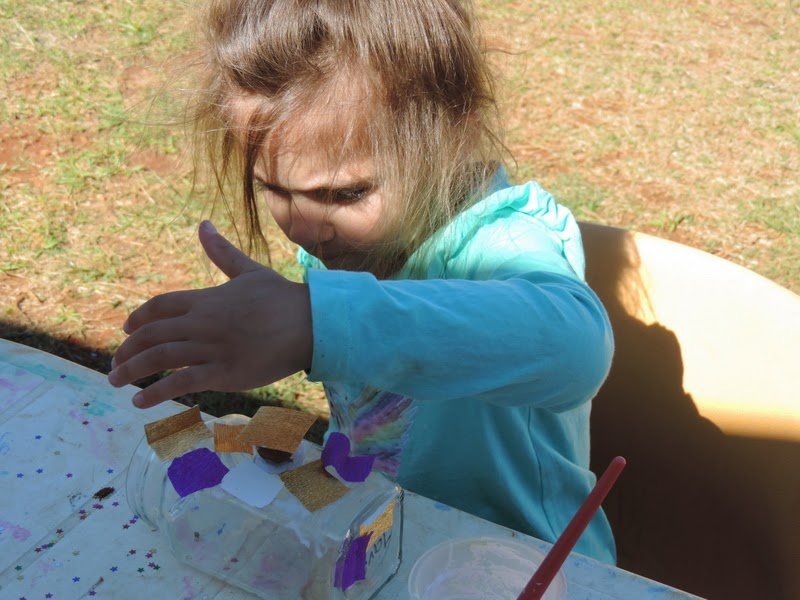 When they have finished adding paper to the jar you will need to brush on a layer of pva glue to make sure the paper is adhered well to the jar. I added some gold glitter to the glue and because the pva dries clear it just leaves a lovely sparkle all over the jar.
Leave in the sun to dry and then tie some pretty ribbon or curling paper around the top of the jar and you are ready to add some glow!
There are lots of options when it comes to adding some glow to your jars, you can use large LED candles, aromatic candles or the small led tealight candles.

I included scented candles but also added an LED candle because I knew the kids would want to show mum how it works and the led candles are a much safer option with children.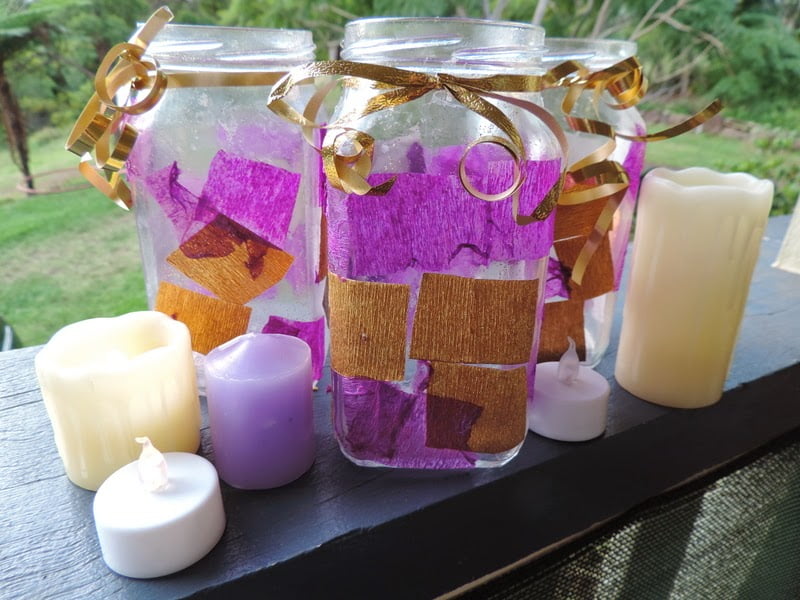 They give off a lovely soft glow and I really like that the children were able to make the majority of this gift on their own. I don't particularly like those 'child made' gifts that have obviously needed a lot of adult help.
Of course your child may decide it's just more fun to play with the sparkly crepe paper like my Tara did…but there's nothing to stop you from making one for yourself!
What gift would you like to receive from your kids on Mother's Day?