Brought to you by Nuffnang and Disney Junior

Can you believe it's October already? I've noticed that everyone now keeps telling me how many weeks are left until Christmas arrives. I can't say it fills me with a whole lot of excitement just between you and me, such a hectic time of the year (and dare I say often stressful), especially when you have 4 year old twins!

No, I think I will just hang onto October a little longer thanks and please don't tell me if you are one of those organised parents who has already picked up their Christmas layby because I seriously do not want to know!

Let's get back to October because if you have budding little Doctors in the house like I do they might be excited to hear that October is Doc-Tober for the Disney Junior channel on TV. There will be new episodes of Doc McStuffins and her toy friends throughout the whole month which I'm personally quite pleased about because my girls absolutely love Doc.
I think they truly believe she brings her toys to life with that magical stethoscope and is a real Doctor just like her Mum and the Doctor we visit when they are sick. I like that Doc McStuffins shows such kindness to her toys and promotes teamwork, which is often something we talk about here in my family day care service.
Regular readers will know that my girls love their outdoor play and it is something I am very passionate about. We really don't watch a lot of TV but I do believe there can be a healthy balance if shows are chosen wisely. I allow them to watch the Disney Junior channel mainly because I know I will be able to trust the content and to be honest every now and then I love being able to sit with them and watch some of the classic Disney movies that I grew up with.

Their current favourite show, Doc McStuffins, encourages them to role play and use their imagination and I so enjoy watching my girls get out their Doc kits to fix their poor toys whenever an episode finishes. Usually the play moves to outside and we often have hospital clinics set up in some very odd places!

Disney Junior has just introduced a range of new games and activities to their website and I particularly like the just released Doc-Mobile game .

The twins have really only just begun to explore games on the computer, I figured I can't keep them away from technology forever but I'm pretty choosey about sites I let them visit. This one was easy to understand, didn't require a lot of mouse control and it led to a wonderful afternoon of imaginative play outside near the trees. Win win!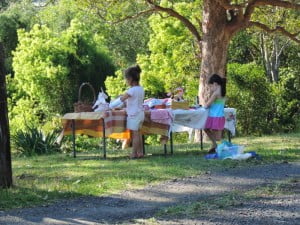 In the Doc Mobile game, Doc has a mobile clinic she hooks up to her bike to go and visit those toys that need her help. Tara absolutely loved this concept and asked if we could set up our own mobile hospital just like Doc.
We have been doing a lot of 'hospital play' lately and have quite the medical collection of bits and pieces in our hospital prop box but I have noticed them getting frustrated when they try to wrap the big bandages around their toys (or me!)and we have been going through more bandaids than I would like just because their toys have a sore that needs fixing (repeatedly apparently) so I decided we would make some felt bandaids and bandages that would be easier to use for little hands and could be reused over and over.
Since they are loving the Doc at the moment I thought I would put a little McStuffins inspiration into our creations. We made our crafty treasures for the medical kits in the morning then headed out in the afternoon to pick a shady spot to set up the Doctor Clinic (tables)…the closest I could come to meeting Tara's 'mobile clinic' wish. Ruby said it was like Doc's 'backyard hospital' which I figured was high praise from a 4 year old!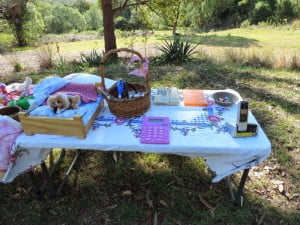 I set up a few calculators and old phones as well as some folders and pebbles for money. The girls decided that one table was the clinic and waiting room and the other end was their office. I made the mistake of putting a few of the toys on the office table and was severely reprimanded…don't mess with two 4 year olds in their imaginary world!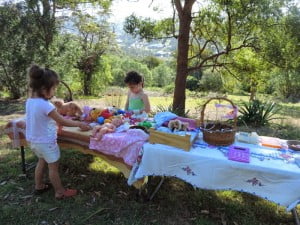 Here's what we made (well mainly me to be honest, but the girls had fun making their own creations with felt, glue and pens….and more glue and they did enjoy helping me with some of the easier parts of the crafting). They are all quick and easy projects that anyone can do and the girls were absolutely delighted with them.
Felt Bandaids
Large Bandages
Plaster Cast
Doc McStuffins Magic Stethoscope
Very easy to make, I just used materials I already had. First I wrapped some old bias tape around a couple of headbands that have been languishing in the bathroom cupboard for ages. I glued the edges down with some PVA glue but a decent glue gun would make the job easier and probably help the stethoscope withstand more love!


The last step just requires a little ribbon glued to the headband and then to the lid as shown in the pictures. It's a good idea to wrap the ribbon around the band a few times before gluing into place just to make it a little stronger when small hands are tugging on it. Told you it was easy.


A Doctor's Boo Boo Notebook
My girls just love writing in books at the moment so of course we had to have a boo boo book just like Doc McStuffins! I simply used a couple of notebooks they already had and glued a few little pieces of felt onto the front cover.


Their use promoted a lot of reflective language and conversation and were a fantastic way to practice those pre writing skills. I was in awe of how professional those two were writing down all the signs and symptoms and then coming back to fix each toy after making a diagnosis, it was too cute!


Do you have some Doc McStuffins fans at your house?
The wonderful folk at Disney Junior are offering Mummy Musings and Mayhem readers a Doc McStuffins prize pack which includes:
Excited?
Just answer the following question to be in with a chance to win this fantastic prize pack.

The most creative answer as decided by myself and our Disney Junior representatives will be chosen as the winner!


What toy would your child most like Doc McStuffins to come and fix if she could and why?
Entries will close at 5:00 pm AEDST on Tuesday 14 October 2014. Full terms and conditions of this giveaway can be seen here.