Welcome to my  weekly series 'Recycled Play'. Regular readers of this blog will know that I have a passion for play but I also have a passion for ensuring parents and educators understand that play doesn't have to be expensive. You don't need all the latest equipment and well marketed toys!
This series is all about inspiring you to discover a love of recycled or upcycled play – each week I will be taking you on a journey through ideas and projects to try for yourself…projects that will not only save you money but provide the kids with hours of fun.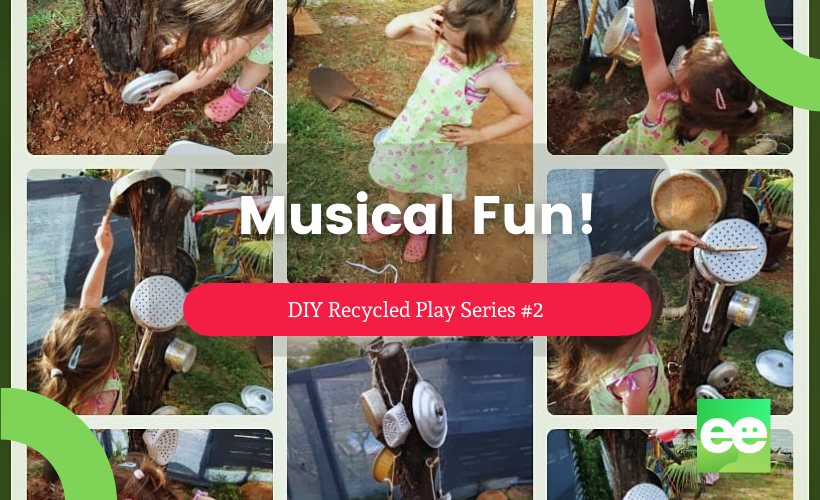 The ideas I have chosen from around the web and from my own blog range from very easy to 'you possibly might need a patient handyman/woman'! There is something for everyone each week though and plenty of projects that the children can do themselves I promise! Last week we explored ideas for DIY and Recycled Outdoor Play – catch up here if you missed it.
I'm not going to keep you waiting, let's continue our journey with …
Week  2 – DIY Musical Fun!
To learn more about each project just click on the  highlighted text under each photo collage.
Ready to be inspired to recycle for play and make some music? Let's go!
7. DIY  Wrench Xylophone – Relentlessly Fun, Deceptively Educational
13.  Wind Pipes – Laughing Kids Learn
14. Tissue Box Guitar – Adventures at Home with Mum via Octavia & Vicky
I don't think I will be buying musical instruments any time soon….what about you? What is your favourite?
Jodie Clarke is an early childhood professional supporting educators who want and need to stay passionate about the work they do! She has 30 years hands-on experience in the early childhood and human services sectors across many different roles.
Jodie is mum to 3 in Australia and has already helped thousands of educators with their work through her popular blog posts, activity ideas, online training and e-books.