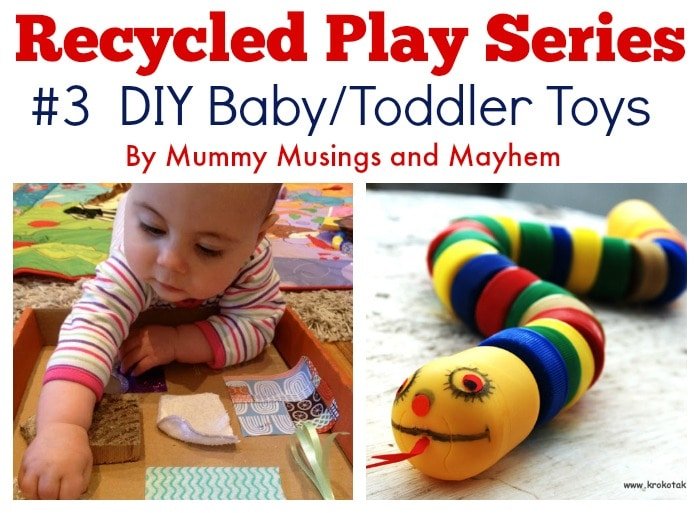 Welcome back to my current series 'Recycled Play'. Regular readers of this blog will know that I have a passion for play but I also have a passion for ensuring parents and educators understand that play doesn't have to be expensive. You don't need all the latest equipment and well marketed toys!
This series is all about inspiring you to discover a love of recycled or upcycled play – each week I take you on a journey through ideas and projects to try for yourself…projects that will not only save you money but provide the kids with hours of fun.
The ideas and activities have been chosen from around the web and from my own blog and range from very easy to 'you possibly might need a patient handyman/woman'! There is something for everyone each week though and plenty of projects that the children can do themselves or enjoy helping you make I promise!
Number 1 in the series explored ideas for DIY and Recycled Outdoor Play – catch up here if you missed it.
Number 2 in the series explored ideas for Musical Fun – See them here
But let's get started with Number 3 in this series….the baby or toddler in your life will love this one!
# 3 – DIY Baby and Toddler Toys!
I am often asked how to best keep baby's and toddlers busy and engaged in play. The answer is keep it simple and expect them to want to move through toys and activities at a fairly quick pace, they are constantly learning at this age and are often experiencing things for the very first time so they have an insatiable curiosity! Don't have your expectations set to high. It is perfectly normal for baby's and toddlers to grow 'seemingly' bored quite quickly.
They aren't really bored they just have so much more to explore and understand! So keep it simple, don't try and set up elaborate invitations to play or feel as though you need to have a million shiny toys that make (VERY) annoying noises. Throw away the batteries and try a few of these simple DIY toy ideas instead. They will also love to watch you make them and toddlers love to hep so make sure to give them little jobs along the way – help them to be active learners!
As you build your collection of recycled fun I guarantee you will love watching them find new ways to explore and learn with the resources you have created. So let's get started….
To learn more about each project just click on the highlighted text under each photo collage.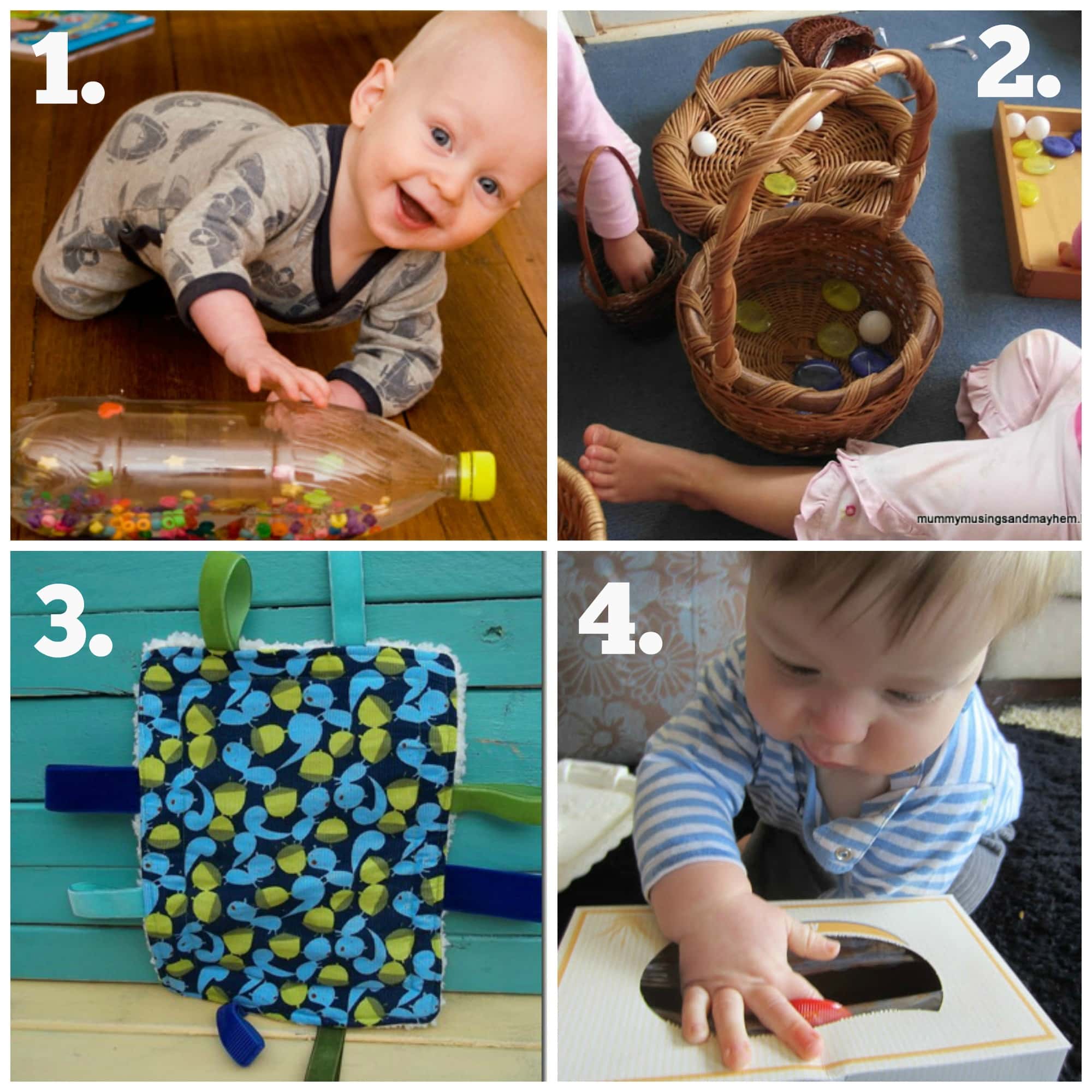 1. Baby Sparkle Bottle – Picklebums
2. Toddler Basket Fun –The Empowered Educator
3. Crinkly Taggie Toy – Creative Passage
4. Tissue Box Play – Learn with Play at Home
5. Texture Blocks – Fireflies & Mudpies
6. Budget Block Fun – The Empowered Educator
7. Baby Sensory Board – Laughing Kids Learn
8. Toddler Scribble Baby Toy – Kids Activities Blog (Great way to get siblings involved with new baby coming along!)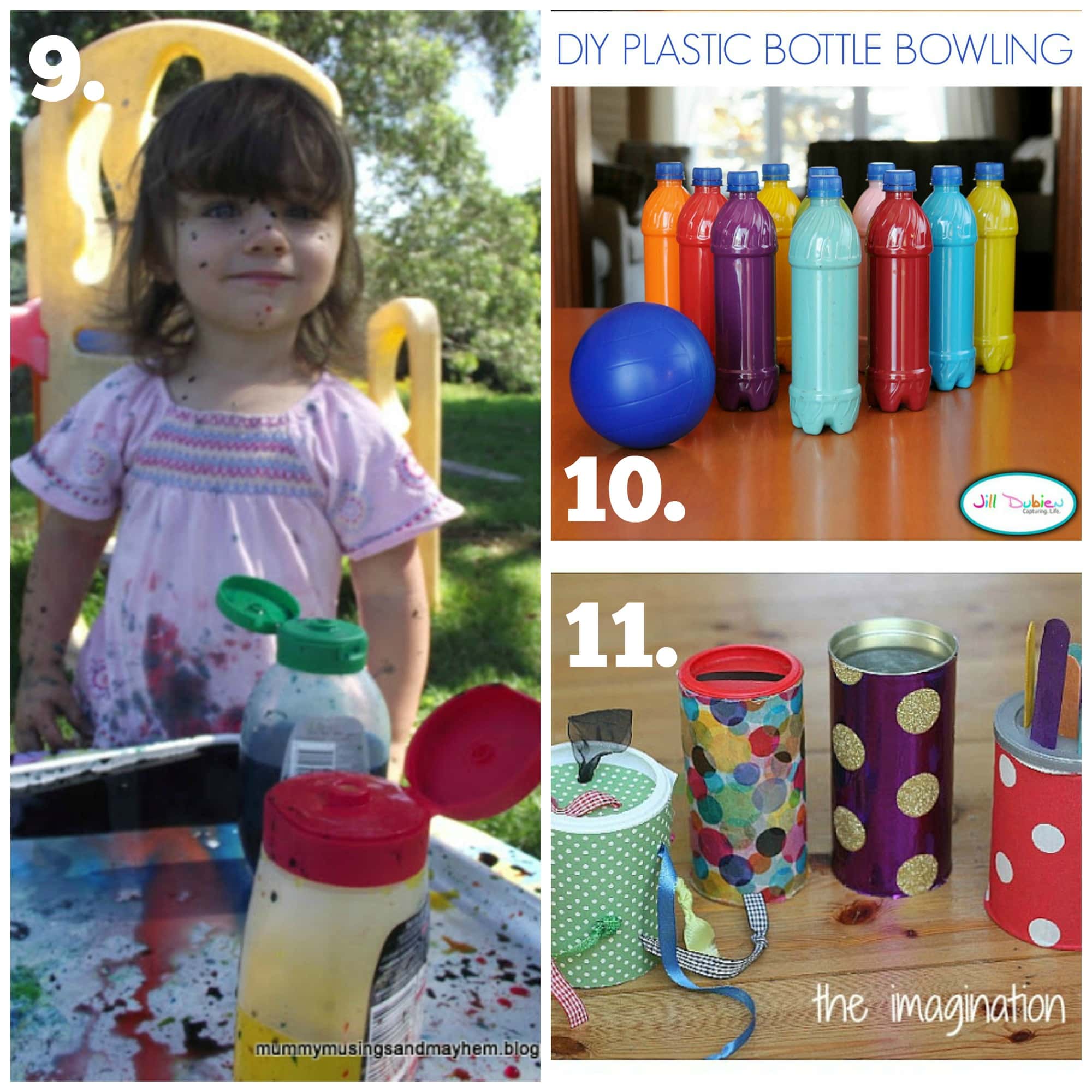 9. Paint Squeeze & Shake Bottles – The Empowered Educator
10. Colourful Plastic Bottle Bowling – U Create
11. 4 Easy Fine Motor Toys – The Imagination Tree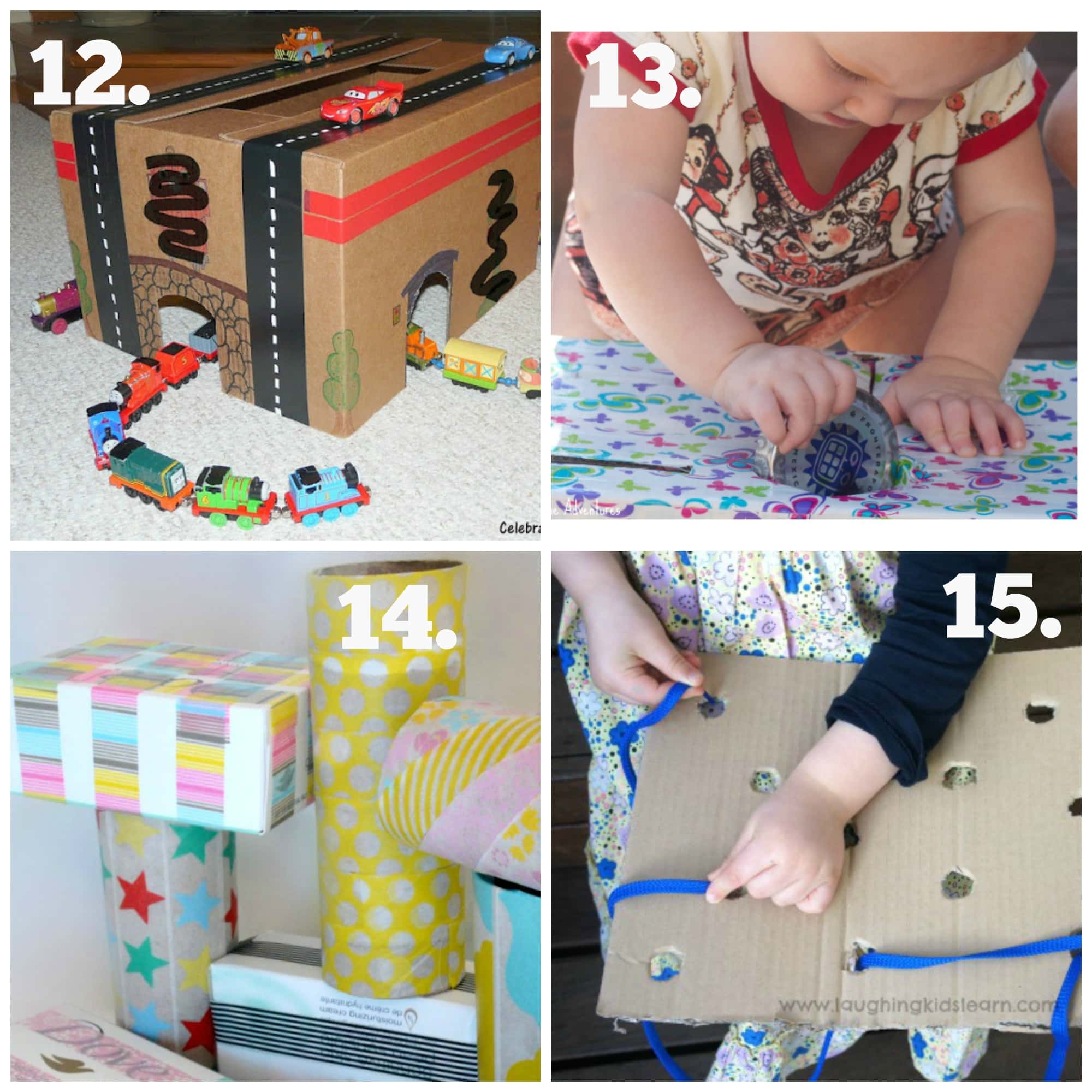 12. Train & Car Activity Box – Celebrate Every Day With Me
13. Recycled Lid Shape Sorter – Lemon Lime Adventures
14. Cardboard Building Blocks – B-Inspired Mama
15. Toddler Lacing Board – Laughing Kids Learn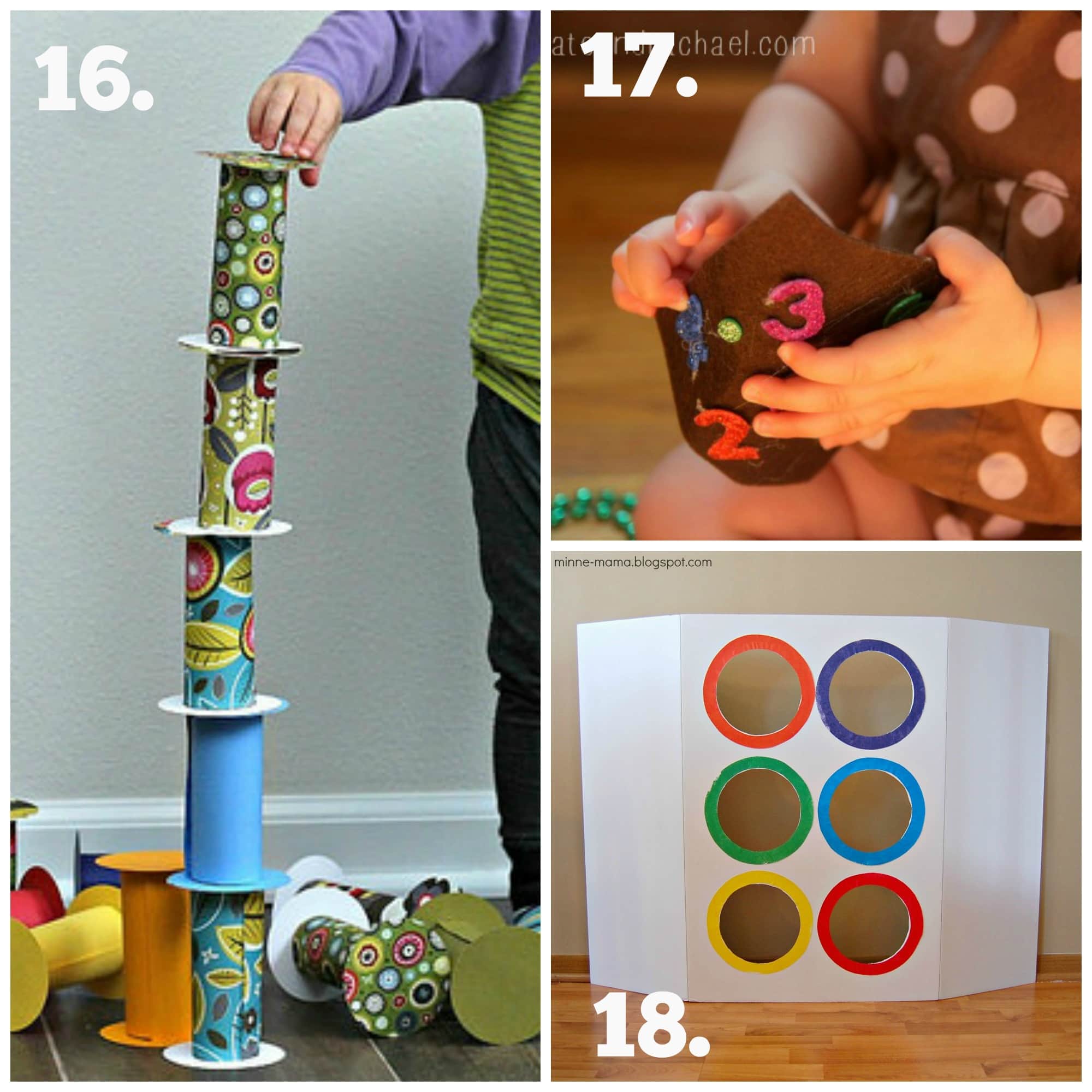 16. Cardboard Roll Blocks – Swoodson Says
17. Baby Texture Cards – Nothing If Not Intentional
18. Colour Toss Activity – Minne Mama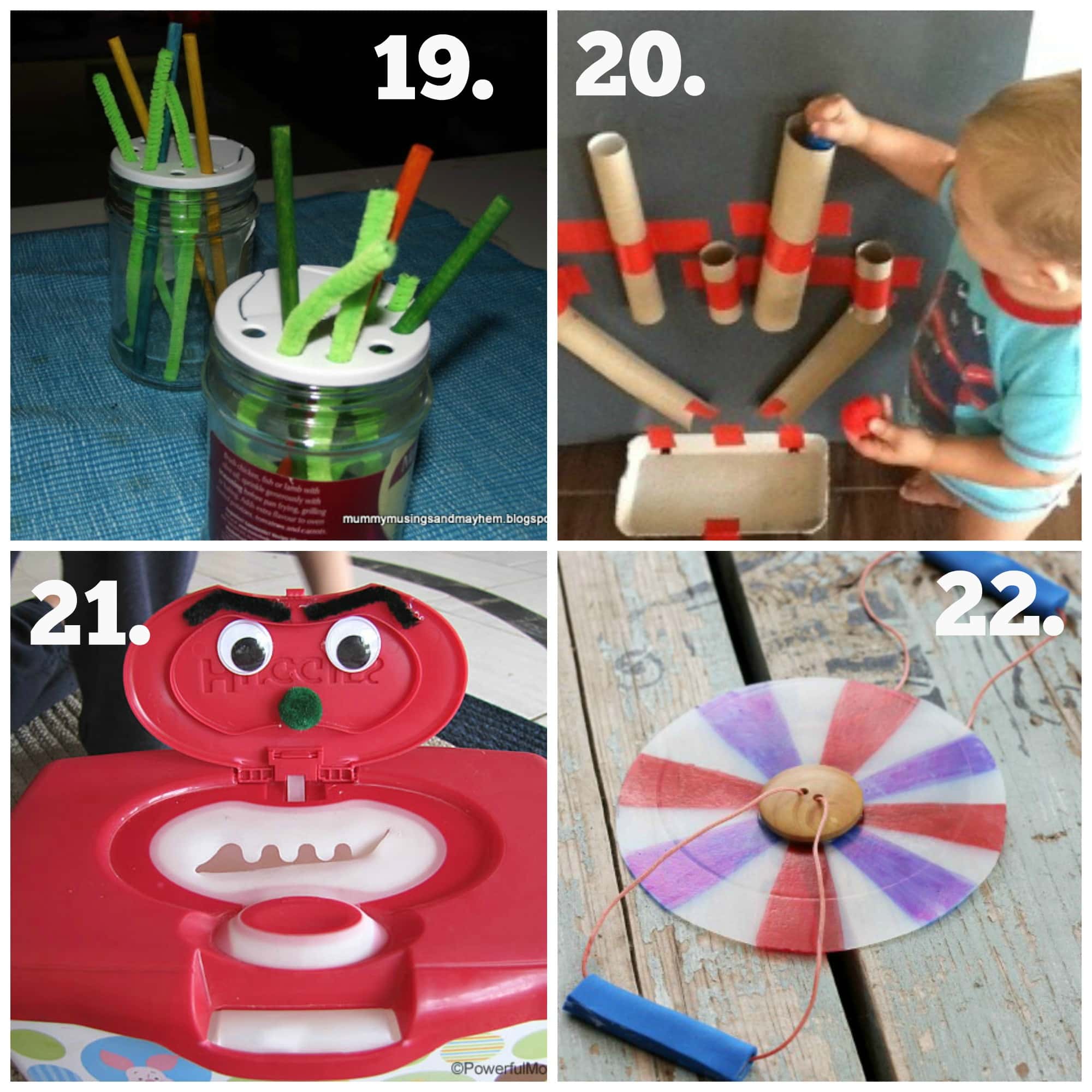 19. Recycled Spice Jar Fun – The Empowered Educator
20. Recycled Fine Motor Tunnels – Teach Me Mommy
21. Feed the Monster Toy – Powerful Mothering
22. Homemade Button Spinner – Housing A Forest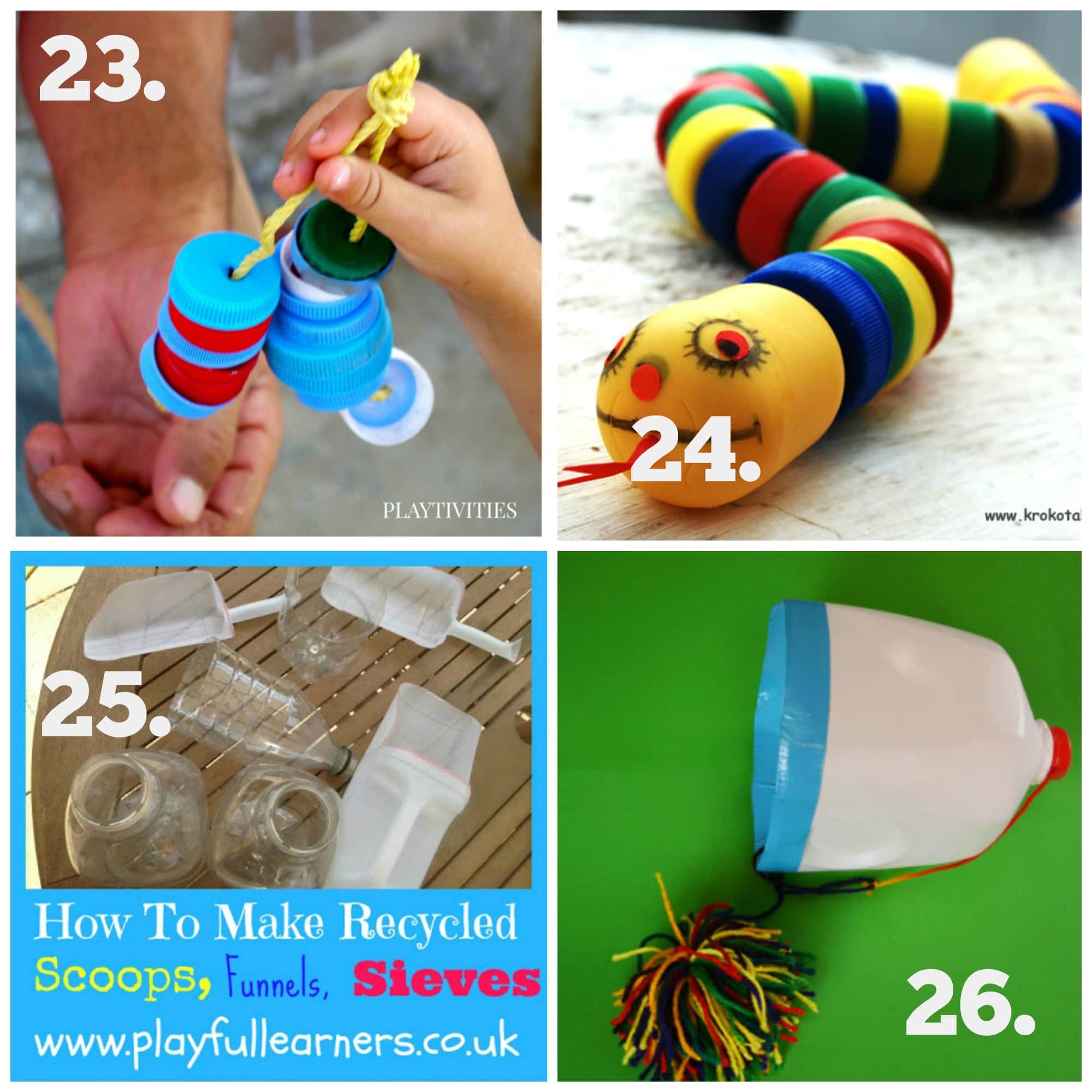 23. Recycled Lid Baby Toy – Playtivities
24. Bottle Cap Snake – Krokotak
25. Milk Bottle Sand Scoops – Playful Learners
26. Milk Bottle Toss – Creative Connections for Kids
27. Nature Sensory Board – Laughing Kids Learn
28. Simple Balance Boards – The Empowered Educator
29. Toddler Rock & Sand Quarry – The Empowered Educator
30. DIY Toddler Noise Shakers – The Empowered Educator
For more ideas and inspiration join early years educators from across the world in

The Empowered Educator Community HERE.
Make sure you catch up on all the posts in the Recycled Play Series! Just click a photo below to view.