We've been busy getting ready for that 'back to school' time of the year. It's rather a step back in time for me because my 'baby' is now 19 so it's been a while since I have travelled this path. But now our 5 year old twins are ready to take that big step into school life….and I'm racing to try and catch up…and be enthusiastic about it, which between you and me I'm not particularly 😉
I'm trying really, really hard to get into the spirit of my last babies heading off to school and away from the play based learning environment they have been used to for the past 5 years here at home with me playing the 2 roles of mum and early childhood educator. It's also occurred to me that we need to smarten up our morning and afternoon routines because let me tell you – it is no easy feat getting 2 girls out the door and anywhere on time let alone to school which has one of those pesky 'must be here before bell rings' expectations.
I'm pretty sure (well I am awfully hopeful)that I am not alone embarking on this journey and wanting to feel a tad more in control of what's about to come so I decided to create a set of 'my school routine' printables for you to also share with your family. The girls have had fun talking to me as I worked on these and are suddenly very excited to be 'getting organised for school!' Win!
If you have been following this page for a while you will know that I am a huge fan of using photos as learning materials and tools not only in the home but also in early years learning environments. Printed materials provide so many wonderful opportunities for reflection, discussion and play and I'm yet to meet a child who doesn't love seeing themselves and friends or family in a printed photo. It provides such a connection and sense of self and community.
For us parents in this digital age it can be easy to forget to print our photos as we now share across social media, our phones and other avenues but to a child, being able to hold something in their hands that has been created for them means a lot. They can share it and talk about it and play with it.
I use printing a lot for my online as well as offline businesses and admit I would be a little lost without a printer both as parent and a businesswoman! So when HP Australia asked if I wanted to review their new HP Envy printer I did get a little more excited than was strictly necessary but hey it's a NEW printer!
I was pretty impressed with the space saving clean design actually – space for my office equipment is at a premium here in the house and I'm sure I'm not the only household that finds it hard to keep a dedicated table top or desk space clear of the usual family clutter! It's fairly quiet too which actually ranks pretty high on my list of qualities in a printer as my current old machine scares the life out of me sometimes it is so loud and annoying! Hey, it's the small things; I know you get it when you too listen to kids voices all day!
I like that you can print your photos and documents from anywhere in the house while you are still sorting or playing with the kids! It's a wireless machine! I take a lot of photos on my phone for blog projects and design many printables and educational resources on my laptop which then means I have to save and transfer a lot of data before I can begin printing with my current machine setup.With the HP Envy 5542 you can print straight from your smartphone or tablet. A huge timesaver for me and also comes with the added bonus of your teenage daughter respecting you a little more for embracing current wireless technology…apparently.
Another clever little feature for busy families and educators is the printer's touch screen. There are tiles on the touch screen and you can actually access free HP printables and different downloadable apps without even needing to go near a computer – you just choose and then print all from the printer itself! You can gain free access to a wide range of creative contents such as colouring pages and greeting cards.
Of course all that is fantastic but pretty useless unless my photos, work and printables come out looking good. And because I never recommend anything to you guys that I haven't tried out and liked for myself first I gave this little machine a workout with my new 'back to school' printable cards and signs. And I think they came out looking fantastic!
Want to try out some printables of your own? Try my free school day routine cards.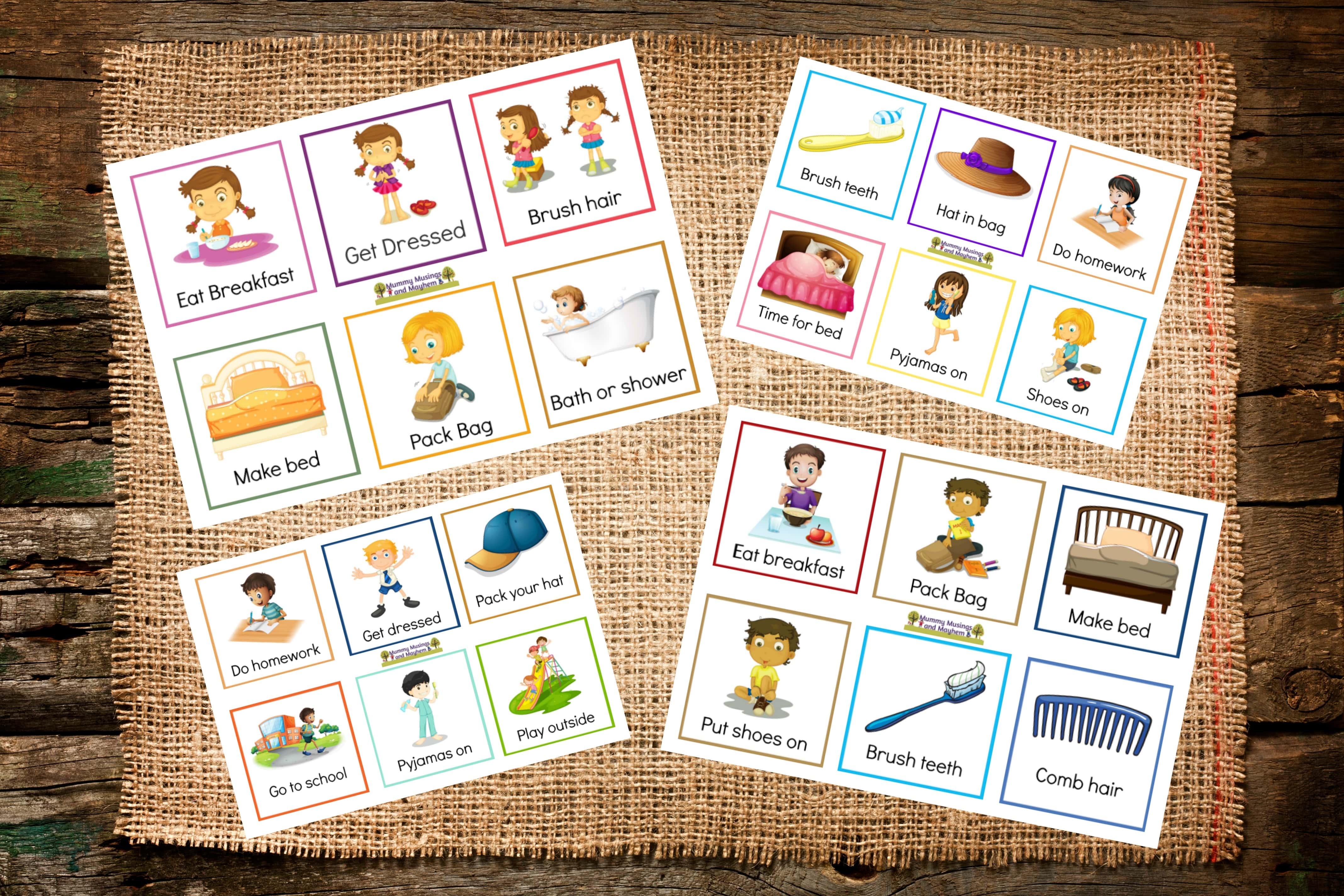 Back to School 'Getting Organised' Printables
To help get organised in the mornings and encourage the girls to be more independent and take control of their own actions I developed this set of colourful, easy to identify routine cards for them to use. There are a set for the morning routine as well as an afternoon/night time routine. I've added cards with a boy theme as well as one for the girls but there is no reason you have to stick to that!
I added the jobs/activities that are most relevant to our family so if using them for your children you might want to leave some out or use them all, totally up to you! Because my girls really like their own 'spaces' at the moment I put up a little magnetic board for each of them and simply added a small magnet to the back of each card (you can get packs of these cheaply in the $2 stores) so the cards stayed on the board.
The girls line up the cards on their board (with a little guidance re preferred order of tasks from Mum) and as they complete each job they move them to the bottom of the board until completed. Same procedure for the afternoon activities.
If you don't want to go to the expense of purchasing a magnetic board you can easily line the cards up somewhere at child height and let your child place them in a basket as they complete each task. You can also put a little blu tack on the back of each card and stick to the wall in their room.
A simple little printable but one that is already proving very valuable to our family organisation…and it has even created a little competition between my girls which means the jobs get done even quicker. That's a win for this busy Mum!
How to make your own cards
1. Download the printable cards by clicking on the images below – there is a set for boys and a set for girls or save both to combine them!
2. Print your cards in colour on good quality paper or cardstock .
3. Cut around the squares to make individual cards.
4. Laminate or enclose them in contact to make sure they last awhile with grubby sweaty hands!
5. Separate cards into morning and afternoon/evening tasks (you'll note there are 2 toothbrushes – one for AM and one for PM)
6. Add a small magnet/blu tack /double sided tape to the back of each card
7. Work with your children to add them to a magnetic board or space on a wall or cabinet
8. As they complete each task drop into a basket or move to the bottom of the magnetic board.
Click on the photos below to download your free cards!
And just because I often print photos and other resources with a lot of colour I decided to design one more printable to really test out this machine. My 'First day of School' signs came out beautifully and the photos I printed of the girls holding their signs caused me a little tear or two but at least the quality was there.
You can download your own 'My First Day photo sign prop by clicking the picture below. Don't forget to choose which colour frame you want and only choose to print that page!
Thank goodness the photo of the twins below is just a test to be enable me to share the printables with you. Because just between you and me I don't think I am ready to see those signs added to school uniforms just yet…let's try again in a few weeks shall we 😉
To get busy with more fun back to school printer projects click here to visit HP's project page. I'd love to see what you create!
This post was sponsored by HP Australia but I assure you that all opinions and activities are my own and not given lightly!
Let me know in the comments below your best tip or tool for getting the family organised as we head back to school!