As a parent and an early childhood educator I love to find different ways of making my own budget friendly resources and this chalk paint is one of my favourites! It is a simple hands on activity that encourages children to take part both in making the paint with you and then using it to get creative.
You only need a few simple materials for this activity and it can be easily modified to suit both toddlers and older children. My 6 year old twins enjoyed making their paint outside one afternoon after school finished for the day. We then used it many times throughout the week. Follow the easy steps below to make your own chalk paint!
What you need to make chalk paint.
A collection of old or broken chalk ends (you can also use new chalk if you prefer, thick sidewalk sticks work well for this activity and if you have a large group of children).
Tack hammers  and/or wooden mallets and hammers for younger children (or you can use rolling pins as another option)
Ziplock bags
A strong stable surface for hammering (you can use the ground, a table or a wooden cookie stump like we did – factor in the age of your children and what would work best for them.)
Bucket or tub of water and a few jugs for pouring
Spoons for mixing
Paper and/or wood offcuts for painting
What you do now to make the chalk paint
I advise getting all of your materials ready before you start this activity – especially if playing with toddlers!
Hand out a bag to each child and encourage them to choose the chalk pieces they want to crush – obviously the darker colours will create a more vivid paint. This is a fun way to explore light and dark as well as basic colour mixing if using quite a few different chalk colours.
When the pieces are chosen, help to make sure the bags are sealed securely and then place them flat on a hard surface.
Now it's time to challenge those fine motor muscles and hand eye coordination skills with some hammering. The aim is to crush the chalk pieces into a powder.
This can take a bit of work but I'm yet to meet a child who doesn't love hammering! If you would prefer not to use hammers why not try some wooden rolling pins – they can use them to bang and to roll across the bag and you will still end up with the same result – just takes a little more time!
You can also try the meat tenderizer mallet (see picture below) as another alternative to hammers.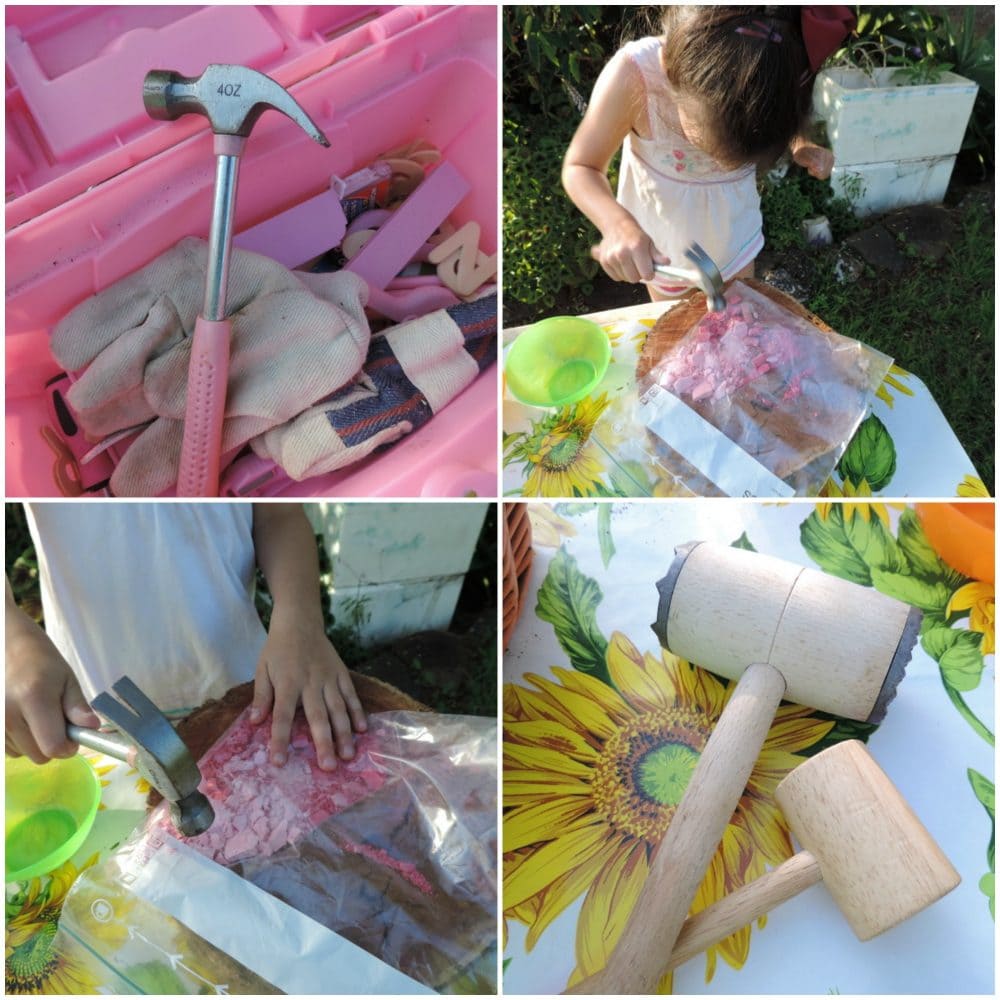 There are always ways to modify an activity depending on what you have available. If you don't have ziplock bags or would prefer not to use plastic why not hand out some metal plates or bowls like these ones (I got mine for only a few dollars at Kmart) and use them for the hammering instead. This is better suited to the older children though as they need to be able to hold onto the bowl while they hammer to stop it from bouncing off the table!

When they have finished their hammering and crushing (you might need to help the toddlers crush theirs up a little more) pour into some bowls for mixing into paint.
Don't worry to much about getting the powder extra fine – there will be lumpier paints and thinner paints at the end but the point is they have fun creating their own version and it all adds to the sensory experience anyway!
Now it's time to add some water and get mixing! We talked about adding just a few drops or little bit of water at a time so we didn't end up with just runny coloured water – this will happen though, especially with the younger children, so again….don't get stressed, just let them experiment!
As you can see from the pictures below we went through a bit of trial and error to get the paint to the thickness we wanted and some of the chalk was not so crushed…but it was fun working through the possibilities!
Now it's time to have fun painting! We painted on some recycled brown packaging paper but you could of course use whatever you have available.
They certainly were proud of making their own paint and wanted to go back and keep making more and more colour combinations.
I encourage you to take this activity outside so you don't need to worry about the mess from hammering and the children can come and go and take their paint around the yard to decorate treasures that they find!
We also used some wood offcuts out of our craft recycle bin and the twins practised writing and naming their sight words (Beat sitting indoors doing a homework worksheet that's for sure!)
Making your own chalk paint with the children's involvement really is so easy and it's also a fun way to model to children how we can use the resources and materials we already have and turn them into something new to play with and use in a different way.
Even the wallaby came to visit us and seemed fascinated by all this activity in the front yard!
If you love making your own resources and learning materials and are always looking for new ideas and inspiration why not join early childhood educators from around the world in my Empowered Educator Facebook Community. 

Jodie Clarke is an early childhood professional supporting educators who want and need to stay passionate about the work they do! She has 30 years hands-on experience in the early childhood and human services sectors across many different roles.
Jodie is mum to 3 in Australia and has already helped thousands of educators with their work through her popular blog posts, activity ideas, online training and e-books.