Planning and creating engaging outdoor play areas for children is one of my favourite things to do – another is inspiring other early years educators to get creative with their own outdoor play environments. There is no need for big budgets or fancy materials, just a little outside the box thinking and commitment to upcycling and recycling! Some projects require a few basic handyperson skills but others anyone can do with a little hard work.
Outdoor play areas that draw children in to explore, experiment and build upon are those that usually have a mix of fixed spaces as well as lots of opportunities to access loose parts and open ended materials that they can move around, rearrange and add to the spaces in different ways to extend upon their play.
In my Empowered Educator Community on Facebook we have many hard working members who regularly share their outdoor play areas and projects with us and each month here on The Empowered Educator website we feature a collection of some of the wonderful ideas that have inspired us in the community – and I hope by sharing they also inspire you to perhaps try something different in your early childhood environment or backyard.
Most of the projects and spaces I'm sharing below are fixed areas but they also provide many opportunities to add open ended materials and you will notice lots of natural and recycled materials being used. Keep in mind that everyone has a different space, skillset and budget to work with and the idea is not to feel overwhelmed with what others have created but to come away with a few basic ideas and a little inspiration to create something that might work for your play area in a different way.
So let's take a wander through this month's Community Inspiration Topic which  is Outdoor Environments. I can't wait to share some of these inviting spaces and ideas with you!
Ideas for Outdoor Play Areas
Outdoor Kitchens
Outdoor kitchen areas encourage role play, imagination, investigation, problem solving and group games. They can be made up of one piece of equipment or many but all invite play!
Love the many ways wood has been incorporated in this little corner of a family daycare yard. Shared by Renata…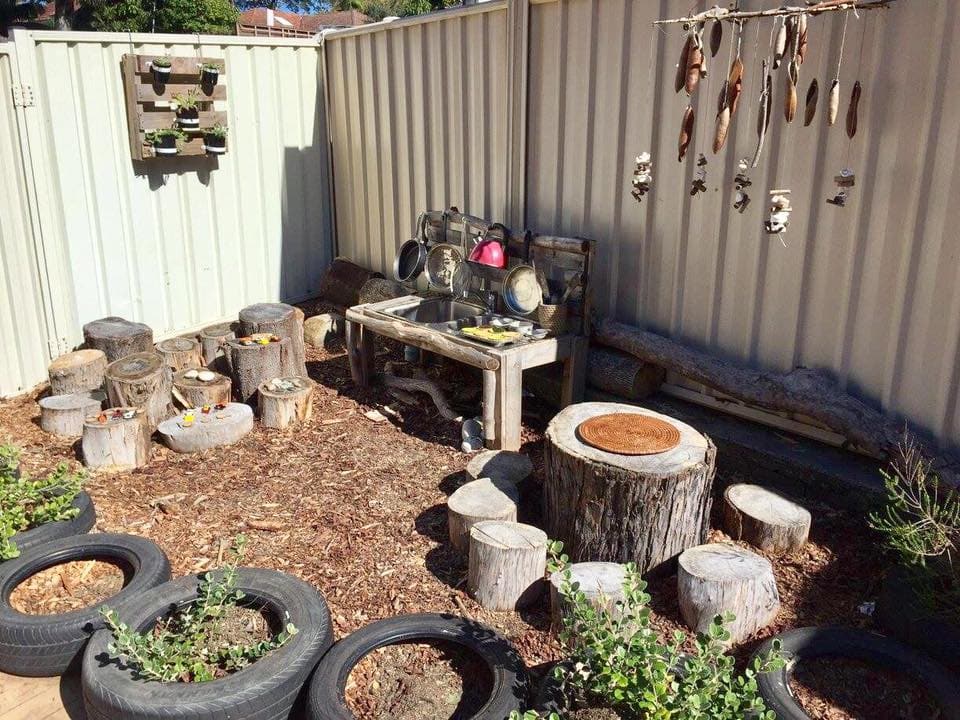 A few concrete blocks, an old sink and recycled pallet came together to create this inviting space perfect for toddlers! Shared by Erica…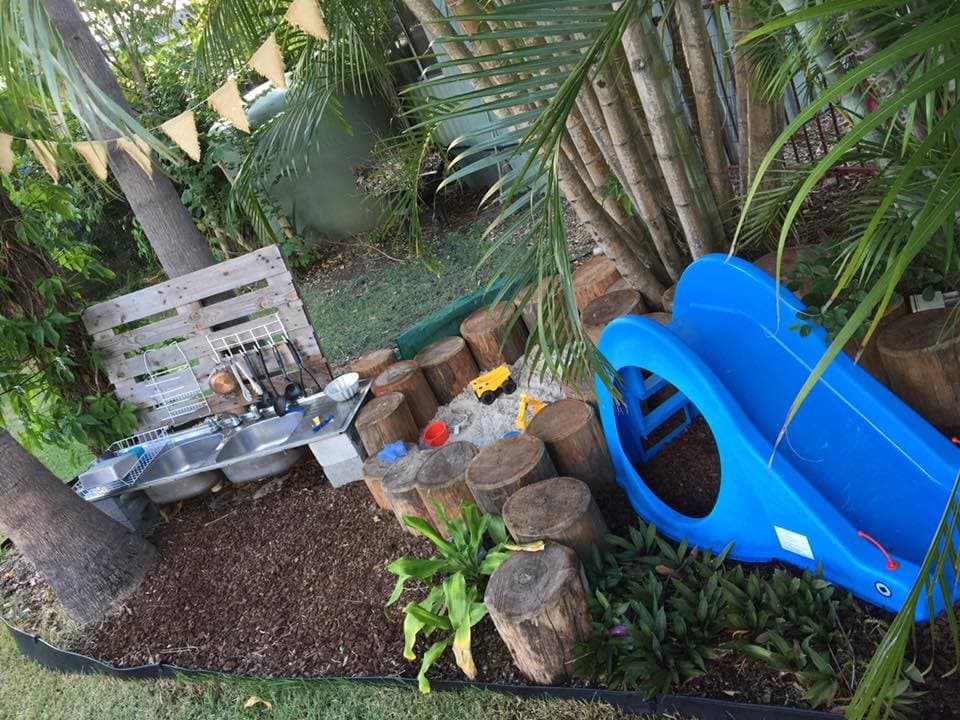 I bet the children love using the old oven in this wonderful outdoor kitchen and how sweet is that table and chairs?! Shared by Marina..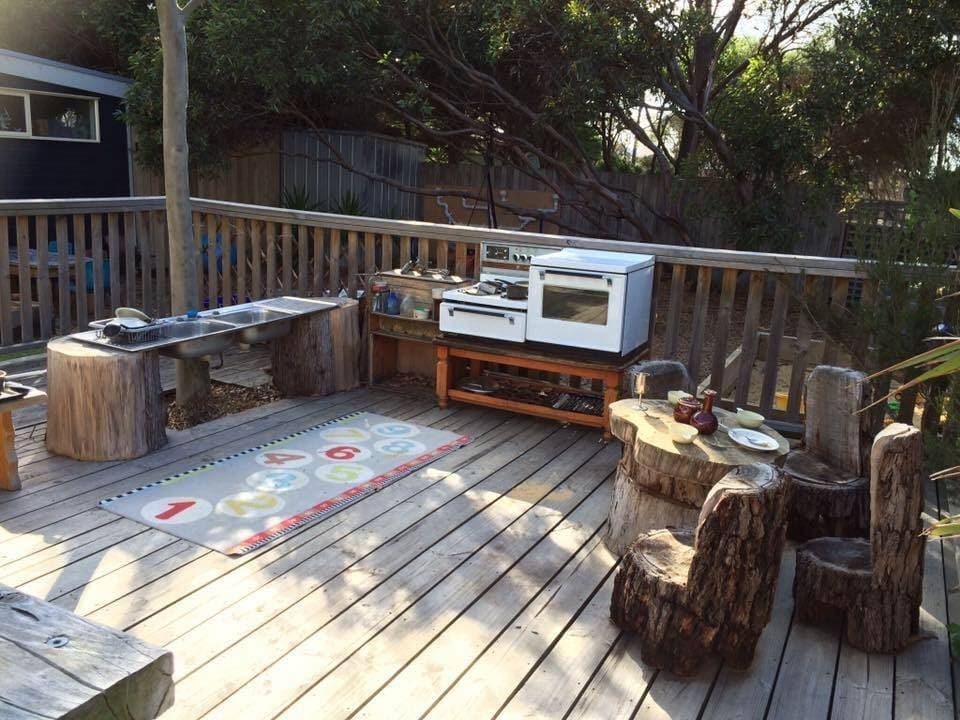 Now that's a kitchen to explore, create and get messy in! Shared by Divina..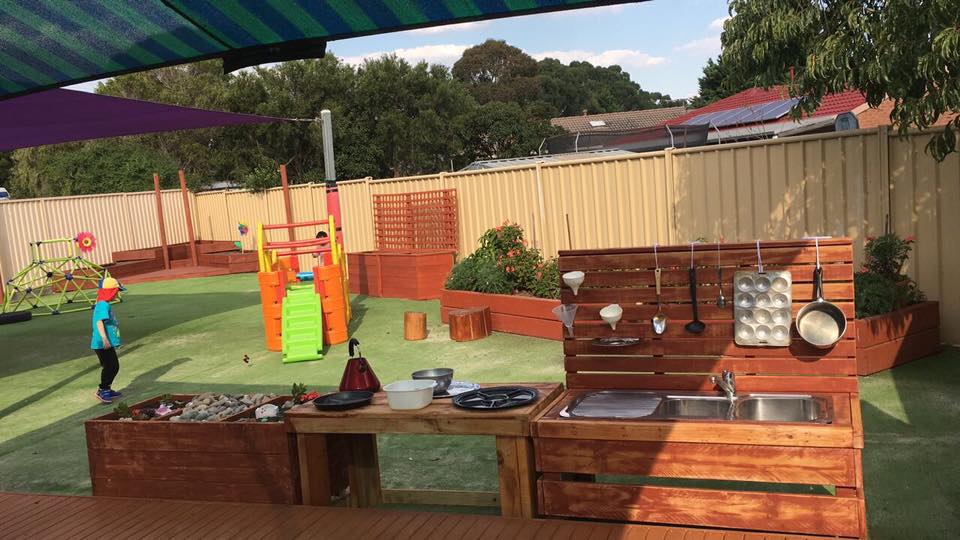 Such a sweet little space for children to let their imaginations and role playing take over. Shared by Heidi…
Milk crates and pallets are a precious resource in an outdoor play area – this is so simple but invites so many opportunities for play! Shared by Josi…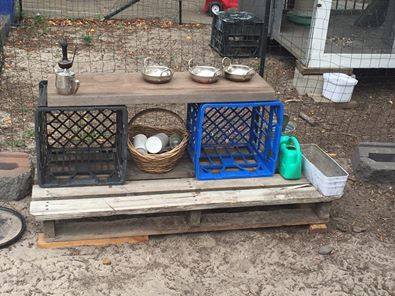 Another simple pallet kitchen you can try – Lots of pebbles to add to the 'cooking'! Shared by Karen…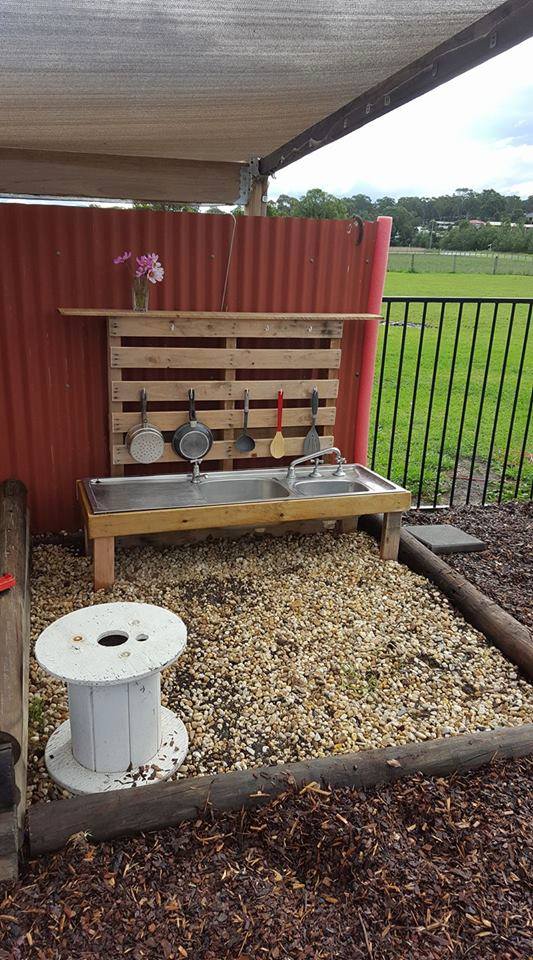 This space looks like it gets lots of love and play – adding a floor is a great idea to define the space and the kitchen tools help it feel like a real kitchen. Shared by Kristi…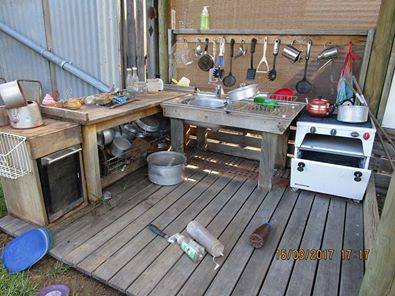 A kitchen in the sandpit always invites lots of messy, sensory play! Shared by Jenny…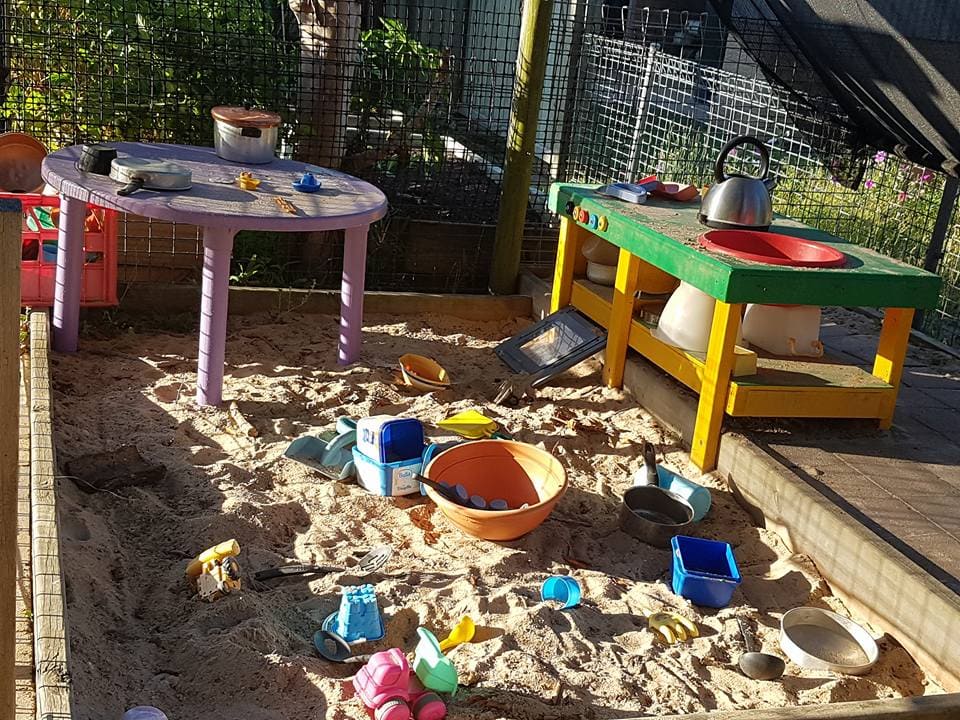 Sensory Invitations
Materials and spaces can invite children to explore, investigate and create using their senses. And the best part of these spaces being outside is that children can get as messy as they like!
A clever sensory racetrack for the cars made with a few simple materials and trays turned over. Shared by Ursula…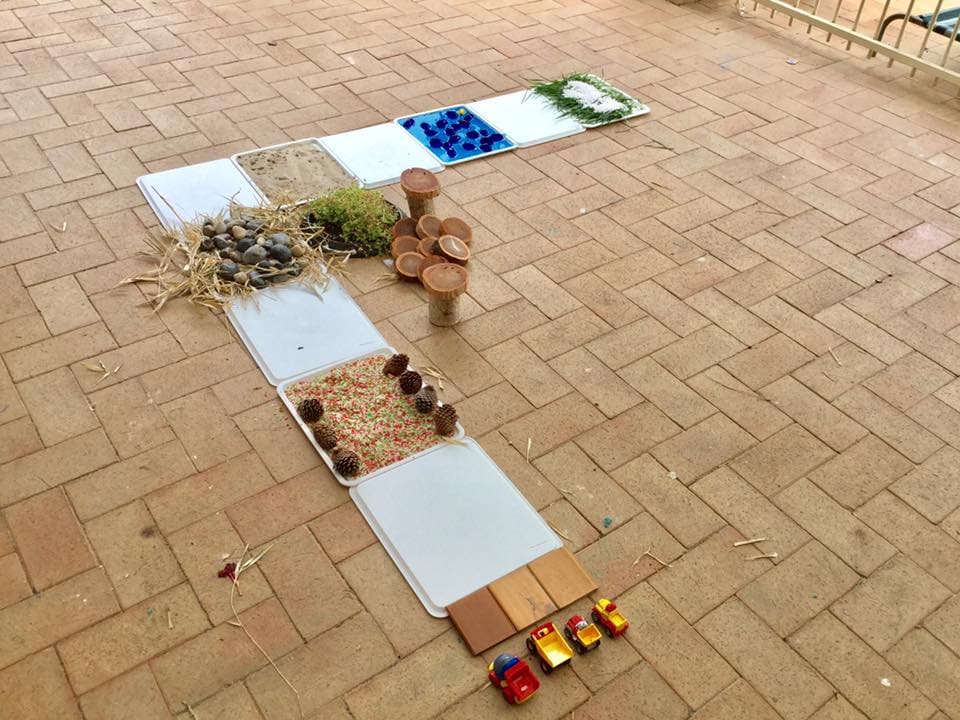 Sensory trays and pebbles to add to the outdoor play in different ways invite exploration and imagination. Shared by Divina…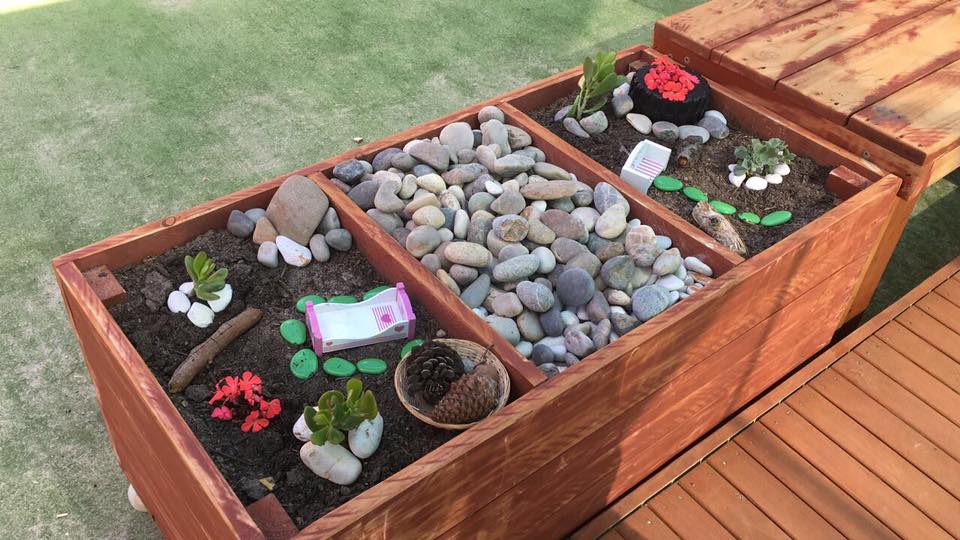 This sensory exploration path was created using wooden blocks lined up to form squares. Easily moved around for another day's play! Shared by 
Renata…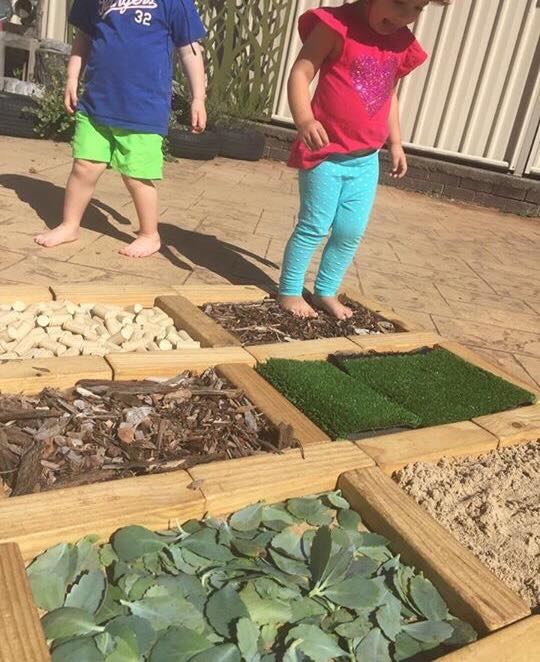 A mini water wall built using an old frame and mounted at the bottom of steps – clever use of space and water play is always a favourite! Shared by Helen…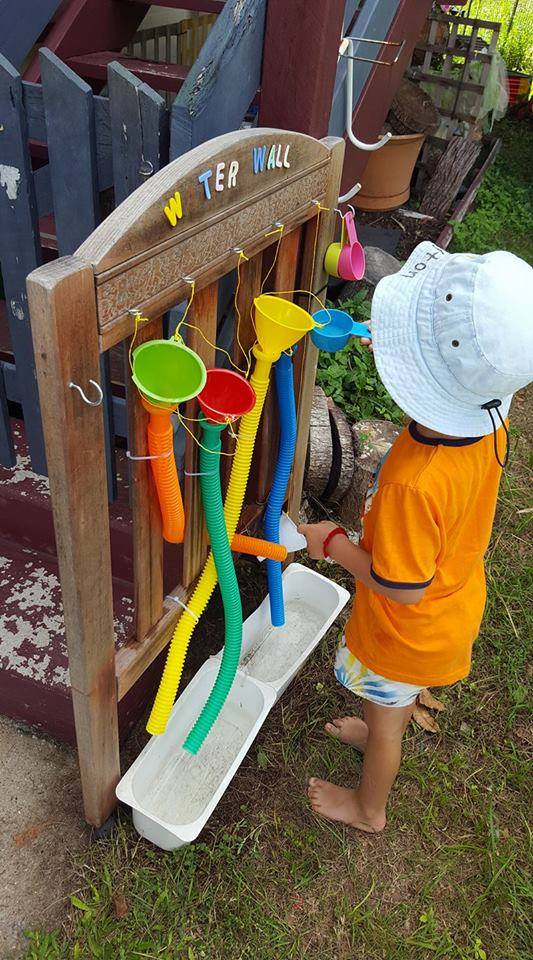 Can you see the guinea pigs in their special garden? Lots to explore with the senses and talk about here. Shared by Sally…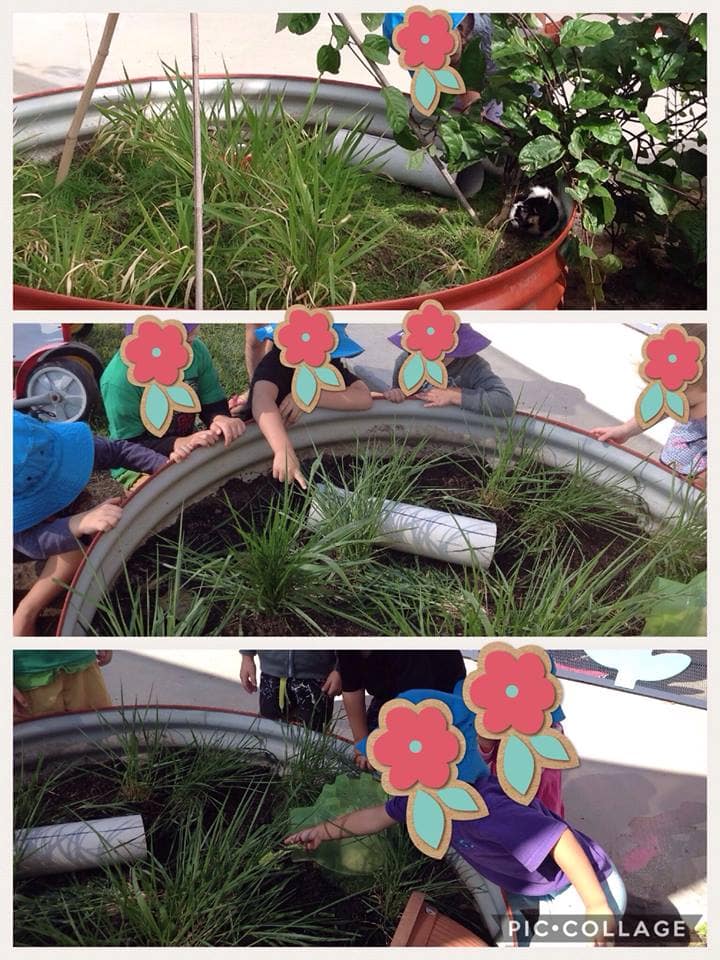 Water, rocks, mud, bowls and tins…so much to explore and engage the senses in this creative water wall space! Shared by Kristi…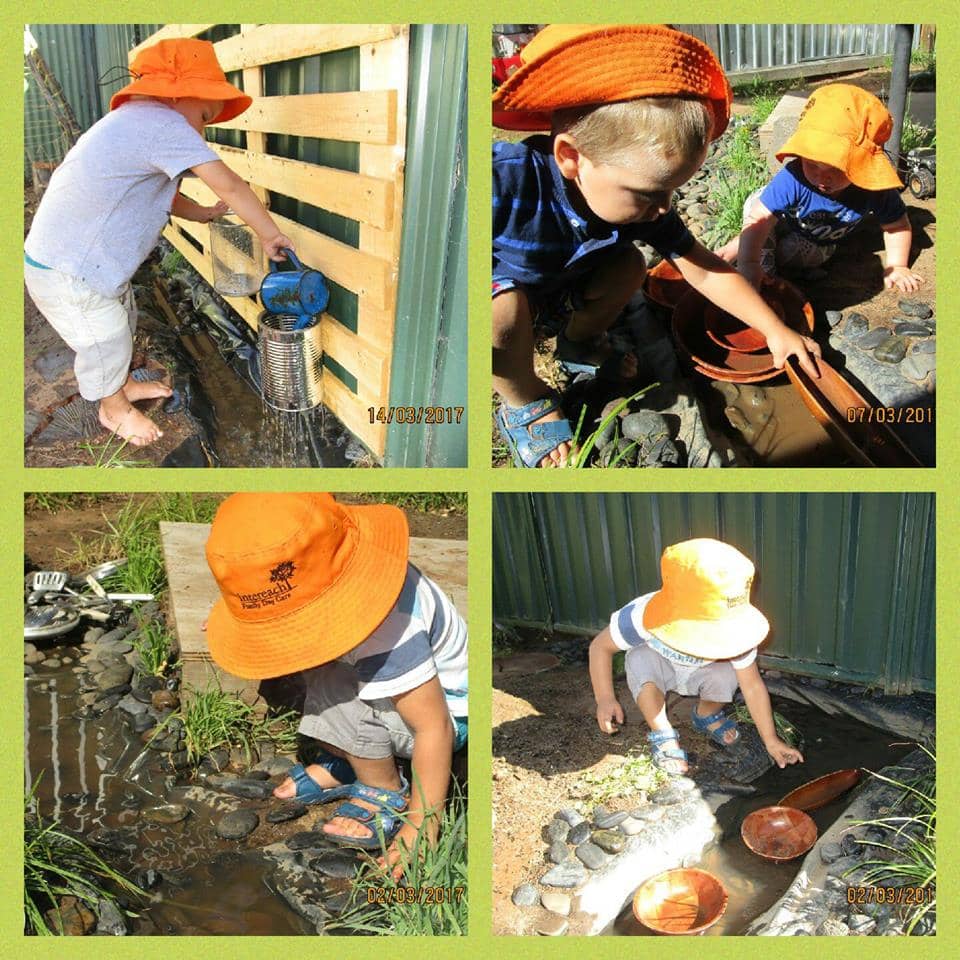 Love this little car track made with a few pavers and lots of stones to add to the play. The outdoor mural brightens up the fence beautifully too! Shared by Natalie…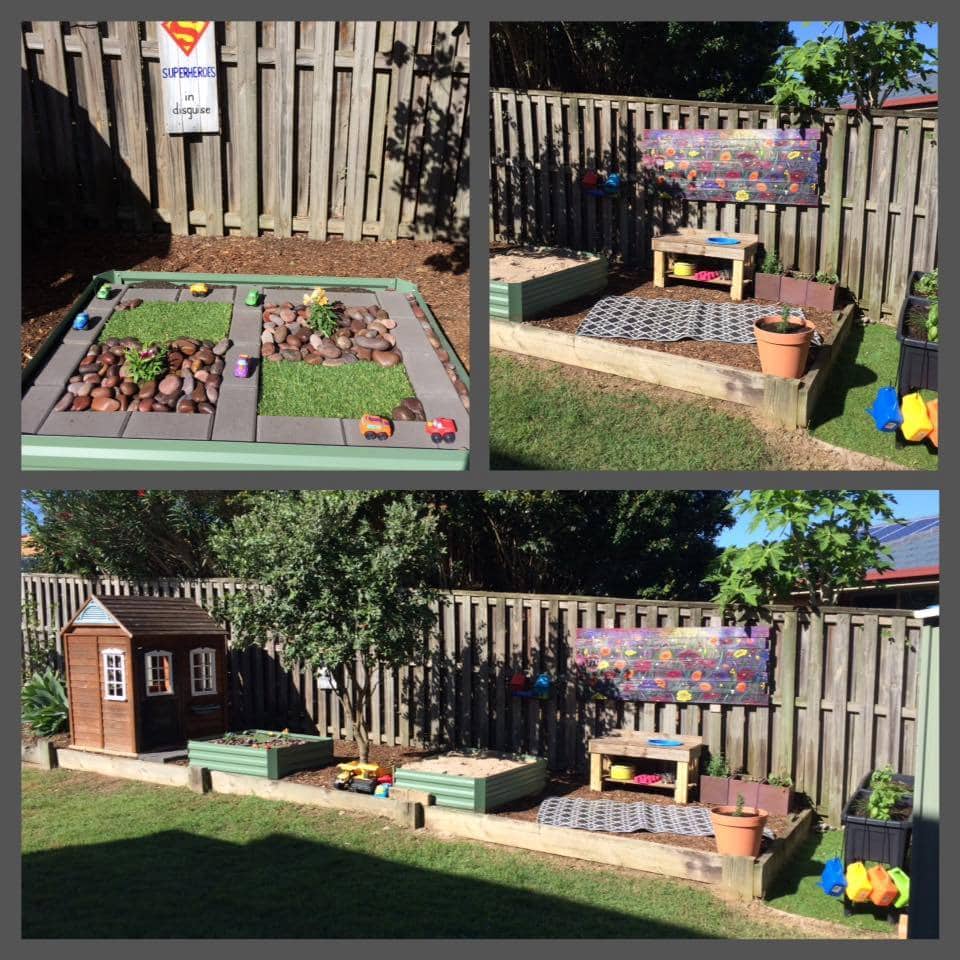 Natural materials and a large outdoor tray provide the perfect sensory space for a dinosaur land…or perhaps something different tomorrow! Shared by Tamara…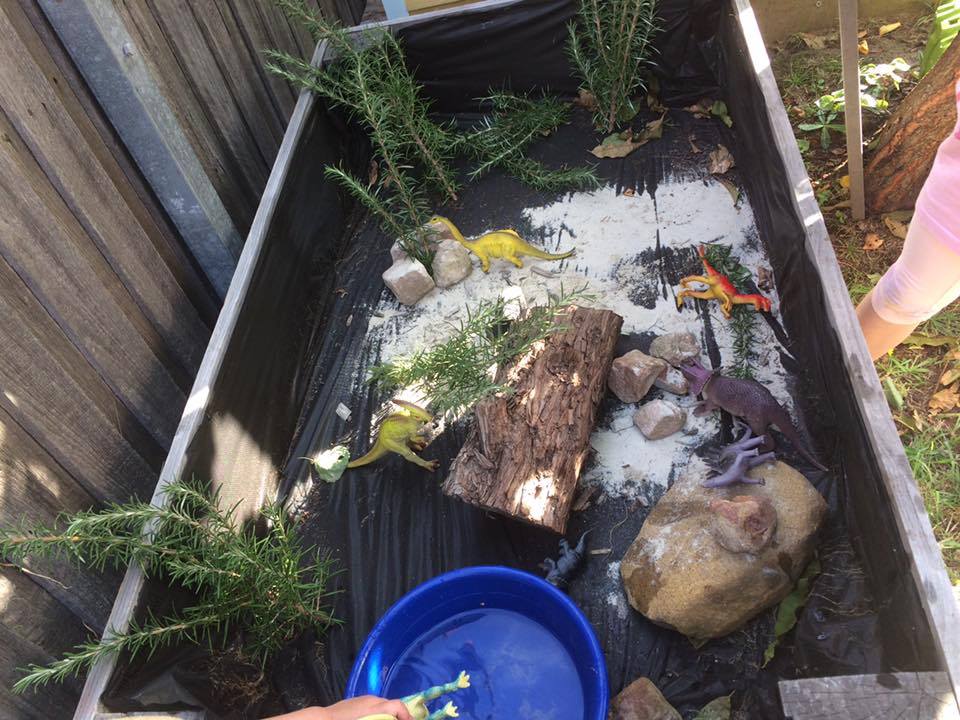 Obstacle Courses/Planks/Stumps
Add some tyres, wood offcuts, planks and stumps to your outdoor area and you have obstacle courses and building activities ready to happen! The educators below found some clever ways to create spaces that challenge fine and gross motor skills, balance, coordination, problem solving and also invite teamwork and communication. Best of all they are budget friendly!
A colourful obstacle course to explore using simple materials that can be moved each day to create new challenges! Shared by Jenny…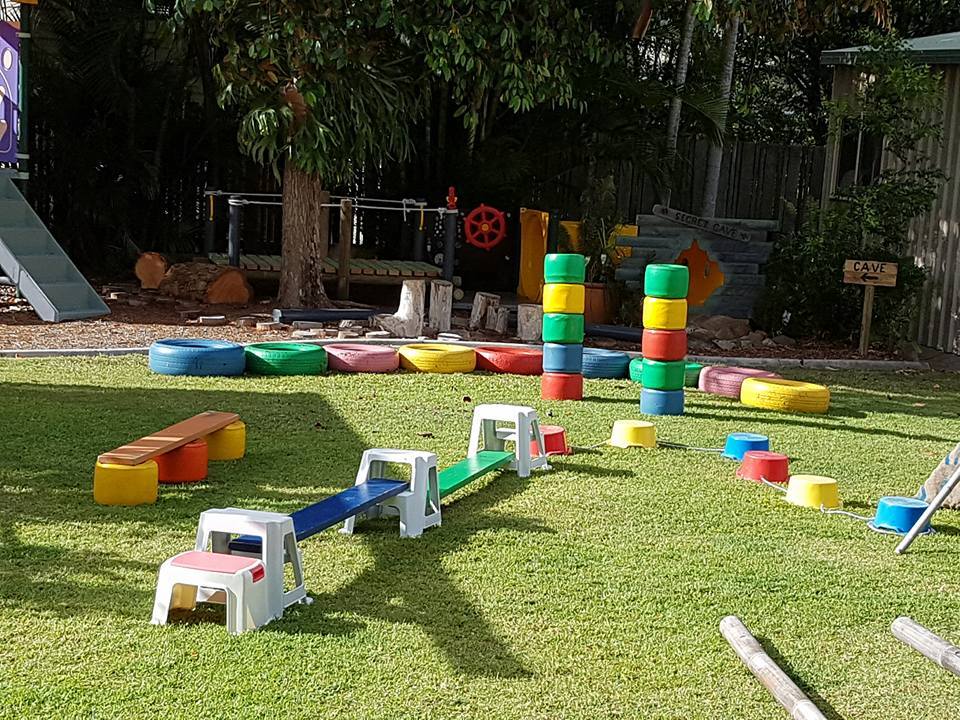 The simplicity of  a few planks and tyres is encouraging play in different ways for the children in this group. Shared by Lani…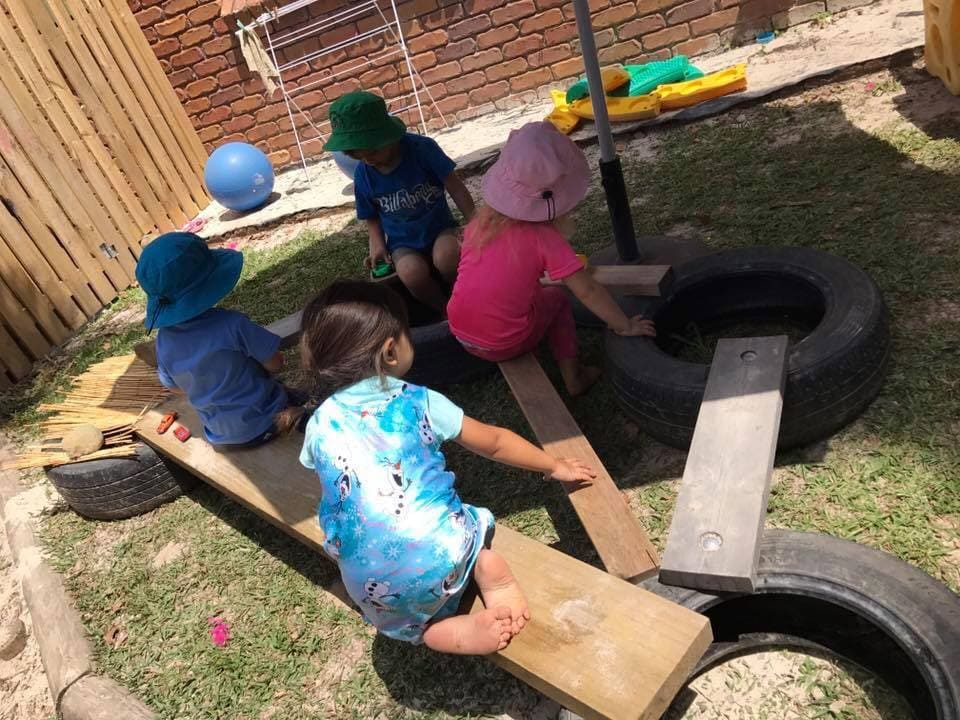 Pipes, stepstools and planks of wood provide a budget friendly obstacle course to explore, tailored to suit a multi age group! Shared by Nat…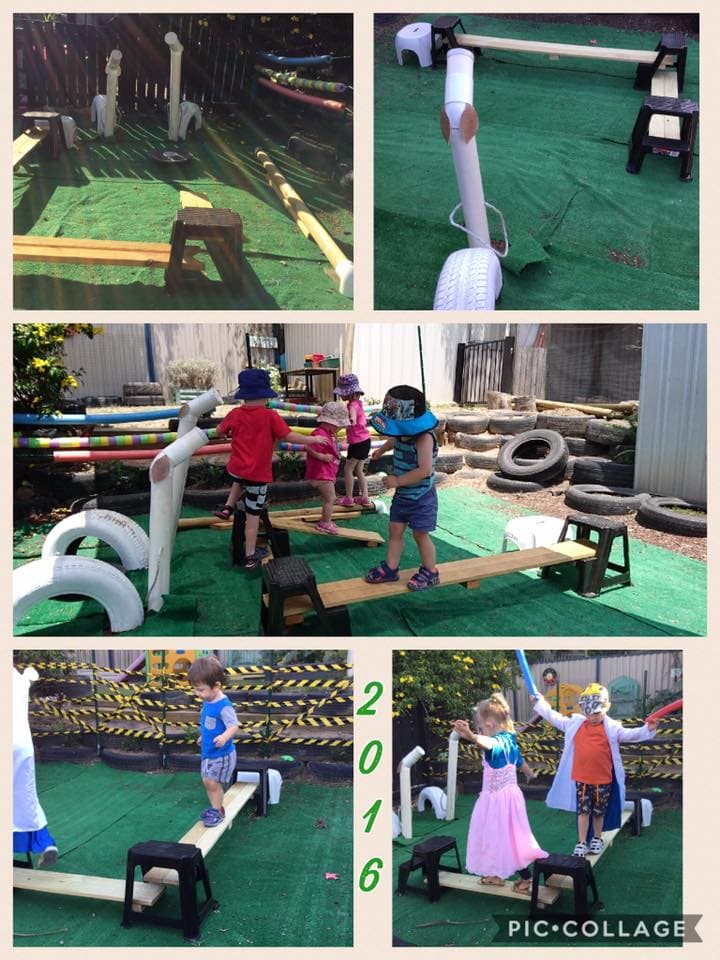 Never underestimate the appeal of wooden offcuts and building materials in the outdoor area – children will always find a way to play with these sort of materials if they are provided! Shared by Kristina…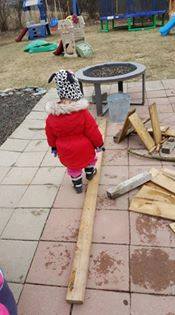 Wooden stumps and planks can be used so many different ways in outdoor play areas as shown by Renata who has a wonderful natural outdoor environment for children to explore. She shares a few of her ideas in the projects below…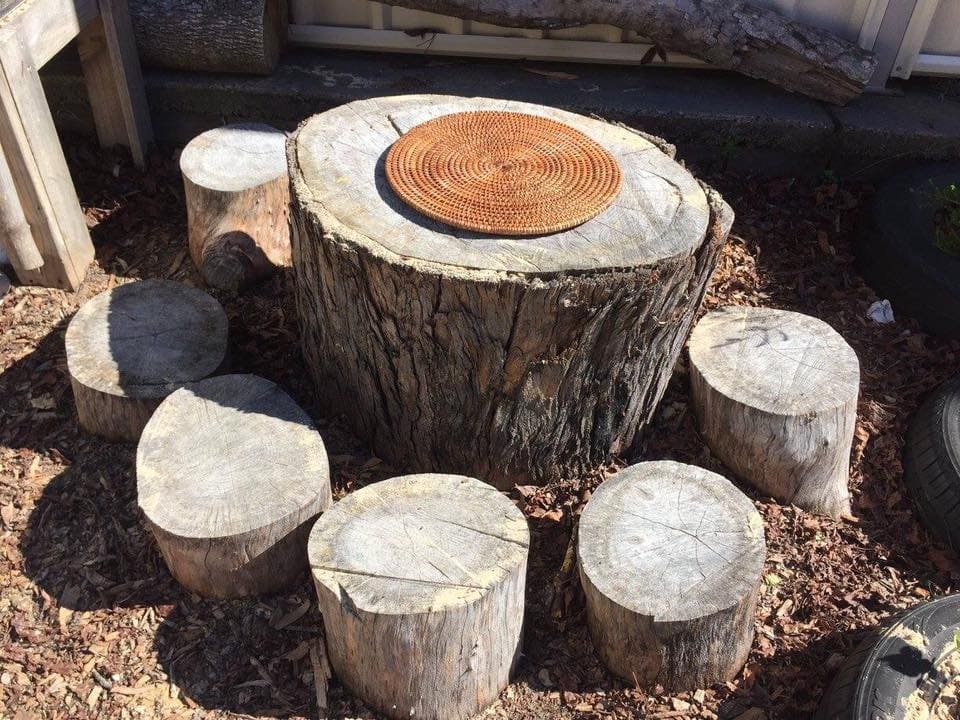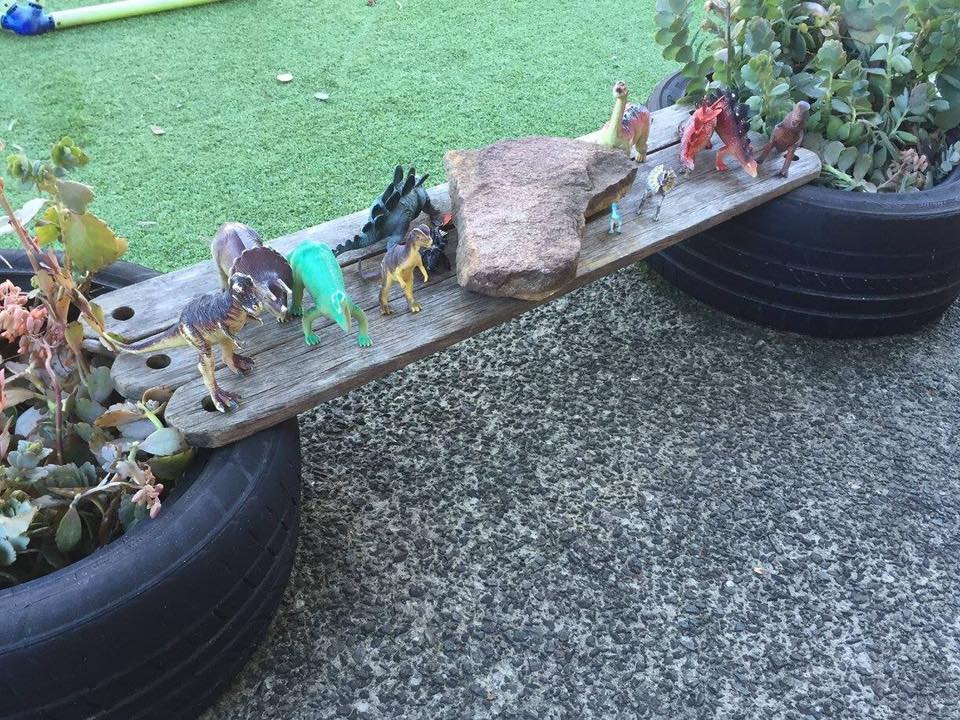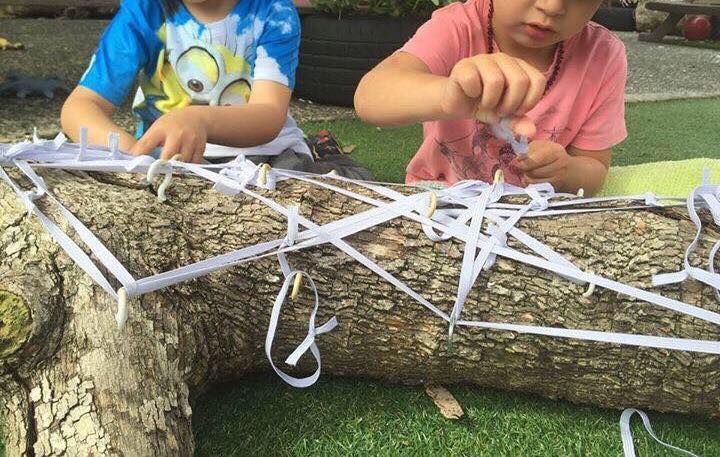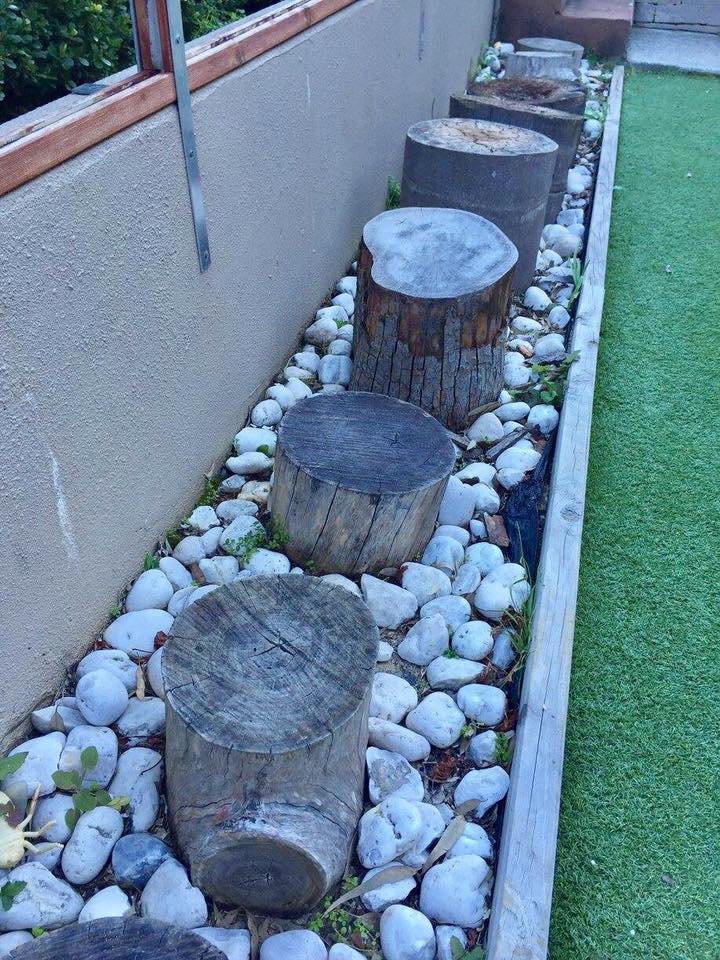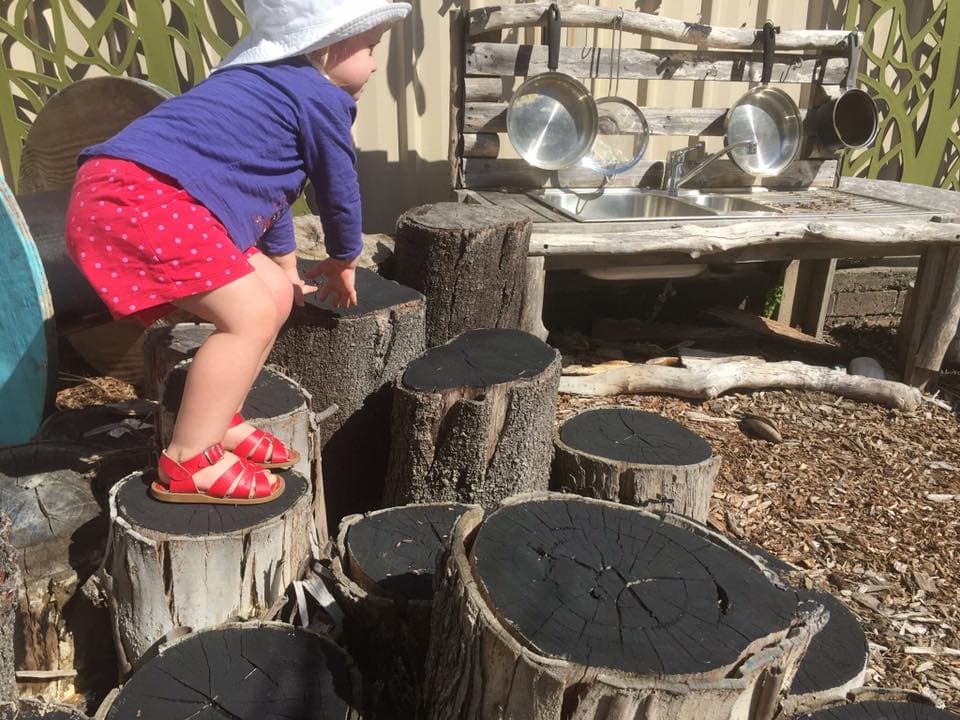 Don't fall in and let the crocodiles get you! Adding props and incorporating music into outdoor play can provide a new twist to balance and climbing activities. Shared by Olivia…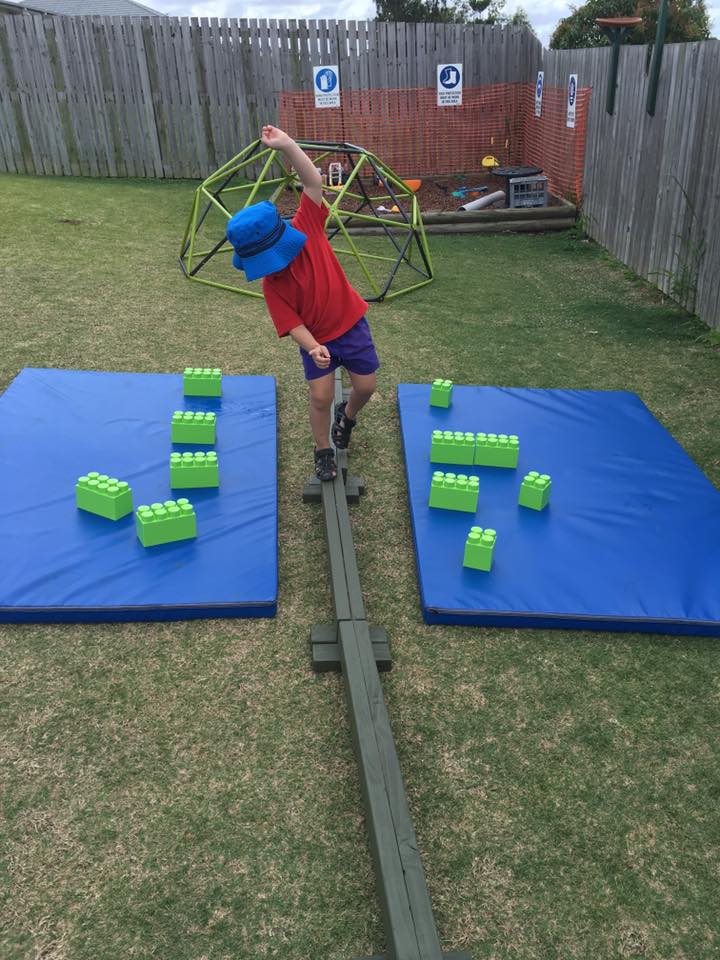 A wonderful climbing space to challenge, climb, crawl and hide! Shared by Peta…
Sand, Digging Areas & Loose Parts
Even if you only have a small outdoor space I encourage you to create a digging, dirt or sand area if you can and don't forget to add some loose parts for extending the play!
Bamboo, logs and loose parts for weighing and climbing – lots to explore in this colourful outdoor space. Shared by Jenny…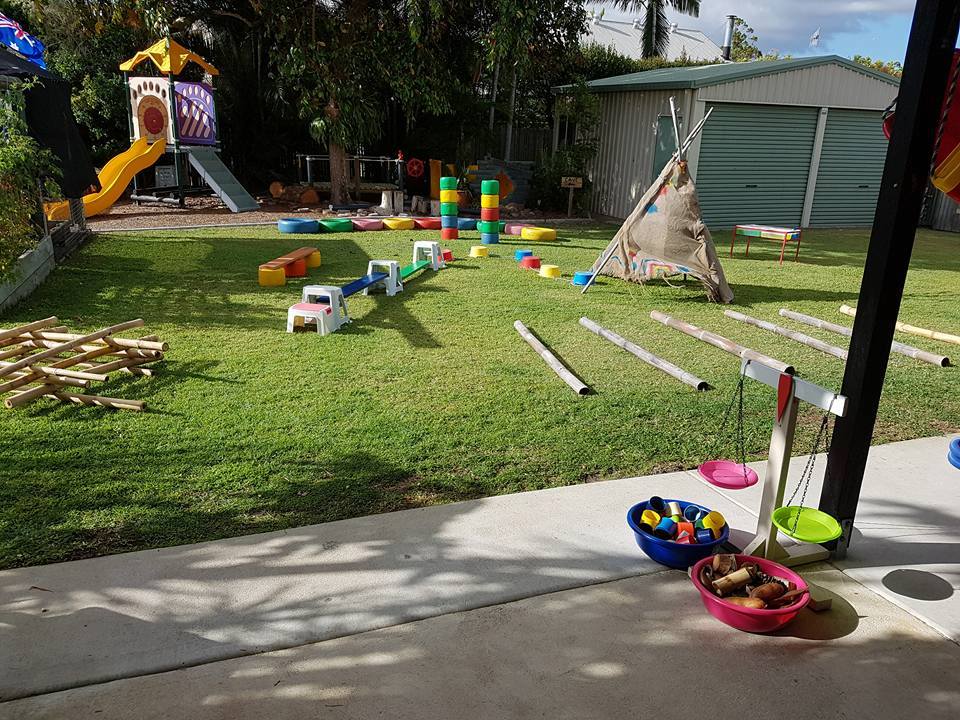 Two different digging and sand spaces with lots of natural materials to get messy, build, transport and explore. Both shared by Renata…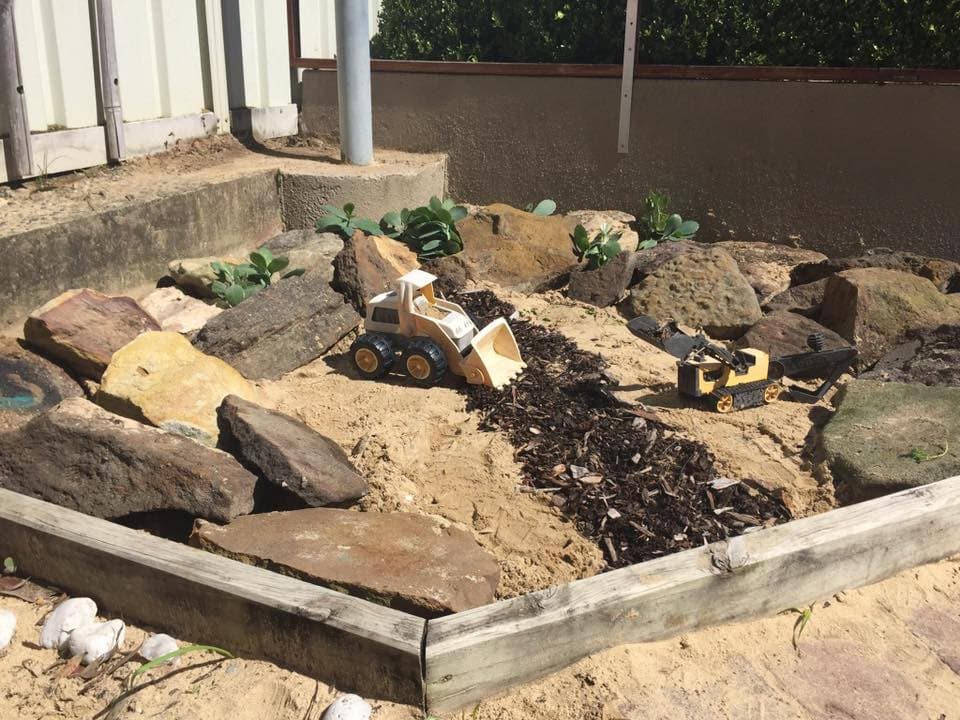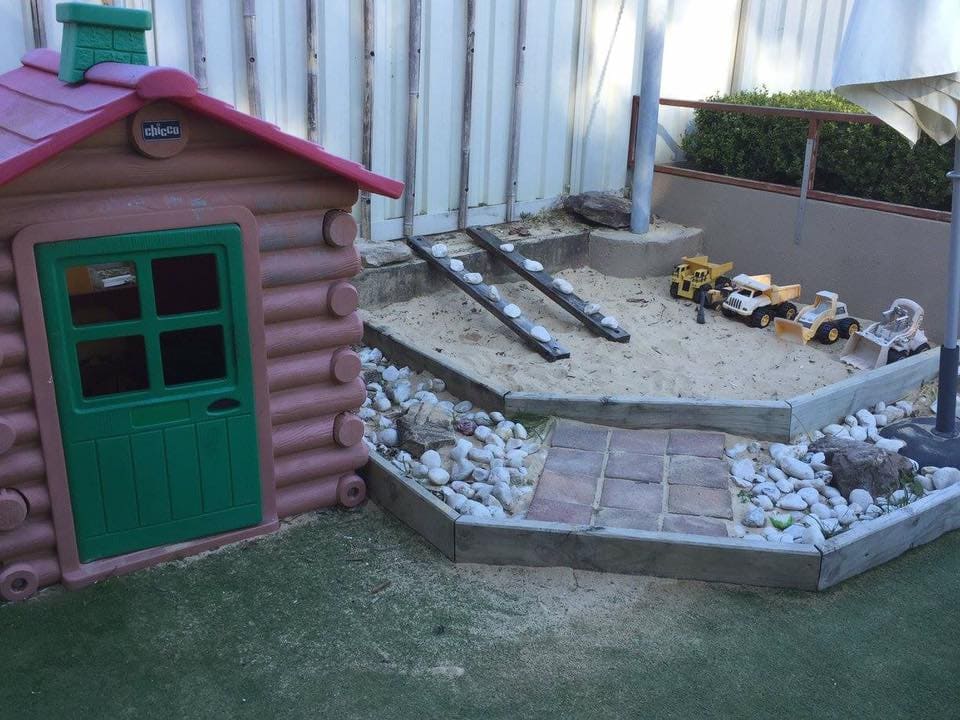 Love the decking around this sandpit as it provides more spaces to build creations and cook up some sandy delights. Shared by Divina…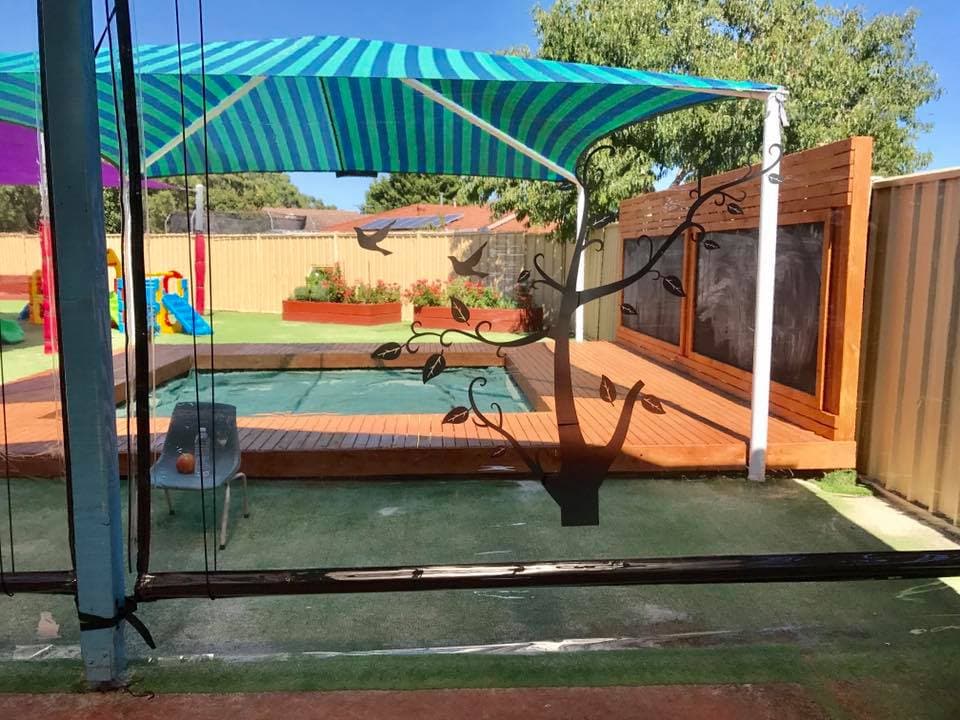 Using natural materials as open ended tools to engineer, problem solve and get creative! Shared by Kristina…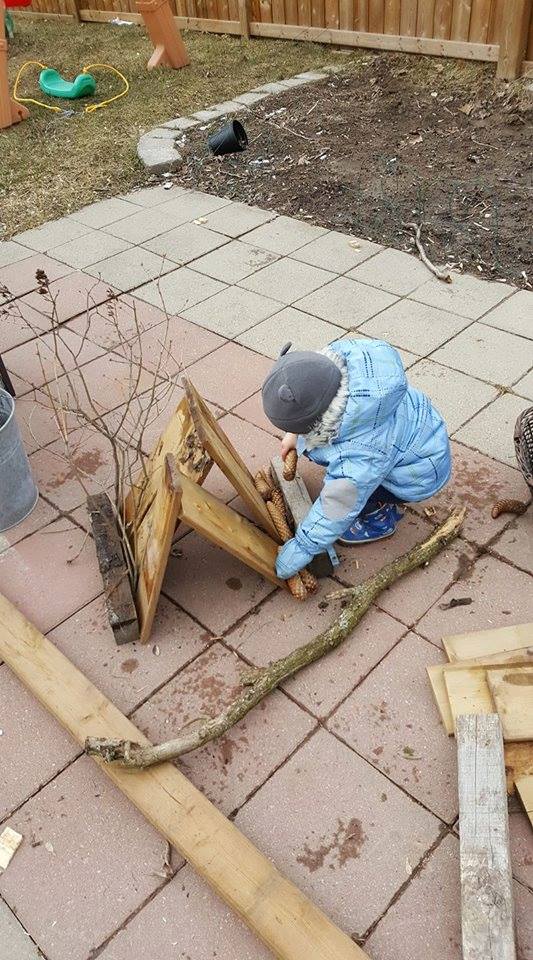 A lovely open space children can use to transport their sand to where they need it to build upon their play in different ways. Shared by Lani…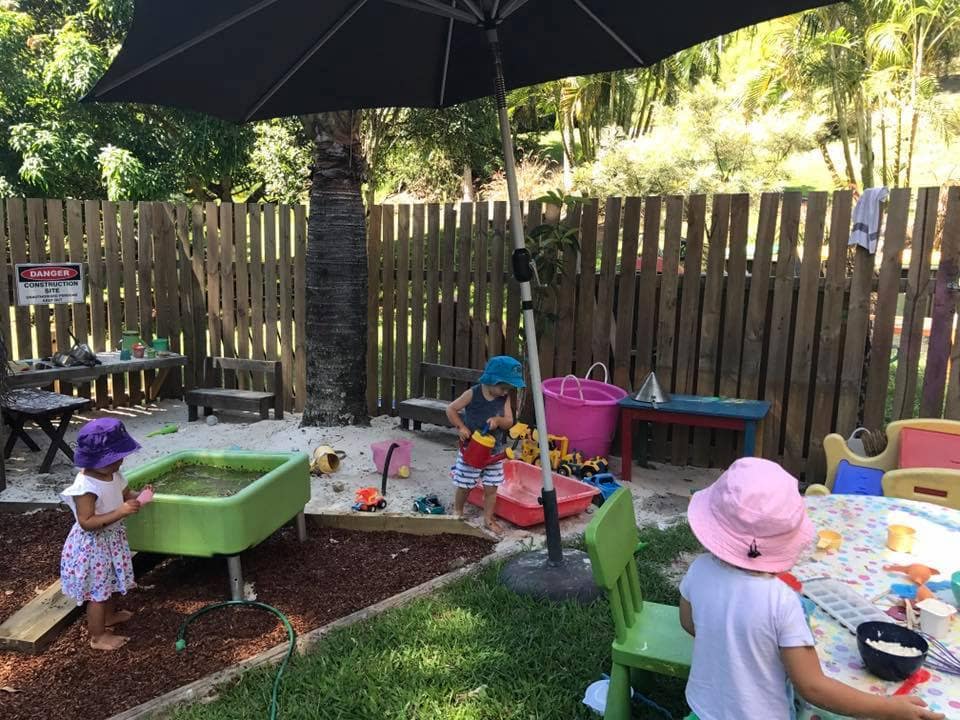 Going Up – Using Walls & Fences
Using walls, fences and gates can be a way to save space and hide climbing hazards! They also provide a different angle for children to use and explore materials.
I'd certainly want to draw in the sunshine on this huge chalkboard wall! Shared by Divina…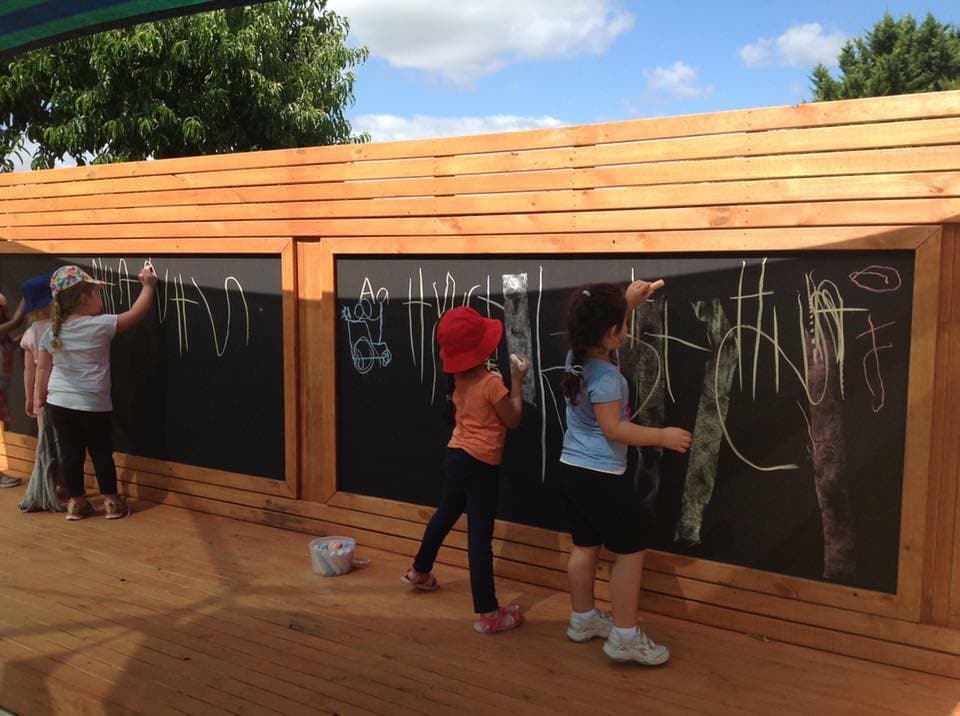 Water wall fun using budget friendly pool noodles and funnels – simple and quick to construct. Shared by Tennille…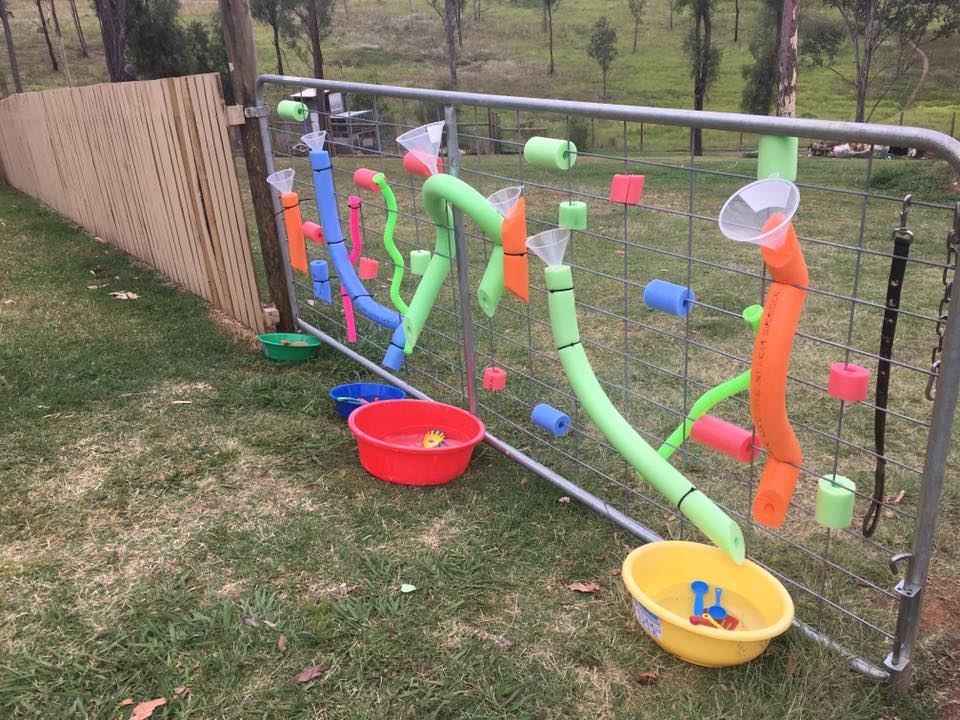 Turn those plastic bottles from the recycle bin into a hanging garden for the children to look after! Shared by Divina…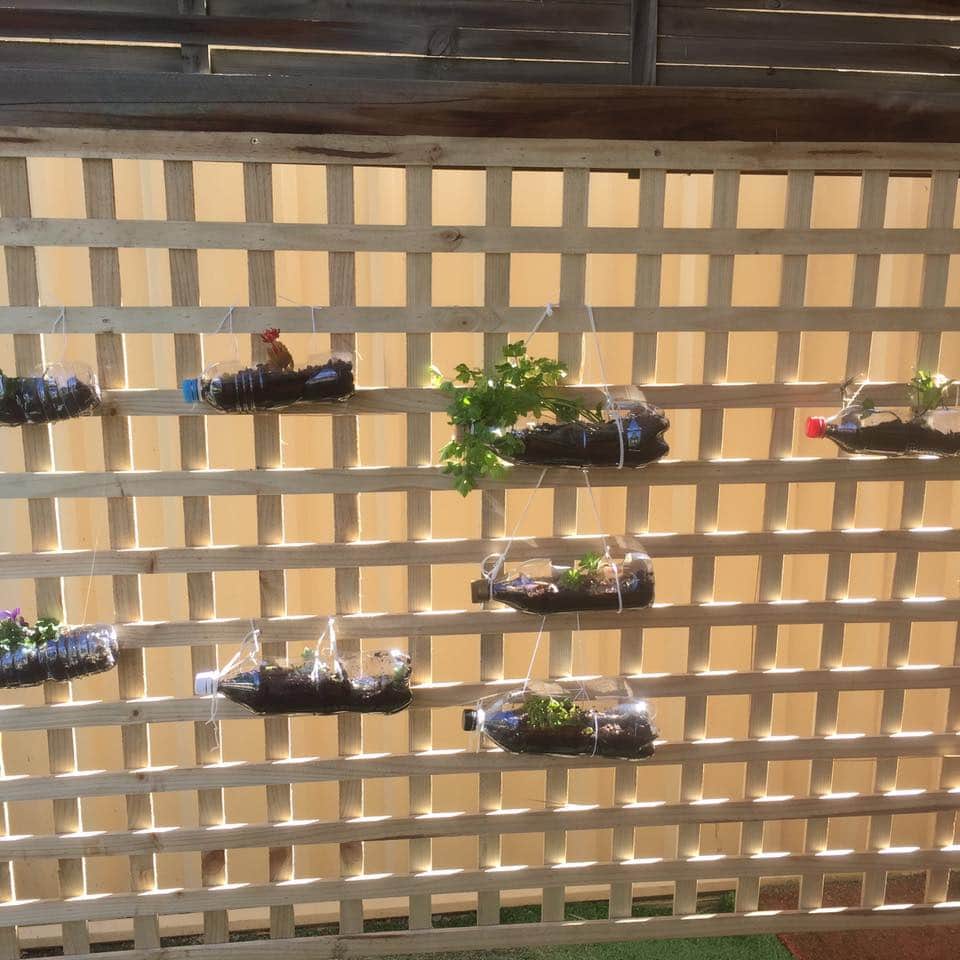 Another hanging garden this time using recycled tins painted by the children and planted out with herbs. Shared by Chantelle…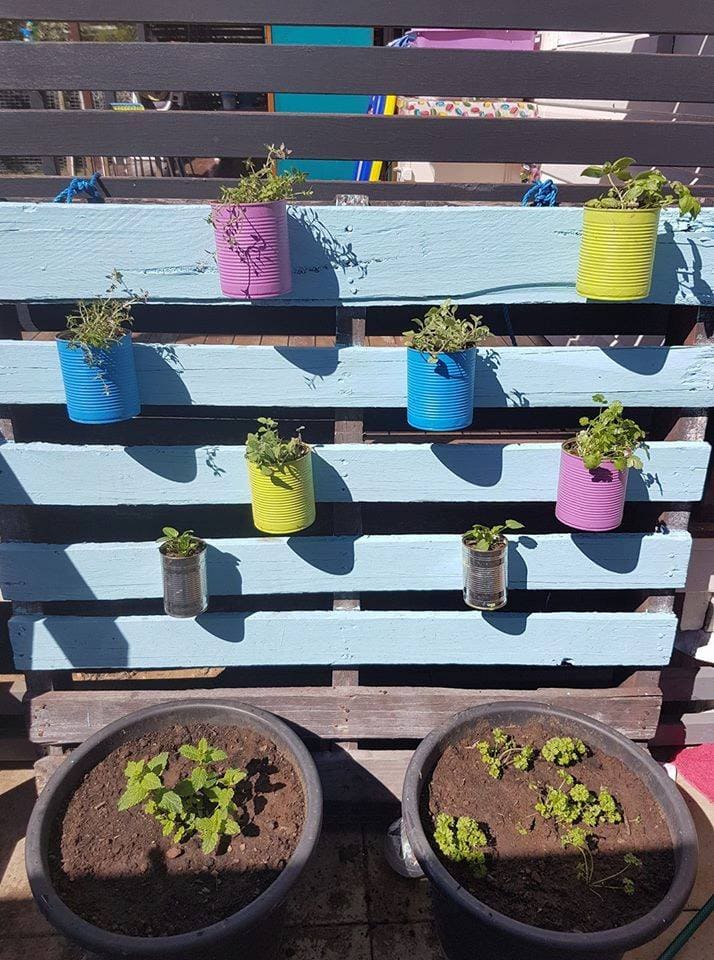 Music banging wall and vertical gardens made using old pallets. Love the teepee made from sticks too! Shared by Kristi…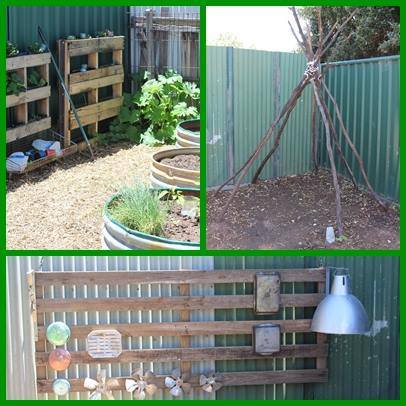 Lots of sustainable practice occurring along this wall – hanging planters made from plastic bottles, worm farms, tyre gardens, gumboots and old doors used as a frame. You don't even notice the fence! Shared again by the clever Renata!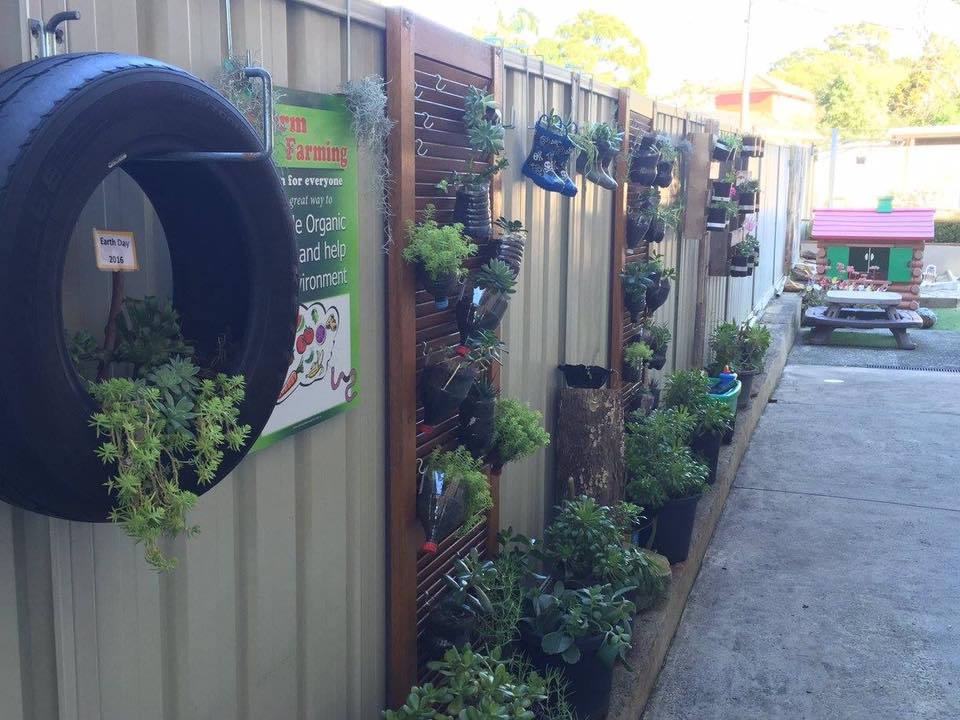 Simple boards on the fence are just as inviting to those wanting to draw or paint in a little corner of the yard. Shared by Lani…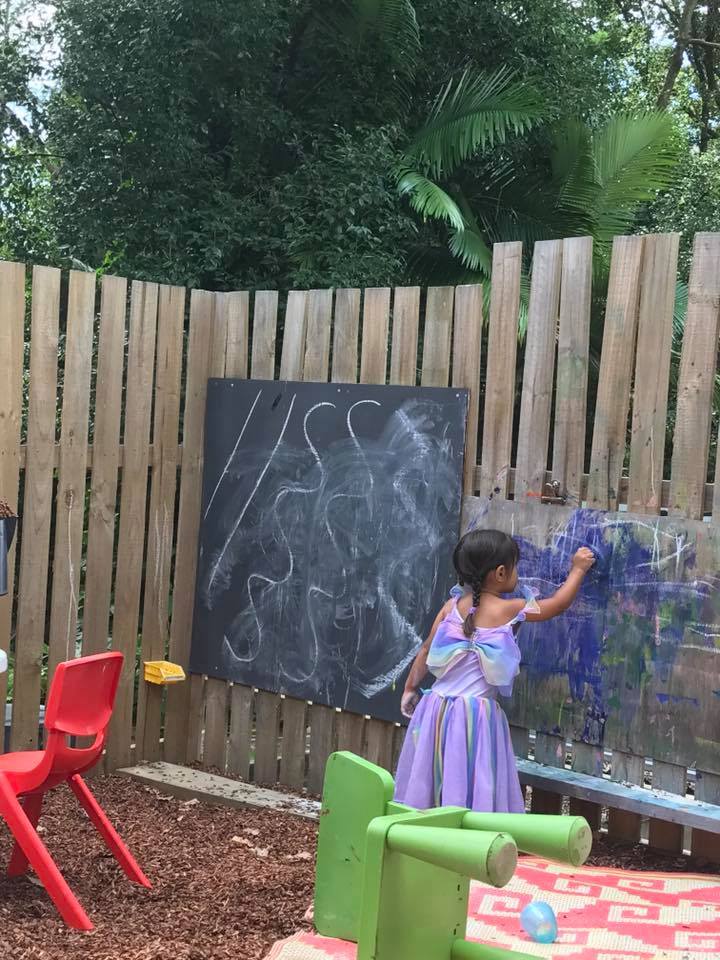 Secret Spaces
Secret spaces in outdoor play areas can be large or small but are usually tucked away in areas of the yard that still allow for supervision but help children to feel safe to make up their games or take some time out without prying eyes and adults interfering in their play. You might use plants, pots, fencing, screening or trees to divide and create spaces.
Don't you just want to explore the secret cave in this area? Shared by Jenny…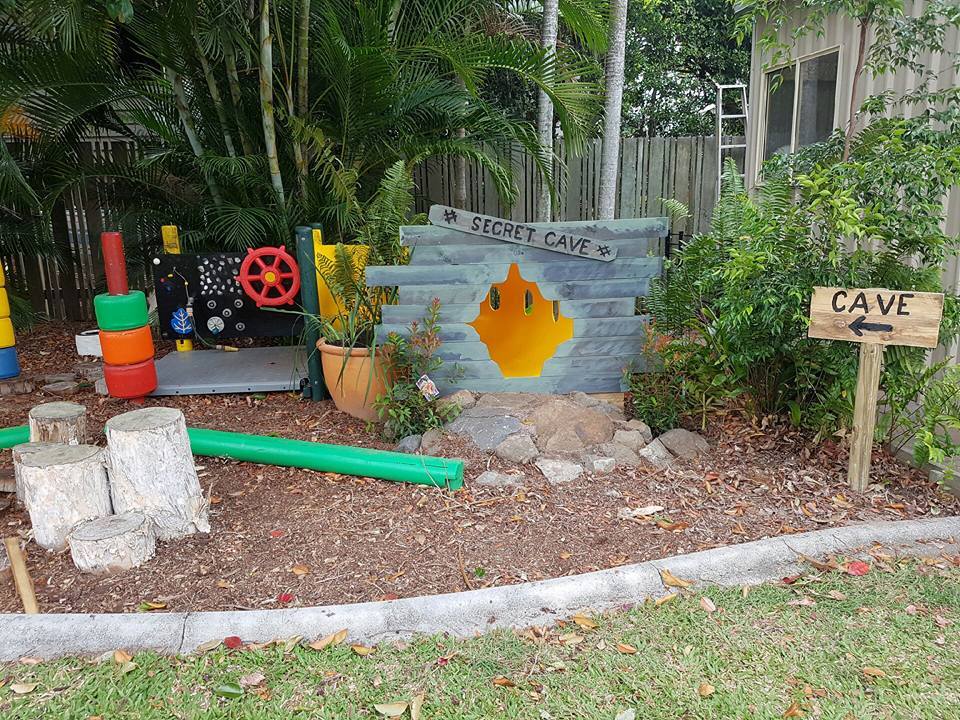 Enclosing an area like this with shrubs, tyres and stumps helps to create a magical little space to just be busy! Shared by Renata…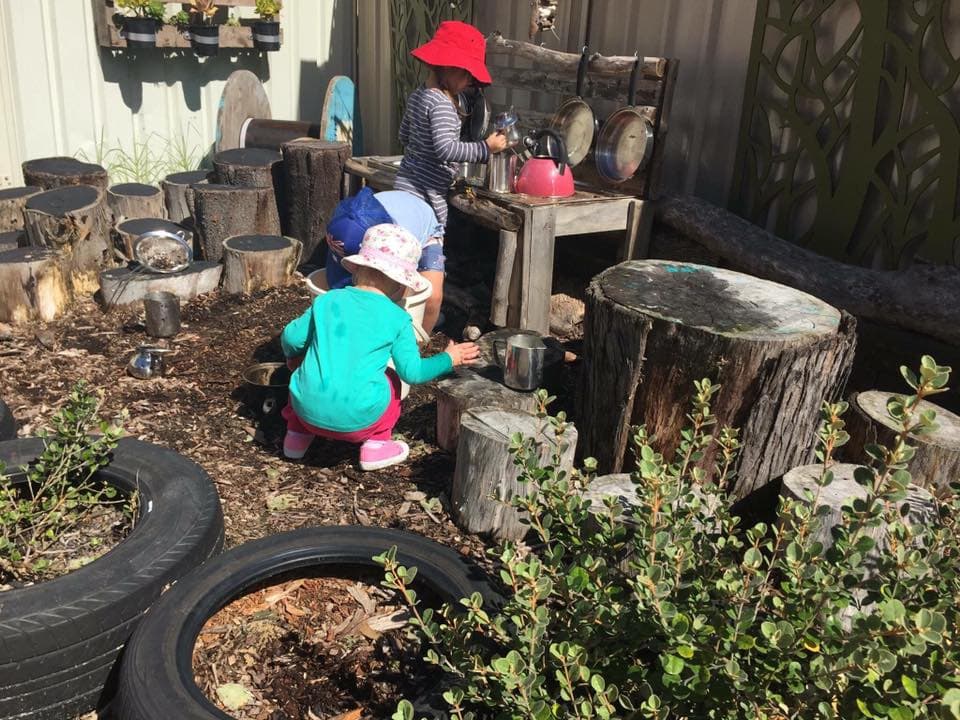 Also shared by Renata is this simple quiet space made with a wire arch and some bamboo screening.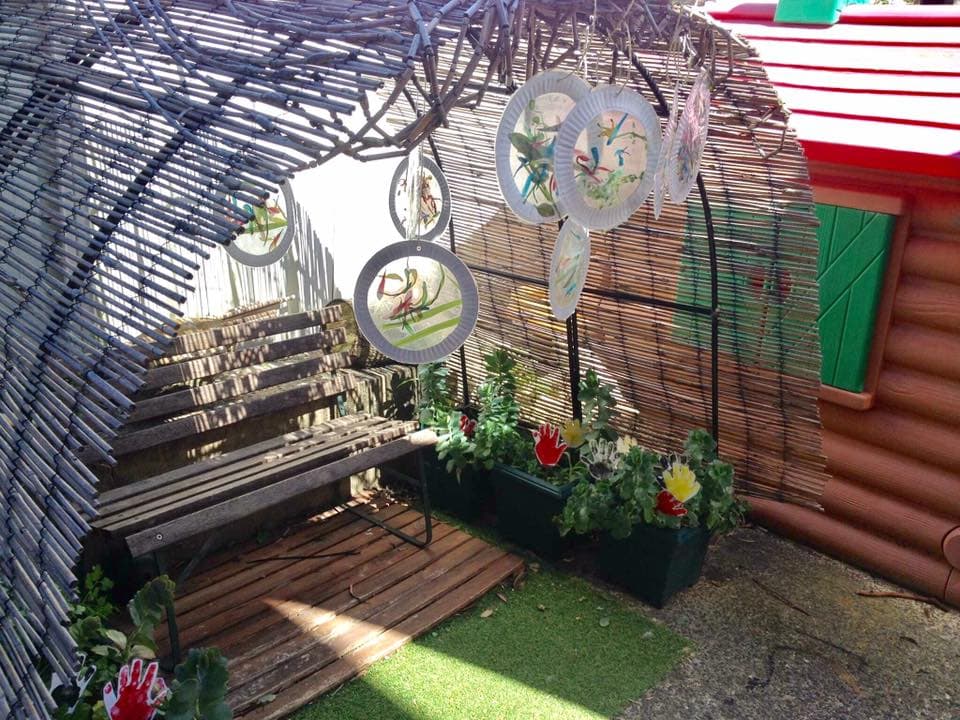 Secret spaces can be small and invite little people to just sit and create in their own little world surrounded by nature.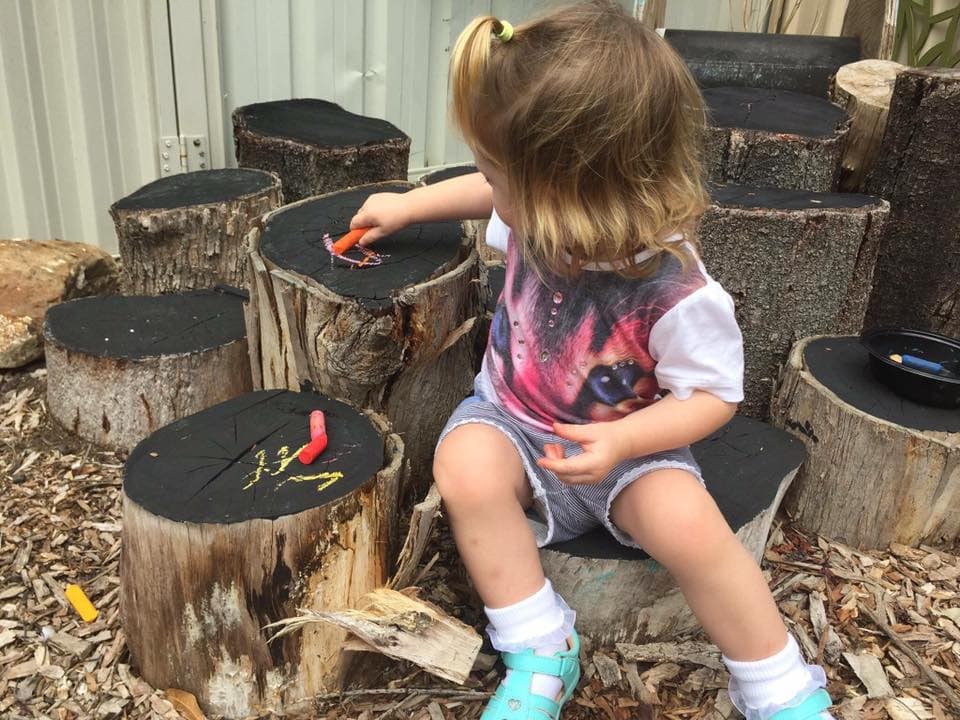 This lovely tree and its branches provide a secret swinging space in the corner of a yard to explore. Shared by Marina…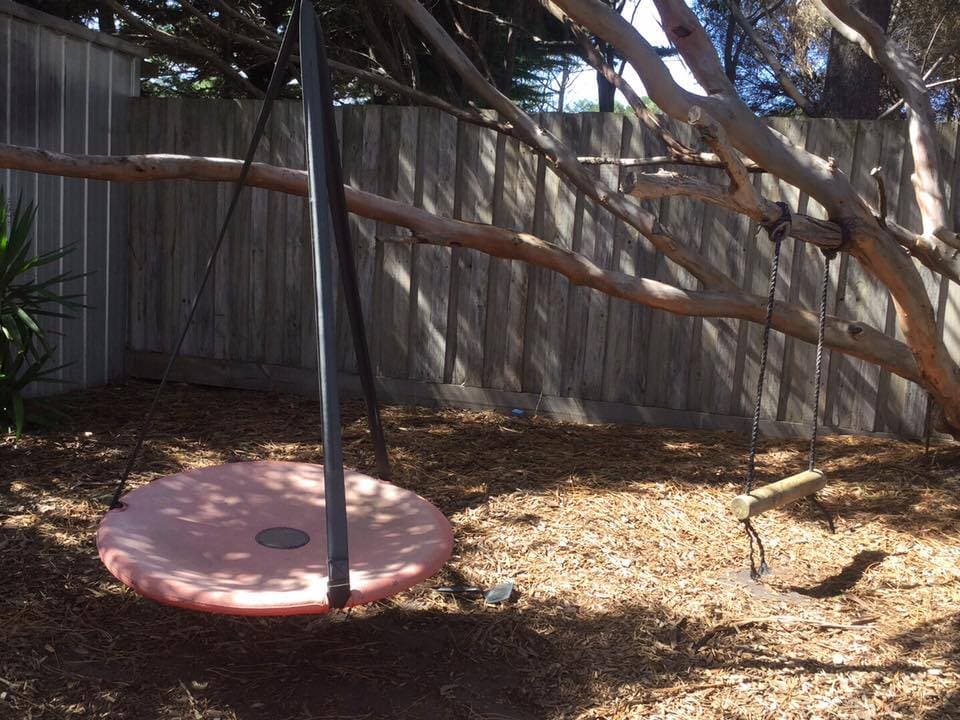 Not really a secret space for the children but I thought a clever way of screening off the space that houses the air conditioning units at this centre! Shared by Sally…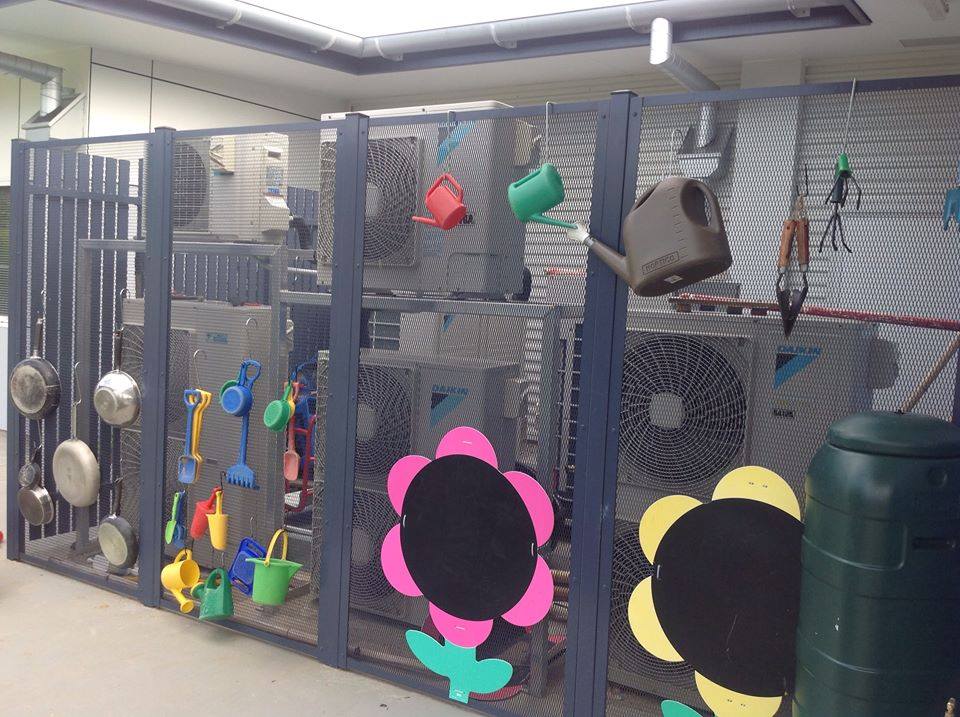 And finally….who wouldn't want to escape to this gorgeous little space hidden under the tree? Pallets and stumps – always a treasure in outdoor play! Shared by Teagan…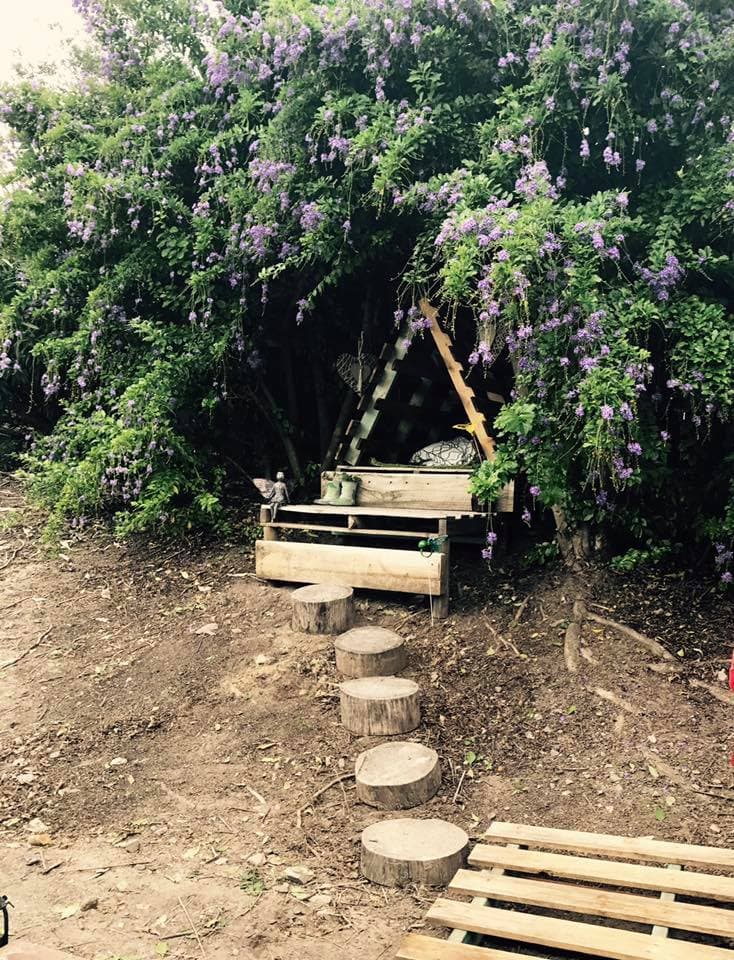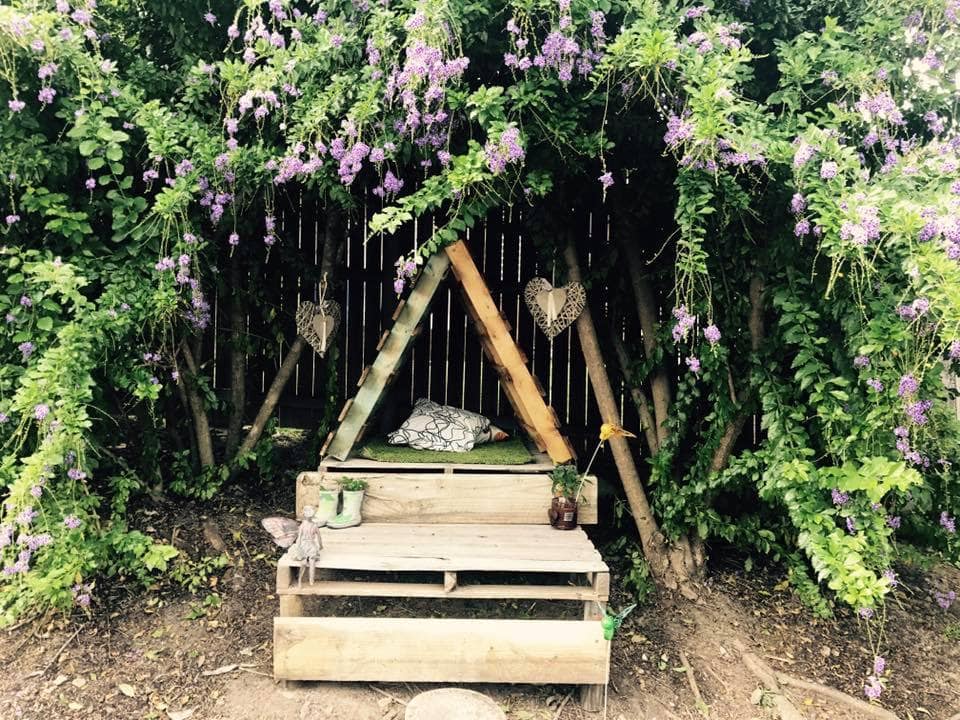 Feeling inspired to try something different in your own outdoor play area? Make sure you start with a small idea first and then build from there – get creative and work with what you already have available. There is no need to feel pressure to create something similar to those areas above – just take a few ideas you like and modify to suit your space, budget and abilities. The children will love whatever you create – make sure to involve them in the process as well!
If you are looking for even more outdoor play area inspiration click on the links below to read about some of my own favourite projects shared previously here on the blog.
Build a recycled pallet market stall
Music banging tree and stick teepee
Join educators from all across the world sharing support, ideas and inspiration like the photos above in our Empowered Educator Facebook group.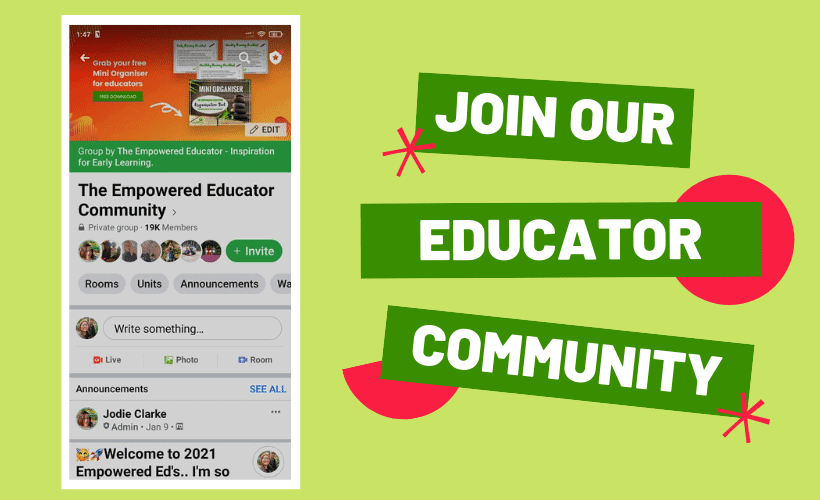 Jodie Clarke is an early childhood professional supporting educators who want and need to stay passionate about the work they do! She has 30 years hands-on experience in the early childhood and human services sectors across many different roles.
Jodie is mum to 3 in Australia and has already helped thousands of educators with their work through her popular blog posts, activity ideas, online training and e-books.