Repurposing and reusing tyres in outdoor play spaces is not only fantastic for limited educator and parent budgets but also helps play a small role in protecting our environment – tyres take a long time to break down in landfill so why not try and reuse them and create something useful instead if we can. They are usually given away for free if you ask as people would prefer to avoid dumping fees.
Most importantly, incorporating tyres as a resource into outdoor play spaces invites opportunities for children to engage in open ended play and explore with their imaginations, problem solving skills, language and big and small muscles.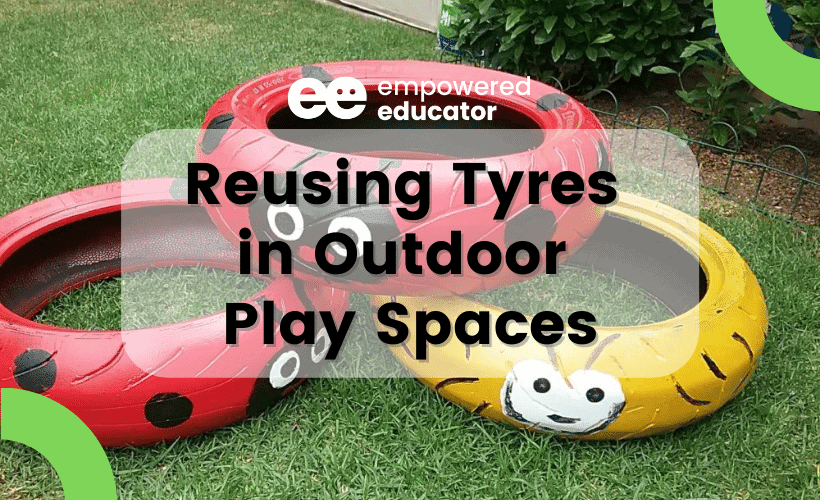 I included tyres as one of my favourite loose parts materials in a recent article sharing how to add and use open ended materials for outdoor play. You can read through the blog post here.
You can also choose to use them as a cost effective fixed equipment resource -there is no rule that says they can only be a loose part.
There are so many ways that clever educators are using them to enhance learning and create engaging outdoor play spaces and I've put together a collection of my favourite ideas and projects to share with you. I hope they provide some inspiration – especially if you have been thinking about sourcing some old tyres or perhaps you have been gifted some but you simply do not know where to start.
Make sure to read through my tips to using tyres safely in outdoor play at the end of this article. Now let's take a wander through a few different ways to invite play with tyres outdoors…..
How to reuse tyres in outdoor play spaces.
Balance, Obstacle Courses and Challenges
Tyres can be used together to create big and small climbing, balance and coordination challenges for little bodies. The challenges can move around and change each week or they can be dug into the ground or fixed in place some other way.
Use them for children to go through, on top of or just for balance. Explore some of the different approaches below for a few ideas.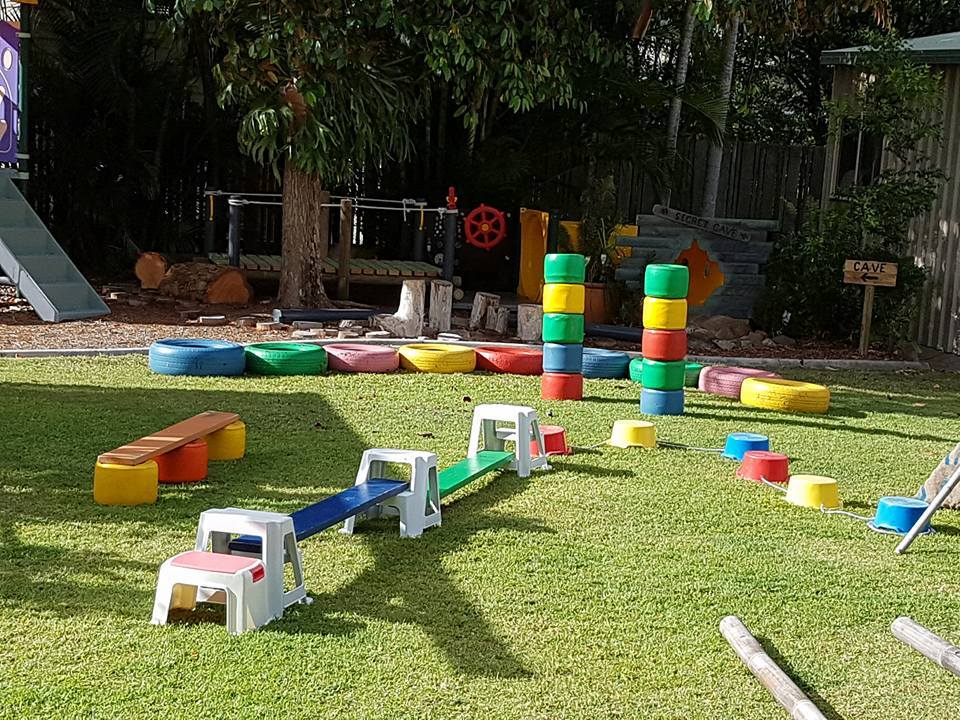 Jenny Wilson, a Family Daycare Educator and member of The Empowered Educator Community has used brightly painted tyres simply lined up on the ground to form part of her obstacle course. The children are free to move them around to create new obstacles.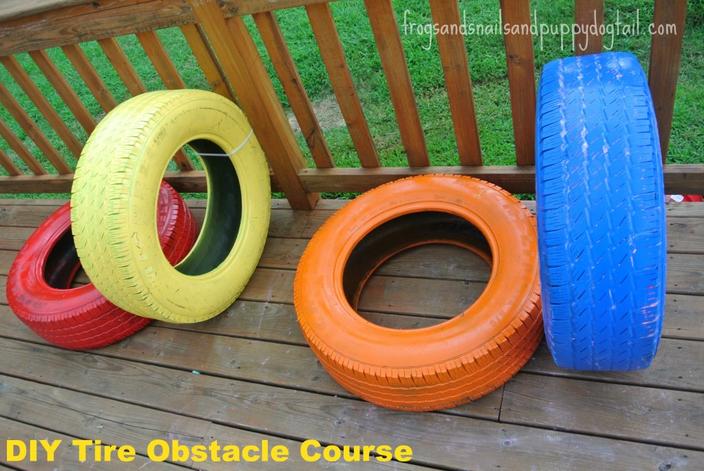 Frogs, Snails and Puppy Dog Tails has created this easy obstacle course by using just a few tyres – lots of fun for toddlers!
Tyres half buried in the ground for children to climb, jump and balance on. Source.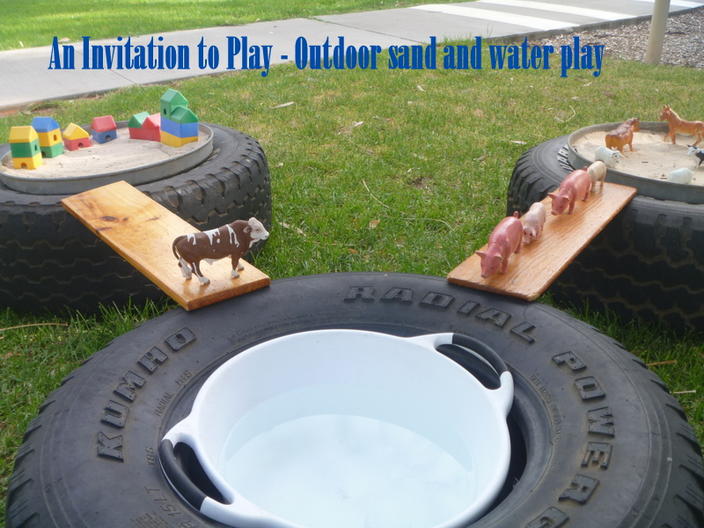 These tyres have been set up to incorporate some balancing challenges but also invite children to stay and explore the treasures inside. Great idea placing tubs and trays inside the tyres to extend the play possibilities! Source.
I've seen a few different versions both big and small of this tyre play dome all over the web – this post has more information about how to make it though.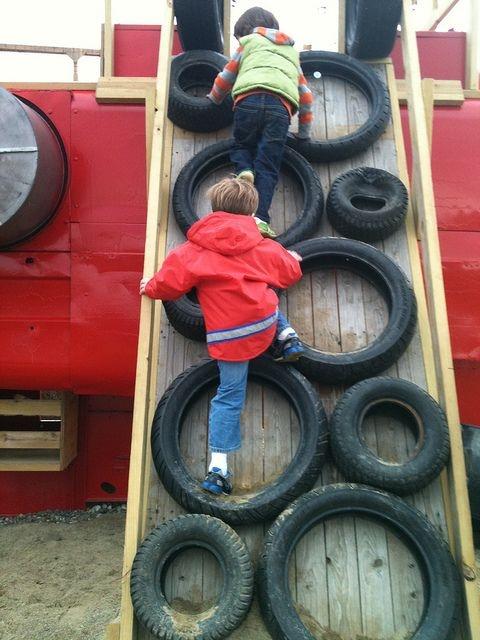 I really love this climbing wall and the fact that they have used different sized tyres to add to the challenge. Source.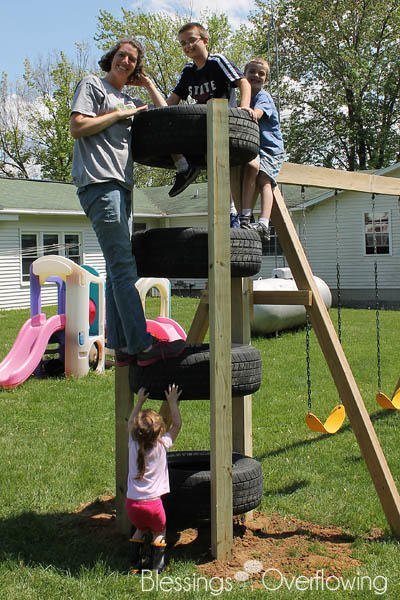 Another version using tyres as a climbing tower – see how they made it over at Blessings Overflowing.
A lovely little space made with just a couple of tyres dug into the ground to form a tunnel or is it a window or perhaps a fairy garden? See how the children helped to create this space over at Art & Soul Preschool.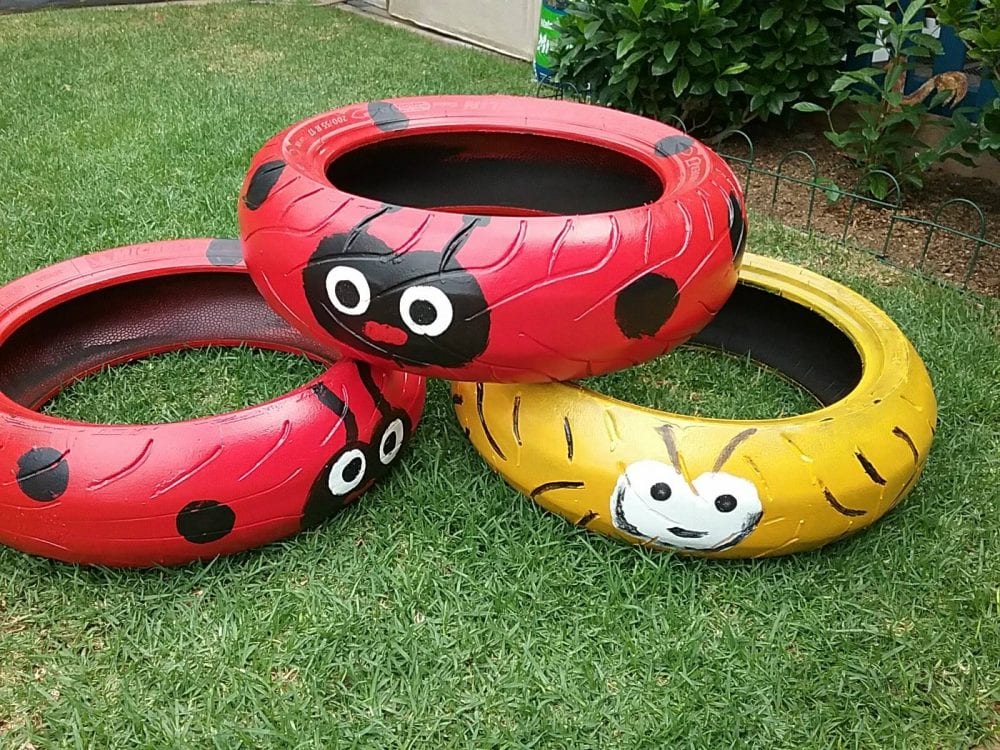 Jane Wells from Little Chicks Family Day Care shared this picture with us in The Empowered Ed Community of tyres painted to resemble colourful garden creatures – fantastic loose parts that can be rolled or pushed all around the yard for different play by the children. They also make a handy base for balance planks!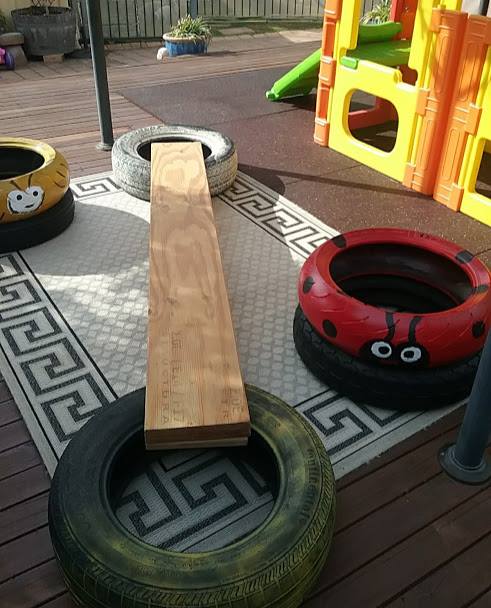 Family Day Care Educator and EE community member Lani Corissa Burns also used tyres as a base to rest planks of wood on to form roads, seats or anything else the children decide. I'd love to listen in on their conversations!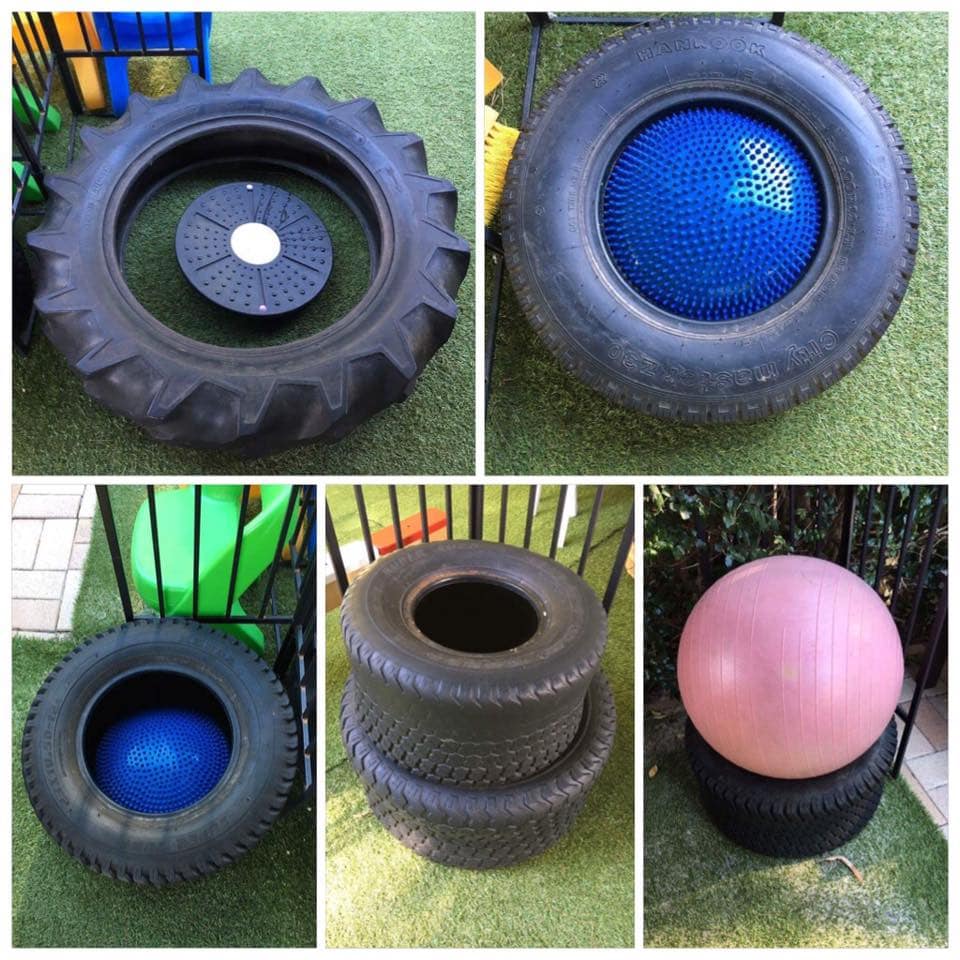 Don't wait until you have the perfect idea for using tyres in outdoor play – introduce them as loose parts and see what the children do with them as community member and Educator Heather Rolls from Belonging Family Day Care has done above and below.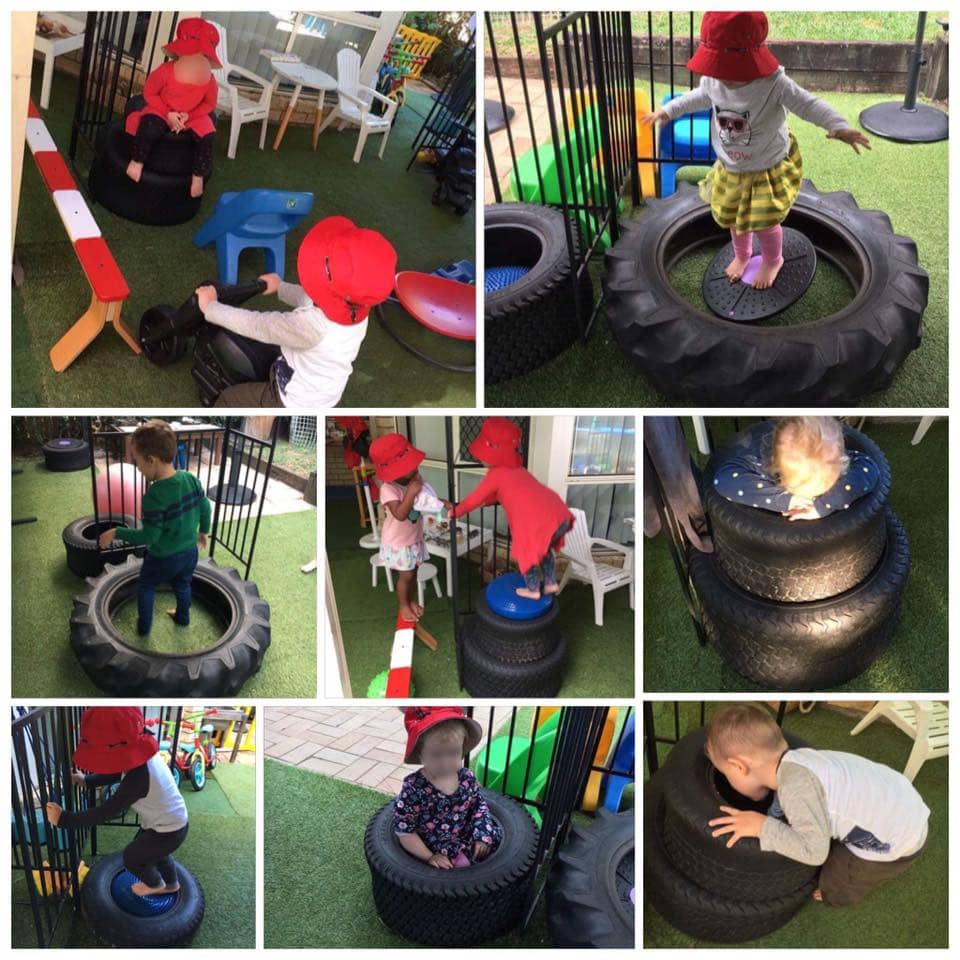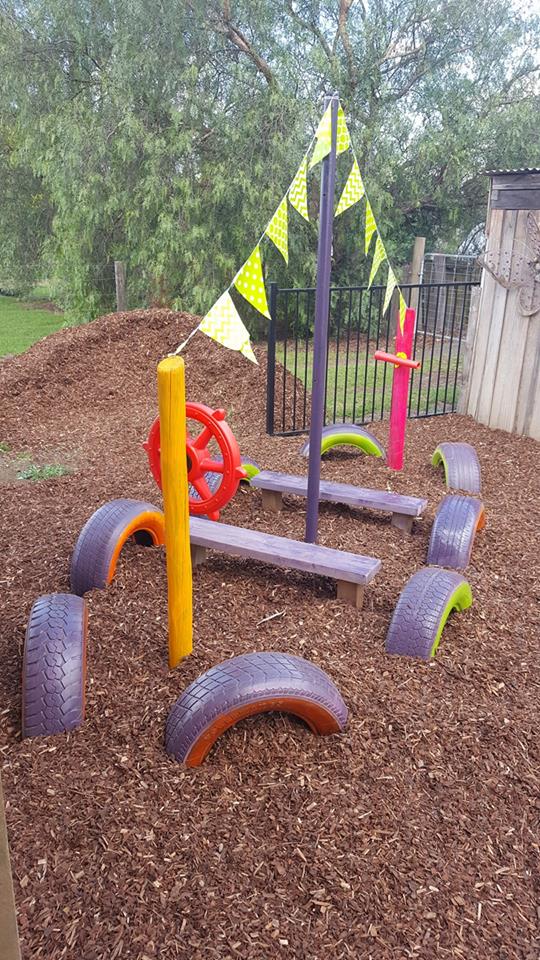 If you feel like starting a bigger project why not create something similar to this boat shared by one of our Facebook community members and Family Day Care Educator Karen Thomson. I'm sure it will also morph into many other things according to a child's imagination.
Enclose, Divide Spaces, Define.
Tyres make interesting dividers, fences and enclosures in the outdoor play area. They can be used effectively by children or adults to create boundaries and define spaces.
Another clever Family Day Care Educator and community member Sharon Lavender from Sharon's Family Daycare used tyres to create a unique version of the white picket fence next to the outdoor cubby and look closely to see the special little spaces inviting play with cars within each tyre below!
Or how about turning tyres into a garden fence for the children to take care of. Source.
2 examples below of educators using tyres to enclose and define gravel and sensory play areas.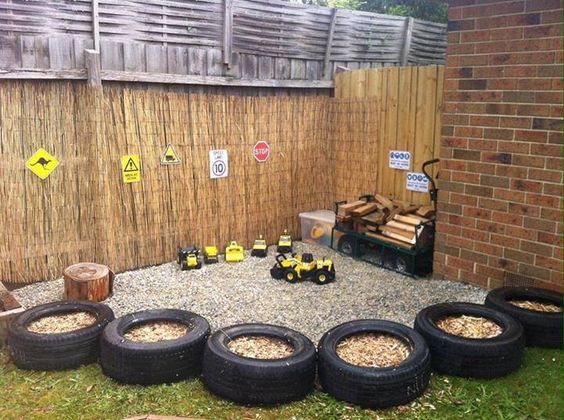 Why not cut tyres in half to form this quirky and simple sandpit space. Source.
Always a classic – the large truck tyre turned into a sandpit  with the clever addition of edging using pool noodles. Source
Kitchens and Gardens
Tyres can create a small and stable base for use in outdoor kitchens and small gardens with a little creative thinking as the examples below show us!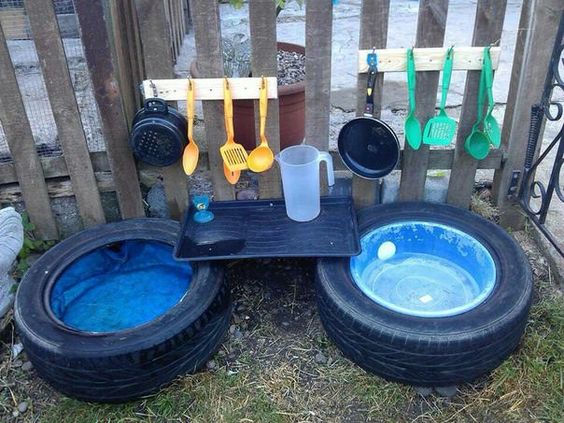 Just love the simplicity of this outdoor kitchen space and the addition of the tubs inside the tyre to add more sensory materials or loose parts. Source.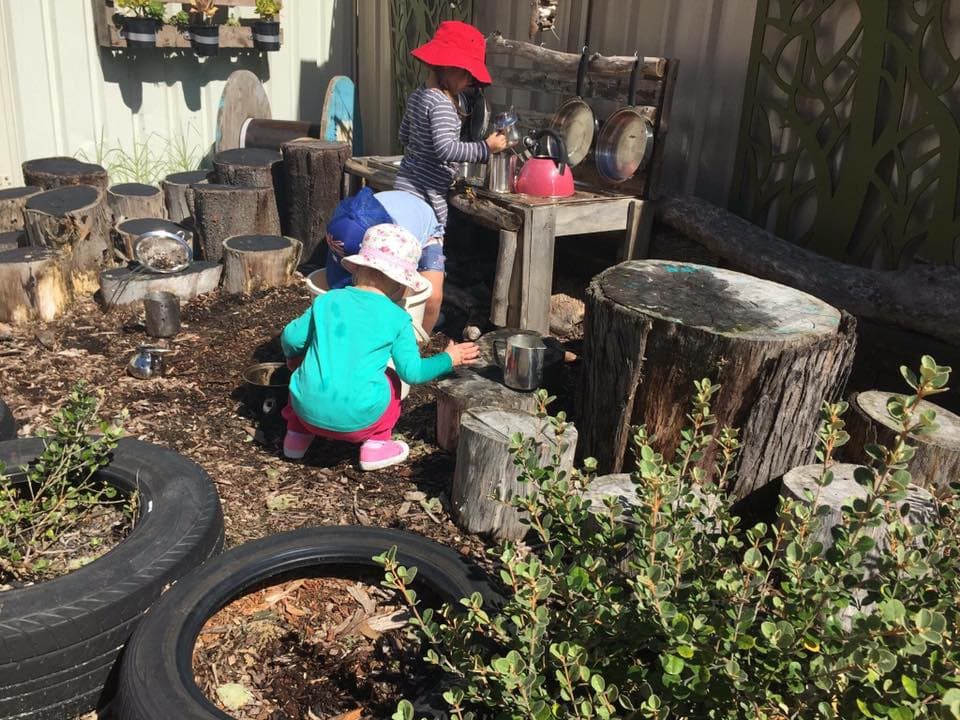 Renata from The Empowered Educator Community always inspires with her natural outdoor play space. She has used tyres to help define the outdoor kitchen while also acting as mini gardens in the photo above.
Below Renata has mounted a tyre along the fence that the children have planted out with succulents – and how cute are those gumboot planters as well! You can visit Renata's Facebook Page for even more inspiration!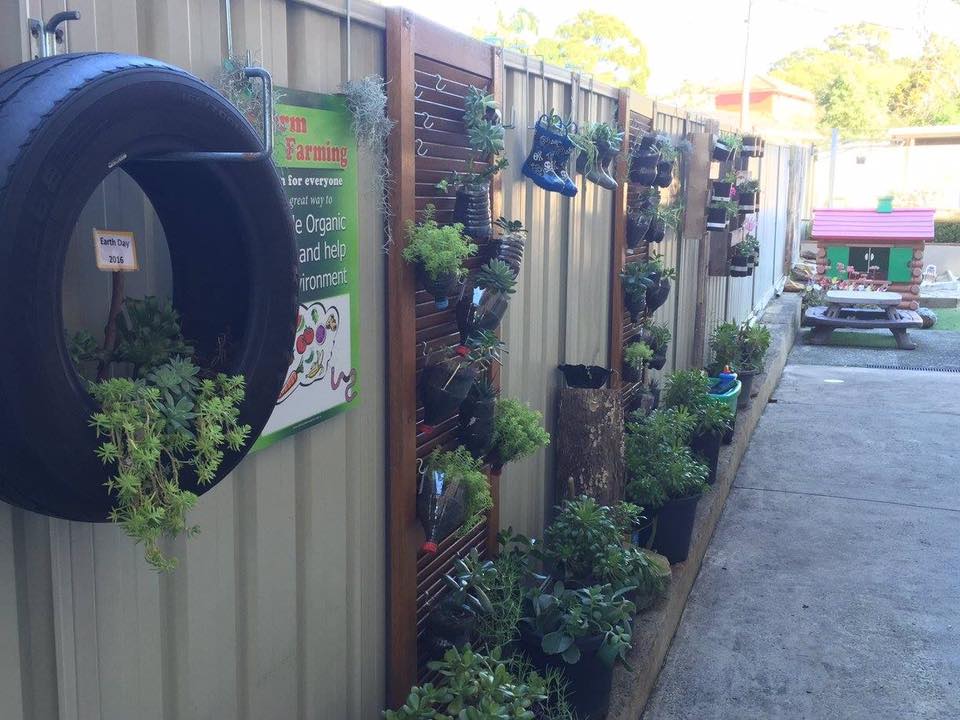 Small World Play
Tyres can make a wonderful base for small world and sensory play. If you use numerous tyres you can provide spaces for children to retreat, imagine and explore individually .
The tyres above have been arranged together to form a welcoming enclosure of small worlds to play with in different ways. Simple sensory materials, loose parts and items from the garden come together to invite play using imagination and the senses. This one looks to be undercover on a outdoor verandah so no need to continually pack away either. Source.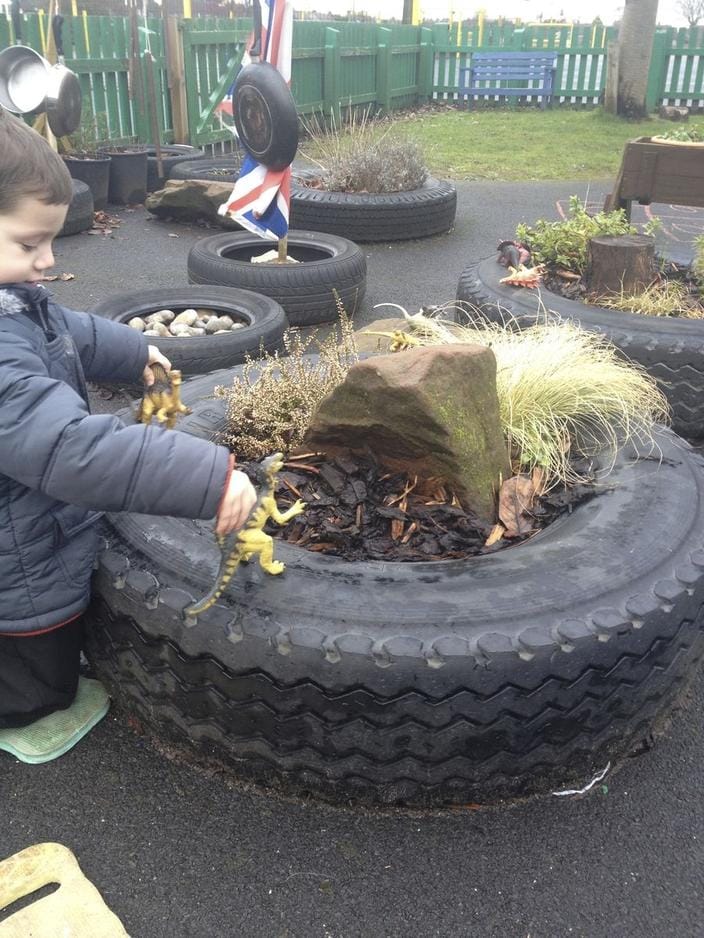 More inspiration using a number of tyres to create smaller spaces for children to work their way through and play individually or in groups. Source.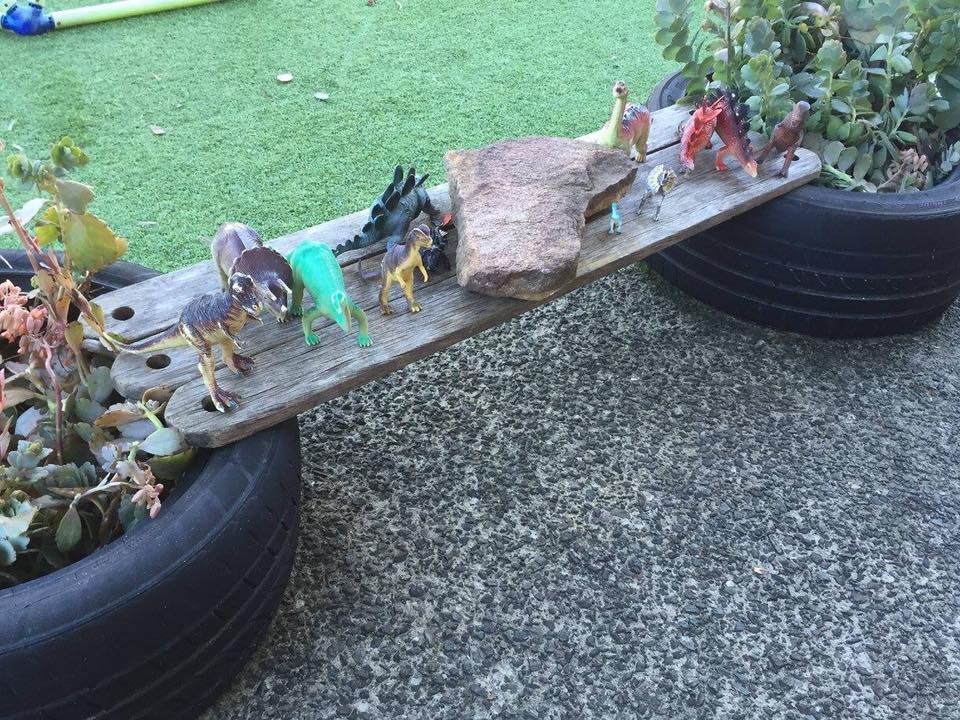 Renata again shows us how easy it is to use tyres, plants and few basic materials above to create an engaging invitation to play.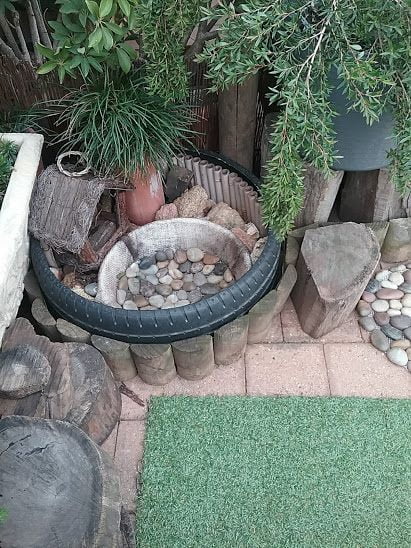 Love this little tyre small world tucked away in a corner and created by Jan Wells from our Empowered Educator Community. Clever use of bamboo edging to form a wall inside the tyre to add to the natural feel of the materials used.
A tyre cleverly upcycled into a small table to create a small world at child height. Source
Stimulating Learning with Rachel used tyres, mirrors and natural loose parts to create this wonderful invitation to explore and create.
I love the simplicity of the small world above and the fact that it is surrounded by dirt that will no doubt be incorporated into the play! See more about this project at Play at Home Teacher.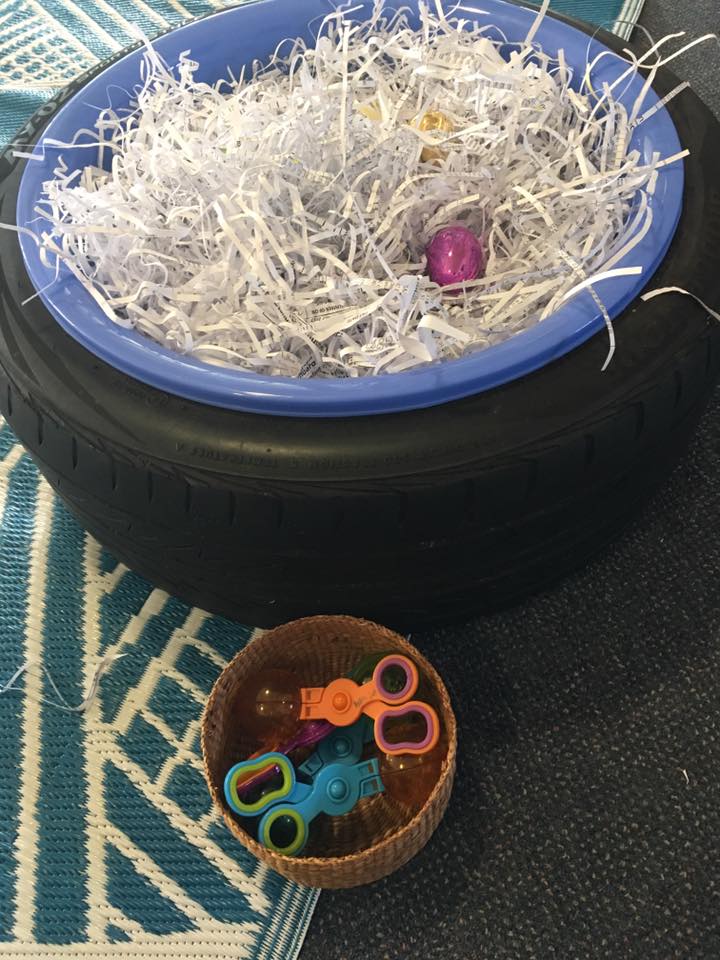 More simple fun to setup with this shredded paper discovery tyre shared by Educator and Community member Deborah Alexander.
Seating
The wonderful thing about tyres is that you can simply plonk them in the yard and you have a seat just right for little bottoms to perch on while playing in the dirt, garden, sand or grass.
Group together or create a quiet space for one to just sit. If you want to get a little more creative you might find some inspiration in the ideas below.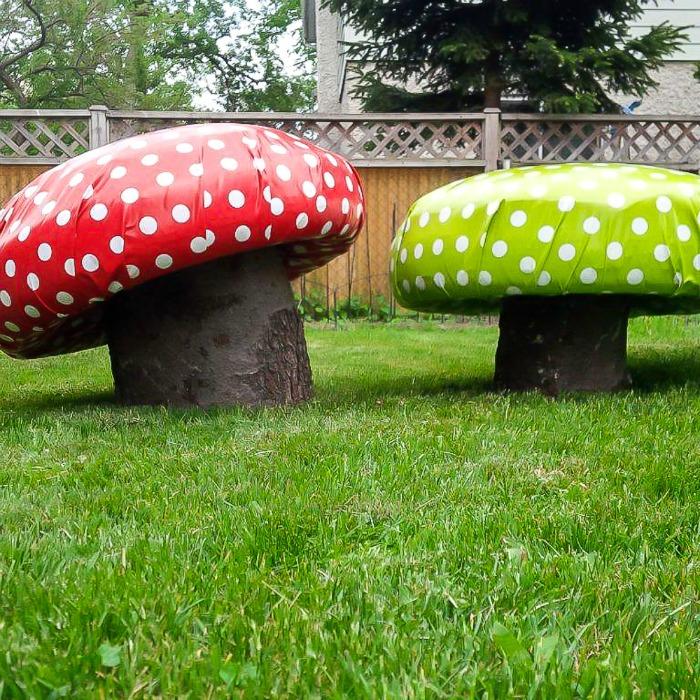 I love these toadstools! An easy project using tyres, wood stumps and a few other materials. See the tutorial over at Grillo Designs.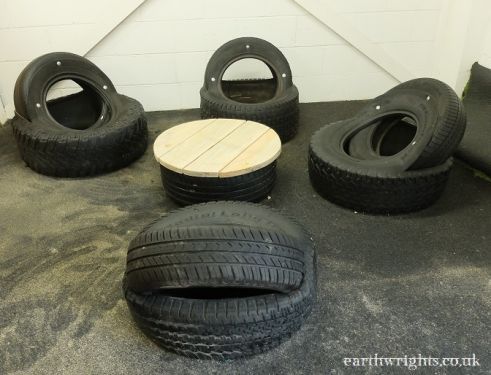 What about an outdoor setting made from tyres? Source.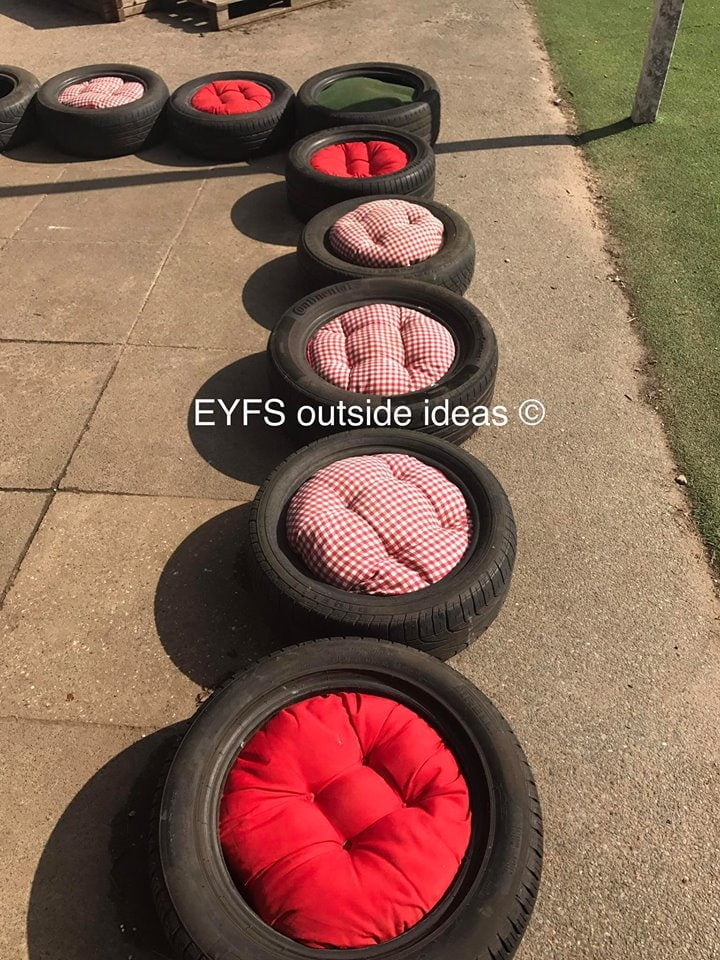 Or pop some cushions in for a soft seat…..or to create stepping stones! Source.
Swinging
Tyres have long been a favourite for swinging and you can now buy many versions already put together in shops. Why not make your own though when it is this simple?
Gain some ideas below or visit the tyre swing tutorials listed to get started making your own!
Comprehensive tutorial to make the swing above at EHow.

A basic tutorial using a strap to add to the swinging experience over at By Stephanie Lynn.
See how they made this double decker tyre swing step by step over at Stone Cottage Adventures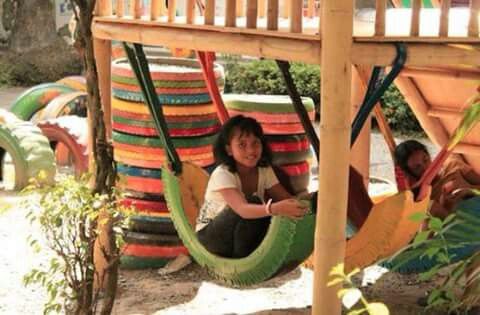 Tie a few half tyres under the verandah to make these cute swings! Source.
Now that's a whole lot of climbing and swinging fun! Source
Tips to safely reuse tyres in outdoor play spaces.
When you first introduce tyres into your outdoor spaces pop a pair of safety gloves on and run your hands over the inside and outside surfaces to check there are no protruding wires or sharp hazards before offering children access.
Give your tyres a wash with the hose to remove dirt and grime build up then lay out in the sun to dry well.
Paint the tyres with a glossy primer undercoat on the outside to cut down on the amount of black rubbing off on clothes (if this isn't a problem for you or your families keep it plain and skip this step!) This post gives you some tips for painting tyres.
Paint the inside of tyres with a white paint to discourage spiders taking up residence – it also allows you to see them easier.
If using tyres for gardens or sand play it is a good idea to first line the inside with a little hessian or fabric weed mat material that you can cut to size and will allow for water drainage.
Consider the weather – if playing outdoors on a very hot day, tyre surfaces can become to hot to touch and may be unsafe for children to play with that day.
Ensure that tyres are not stacked too close to fences and gates providing footholds and safety hazards for children to gain access to outside care areas.
Why not join our Empowered Ed Community – you will find early childhood educators from around the world sharing ideas, inspiration and support!
Jodie Clarke is an early childhood professional supporting educators who want and need to stay passionate about the work they do! She has 30 years hands-on experience in the early childhood and human services sectors across many different roles.
Jodie is mum to 3 in Australia and has already helped thousands of educators with their work through her popular blog posts, activity ideas, online training and e-books.