Blocks are one of my favourite budget friendly resources for parents and educators because you can keep extending block play in so many different ways with just a few simple loose parts!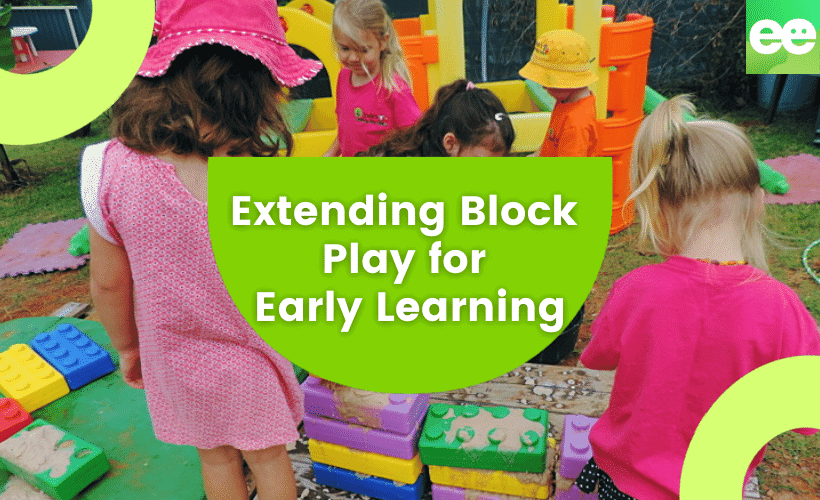 Children of different ages and stages use and create with blocks in different ways. Toddlers love to carry blocks all over the place and can be very creative with putting them in and out of different materials to make this easier! They also begin to stack and form the first simple towers as they explore cause and effect, spatial awareness and balance.
Older children will begin to explore and experiment with engineering and problem solving skills as they start to build roadways, bridges, complicated structures and also use the blocks to connect to other areas of their play like dramatic and imaginary play.

There is absolutely no wrong or right way to play with blocks or even what the definition of  a 'block' might be!  Every child is unique in the way that they choose to approach this material and that is why I believe blocks are such a valuable tool to encourage open-ended play and learning.
By observing how children are playing and using the blocks we can gain ideas for how we might extend and challenge that play by the addition of a few simple loose parts.
By providing opportunities and invitations to incorporate different materials to what might be just the 'traditional' wooden or plastic blocks we allow children to decide how they want to play and extend their own learning.
Older children might ask for additional props or you might notice the toddler has a handbag full to bursting with blocks and needs something bigger. Observations and recognising schemas and new developmental stages and skills will help you to plan ahead and reignite interest in the construction area.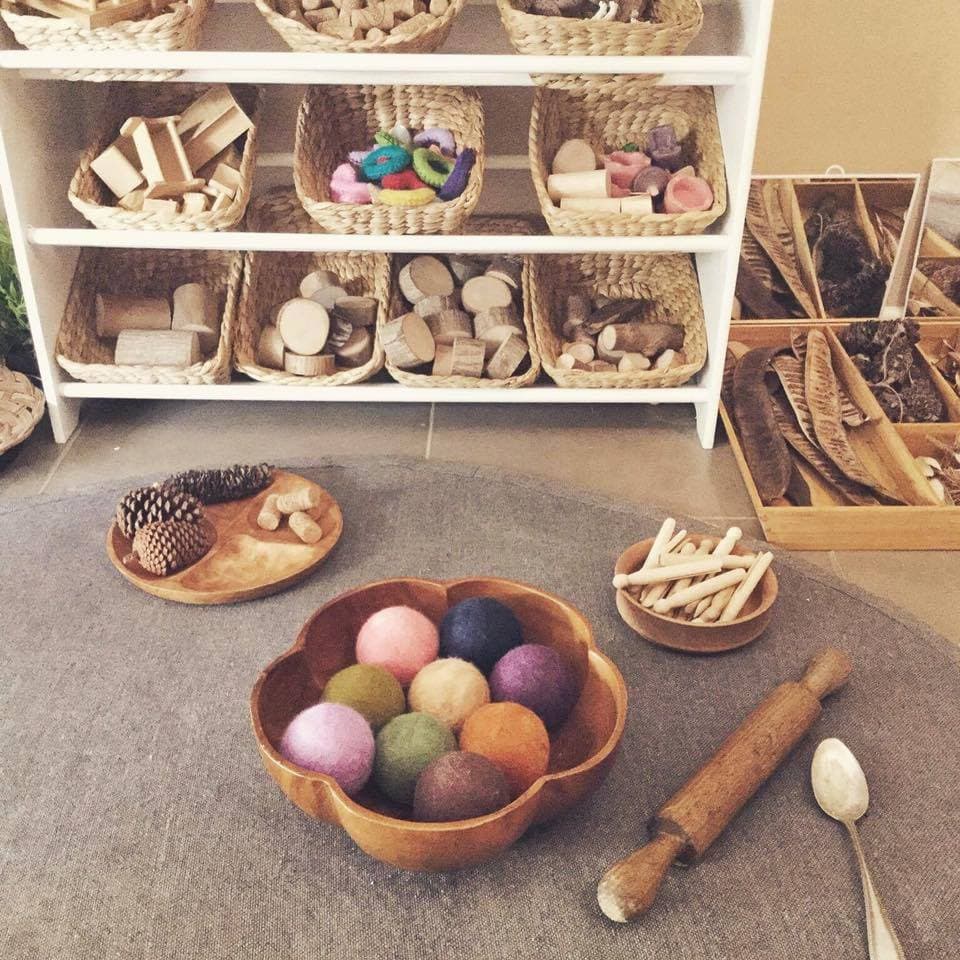 Source : Clare Louise – The Woodland Child
How does Block Play encourage learning? 
Although a basic material and the staple of many early years services and family homes blocks offer so many possibilities for play based learning. There is a reason they have been around for so many years!
When children play with blocks they…
Use their imagination – on their own or as part of a group.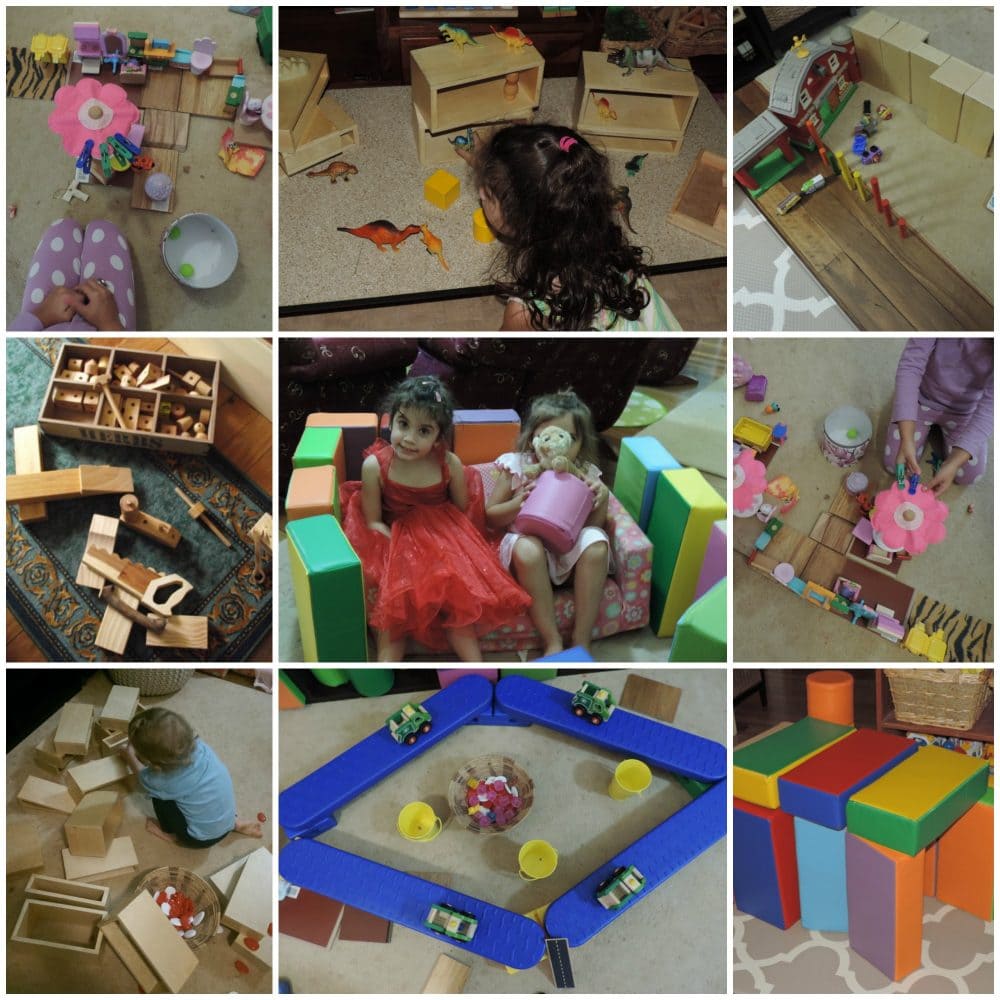 Express themselves creatively and explore current themes and questions.

Work at solving problems, keep trying and manage their frustration.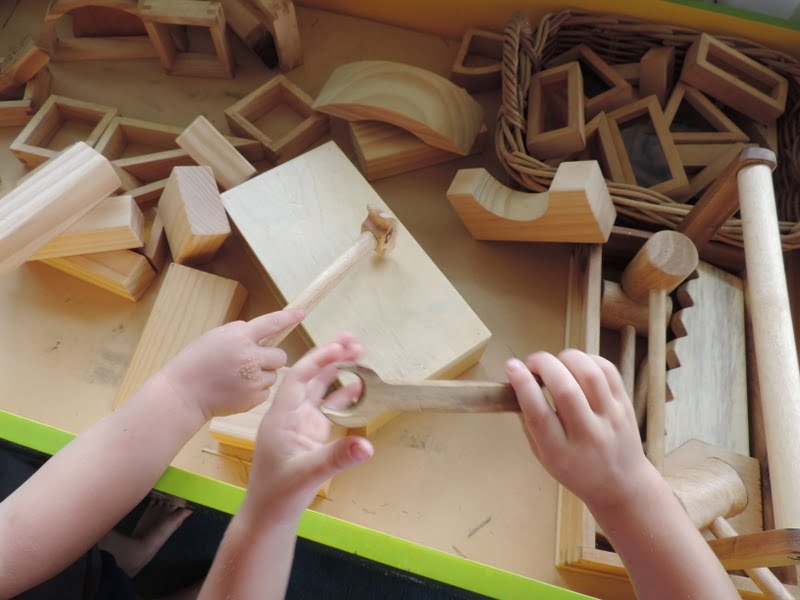 Engage spatial awareness, stability, fine and gross motor skills.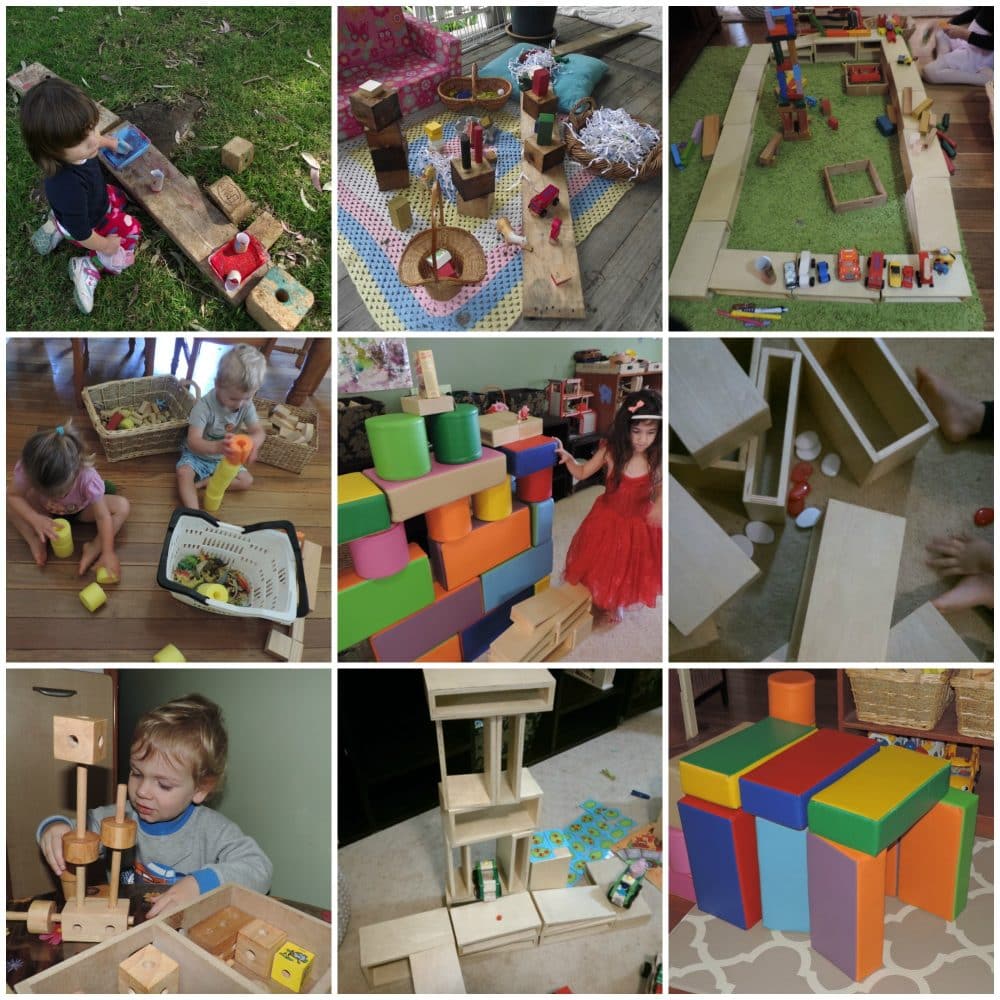 Encourages social and emotional growth as they take turns, work as a group, share resources, make plans, build self esteem and pride in accomplishments, gradually extend attention spans.
Explore simple mathematical and scientific concepts like measurement, symmetry, balance, counting, cause and effect, trial and error, patterns, comparison, grouping, test out ideas and much more.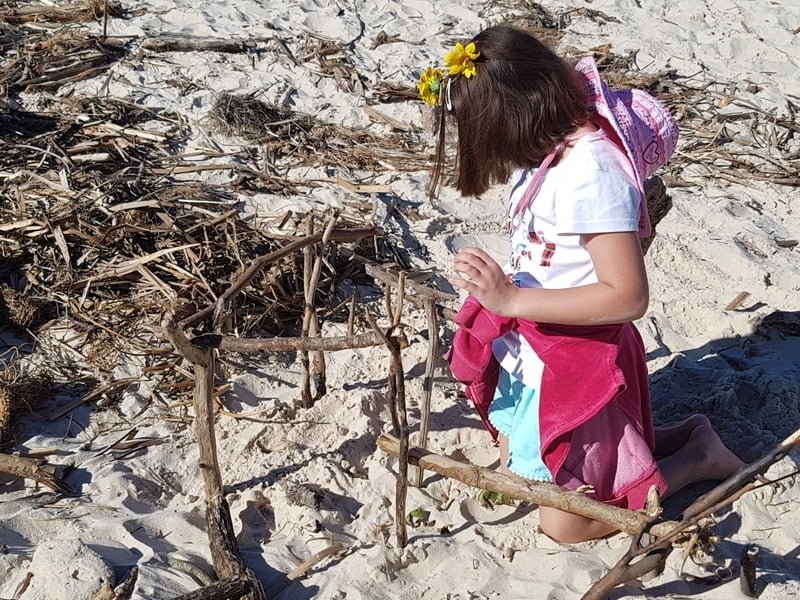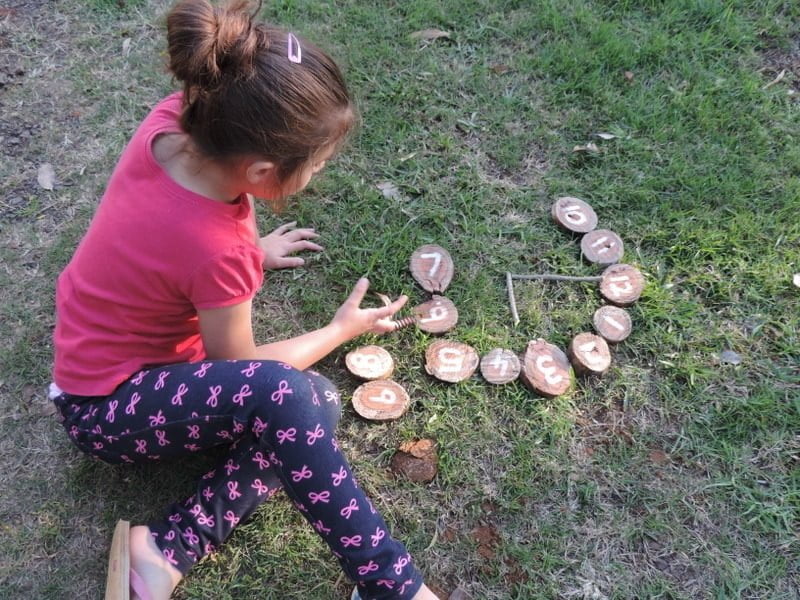 And that is just a condensed list of learning possibilities!
Adding basic materials (both large and small) helps children to expand upon their ideas, renew their interest in block play and also inspires them to try using the foundation blocks and everyday construction materials in different ways.
So how can you make this happen without it costing you a fortune in additional resources?
10 Easy Ideas for Extending Block Play
1. Add loose parts to the construction area – think about current interests and what you already have available that could be used in a different way. Collect and add natural materials to the block area as part of your loose parts collection.
2. Consider adding small tables and platforms of different levels to create stages and specific building areas. I often use pallets, tyres, mats, low to ground tables, wooden spools, tree stumps, flat boulders, wood cookies.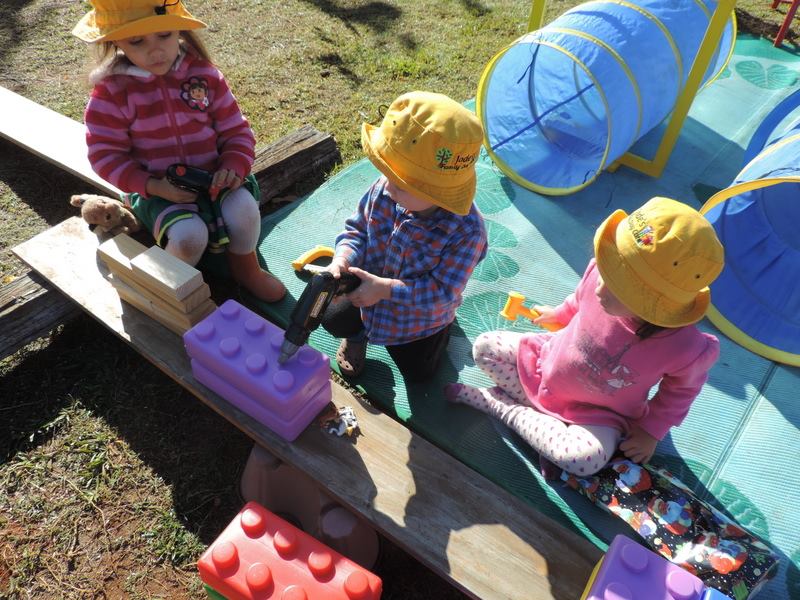 3. Incorporate mirrors of different sizes and shapes to encourage visibility and 3D effects while building. If worried about glass breaking start with acrylic versions that are easily available.
Source : Sarah Hart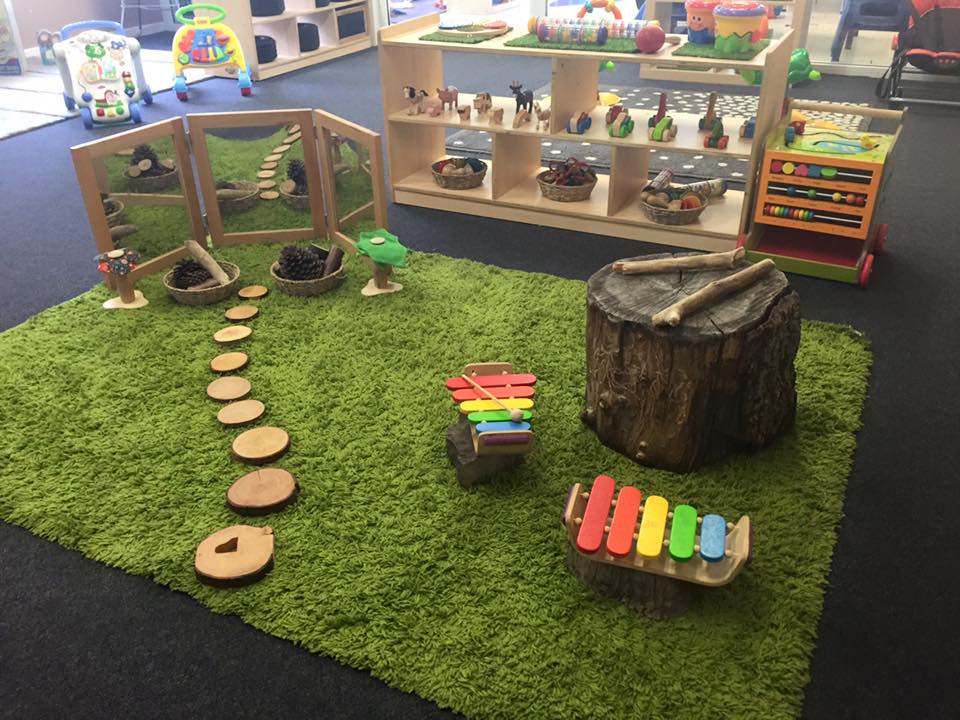 Source – Sarah Hart
4. Add a basket of measuring tools like tape measures, rulers, pencils for marking etc.
5. Provide pictures of bridges, block constructions and other designs for them to try and copy or modify to their own plan. Add paper, pens, clipboards and other 'design' tools to help older children plan out and construct their idea.
6. Easy access to dramatic play props like kitchen utensils, material, saucepans, tins, recycled plastic containers, felt pieces.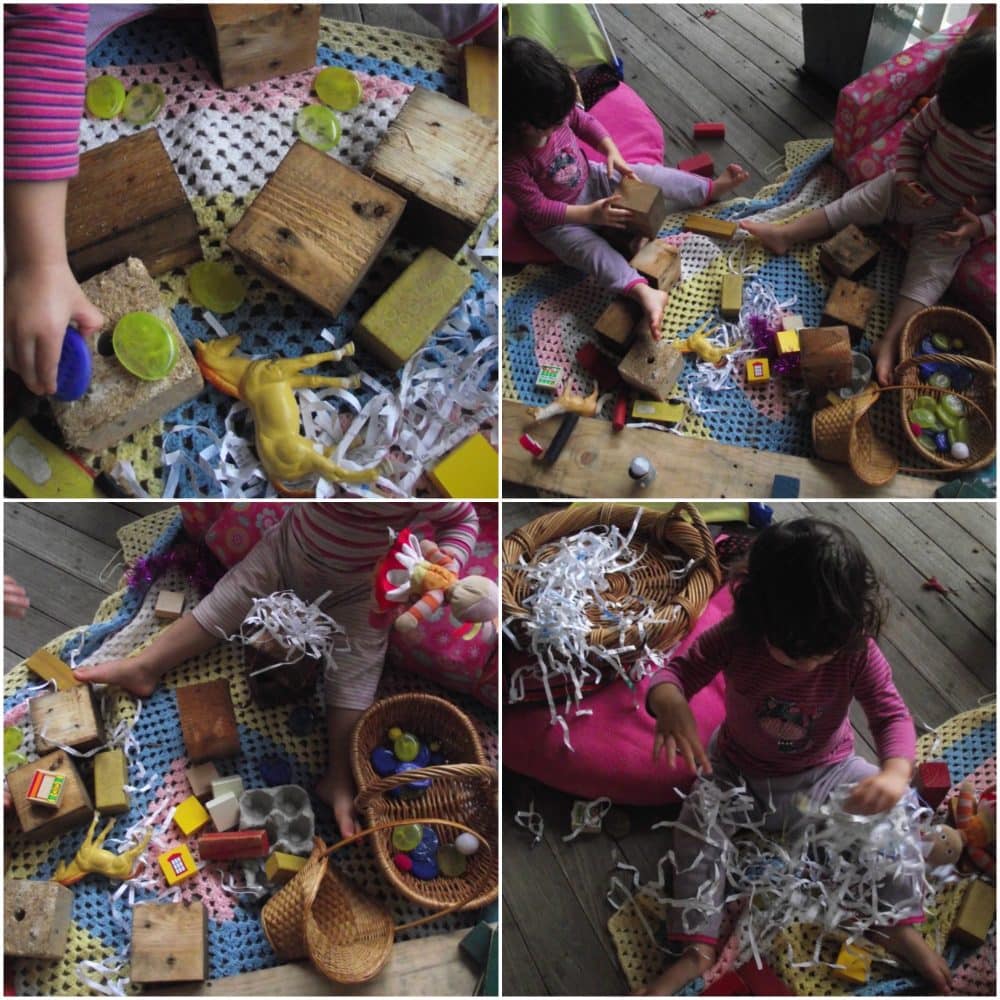 7. Make blocks available both indoors and outdoors and allow children to select and add materials to the construction area.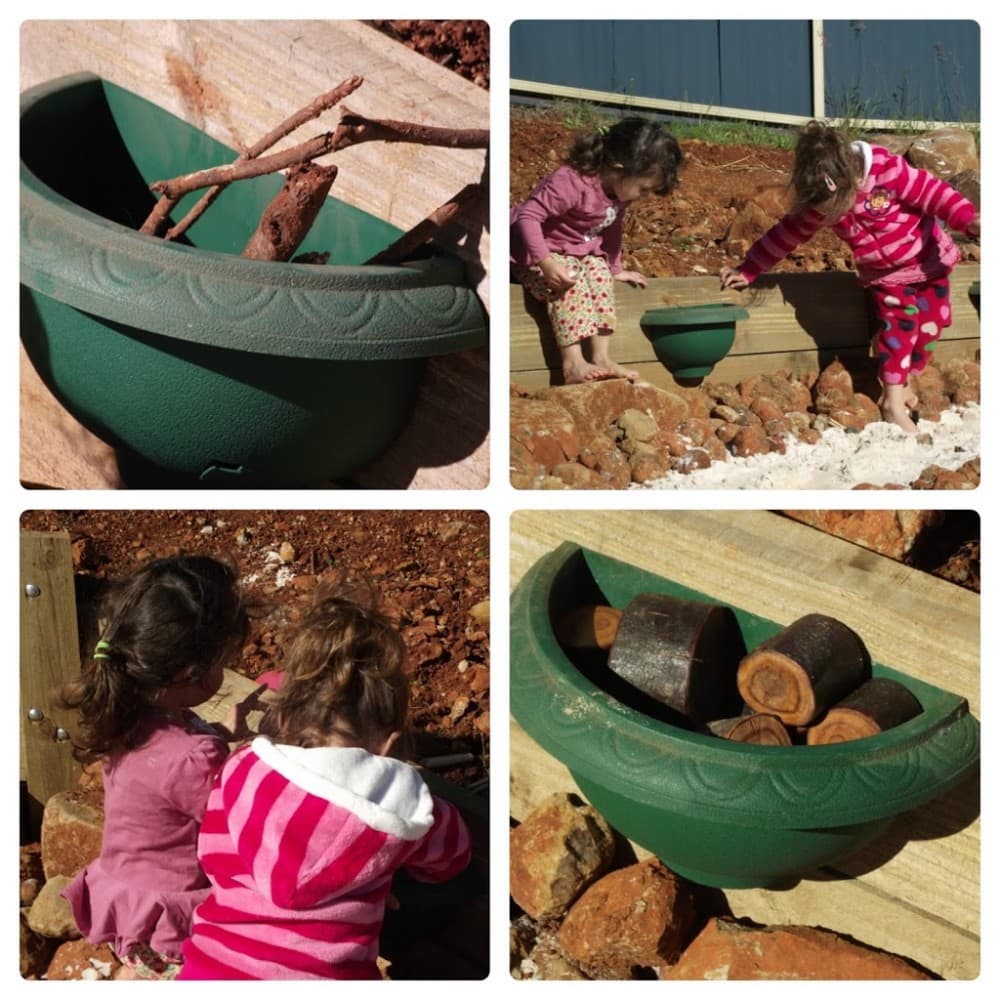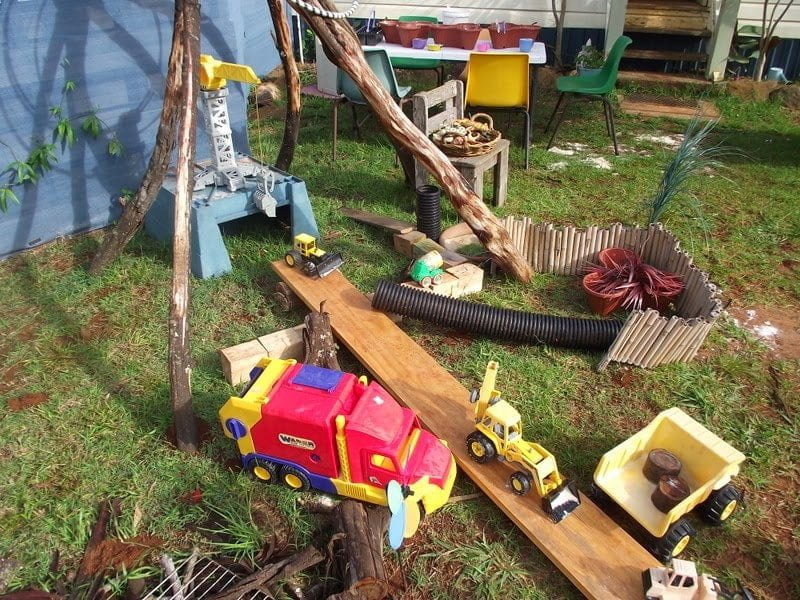 8. Ensure there is plenty of room to build, create, extend and investigate. Think about ways you can record and display the hard work even after it needs to be packed away – consider not packing away if possible for a few days so the children can continue to revisit and extend upon the play.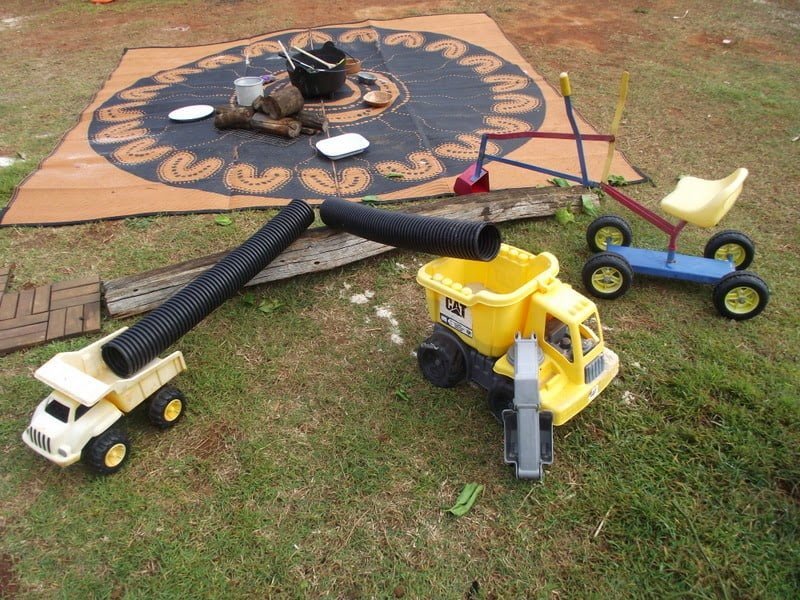 9. Add props for road play including cars and trucks of different sizes, road signs, plants, road carpets, masking tape to make lines, velcro pieces, chalkboard blocks, figurines and people, boxes for garages.
10. Add props for filling, tipping and carrying. We love handbags from the op shop, small baskets, cardboard boxes (shoe boxes and tissue boxes are a fantastic size!) cars, trucks, cardboard tubes.
Make your own DIY magnetic blocks for a different way to build.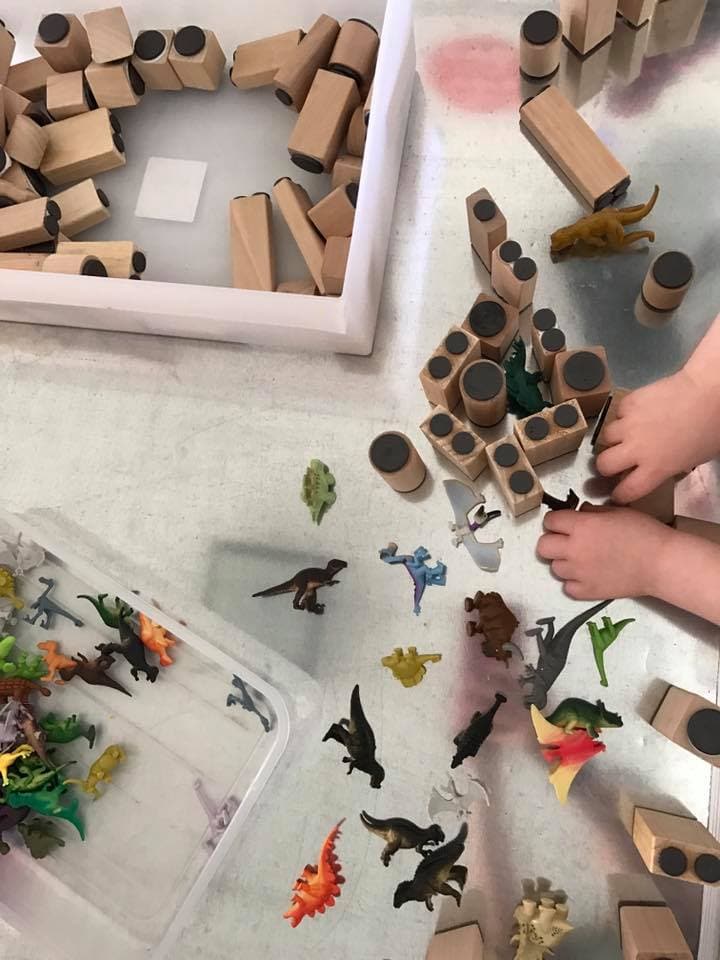 Source : Abigail Brown from Learning Through Play FDC
Explore colour, reflection and texture in different ways outdoors 
Use as props for dramatic play – this is our outdoor toolshop!
Create easy DIY games like tic tac toe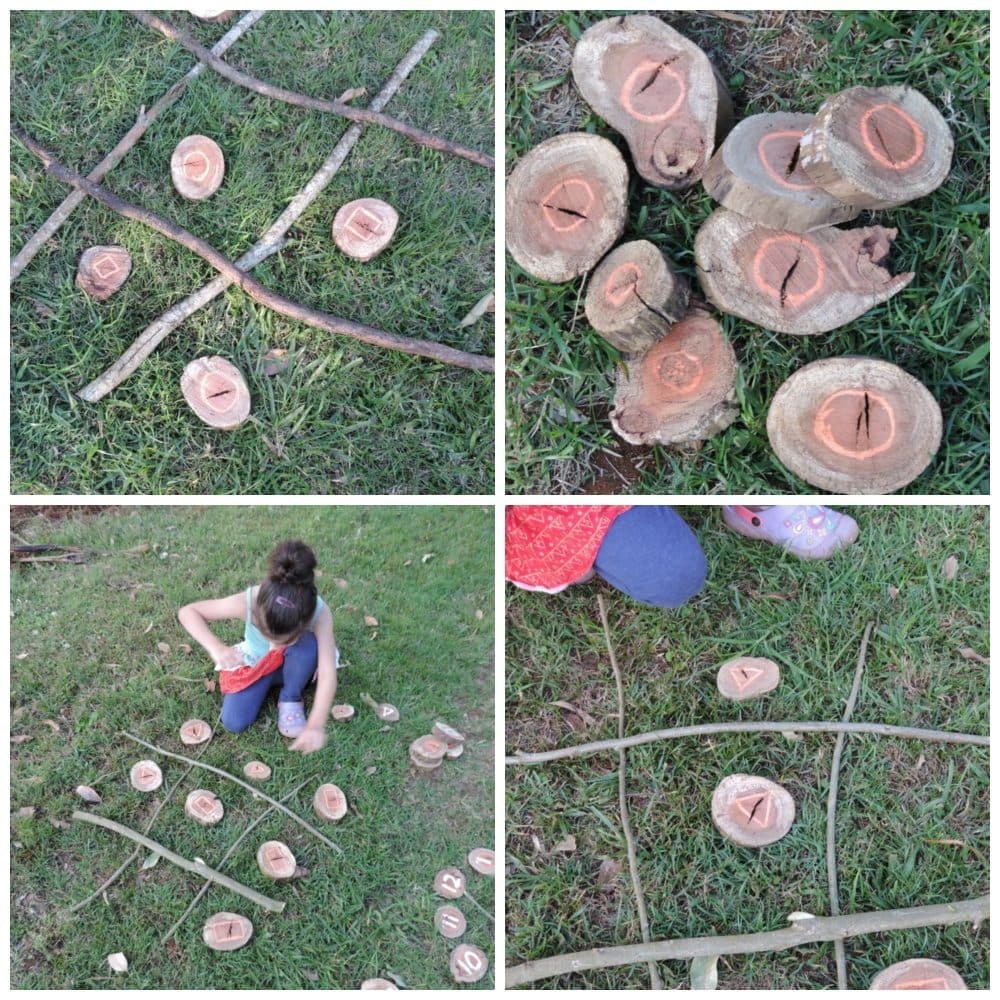 Use tables and other platforms to change the perspective
Use a whiteboard or car mat to define the construction space 
Go fine motor fishing with the foam blocks.
Make your own blocks from nature…don't forget to involve the children in the process!
Use blocks to do some simple shape stamping.
Use recycled squeeze bottles and water paints to colour and create patterns on the pallet blocks.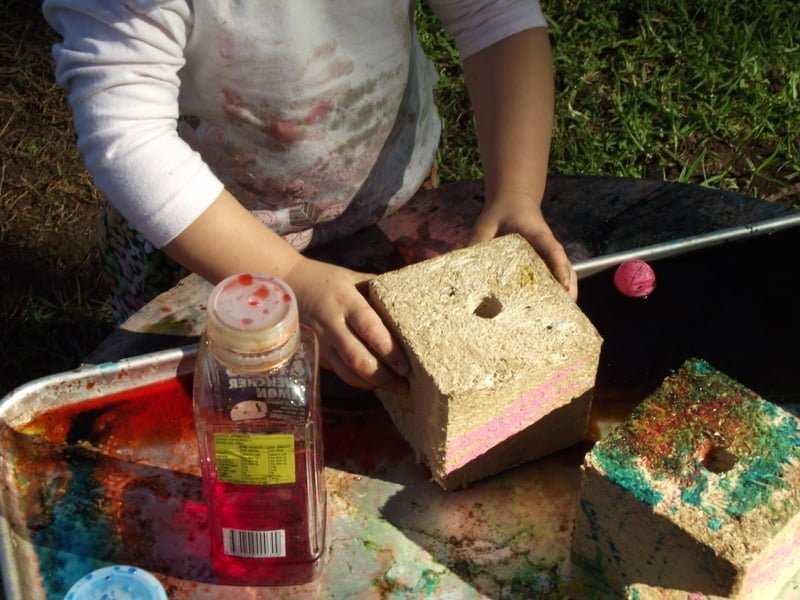 Work together to build a brick wall that won't fall down!
I hope you are feeling inspired to try out a few new ideas to extend block play and perhaps reignite the children's interest in this area if it has been waning or getting a little destructive at times.
Don't forget to step back, observe, note emerging skills and interests and of course join in to help solve problems or pose new challenges.
You can also share your photos of the children's construction or your block area over in our Empowered Educator Community – our members love to inspire and swap ideas!
Jodie Clarke is an early childhood professional supporting educators who want and need to stay passionate about the work they do! She has 30 years hands-on experience in the early childhood and human services sectors across many different roles.
Jodie is mum to 3 in Australia and has already helped thousands of educators with their work through her popular blog posts, activity ideas, online training and e-books.