Looking for a little inspiration to make your own DIY toys for babies and toddlers?
If you have been thinking you need some more early learning resources or toys or perhaps just had some younger children come into care recently, but just don't have the budget for expensive new educational materials, why not try getting creative with natural and recyclable materials, upcycle and turn an object into something with a new purpose or even use those crafting and sewing skills (that I wish I was better at!) to make some unique soft toys and interesting resources for this younger age group to investigate!
I know it helps with inspiration and ideas to get started with a DIY project when you see how others are using these types of materials to make their own resources so I've pulled together a collection of wonderful (yet simple to try) ideas from around the web well as highlighting the creative DIY skills of some of our Empowered Ed Facebook Community Educators.
Simply click on the links under the images to open a new page and explore each project in more detail and add to your ideas list to try! The aim is always to keep it very simple when engaging with baby and toddler age groups so don't overthink your projects!
Add to low shelves, tape to floors or set up on tabletops for older toddlers - keep your DIY toys easily accessible, rotate at the end of the week with other options and allow toddlers to direct their own play by adding the new resources to their different games, materials and spaces.
Toddlers love to cart, dump and carry so providing shoeboxes with lids, baskets, bags from the op shops, purses, wallets and empty containers in your learning spaces for 0-2 years will add to the fun when used with your DIY resources and open ended materials!
Ready to explore some easy ideas and be inspired to try a new project (while also saving money!!) ? Great! Let's take a wander through the images below right now....
Empowered Ed Facebook group member Christina shared a DIY chalk table that she upcycled from a $1 purchase at a yard sale! It was red and missing colour on top so she sanded it and then painted it. Christina has had it for 3 years now and usually puts a fresh coat of paint on again each summerand it is as good as new!
Vivienne from our Empowered Ed Facebook group shared this easy to make DIY toddler resource. The peekaboo boards are made from an old cardboard box and wet wipe lids (perfect because they stay sticky). You can place anything you want to use inside to support the children's learning. In this image Vivienne has used paint swatches to help with colour recognition.
This is a fantastic resource if you are limited on space or need to change from a tabletop height to the floor for younger children. This dual sided board was made by Lisa from our Facebook group. It's a felt board on one side and a tinker board on the other.
Empowered Ed member Sophie shared her simple watering can using an old milk bottle - so many great ideas that you can use this for and the squeezing action required really works those little hand and wrist muscles!!
Lisa from our Facebook group made her own I-Spy bottles using rice and a variety of small items inside. You can put any items of interest in here - just make sure you tape up the lid!
Adding interesting items to 'discovery' bottles to stimulate or calm the senses is another fun way for toddlers to explore and use DIY resources. Leave a few on your shelves or hidden in baskets for them to find and incorporate into their play. Take a look at photos below for some inspiration - make sure to click the links to visit the blog post for full instructions and early learning ideas.
Empowered Ed Facebook group member Dawn and her children were counting buttons then noticed the wonderful designs on them. Now they have these DIY stampers made with corks and spools to create imprints, textures and patterns on clay and playdough..
Jasmine from our Facebook group made these inquiry jars filled with materials to stimulate the senses and invite discovery and investigation. Jasmine simply used old coffee jar lids (you could of course use plastic containers if you prefer). Peel back the lid insert, add your items then push the insert back to secure items inside the lid.
Emma shared this interesting sensory board in the group with us. Emma made the board using an old photo frame. What would you put inside your frame to discover?
Toddlers really don't need fancy toys and expensive equipment to keep them busy or introduce early learning opportunities - I hope some of the ideas above have inspired you to begin creating and modifying your own DIY resources for baby and toddler!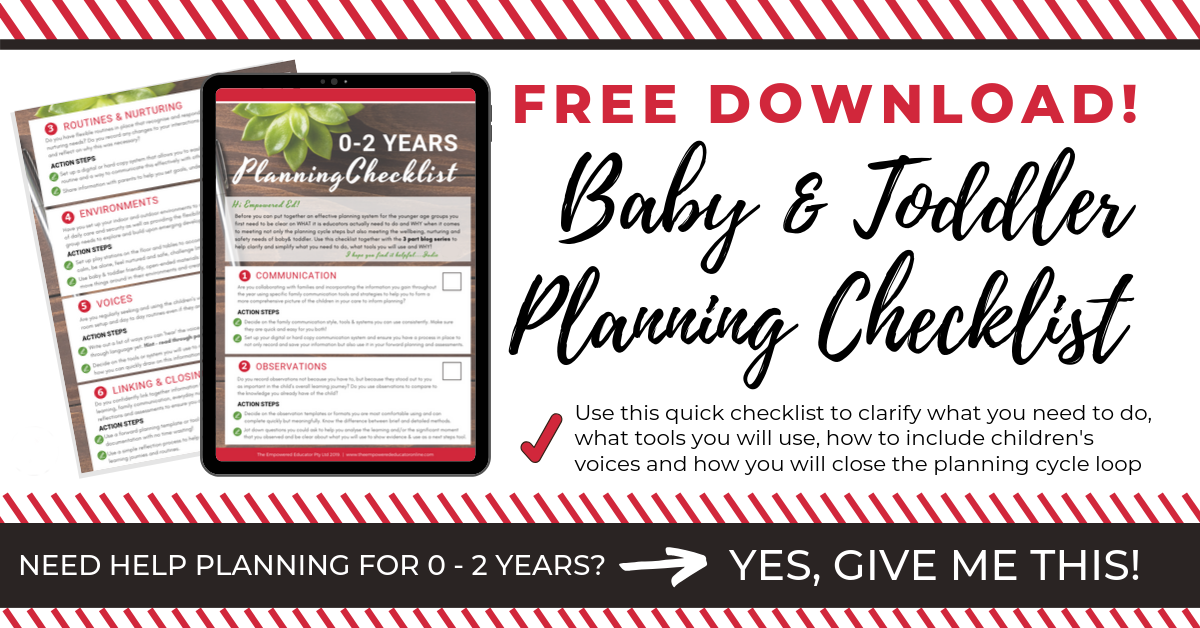 Jodie Clarke is an early childhood professional supporting educators who want and need to stay passionate about the work they do! She has 30 years hands-on experience in the early childhood and human services sectors across many different roles.
Jodie is mum to 3 in Australia and has already helped thousands of educators with their work through her popular blog posts, activity ideas, online training and e-books.