I recently pulled out my DIY Paint Sponge Pads for a little Christmas toddler sensory stamping fun! 
We've been doing a little Christmas Craft  here and there but I am keeping it pretty simple this year due to my reasoning in this post! I do want to involve the toddler twosome in a little Christmas crafting fun but I don't want it to be all we do for the next month (years working in child care turned me a little against Christmas craft just for the sake of the season…it causes to much stress and expectation in my opinion!)so I am trying to be a little creative in my thinking with the girls activities this year!
I have also noticed recently that Ruby seems to be getting a little more sensitive again about touching new textures and I wanted to challenge her a little without pushing too far…..so I combined a little Christmas stamping with some feely ball painting fun!
I purchased a pack of these little feely balls from the $2 shop because they really provide a sensory challenge for Ruby to touch and hold but she has been getting used to them over time. Adding paint to the balls brought a whole new dimension to the experience for her……
I simply got out my kitchen sponge stamp pads again, added a little paint, the balls and some paper and watched the girls explore. They made little patterns the girls called 'doggy feet' and they did look a bit like it I guess…with a dash of toddler imagination thrown in!!!
Ruby did a lot of holding by the very tip at first and didn't add enough pressure to get a dark print on the paper but she soon learnt she needed to hold the whole ball, press hard in the tray and then onto the paper if she wanted to see the print.
This drive to create seemed to overcome her reluctance to touch the texture of the balls soft fingers and the squishyness of the paint. She mastered it slowly but enjoyed the process in her own way and in her own time….exactly what I had hoped for! Of course, she also threw in a little hand printing…as she always does when we use the sponge pads!
Tara really enjoyed exploring the different patterns the ball could make with less or more paint and by stamping or swishing across the page. They are quite small balls so it was a challenging activity for their hand-eye coordination and fine motor skills too.
Stamping pads really are a wonderful tool to use with toddlers as they can press down hard into the paint pads without wasting to much of the paint while 'exploring'! You can use them with stamping tools or just for handprinting. Want to make your own?
How to make your own Paint Stamping Pads
What you need
A packet of rectangular kitchen sponges (old style with holes in them)
Recycled plastic takeaway containers – preferably with a lid.
Acrylic or poster paints
What to do now
Simply dampen the sponges, give a squeeze so they are not dripping then place in container. You want the sponges a little wet to begin with or they will suck up too much of the paint when you first pour it on.
Pour a little paint on then spread with a spoon across surface of the sponge. Don't overload the sponge or you will end up with paint overflowing everywhere when the first little hand presses down!
The paint will seep down into the sponge holes and collect on the bottom. When the top of the sponge seems to be getting a little dry or the stamping isn't as bright on the paper simply flip over to the other side which will now be full of paint and keep going.
Pop the lid on when play is finished so you can keep your paint pads to use again another day – no wastage!
To extend the activity a little further and add some Christmas cheer I brought out our Christmas cookie cutters and showed the girls how to press them into the stamp pads and then make shapes on the paper….they absolutely loved it!
I loved that they were free to stamp and create in the way they wanted to without me 'directing' the craft to look Christmasey (I'm not sure that is a word…but you get my meaning I'm sure!). I am a huge believer that open ended play for toddlers is so very important. 
There are ways to incorporate a little Christmas fun but for me that doesn't mean fancy stencils and projects above their developmental level that need to be completed more by an adult for the 'desired' pretty end result.
I want them to feel involved and in control of their own creativity…they will be less likely to get frustrated and therefore be proud of their end result that way I believe.
I love to watch how toddlers can make an activity their own and the finished product may not be what you envisaged but if we understand and accept that it is the learning process of a toddler then I think there will be a lot less stress all round…that's what I'm aiming for anyway! All this wonderful stamping made lots of colourful Christmas wrapping paper to use – a lot more special than the brought kind don't you think?
Have you started doing a little Christmas craft with your toddler? Are you enjoying it or finding it a stressful experience? 
Perhaps worth scaling back your expectations a little if it is all ending in tears…especially if you have a little one as challenged by their senses as I do!
If you are looking for more Christmas activity ideas you can find them HERE.   There are also lots of Christmas activities being shared in our Empowered Educator Facebook group which you can join HERE.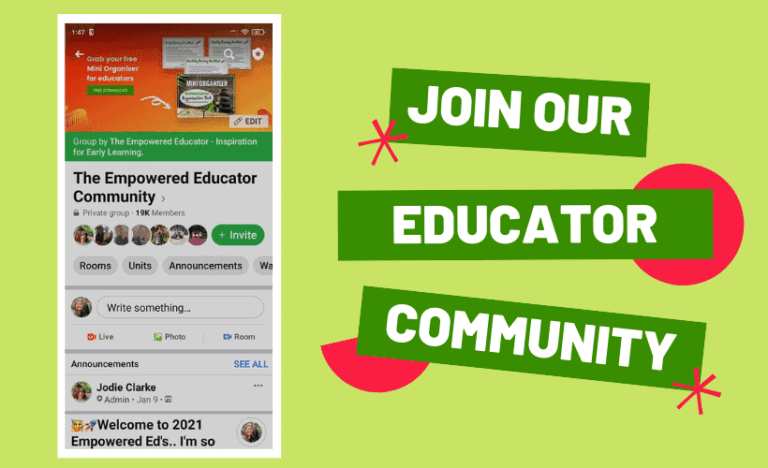 Are you on Pinterest? You can find more early learning Christmas ideas on THIS Pinterest board.
Jodie Clarke is an early childhood professional supporting educators who want and need to stay passionate about the work they do! She has 30 years hands-on experience in the early childhood and human services sectors across many different roles.
Jodie is mum to 3 in Australia and has already helped thousands of educators with their work through her popular blog posts, activity ideas, online training and e-books.