Feltboards are a fantastic tool for children and can be used as a prompt to help explore their imagination as well as for singing, colour recognition and counting fun. The great thing about felt boards is that they are a very easy and budget friendly resource for both educators and families to make themselves. I have always used a feltboard when working in early childhood and my own twins absolutely love having their own. This project is actually something we made as a Christmas present and it is still being used many years later!
I have added my own felt stories, song props and resources over the years as I like to create my own but if you aren't crafty in that way there are many clever people out there making felt play sets now that you can purchase already made for a very small outlay. You'll also find templates to try if you want to give it a go yourself. Just search Facebook or Google!
And remember that children don't need perfection , they will be happy with whatever you can provide as long as they can be hands on and try everything out. It's also a great idea to give the children some felt scraps or pieces to see what they might like to create and use – 3-5 year olds love making simple shapes and characters to use with their own story and song creations!
When you have quite a few children using a feltboard I've found it can be very helpful to have a large space to work on but because it takes up a lot of room you also want to be able to put it away for storage easily. I've also got twins at home so I wanted a solution that would allow each girl to have their own space to get creative and explore in the way that they wanted to (and to be honest with you – as a Mum I wanted less arguments!).
So I decided we needed a double sided, freestanding, fold away felt board! With a little help from His Patient Self the plan began to come together! I was really pleased with how it turned out and how quick and easy it was to make.
Want to have a try at making your own? I've included lots of photos so you can see the creation process step by step. Let's do it!
Making a Double Sided Freestanding Feltboard
What You Need
Two sheets of MDF in the size you would like your feltboard sides to be. We used a thickness of around 6mm but it is really up to you!

Felt fabric to cover the board…make sure you allow for enough to pull to the back of the board as well. I used blue but you might prefer green or half and half to replicate the sky and grass.

A little PVA glue watered down and a paintbrush
2 medium size hinges (will depend on size of boards you use)
Chain (optional)
How To Do It
Spread your felt pieces out and lay each board on top of each piece of felt. Check your measurements before cutting your felt further!
We found the easiest way to get a good fit once you have checked your measurements was to lay the board on top of the felt as shown in the pic below……..
Then pull it up and over and stretch to the other side of the board to check your fit…make sure you have the same sort of overhang at the other end of the board……
Now you are ready to begin gluing! Fold back the felt and using a paintbrush cover the board lightly in glue. We used watered down PVA wood glue so it was like a wash and spread easily without leaving marks on the felt when it dried.
Pull your felt back over and onto the board and smooth so there are few wrinkles…spend a little time on this as it is worth it!
And now you should be at the stage where it looks something like this!!
Flip it over so you are now working on the back of the board……
Use your glue wash to paint a border around the edges…..
Cut your corners on an angle to ensure a neat finish…..
Then fold over the side pieces…add a little glue to those corners to ensure they stick down well…..
Now lay your boards side by side (with the side you just glued facing up towards you) and screw in a couple of small hinges…easy…you don't even need a drill!

Then fold over to check it is lined up the way you want it and the hinges are doing their job! You're nearly done!!
His Patient Self added a little chain between each side to prevent the boards from opening too wide and falling flat. Not entirely necessary but they do improve stability and the safety of the feltboard.
And there you have it…a double sided freestanding feltboard ready for action!! Lots of space for them to work on the same side together or separately! One very easy and budget friendly resource or even present!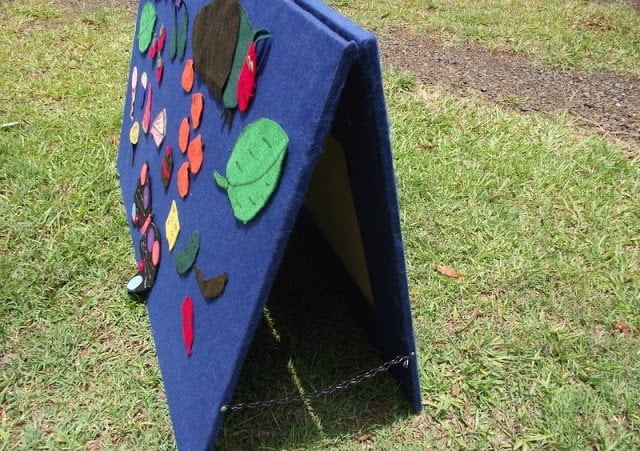 A few little felt creatures and stories I have been working on to get you inspired…
5 Little Speckled Frogs..
Mr Brown's Apple Tree
…love, love this story for engaging toddlers!!!
The Hungry Caterpillar
Do you like to play with felt at your place? It really is a timeless classic and one of those activities that is sure to keep a toddler (and many older children!) busy and engaged for a little while at least!

You can click on the picture below to visit more of my toddler felt fun and ideas! And look at how tiny our old original board looks now!!
If you would like to connect and share ideas like this one with other early childhood professionals from across the world why not become a member of our