We absolutely love the sensory appeal of sand play but it doesn't need to just stay in the sandpit! 
Try colouring your own sand and having fun creating colourful patterns and designs with just a few simple materials…..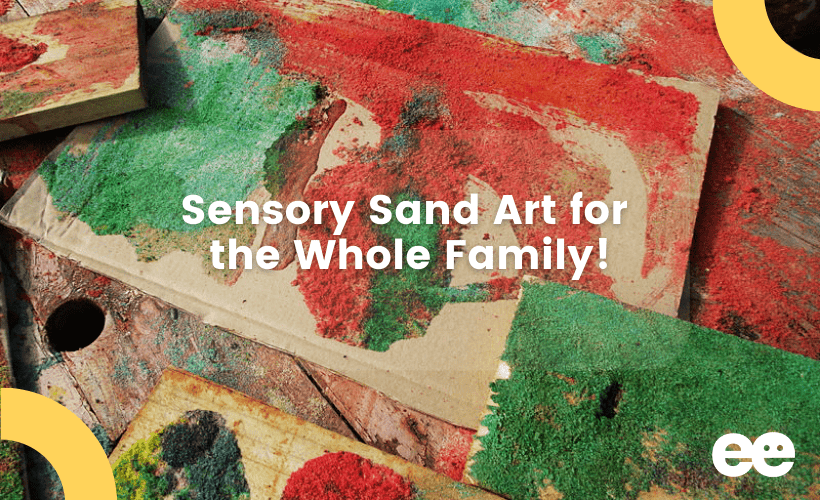 I particularly wanted to try this one with Ruby as she is very wary of both glue and also wet sand. This challenged her sensory texture and touch aversions but she did enjoy it as long as she could wash her hands at regular intervals and go back and forth to the activity as though she needed to process what she was feeling and experiencing each time. I always ensure I have water and cloths close by for those children that need to wash their hands regularly to feel confident with the activity.
This one is so easy to set up…. I gave the children some plastic containers and asked them to collect some sand from the sandpit…. (have always used dry sand before but on this day it was a mix of wet and dry as it had rained the night before)….it all added to the sensory experience though!
I sprinkled some edicol dye colour powders onto the sand and asked the children to mix it through their sand with some craft sticks. Fun for colour recognition as the sand took on the colour of the dye as they mixed harder and it, therefore, proved to be a workout for those fine motor muscles too!
When the colour was mixed through the sand tubs I added a shallow container of watered down wood glue, a few different sized brushes and some cardboard offcuts also of various sizes.
There really are no rules to this activity… I just sat back and watched them get creative in their own ways….they challenged their fine motor skills as they used the sticks to spread the glue as well as mix the sand and even to carry the sand to the cardboard! You will find that it is a fantastic activity for a multi-age group and easily modified when you are having fun with school age children too.
The idea is to paint some glue onto the cardboard and then sprinkle the coloured sand on top to make art happen! Tara decided she would use the brushes to paint the sand and this provided another avenue of exploration…
When they are happy with their picture design show them how to gently shake the excess sand off to reveal their art. My children decided on a few occasions that they needed to do some 'touchups' so more sand and glue was added before being shaken off again!
Shaking the sand off onto the ground provided a whole new way to play! It was also lots of fun to make patterns and roads in the sand containers……
The colours take on such a stunning quality when mixed with the sand and when dry the pictures provide a whole different sensory experience to explore.
They will go rock hard if left in the sun for a day and the children love to explore them every now and then with their fingers as they walk past their masterpieces which I have displayed on our wall for all to see. Take photos though as eventually the sand and glue will dampen the cardboard and they become heavy and break apart. They last for awhile though!
Miss Teen really enjoyed mixing her colours and creating patterns by layering the sand and glue…
Tara decided to extend the activity by using the wood blocks I had on the table as paperweights to form the base of her next creation. She first explored how the sand looked on the wood as she sprinkled it on and then added some glue as she remembered it wouldn't stick to the wood otherwise….got to love watching that toddler problem-solving in action!
Miss Teen used wood to create a unique and colourful name plaque for her door….a fun activity for after-school care or holiday/camp care.
We left the masterpieces to dry for the rest of the day in the sun before coming back to marvel at the rough texture and the sand not falling off the cardboard and wood anymore!
It really is a favourite activity of mine and one I have shared in every toddler room I have worked in over the years! As a bonus it kept them all busy for a whole morning of colourful sensory exploration… each working in their own little creative zone.
I do recommend that this is one best done outside though as they need to be able to shake off the excess sand and have the freedom to make a mess without you stressing about the sand and colour on the floor! (And trust me….you never seem to be able to sweep up every bit of sand…have you noticed that?)
It's a great way to have a little extra fun with the sandpit and explore colour, texture and the process of creation rather than thinking about the end product. I hope you give it a try….if you completely dry out the leftover sand you can also use it again another day!
Jodie Clarke is an early childhood professional supporting educators who want and need to stay passionate about the work they do! She has 30 years hands-on experience in the early childhood and human services sectors across many different roles.
Jodie is mum to 3 in Australia and has already helped thousands of educators with their work through her popular blog posts, activity ideas, online training and e-books.