I must say a big thank you to all those who commented on the
Part 1 blog in this series
….I had no idea it would prove so helpful to so many working with the EYLF outcomes and trying to find their program template style. I'm glad so many have been inspired to begin taking action!
This post I want to focus on finding your personal programming 'style' or 'rhythm' and I will also be discussing the  program template I use in more detail since I have had many requests for information on how I use my boxes activity plan.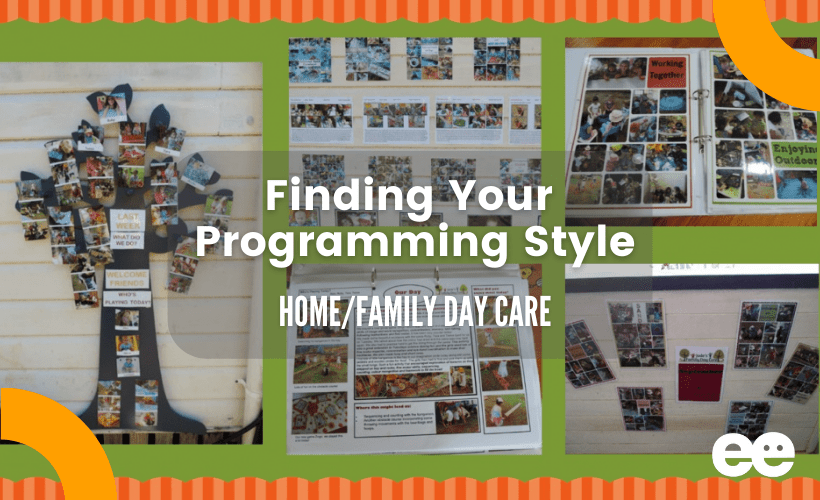 What is a programming style?
This is just a term I made up actually! I have found it useful over the years when trying to help others find their groove as they begin to document their planning.
Consider these five factors when searching around for program templates or when designing and editing your own….
1. Do you like to write a lot when you plan things ?(anything)
2. Do you write lists often? (I love lists, my twins now hand me paper for Mummy's lists!)
3. Are you an organised and methodical person or do you prefer to go day by day and see what happens?
4. Are you confident on the computer or do you prefer to work with hard copies of forms?
5. Do you feel more comfortable planning for a weekly, fortnightly or monthly program? Does your scheme have an expectation of the time frame you should work to?
6. Do you like to use apps on the go or prefer the use of pen and paper to keep notes throughout your day? Perhaps you prefer a combination of both?
7. Do you like to take lots of photos of the children engaged in play and activities throughout the day?
8. Do you seek and value parent/coordinator input within your service?
9. Do you like templates or do you prefer something more organic that can build as you progress through your week/month?
10. Do you understand how to link child observations effectively to your program plan or do you just put something because you 'have' to.
How did you go with those questions? Can you see where I am heading with this?
Everyone is different in the way that they understand and plan their program for their service. It's important to recognise this because you can have the best program template in the sector but if you don't fully understand how to use it or feel comfortable doing so then I have to be very honest with you…it isn't going to work for you or the children in your care.
I'm not a fan of schemes that hand out templates that all educators must use for their planning. People have different strengths and levels of understanding for certain areas. What works for some may not suit others, no matter the best intentions. In my experience many educators give up on the planning side of things because they aren't sure about the process or what is expected of them with templates that are perhaps handed out with little communication about how to use them effectively.
So, think about the answers you gave to the questions above and consider the following….
If you are a methodical person who often writes lists and always plans ahead in your everyday life then you are probably going to be suited to a more structured plan, perhaps something like mine with box categories and clear areas for definition/linking and forward planning. There is more writing and planning with a program like this but that probably doesn't faze you as you prefer to have everything sorted before your week starts and doing it this way helps you to feel more in control of your week and able to deal with spontaneous events more confidently.
If the thought of all that boxed in planning ahead makes you shudder then you need to take a different angle. You will probably prefer to start with a few focus areas and expand upon those as your week unfolds and incorporate focus activities and children's interests as they arrive. If it doesn't concern you that you can't see ahead to far into the week or plan accordingly then that is perfectly ok. There is nothing wrong with that approach as long you are able to EXPLAIN your method and how you are covering the bases.
To be really honest with you…That type of planning is  actually my worst nightmare because as you may have realised I am a bit 'Type A' in my personality and planning and organising make my day! I love a list and a box. (Yes, I am truly an exciting person!) and I always write to much (as you may have noticed!) But it is the way I make sense of things and help others to understand my vision or thoughts. It is what I consider my strength and personal style.
I know that most parents won't have time to read this type of program but some do and for the others I always ensure I have plenty of other methods of information and communication available to them so they can gain an understanding of the direction of their child's play and learning. You can see more of my parent communication examples here.
You don't need to solely rely on your program as a method for communicating your planned activities, play and learning to parents. Too many educators (just in my own experience) seem to feel they are writing a program for parents and coordinators and get awfully deflated  and frustrated when they don't stop and take time to read all that hard work
"What's the point, it's not like parents read it anyway!" Yep, I have heard it many times and what I reply is "But that program is to benefit you and the children first and foremost and I'm pretty sure you read it and the children get to enjoy the activities and pre planning!" Perhaps time to rethink who you are planning for and who you are trying to please, you might be surprised at how much simpler the process then becomes!
Hopefully now you have a bit clearer  understanding of the direction you want to take. I'm not going to go through all the different templates available, I'm sure you have already got a collection, it's a matter of figuring out what works best for you or perhaps modifying it until it does suit you. Don't just settle with something if you don't fully understand it or find it way to much work just because everyone else you know is using that one…yes even mine!
I know many educators have expressed interest though in how I use my program plan since I mentioned it in the part 1 article so I'm going to try to briefly (stop laughing now) describe the main areas for you and then you can decide if it really is the template style for you.
What time frame does my program template cover?
I write a fortnightly program. I don't mind weekly programming but for the children I have at the moment and the days that I work I find that fortnightly allows me to plan more effectively and complete the planned activities while leaving room for spontaneous and child led activities. That might change depending on the children. It's all a matter of balance. If you were using this template for weekly planning then obviously you would write less. Take into account the days you work, the number of children in care and how many days they attend and the type of service you work in or manage.
How do I include parent input on my template?
I speak with parents about our activities, what's happening in their child's life at the moment, what they did on the weekend, what they loved doing today and have they done this at home too? I use my parent communication books or forms to also inform my program. There is a box on the program template just for family/coordinator input and I will usually fill this in at the end of the week or during the week if I feel there is something I have discussed with the parent of a general nature that can be included. I don't expect them to write in the box but they are more than welcome to!
What are the program template box headings for?
The headings are my way of making sure I am planning to cover all areas of the EYLF outcomes without needing codes, numbers, colours or tick boxes everywhere which seriously do my head in and makes the planning process very lengthy in my opinion. Don't make work for yourself if you don't have to (like the way I think?). I have developed these headings after much studying of the 
EYLF outcomes
and
educator's guide
 and calling upon everything I have previously been taught over the years in early childhood. I didn't see the need to throw away all that I was comfortable with, it was just a matter of finding a way to incorporate my own style together with the new expectations and wording of the EYLF.
But what do the program template box headings mean and how do they relate to the EYLF Outcomes?
Well, as usual this post has become way to long so I'm not sure I can cover all of the thinking behind my box areas. I'll try to add a few dot points under each to give you an idea but as you can see from my example one below, the areas also crossover and link well together at times for certain activities – I add arrows sometimes for my own benefit, there is no need really as coordinators or assessors will be able to see the links for themselves if they have a good understanding of the learning framework. 
I haven't included the detail I normally do for focus activities due to privacy reasons but I normally include the planned focus activity from my individual forward planning sheet with the date of relevant  initial observation/collage/reflection. See more about how I do my forward planning and linking HERE.
Intentional Teaching Opportunities
This is the section I list  a few activities that I would like to really focus on encouraging and initiating learning experiences. They are usually planned experiences and will quite often crossover with other areas but I don't always need to be involved, I might set something up and then observe the interaction and play to further extend upon later.
Children's Ideas & Interests
This box I use to write down a few activities directly related to the children's ideas and interests from the previous fortnight or sometimes during the current fortnight. These may come from direct observations, photo collages or the 'our day' reflections sent home to parents. They may be planned in advance or come up during the week and I extend from there.Individual Focus Activities
The activities I list here are from my individual forward planning sheet and previous observations. They might also be activities that stem from things I have seen in the previous weeks but not actually formally documented. You can read more about how to use this template and download your own to use in THIS EBOOK.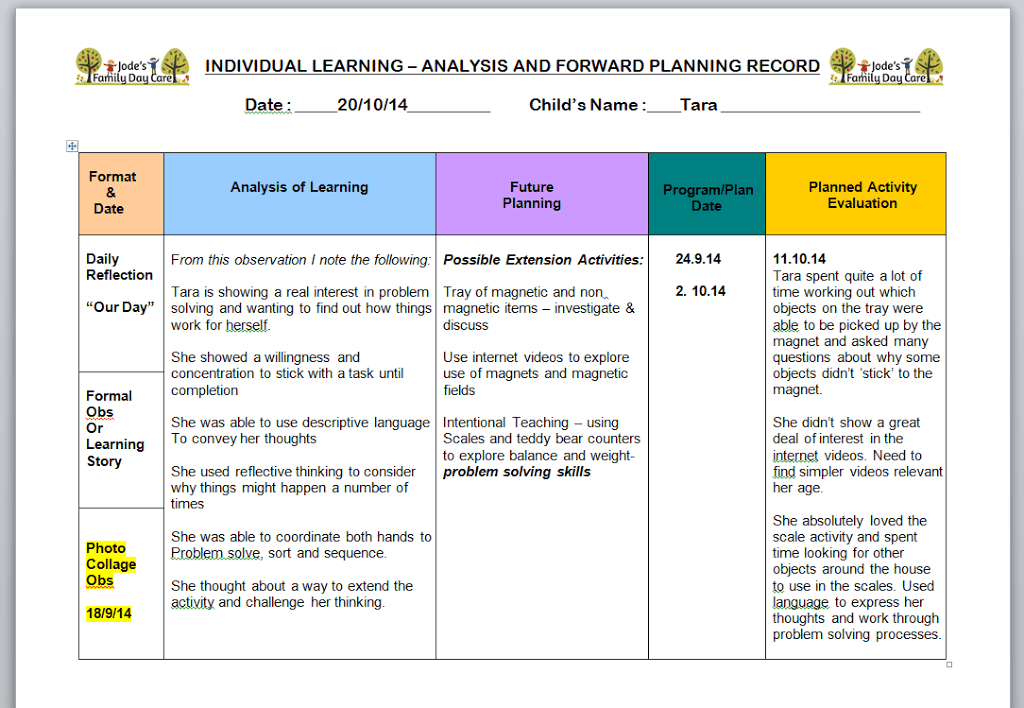 Spontaneous Moments
Moments recorded and added to the plan during the week that were initiated spontaneously  by the children or myself – I try to add a few sentences about who led the activity and how it came to be.
Family/Coordinator Input
Don't really think I need to explain this one…ask your coordinator to add a little input next time they visit and you can let parents know it is there to add to but I usually just write in a few relevant comments from discussions with parents at the end of the week.
My 7 Learning Areas linking to EYLF Outcomes
These are the 7 learning areas I use in each of the boxes in my program template. Each focus area corresponds to EYLF outcomes so there is no need to add complicated codes, numbers or other time consuming methods - I just add my activities and get ready to play knowing I am offering a varied and comprehensive program covering all areas.
1. Exploring Our World
I mainly include activities here that will encourage an exploration and understanding of the environment around them... food, pets, gardens, land, sustainability, recycling, natural and man made materials/environments, technology and research in these areas...it's one of my favourite boxes as there are always interesting ways to learn in this area no matter how young the child!

2. Inviting our Imagination In
Another area that can incorporate many different activities. It really is about anything that might encourage children to explore their imaginations. Props, invitations to play, opportunities for role play, dramatic play,communication and creative self expression. They might be indoor or outdoor activities.

3. Let's Get Moving
This is pretty self explanatory...any activities that get the kids moving indoors or out and more aware of their bodies and the movements they can do. It's about offering activities that challenge those gross motor skills and muscles! It might be with music & dance, games, stories or songs.

4. Manipulative Play
This is where I list planned activities that will encourage strengthening of fine motor muscles, problem solving, spatial awareness, you get the gist! I include puzzles, blocks, tong games, some craft and anything fine motor here.

5. Creative & Sensory Play
This area often overlaps with many of the other areas obviously but I still find it useful to have a separate section so I can see at a glance our crafty and sensory activities as they are the ones that often require more set up and pre planning. I quite often write the days beside them that I want to do them as this works in with the ages I have on those days currently. No need to do that, I just find it helps in my planning.

6. Encouraging our Identity & Independence
This is the section I include group and individual activities to encourage and promote self help skills, a feeling of belonging, pride in achievements, respect for diversity, understanding and managing of emotions, feeling part of a community,and an increasing responsibility for their own health and wellbeing.
This area can be pretty broad so I try to just incorporate a few activities for each program.
7. Connecting through Communication
This is where I list activities focusing on verbal and non verbal communication, media, technology, music, singing, puppets, dramatic and social play prompts,stories,group games, language skills....basically any activity that will invite discussion and communication in some way.
Jodie Clarke is an early childhood professional supporting educators who want and need to stay passionate about the work they do! She has 30 years hands-on experience in the early childhood and human services sectors across many different roles.
Jodie is mum to 3 in Australia and has already helped thousands of educators with their work through her popular blog posts, activity ideas, online training and e-books.