The weather has been glorious here lately and I have been doing lots of work in the garden and vegetable patch with the twins and also the family day care kids.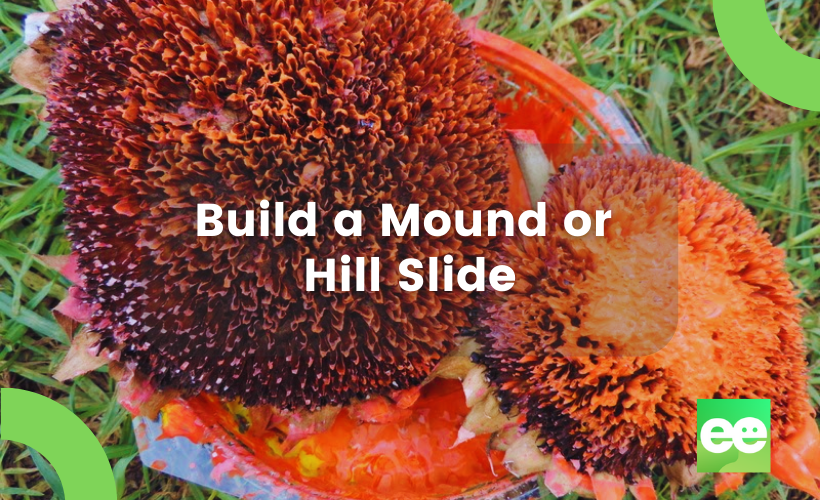 There is nothing better than seeing the joy on a child's face when they pick something from the garden that they have helped to plant and nurture. Lately there has been a lot of interest in the beautiful sunflowers that have been brightening the vegie patch. I decided we couldn't let this little gem from nature just be admired, I wanted the children to really experience the wonder of nature and engage in some hands on activities to extend their interest and learning.
As the twins picked purple beans from the vegie patch one afternoon we talked about the colours and sizes of the sunflowers and picked a few to arrange and display inside their bedrooms. They couldn't stop talking about them and because we had talked about how much the king parrots love to munch on them they were a little worried at first that the parrots would fly into their rooms to find them…precious!
When the flowers began to die off we collected the heads with some of the day care children and left them to dry in the sun. We talked about where the bright yellow colour had gone and what was inside the flower head.
They were amazed to learn that all those black things were seeds and that is what the parrots love to eat.
When they had dried out a little I showed the children how to pick the seeds carefully out of the flower head. It was quite a challenge and really worked those little hands and fine motor muscles.
There was lots of communication, problem solving and pride in their achievements.As we worked together I began to talk about how we could grow new sunflowers from these seeds because we were collecting them instead of just throwing away and having to buy a new seed packet. it was a fantastic opportunity to talk about sustainability and how we can grow things from seed over and over just by putting in a little extra time and hard work.
I handed everyone a little cup to collect their hard earned treasure in and help give them a sense of ownership.
I labelled the cups and they went home with the children to plant in their own gardens with their siblings and parents. I have encouraged them to bring me back a flower or photo when they grow.
I hadn't finished with those beautiful sunflowers yet, I knew they would make the perfect sensory painting activity. A few shallow dishes of paint and some of the flower heads (with built in handles!) and we were ready to get creative.
It was such an interesting activity as they all explored the process in different ways. There was splattering, stamping and smoothing back and forth…..the little sunflower stems provided the perfect handles for small hands to grasp tightly.
The stems helped them have more control over how they wanted to paint with the sunflowers….
They made some lovely patterns….
And the dry sunflower heads provided a wonderful sensory experience that really got the 3 year olds talking and investigating.
They also began to notice that sometimes seeds would fall out as they painted so they were excited to make them part of their masterpieces or pick them up and carefully rearrange. Lots of lovely pincer grip practice!
The seeds stayed on the paper even when dry so we came back to explore how rough the pictures felt and Tara told us that the parrots would love our paintings!
Their creations were all unique and reflected their different styles and it was lovely to hear them talking so excitedly about sunflowers and all the fun things they could do with them rather than just look at the flowers as they walked by in the garden.
There are always little treasures in nature that we can incorporate into children's play and learning and it really needn't take much effort or planning. It just takes a little thinking outside the box!
It provides an opportunity for children to engage in dialogue about the process and problem solve as they work.
Depending on the size of the sunflowers you use it can provide an opportunity to talk about the basic concepts of big and small with toddlers and for older children a sequencing activity.
Painting with the sunflowers encourages self expression, creativity and sensory development.
Collecting the seeds provides practice and strengthening for fine motor muscle control and hand eye coordination skills.
You can encourage children to use their senses as they smell the flowers, touch the softness of the leaves and then the smoothness of the seeds and the rough flower head when it dries. Talk about why adding paint makes that sort of pattern on the paper. Get them talking and investigating.
It encourages a sense of self worth and pride in their efforts as they collect the seeds and then grow again after nurturing their plants. They can see the lifecycle of plants in action and participate in the process.
Jodie Clarke is an early childhood professional supporting educators who want and need to stay passionate about the work they do! She has 30 years hands-on experience in the early childhood and human services sectors across many different roles.
Jodie is mum to 3 in Australia and has already helped thousands of educators with their work through her popular blog posts, activity ideas, online training and e-books.