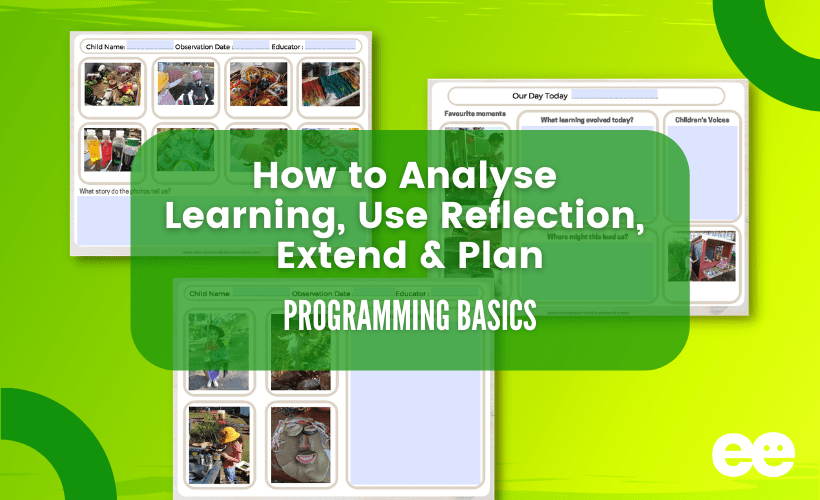 Australian early childhood educators are expected to develop and follow a planning cycle as well as meet EYLF (Early Years Learning Framework) outcomes to ensure that all children in care are supported to follow and extend their learning journey. There are principles, learning outcomes and different guidelines according to where we live that must be taken into account but for the most part it is important that educators develop a planning cycle and method of documentation that suits their own individual style.
You can read more about my own
planning cycle here
but today I wanted to explore the
evaluate and extend part of the cycle
as I have been receiving quite a few messages from readers asking for help in this area.
As always with my posts for educators, please remember that I share how I interpret things and how I have previously learnt through my own formal training but also through my own personal experience in different care environments. It may not be what you have been told or what your Director or Coordinator or Scheme requires so you need to be aware of that as you read.
I do always encourage educators to question methods and procedures if they are being forced upon them though. You are a professional and as such have the right to question and seek clarification for the work and processes expected of you. But to do this means coming from a place of knowledge and understanding and confidence in your own planning style and systems so that you can confidently engage in debate.You may find
this article on how to become an assertive educator helpful.
So you've completed the first step of the planning cycle and
documented meaningful observations on the children
in whatever format suits your style…now what? An observation isn't much use to your overall planning if you haven't reflected, asked yourself questions about the observation you recorded and then evaluated the answers.
Without this step it is just an observation and that my friends has been a waste of your time
. And no one wants that.
So let me break it down for you…..
What does analysing an observation mean in simple terms? How do I start?
Well here's what I always ask myself when I reach this step. I learnt to do this over 25 years ago now during my training but I still think the questions are relevant, I have just incorporated a little of the language and context of the Australian EYLF outcomes  now as well.
 5 questions to ask when you make an analysis of your observation.
1. What learning took place here? (This is where I now reflect upon the EYLF outcomes and use the language of that document to guide my my responses…not listing specific numbers though.)
2. What strengths and interests can you identify from this observation?
3. Is there anything in this observation that concerns you from a developmental perspective? What can I do to support the child's learning in this area? Who do I need to speak to about this?
4. How could I further support and extend this child's interest/strength/learning journey?
5. Is this learning observation significant – can I plan future experiences from this observation?
I personally think the last question is very significant. There is no point trying to plan your environment and experiences for a group or individual child if the observation or learning that took place isn't meaningful.
When you first start taking observations it can be easy to fall into the trap of writing down every little thing a child does. With experience though you will see that it is more worthwhile to think about what you see happening in front of you first, engage with the child and if you feel it was significant write it down later.
I like to take lots of photos, I never take notes as I'm not there to just observe every day. A child doesn't want to see someone sitting there with their head down writing notes as they play. They want you to engage and be involved in their play even if that just means knowing you are there watching them and not actually directly involved.
I can hear many of you saying now "But how do I know if it's significant?" (I know, uncanny aren't I? )
Ask yourself….
1. Did I just wish I had the camera with me to capture that moment or did I just take 50 shots of that experience/group/child/activity because it blew me away?
2. Did I want to share that moment with a co – worker or the parent/carer?
3. Did I think of a particular EYLF outcome (or they suddenly made sense) when I saw this particular interaction?
You'll need to think about how you want to document your observation evaluation. Some people do this underneath or beside their observation. I use my forward planning form as I find it easier to keep a sequence going and show clear linking if I keep all steps together. It makes it a little clearer in my mind (and I need that as there is usually so much going on in there lately and frankly I usually do this program step with a glass of wine in hand…!)
It doesn't matter how you do it, just be consistent so you always know where to find the information when you need it.
So now you have a written observation (in the format you prefer e.g learning story, anecdotal, photo collage etc), a review and evaluation from this observation of the learning outcome/strength/ interest that took place….now what do you do with it? You plan and extend!
Still with me? Hang in there, it's not an involved process, I'm just breaking it all down for you into easy to understand steps ( I hope!)
So let's explore how we extend from our observation and evaluation of learning.
6 Questions to ask yourself when planning extension activities
1. How can I further extend this child's learning or interest in this area…where can we go from here?
2. What specific activities could I plan that might fit into the program for not just the individual child but also the group?
3. Do I need to plan for an intentional teaching experience or just provide the environment and resources required?
4. What is my aim by providing these extension activities? (You might like to reflect on the learning outcomes and area here)
5. When do I plan to put this particular extension into the program? 
6. Is this extension a short term or long term goal?
I write a summary answering these questions on my forward planning form and then add to my fortnightly plan in the 'Individual Focus" box. No codes, just the name and extension activity planned. Parents or others reading my plan don't need to see all the specifics, I have the information all in one place on the forward planning form if I need to pull it out.
Ok, final step in the cycle.
Planned Activity Evaluation/Reflection
This is usually pretty brief for me. I come back to my forward planning form, write down the date the extension activities were completed and anything significant I observed. You might ask:
1. Was the child interested in the experiences provided?
2. Did the group join in the planned activity, experience, intentional teaching opportunity? How?
3. What would I try differently next time?
4. Was there any parent feedback or input regarding this experience?
5. Can I extend or further challenge?
6. Were there learning outcomes met? Were they different from those I originally planned for?
Now you are back to the beginning of the cycle of individual planning! If you are able to keep reading without falling asleep I will take you step by step through how I do the above cycle. But please keep in mind that this is a system I have developed because it works for me. You could do something entirely different but the principles are the same overall.
Ok, deep breath people, stay on your learning journey (ha…see what I did there?) …here's an example of the steps I take in my own programming…I hope it helps you connect as we move through each one.
Step 1 – Document your observation
This is an example of my photo observation templates – pretty simple, the photos usually tell the story and are the main focus – text uses language of the EYLF and the child's voice. There is no need to write to much, a few lines is sufficient – just make sure it is meaningful. if you feel these types of simple templates would work for you download the pack HERE.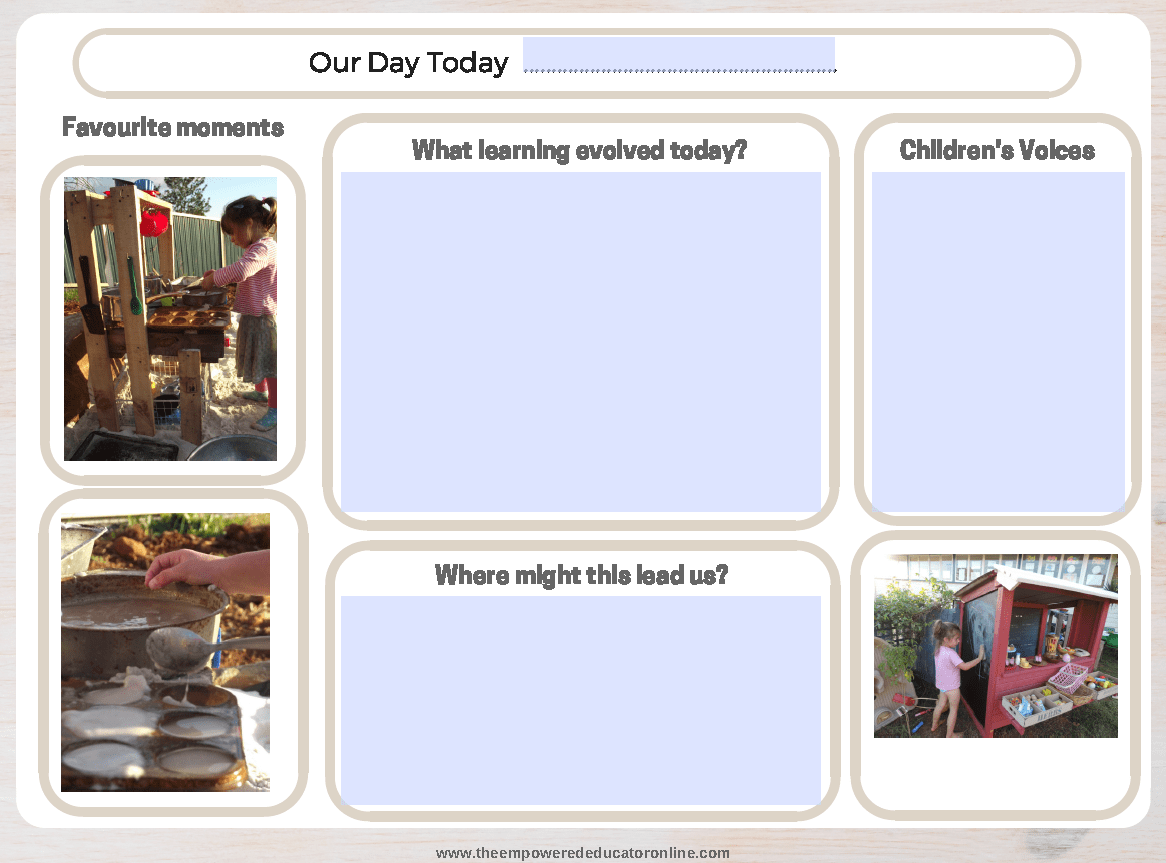 For more information on different observation styles and how to use them effectively
read this article.
Step 2 – Complete Analysis & Forward Planning
Complete an analysis of the learning observed in your observation – decide whether the observation is significant and  extension would be useful to the child's learning journey.
Step 3
Think about and document possible future planning/extension activities . 
Step 4
Plan for when you will provide your extension activities…it might be in one week, it might be over a number of weeks. Make sure you write the dates down. (green column)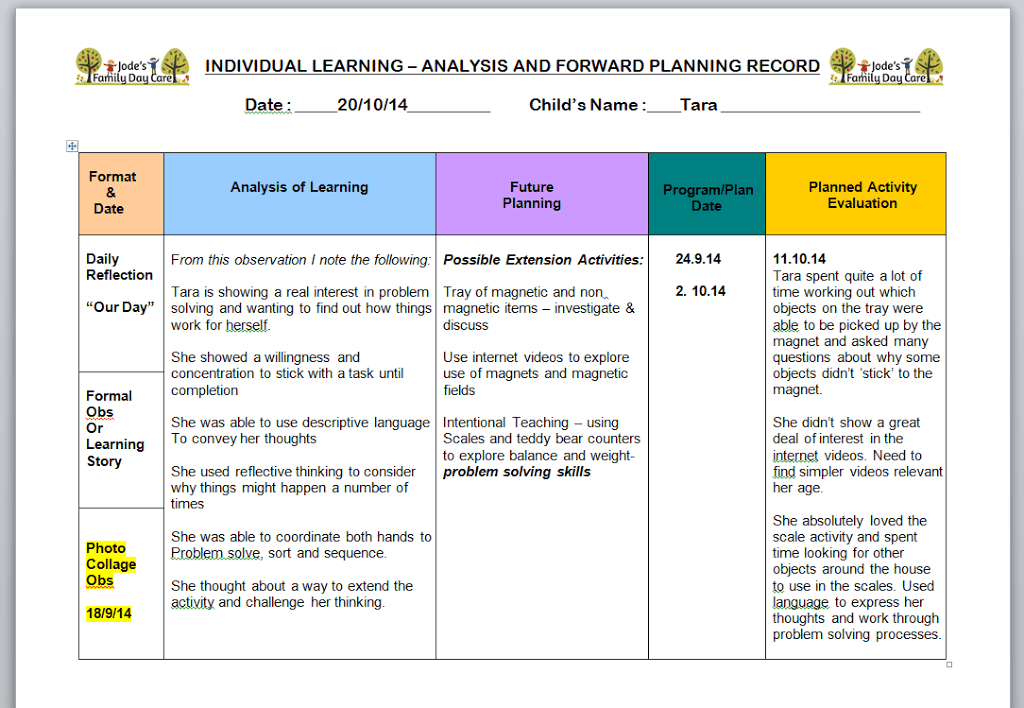 Step 5 – Plan and include on program 
I then add the planned activities into my 'individual focus activities' box. No numbers or codes, just the activities.
Step 6 – Complete the cycle
When the activities have been completed I go back to my forward planning form and do a short evaluation of the activity/intentional teaching. 
Now your analysis and evaluation as part of the overall planning cycle is complete!
I hope this article has helped you to see the importance of the analysis and evaluation steps and clarify that you don't need reams of paperwork to show evidence of an ongoing cycle of documentation.
By thinking smart and fully understanding each step of the planning cycle you will be able to develop your own system with more confidence – modify according to your personal strengths, time management skills and the children attending your service.
Jodie Clarke is an early childhood professional supporting educators who want and need to stay passionate about the work they do! She has 30 years hands-on experience in the early childhood and human services sectors across many different roles.
Jodie is mum to 3 in Australia and has already helped thousands of educators with their work through her popular blog posts, activity ideas, online training and e-books.