You know we love to make play resources from recycled pallets and this one has been on my list for quite some time. Well if I'm honest, not my list, Daddy's list!
He has again made my vision become a reality and says it was one of the easiest of my 'bright ideas'  to build. When I posted a picture of our finished pallet sink a few weeks ago on my facebook page it proved very popular so I promised to share with everyone how we made it.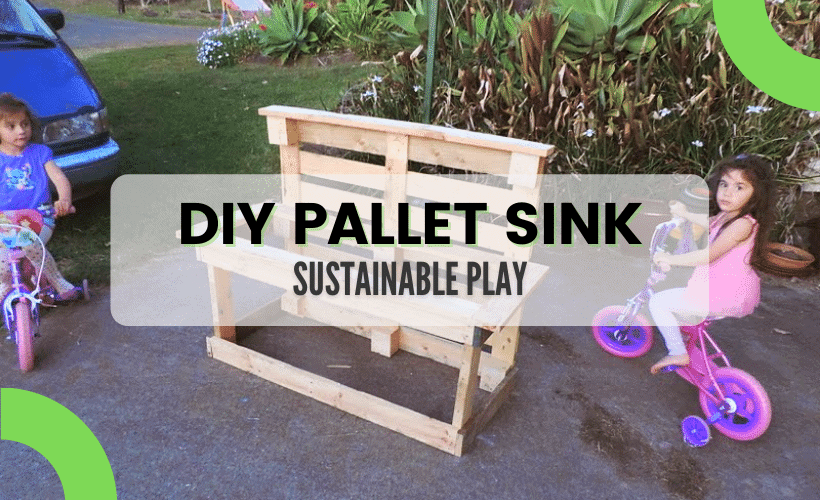 I think it turned out beautifully and I had just the right spot in the sandpit ready to go!
Our twins Ruby and Tara love to explore and investigate and tell me how we could use things if we take them home…they are ever hopeful and never see trash, just treasures to be rescued!
The revolve centre is located in a big shed at our local dump. It is an initiative of our local council and houses an eclectic collection of used goods that people have disposed of but that have been rescued from the rubbish pile and offered for sale at usually very reasonable (dare I say cheap!) prices.
It's not pretty but serves such an important role in the sustainability practices of our community…and is a magical place for early childhood educators like me!!
There are indoor and outdoor areas and with a bit of creativity and imagination you can find a use for most items there. Some weeks there is a lot to choose from, other weeks not so much but that is the fun of the hunt!
On this particular visit we found this little beauty and my dreams were finally realised…yes I know I really need to get out more but stay with me, it gets more exciting!
We dragged out a few pallets from the stash under the house (doesn't everyone have a stash of pallets under their house?) and began to lay out the pieces.
Doesn't look like much here does it?
Let's break construction down to a few easy steps…
Step 1
His patient self took a few boards off another pallet and measured them against the sink length. You'll need two long pieces of pallet timber to form the length and two shorter pieces to form the width.
Step 2
Lay your pieces out to form a frame as shown below, check measurements again
Step 3
The frame should fit the sink easily, test by laying it inside your makeshift frame before screwing your frame together to form a secure tray.
Step 4
Now you will need 4 short pallet lengths and 1 long length to make a frame with legs like the one shown below. Notice that the front boards of this pallet have now been taken off to use.
Screw together at the legs, the back of the pallet will form your kitchen sink cupboard/splashback.
Step 5
Screw the frame to the standing pallet and you are ready for the final few steps already! His patient self also added a pallet length to the top to form a small shelf and neaten the look a little.
Step 6
Now secure the sink frame you made earlier to the stand and cross your fingers that the sink still fits!
Drop the sink into the frame and you are ready to 'dress' your sink. We use a bucket under our sink holes if  we are playing with water so we can recycle it onto the garden.
Even if you don't fill the sinks with water though there are so many ways to use this new resource.
Have to say my girls do love to wash their dishes in the sandpit though and who am I to stop this beautiful role play…certainly saves the sudsy mess normally following these same helpers in my own kitchen!
Yes, I do love it when a plan comes together and yet again we have managed to turn someone else's trash into a little treasure for our backyard playspace.
Does your council have a recycle centre where you live?
Jodie Clarke is an early childhood professional supporting educators who want and need to stay passionate about the work they do! She has 30 years hands-on experience in the early childhood and human services sectors across many different roles.
Jodie is mum to 3 in Australia and has already helped thousands of educators with their work through her popular blog posts, activity ideas, online training and e-books.