| | |
| --- | --- |
| | October is Doc-Tober for Disney Junior! Your preschooler can see Doc McStuffins and her toy friends in new episodes on the Disney Junior TV channel and enjoy brand new Doc games and activities on DisneyJunior.com.au. |
My twins have reached an age where they are very interested in their body parts and how things work. They also love playing Doctors and I have to hide a chuckle or two when I hear them say things like "I'm going to fix your head bone now".
To support their learning journey with this interest we look at books of skeletons and muscles, research pictures and facts on the internet and sing songs about the body making sure to incorporate lots of actions requiring certain body part movements.
The lightbox has been popular and we have been examining skeletons of both animals and people and naming the parts. Even my family daycare toddlers love to do this!
There is also lots of craft but as I am in favour of more process based art activities we don't do a lot of stencil or 'end product' type craft about bones.
However, sometimes it's nice to start a project together and complete it with a set goal in mind. Given that they have been showing such an interest in bones and skeletons and being little Docs lately I decided we could work together to make our very own X-ray tablet using some recycled materials and a little creativity!
Now I know you are wondering if I have lost the plot a little…of course the X-ray tablets aren't real but they are lots of fun to make and seeing the excitement on my girls faces when their x-ray machine lit up pictures of the bones they cut and pasted was just priceless!!
You can place them on a light table for a great effect if you have one but you can also just hold them up to the light outside or near a window and they will work just as well!
Want to make your own x-ray machine with your budding little Docs?
Let's do it!
Children's Cardboard X-ray Tablet
Here's what you need….
Cardboard – we just cut up some cereal boxes from the recycle bin
Scissors
Paste
Pictures of bones – large enough to fit on an A4 piece of paper
Paint for your frame colour
White A4 paper
Here's what you do….
Cut out a frame shape from each side of a large cereal box (or plain cardboard) as seen in the photos below. 1 box will make 2 frames which is what you will need to make one x-ray tablet.
Keep the cut out pieces from the middle of the frame to paint or craft with later.
Neaten up your edges so that one frame fits perfectly on top of the other.
When you are cutting out your frame template ensure that you can fit a piece of A4 paper on top without any gaps.
Now it's the children's turn…lay out some darker coloured paint, place the frames with the blank cardboard side up on a flat surface and let the the kid's create their masterpiece.
My twins started out with purple as it is their favourite colour at the moment, I think their current fascination with Doc McStuffins might be encouraging the love of all things purple and pink!
Apparently though the purple in your sister's paint pot is always better than the one right in front of you!!
Now it's time to cut out some bones! I copied these bone images from some activity slides we have been using on the lightbox but you could also just do a search online and download some skeleton or bone images, paste into a document and then print out…easy and cost effective!
My girls love their cutting activities and this one was a nice challenge for them. Tara decided to cut out very precisely around each finger bone while Ruby chose to cut all the way around the picture.
They possibly would have done this all day if I had had enough bone pictures. Now there's a sentence I didn't think I would ever say!
When your little helpers have finished cutting out (if you have younger children use larger pictures with not as much detail and guide them around the bone outline like Ruby did above) it's now time to paste!
We pulled out the A4 paper and stuck all the bone pictures down onto the paper, we then left them to dry in the sun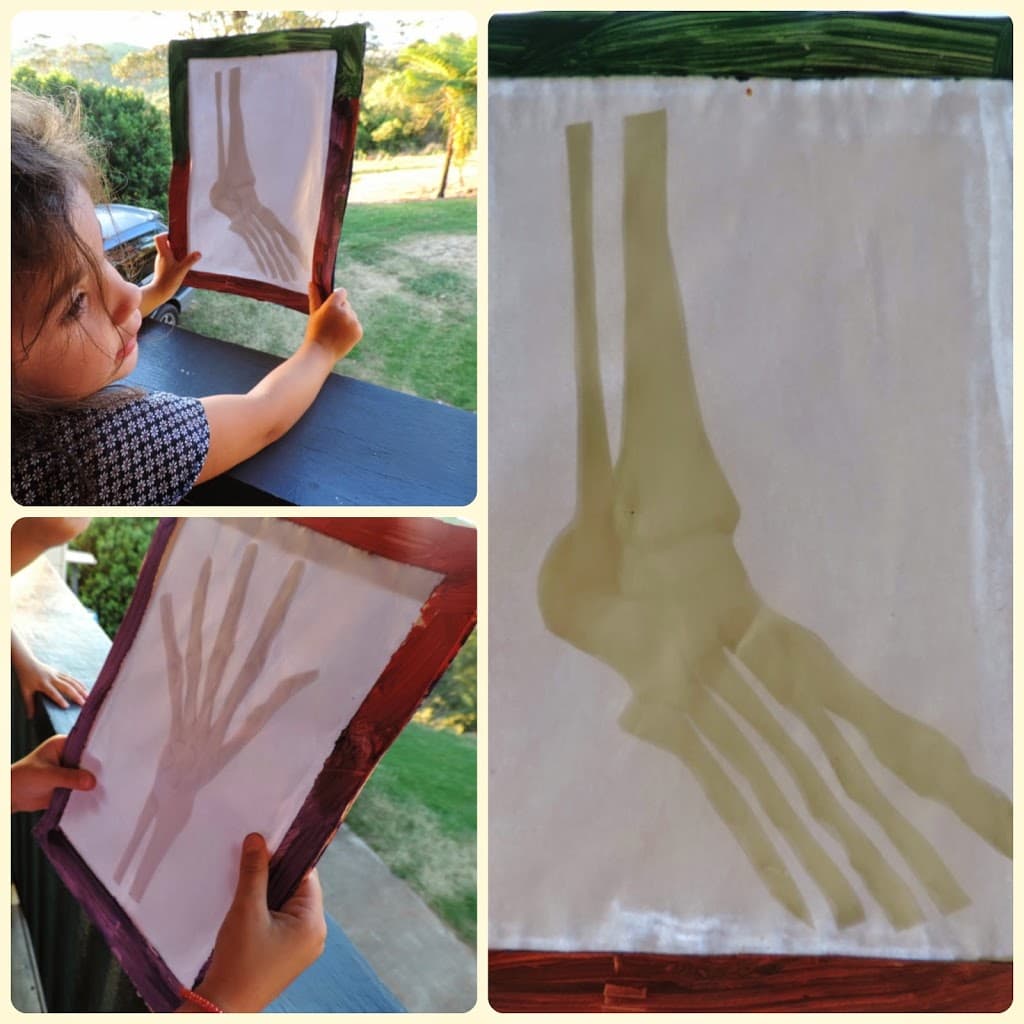 Tara kept trying to make the tablet show her hand bones when she lined them up with the shadow on the x-ray and was adamant it would work because she was a 'real Doctor' now!
Obviously a clearer, larger image of bones will create a better result, if you can't find any suitable pictures why not just draw some basic bone outlines freehand.


The girls immediately set up their Doctor's clinic and gave all their toys an x-ray as well as bandaged broken limbs when needed…which apparently was often!.
Then we headed to the other side of the house to catch the last rays of daylight and hold up the tablets which then caught the glow of the setting sun.
I can't wait to see how they play with their x-ray tablets again tomorrow!
What is your child's favourite piece of Doctor equipment to play with?
If this is your first visit to Mummy Musings and Mayhem and you like what you see you can follow me on Facebook, Bloglovin and Pinterest for more inspiration, frugal fun, recipes and mayhem!
Warm Wishes…
This post is part of a Nuffnang native advertising series.
October is Doc-Tober for Disney Junior! Your preschooler can see Doc McStuffins and her toy friends in new episodes on the Disney Junior TV channel and enjoy brand new Doc games and activities on DisneyJunior.com.au.