Welcome to my weekly series of play based learning posts. It is my aim to inspire, support and encourage both parents and educators to provide simple budget friendly play experiences for children under 5 . Each week I'll take you on a journey through some of the activities I shared with my home daycare children the previous week.
If you are a parent, grandparent or carer be sure to read through "What am I learning?" section at the end of this post as parents are often surprised at the depth of learning children experience just through play and interaction with simple activities. All my activities aim to be budget friendly and often use bits and pieces from around the house or recyclable materials – they are also easy to set up and pack away because I too am a Mum and I know you have little time to waste on setting up fancy activities that they might not even play with! And just quietly they are so easy that you will never look silly when the kids want you to join in
Most of the activities are easily modified for both toddlers and preschoolers as I provide a program of activities for a multi age group each day…so they just have to be!
If you are an early childhood educator be sure to think about your relevant learning frameworks and how the following activities might fit into areas of learning. If you have any questions about how I would link to certain outcomes or elements just ask in the comments section below.
So, let's take a wander through our week….
Outside Play and Discovery
When everyone is getting a little 'challenging' we head off for a nature walk around the front yard…it solves the grumpies every time!
There was bark to peel off the trees, leaves to collect and compare sizes and sticks to covet. Are they thick or thin? Big or small? Birds and wallabies to see and so many colours of nature everywhere!
A new obstacle course to explore…I really love pallets in the outdoor playspace…for more ideas using pallets for play check out this previous post.
Can you jump over the spaces? How many planks can you count? Can you do big steps? Short steps?
And our pathway made from decking squares looked so much better with a little water colour design….truly love the versality of these squares, I got mine from Aldi (a supermarket here in Australia) but I have also seen them in Bunnings (a hardware store).
Sensory Exploration
Regular readers know how much I value sensory play (see why in this post) and I always include some form of sensory play each day. Here we were investigating heavy and light and the concept of float or sink. The children had to 'fish' for the eyes with their flyswatters and also tell me what objects were floating and what objects were sinking.
There were opportunities to explore colour, shape and textures as well as challenging those important fine motor skills and coordination.
Our favourite activity of the week by far….colour, texture, investigation, experimentation and just plain fun!
I simply placed some cornflour (cornstarch) on trays, filled some squeeze bottles with water colours (edicol dye and water) and then stood back while the children experimented.
They absolutely loved it! I added a few little gems and they began to target them with the squeeze bottles and then tried to pick them out of the gluggy cornflour goop…fantastic practice for that pincer grip!
The large squeeze bottles are a challenge for little hands but one that the 3 yr olds mastered eventually. For the 2 year olds I used some smaller squeeze bottles. Every child has their individual journey and it is my job as educator to ensure they can move forward on that journey rather than become frustrated and stop.
Apparently we were 'making rainbows' according to Miss 3!
We also explored cornflour in a different way by adding more water, some whisks to mix everything together and then because the children thought it looked 'just like milk' I added a few cups so they could make milkshakes!
Of course you need to add some flavour and colour to your milkshakes…such a fun way to explore colour mixing!
Every afternoon we watched the Summer storms roll in and this led to conversations about weather, heat, humidity, lightening and clouds. Always an opportunity for learning.
Inside Play and Learning
There was fun inside too and I think the favourite activity was letter stamping in the playdough. The children helped me make the playdough and decided as a group that it needed to be blue this week so that is what it became!
The children marvelled at the letters appearing in their dough and it gave me the opportunity to talk about lower and upper case letters while I sat and worked alongside them
I encouraged the children to find the first letter in their name and by turning it into a game they didn't even realise they were learning.
The coloured gems are a favourite of many of the children in my care at the moment so to encourage and extend upon this interest I have been using them in different ways. On this day we used them as counters to complete our number cards. I use these for so many activities, you can find the free printable at Stimulating Learning with Rachel.
I also like to find different ways to use the resources I already have and this week we used the mosaic tiles to make patterns on the mirror boxes (picked them up cheaply in a set of 3 from Kmart!) Always interesting to see how children use materials in different ways.
There was a little scissor practice for my 3 and 4 year olds…you would not believe how fantastic it was to create patterns by cutting! Kept them busy for ages, children always respond well to feeling as if they have achieved something spectacular or important – especially 3 yr olds!
Inviting the Imagniation in
Imaginative play is another area I like to focus on as I feel many children just don't get to experience it as they should anymore. My toddlers have so much fun when I set out some office equipment for them and the role play and language it invites is always astounding.
Don't throw out your old bits and pieces…recycle them for play!
To extend on an interest that many of my children have at the moment with farms and farm animals I have set up the small world table as a farmyard.
A little hay from our chickens and bits and pieces from some of my favourite suppliers (Qtoys, Magical Play Moments, Natural Play for Children and A Charlie Horse). I also used a couple of our decking squares that I usually use in outdoor play. Find them at Aldi or Bunnings.
This only took me 15 minutes to set up, I really love to put together these small worlds and then watch the children explore and play with them in their own way. The table is from a store that was closing down, we gave it a coat of paint and shortened the legs. And would you believe it was only $10.Have I mentioned how much I love to upcycle?
All of these activities were fun, have been easy to put together and yet have incorporated many learning concepts. Let's take a look at a few below.
What am I learning?
How to work together as a team and take turns
How to use words and sentences to ask questions and solve problems
How to use imagination and dramatic play to explore the world around them and feelings/emotions
An appreciation for the many uses that bark, leaves and sticks from their immediate environment provide
Listening to and following simple directions
Recognising and naming colours
Letter recognition and reading – a focus on lower and upper case letters
Exploring with the senses and talking about what is touched, smelled, heard or tasted
Sequencing, number recognition, basic counting, sorting and classifying
Staying with a task until a desired outcome is achieved
Discussions about farms and the role of the farmer, what food animals might provide us with, how did it get to the shops?
The principles of cause and effect
Exploration the concepts of capacity as well as light and heavy
Strengthening fine and gross motor muscles
Creative self expression
Being aware of using natural and recyclable materials and why we use them.
Spatial awareness and the concepts of big/small
Can you think of any more?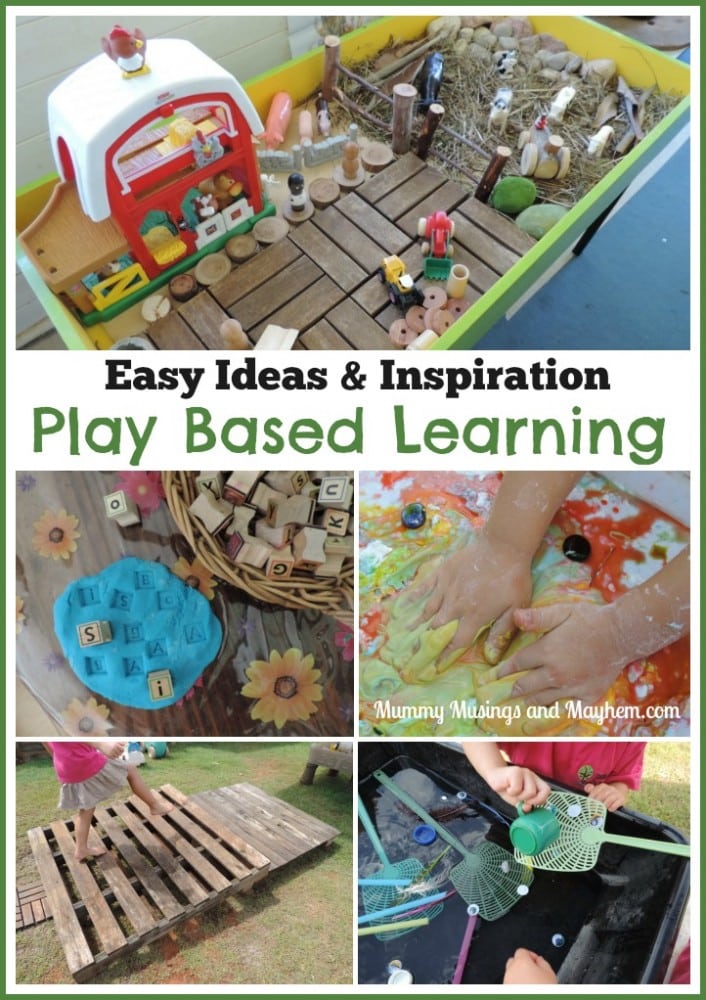 Make sure you aren't missing any of the mayhem by following me on PINTEREST , FACEBOOK,TWITTER, G+ OR BLOGLOVIN
Keep having fun
Jode x