When my twins started primary school and began bringing home sight word flashcards for homework I decided rather than moan about my distaste for flashcards and being expected to learn sight words in this way I would think outside the box a little.
I can't be with them in the classroom but I can ensure as their parent that they continue to have opportunities to learn through play and move around outside after school while still getting homework done! Thinking about what I know they both love to do I have been trying to incorporate learning sight words into their play rather than making it a sole focus. You can see how we previously incorporated sight words into outdoor messy play HERE.
It continually amazes me that each time I come up with an idea or learning prompt they take that idea and extend upon it themselves to allow the learning and play to unfold in different ways according to their own strengths, interests and needs. I'm not sure (in fact I am certain) I could see the same experience by just flashing them sight word cards every afternoon and having them read back to me!
I wanted to share this simple activity because it allowed so many opportunities for them to be really involved and interested in their learning. They are an easy resource to make and older children will enjoy being part of that process so don't forget to include them right from the start!
Make Your Own Sight Word Stones Activity
The materials are simple –
Stones – you need some smooth flat pebbles which can easily be found at gardening supply stores and also many of the discount shops. We collected ours from the dry river bed/sand quarry we created in the backyard for play.
Chalk Pen – You can buy these from most office/stationary supply stores now – I got mine from Officeworks . Just make sure to choose a colour that stands out on the pebbles you have.
Sight Word Cards – I just laminate the sheets that come home from school but you can simply type and print your own if needed.
Use your chalk pen to write letters onto the stones – I made enough for 2 sets of the alphabet and we have since made more as the girls have now been enjoying making longer words and sentences with their letters and there was a fair bit of stealing letters from each other when they thought I wasn't looking…and you can imagine the arguments!
You could of course do this activity indoors if you prefer but we love our outdoor play and I personally feel it is essential after a long day inside a classroom. Most children are able to take more in (and engage with an activity for longer) when they also have the chance to come and go, to balance the need for concentration with the need to move and energise their bodies and minds.
And frankly everything just seems a lot more fun when you do it outside! I set up our activity table with a basket of stones each and their personal sight word cards. After laminating the girls always cut them out themselves and pop them into a ziplock bag so we continue to build their library of sight words each week.
How to Use Your Letter Stones for Sight Word Fun
Basic Say & Spell
If just starting with sight words there is no need for a child to find the letters and spell out a word of course but I have personally found this to be more effective in remembering the word rather than just having it flashed at them and naming. I don't really see the point of just memorizing a word. You might like to make it easier by providing only the stones corresponding to the word your child is currently working on though.
Choose a card , ask them to tell you the word and then find the letters that match the word. You might also ask them to name the letters as they pick them up – my girls did this before I could even open my mouth to ask the question because they like to outdo each other! Work your way through the sight words and encourage them to choose their own each time.
We also raced to see how quickly we could make each word – it's amazing what a little friendly competition does to keep them interested!
After a while the girls decided it would be a good idea to spread the stones out on the table – this allowed them to find the letters they needed more quickly and also promoted a little teamwork as they began swapping stones and helping each other form the words (they are currently on different sight word lists but I just mix them around).
Introduce Backgrounds & Small Toys to tell a Story
We used our wooden tree stump cookies as a background to highlight the work area and distinguish each other's space. Provide a basket of small animals or other toy of current interest and leave them close by where they are working so they can incorporate them into the play with words and letters.
Tara decided she wanted to 'decorate her word stage' and became very busy arranging her friends while saying the word she was working on and incorporating it into sentences as she played – letting her imagination evolve. Try not to guide this play – let them discover and tell their own story using their chosen props and the letter stones.
Identify & Match
This activity takes away the requirement to spell out the word by matching letters and instead just requires the child to match word to word. Display a sight word using the stones and then ask the child to find the corresponding sight word card – we turned it into a snap type game to make it a little more fun.
The girls even tried to trick me by forming their own words and asking me to find the matching card – which of course wasn't there!
Get Them Moving!
Spread your stones around the yard or house and get ready to start racing. Ask the children to pick a sight word card from the pile, place it on the table then race around the yard finding one letter at a time, bring it back and go again until the word is complete! You can make this activity harder or easier depending on the space and time you have.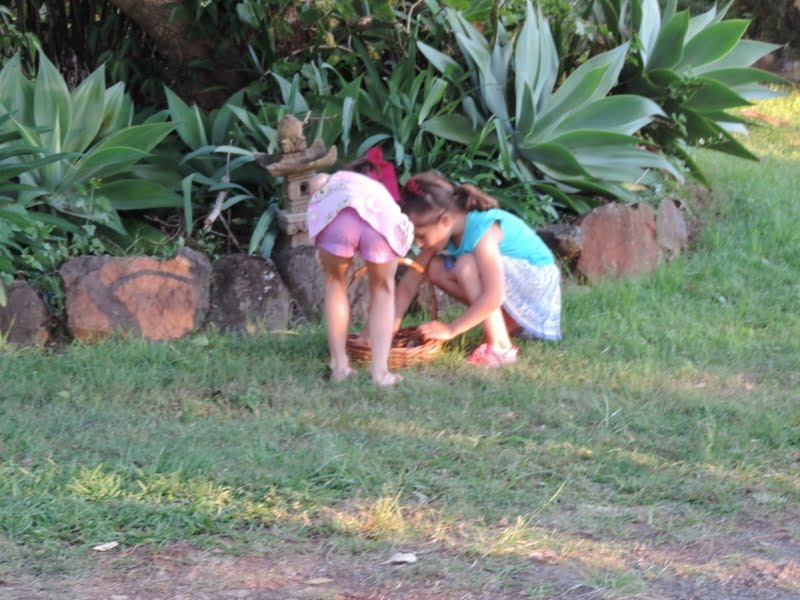 This kept them busy for quite some time and turned out to be a fantastic way to repeatedly choose a word, name the word then find the letters to match…all while keeping little bodies moving and minds actively engaged without becoming bored.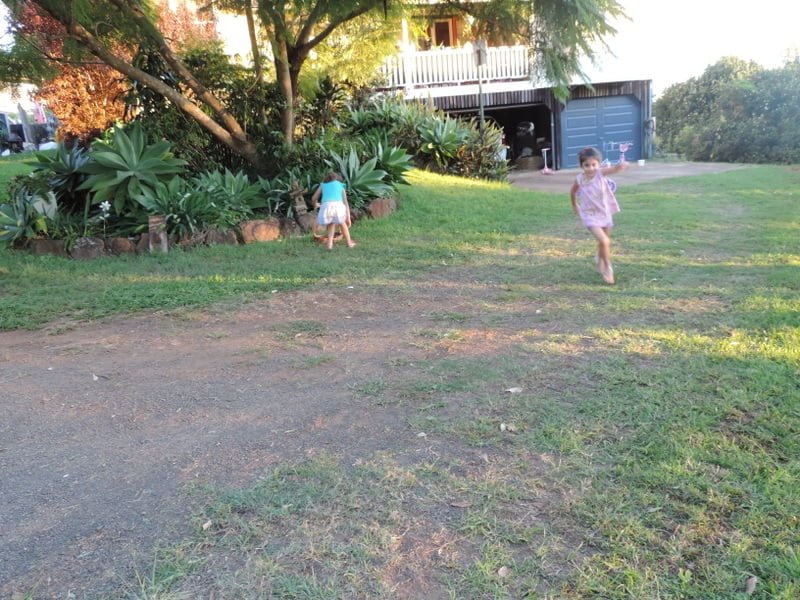 We even found one of our wallaby friends watching closely -perhaps he was wondering what on earth those crazy girls were doing running around and getting more and more excited to find a stone!
You can do all of these activities just using plain old sight word cards obviously but I hope you'll agree that providing an opportunity to get outdoors, move around and engage with natural materials while learning and having fun is really worth the extra time and just a little effort!
If you are looking for more easy activity ideas using natural and recycled materials you will  love my E-book – available to download straight away no matter where you live! Read more about it HERE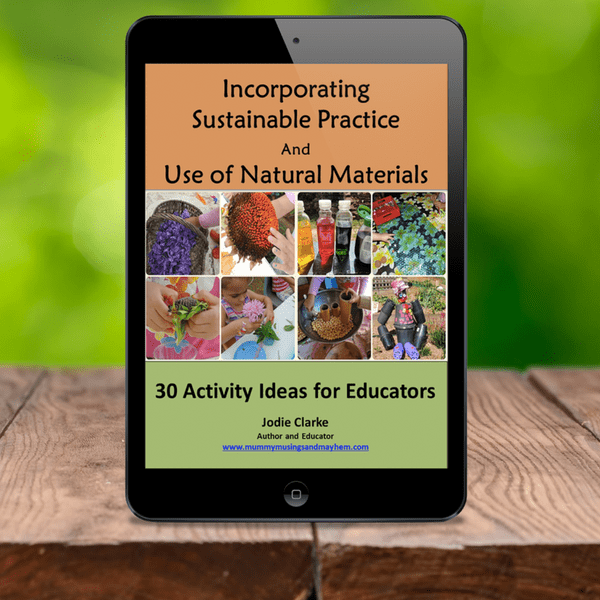 Why not join my Facebook Group with educators from around the world.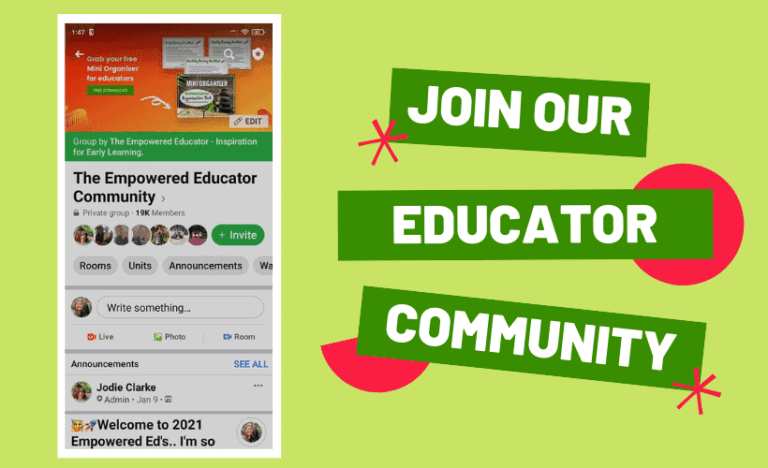 Jodie Clarke is an early childhood professional supporting educators who want and need to stay passionate about the work they do! She has 30 years hands-on experience in the early childhood and human services sectors across many different roles.
Jodie is mum to 3 in Australia and has already helped thousands of educators with their work through her popular blog posts, activity ideas, online training and e-books.