Making your own homemade paint for creative play can save educators and parents a lot of money over time and as a bonus you know exactly what is going into younger children's mouths AND it washes easily off skin and out of clothes!
If you would like to download a free printable PDF Factsheet with my DIY paint recipe and ideas for play just click on the image below!

How to Store Your Homemade Paint
This cornflour paint will keep for up to a week before it begins to get smelly but you must store it in the fridge. It will thicken and become jelly like when refrigerated but you just add a little warm water and give it a good mix before you need to use it each day.
I like to make up a large batch of white paste and store in a plastic container with lid (ice cream containers are the perfect size). Then I just scoop out however much I need into the paint pot or similar each day -add a sprinkle of colour, stir and good to go!
If you use happen to use baby food in jars at home or work make sure to recycle and save for your paint as they are a fantastic size and don't take up much room in the fridge.
When dry the paint looks like any other paint on paper but sometimes after a few weeks it can become flaky if used on cardboard or hard surfaces. I've never really had any problem though and it has certainly saved me a lot of stress and money over the years!
Ideas for Using Your Homemade Paint
Add some tools
Why not add a few little tools to extend their play and creativity? We love using shaving brushes here as they are so easy for little hands to hold and move around.
Sticks are lots of fun for making patterns in the paint and older kids love to write their name and make a masterpiece or two. You can use craft sticks from the collage trolley or simply collect some sticks from around the yard!
As you can see this batch was rather lumpy but it just provided more opportunity to explore with the senses and was perfect for fingerpainting and sticks!
Warm Fingerpainting Fun
Warm cornflour paint is a lovely sensory experience and even I enjoy squelching it through my fingers if given the chance! Spoon your colours out onto a table (I would suggest outside!) for some finger painting fun!
When they have finished their artwork on the table why not help them make a print to keep? It's so easy. Simply lay some paper over the top of the table, get them to press down and make some hand prints then peel back for a masterpiece!
Such a joy on a cold Winter's morning…..warm cornflour paint to squish and ooze through little fingers…letting them mix the colour dye through the paint gives the activity an added element of excitement and discovery!
Explore Big & Small
Use brushes and cornflour paint to explore the simple concepts of big and small in this activity perfect for toddlers and little hands!
Cooking and Role play
Add muffin tins, bowls, spoons and other baking essentials from the kitchen, add a sprinkle of colour here and there then stand back and watch the cornflour paste baking begin! An excellent sensory activity that also offers opportunities to explore colour mixing and role play.
Explore Texture with Sponges
Grab a tray, your cornflour paint and some homemade painting sponges with different textures and sizes to invite lots of hands on sensory play - all ages will enjoy this one!
Stamp With Nature
Add a little thinned cornflour paint (just use more water) to empty takeaway food trays with a damp kitchen sponge and then see what you can find in your backyard that would make interesting sensory stampers - see how we used seed pods to stamp with here.
Experiment With Colour Mixing and Squeezing
Add your base cornflour paste to trays then watch as the children use squeeze bottles with water colours to mix, investigate and create in this simple activity.
As with any creative and messy play experiences outdoors I always like to keep a tub or bucket of water close by so that the children can come back and forth to wash hands and allow them a sense of independence and control over how messy they want to be. Some children need to wash their hands often during sensory play and others not so much.
I hope I have convinced you to give making your own homemade paint a try . I promise you will feel a sense of achievement and a whole lot less stress when you watch the children experiment and create with something you have made and know will wash out easily! Especially useful for those moments when you return from the shops and realise you have colourful handprints on your behind (please say it's not just me that has those moments!!).
Have you made your own paint before? I'd love to hear how you have used it or perhaps you'd like to share some inspiration and photos with us in The Empowered Educator Facebook Community with other early childhood professionals from all across the world!

Are you on Pinterest? Why not pin the image below to save for later.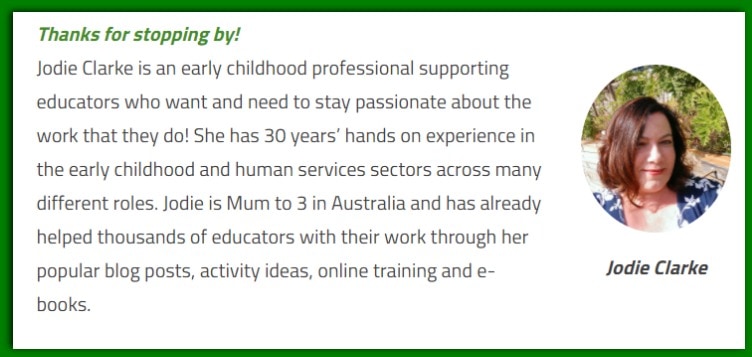 Jodie Clarke is an early childhood professional supporting educators who want and need to stay passionate about the work they do! She has 30 years hands-on experience in the early childhood and human services sectors across many different roles.
Jodie is mum to 3 in Australia and has already helped thousands of educators with their work through her popular blog posts, activity ideas, online training and e-books.