A sensory table tends to be a well used piece of equipment in most early childhood services and with good reason! They provide so many opportunities for children to explore and engage with their senses and although they are traditionally filled with either water or sand they can also be used with many other materials that encourage sensory exploration and processing.
Although a valuable piece of equipment and one that I have used in many different ways over the past 30 years working with children I am always a little astounded at the cost when purchasing from the larger educational supply stores. It puts a lot of educators and parents off  buying this nifty little piece of equipment and that is a real shame.
If you want to use a water/sand table with the children in your care or perhaps just at home in the backyard but don't have a big budget for resources like this then you can have a go at making your own basic DIY version. All children want to do is touch, investigate and play, they don't need perfection and neither do you when it comes to providing playful learning experiences! I've created many different DIY versions of a sensory table over the years and they range from a simple tub on a table at child height to more involved examples using recycled sinks and pallets.
If you are looking for some inspiration to create your own budget friendly sensory table you will love the collection of ideas to explore below. Simply click on the links or photo to learn more about each project.
1. Ruby's Mud Pie Kitchen
A simple project by Smile and Wave DIY – perfect for little toddler hands and made from recycled timber found on the side of the road.
2. Homemade Sensory Tinker table
A clever little coffee table upcycle from Teach Preschool created both a tinker table and a sensory table.
3. IKEA Hack Water Table
This is a little different to most water tables in that it has a deep basin that children need to stretch arms into – perfect for fishing games and using tools to scoop and play with the water. Find out how Adventure in a Box created their unique version of a DIY water table.
4. Farmhouse Design Sand & Water Table
This farmhouse sand and water table design from Bumble and Bean is a fantastic solution if you only have a narrow space to work with!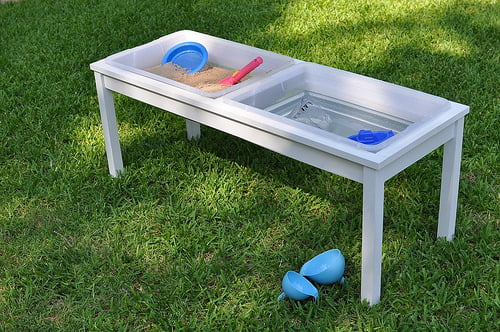 5. DIY Custom Water Table
I have to say I am a little bit in love with this cleverly designed table from Monkey Slaps . Lots of different ways to extend the play and keep the kids moving around exploring different angles. There is a really comprehensive guide to making this table so make sure to check out the blog post!
6. Coffee Table Makeover
This colourful upcycled creation from Child at Heart is another fabulous example of how easy and cost effective it can be to turn an old piece of furniture into something new and useful again!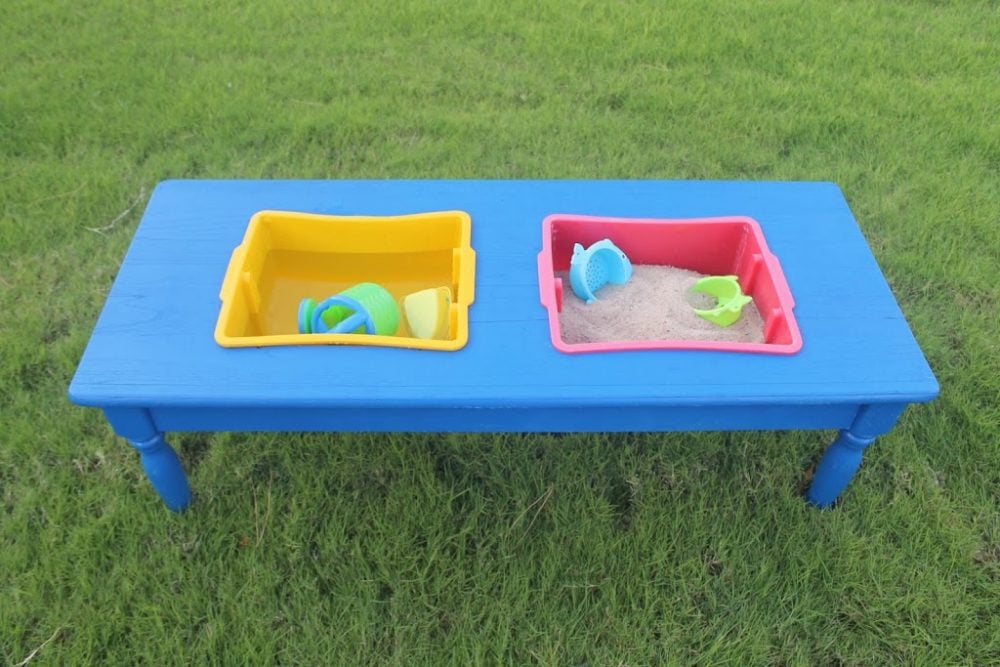 7. Water Table Fountain 
Instructables shows us how to create a fun water station simply by using a storage tub with lid , a small pump and some piping. I think this is truly genius and I also like that it can be placed low on the ground so babies and toddlers can enjoy and gain full access.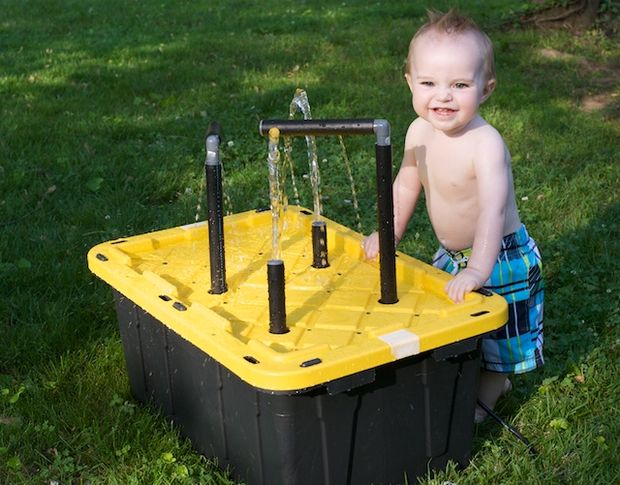 8. The 30 Minute Sensory Table
A Teaching Mommy shares a detailed tutorial and lots of photos to help you recreate this simple version of a sensory table using PVC pipe as the frame.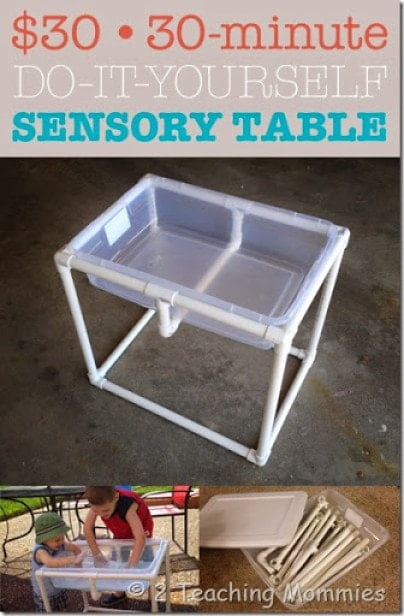 9. Budget Friendly DIY Water Table
This sturdy little table is one of my favourites because it's just so simple and I use those tubs (from our local $2 shop) all the time but never thought of framing around them. Check out the materials used and the instructions for building your own over at Bare Feet on the Dashboard!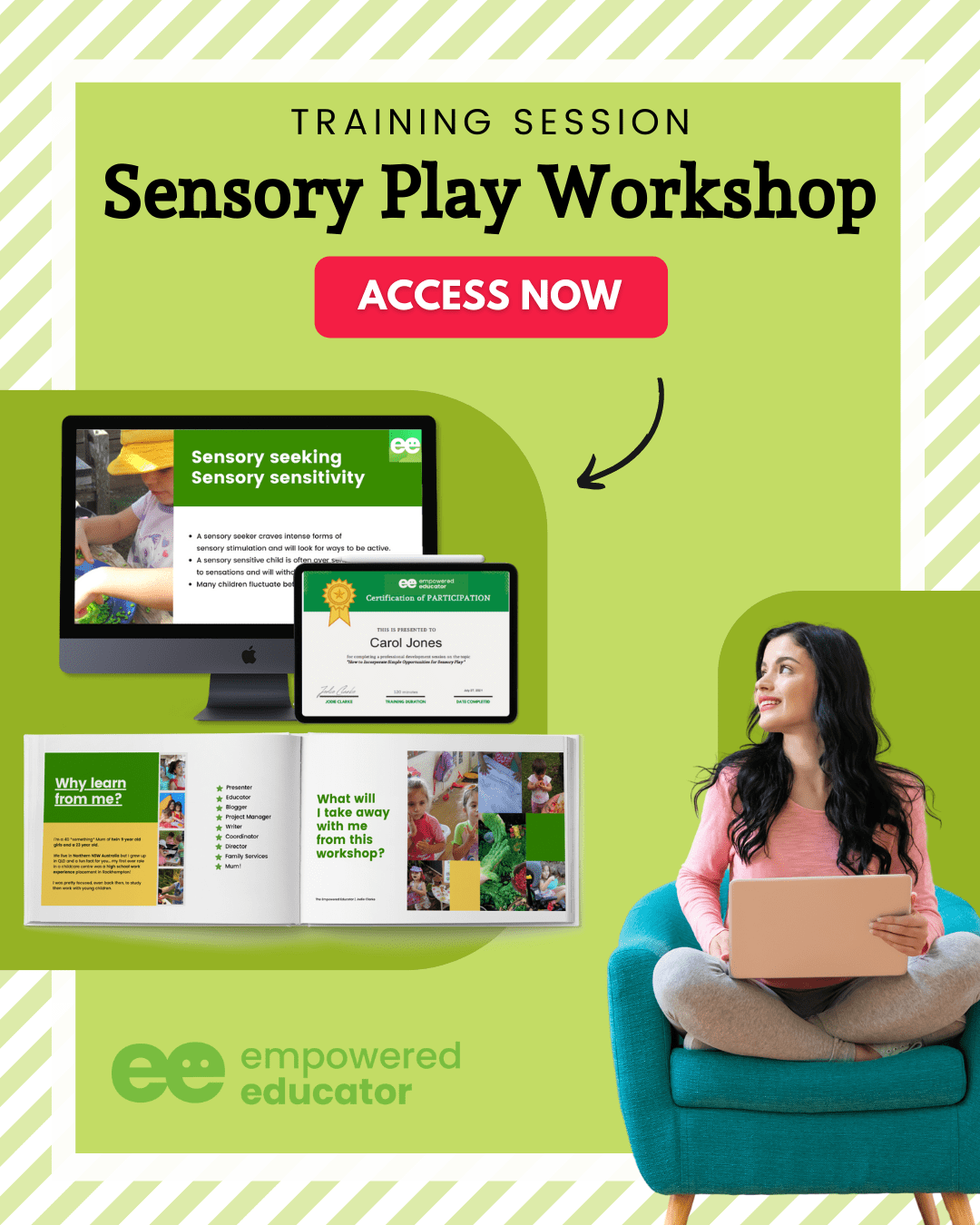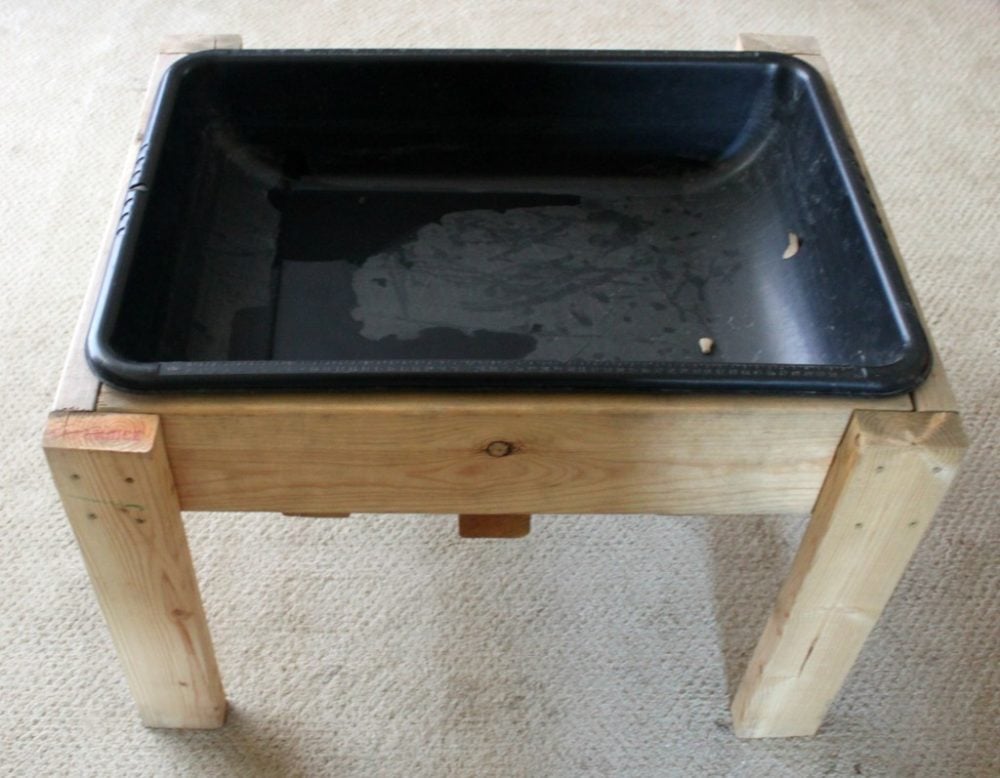 10. Hinged Lid Sand & Water Table
This clever design from The House of Wood gives lots of space to add different sensory elements as well as adding a hinged lid to cover everything at the end of the day and also does double duty as a chalkboard top for drawing on!
11. PVC Pipe Play Table
If you prefer the idea of using PVC pipe to create your sensory table you will love this project from Frugal Fun for Boys & Girls . They also show you in the post how to add different pipe arrangements to extend the play or be flexible and leave it off for a different play experience.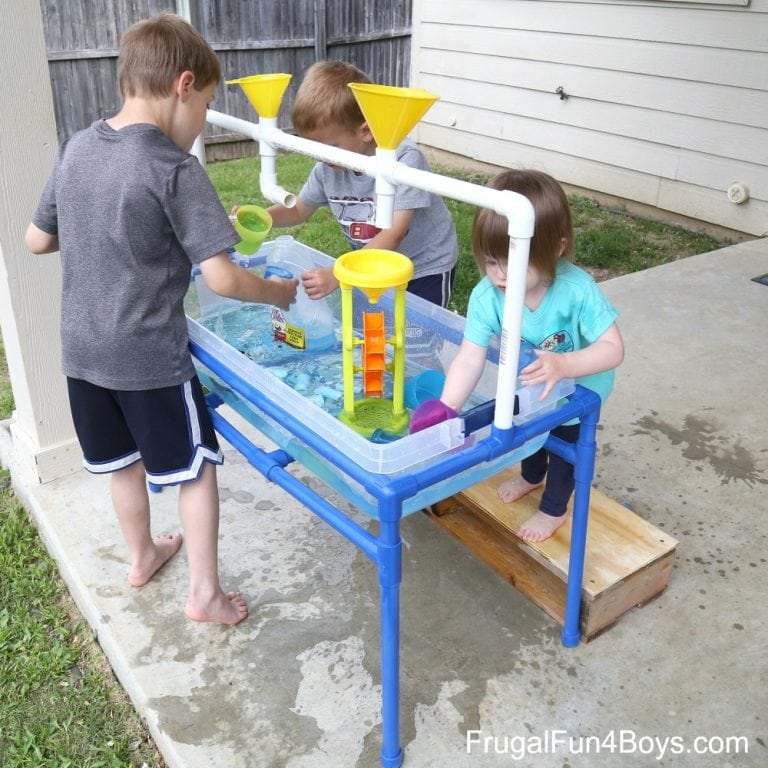 12. The Kitchen Sink Table
If you like the idea of recycling an old sink into a water play table you can take a wander through the instructions on how we made this little kitchen/sink table for sandpit play.
Also make sure to keep an eye out for shops closing down as they often sell off their display tables cheaply and you can turn them into a sensory table/tray for dry materials and resources very cheaply like we did with the one below. A little paint, fixed a few nails and screws and chopped the legs to make a suitable child friendly height and we were good to go!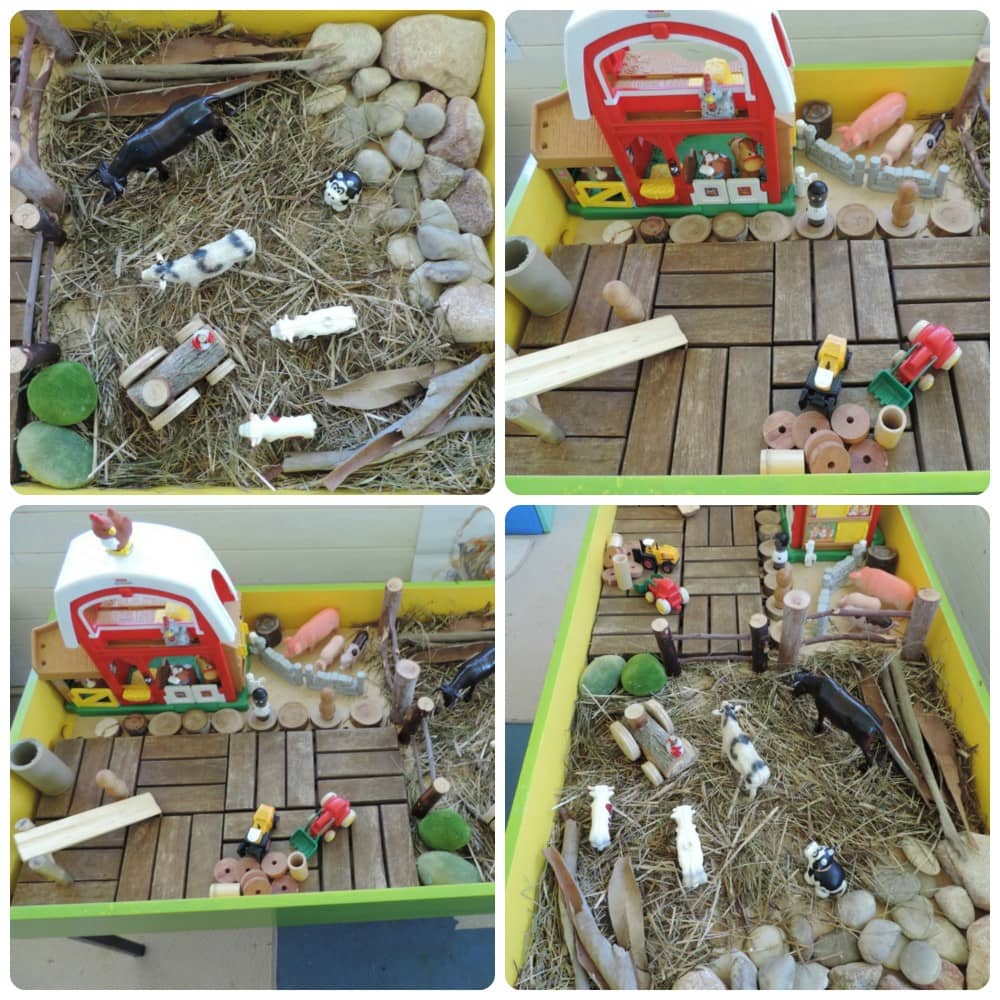 Feeling inspired to try making your own sensory table? My top tip is to first write out a list of the guidelines you want your project to meet.
Consider the following questions before settling on your design…
What is your budget for materials?
Do you have access to or can easily source recycled materials to cut costs?
Do you need a table you can fit more than 2 children at a time around?
Do you want to be able to cover your sensory tubs?
How much room do you have to store your table?
What sort of skill level does the project require and how much can you do yourself?
Can you easily empty the tubs without breaking your back at the end of play?
Now go have some fun creating your own sensory table – and don't forget that any type of water play with children requires adult supervision at all times!
Are you Pinterest? Why not pin the image below for later.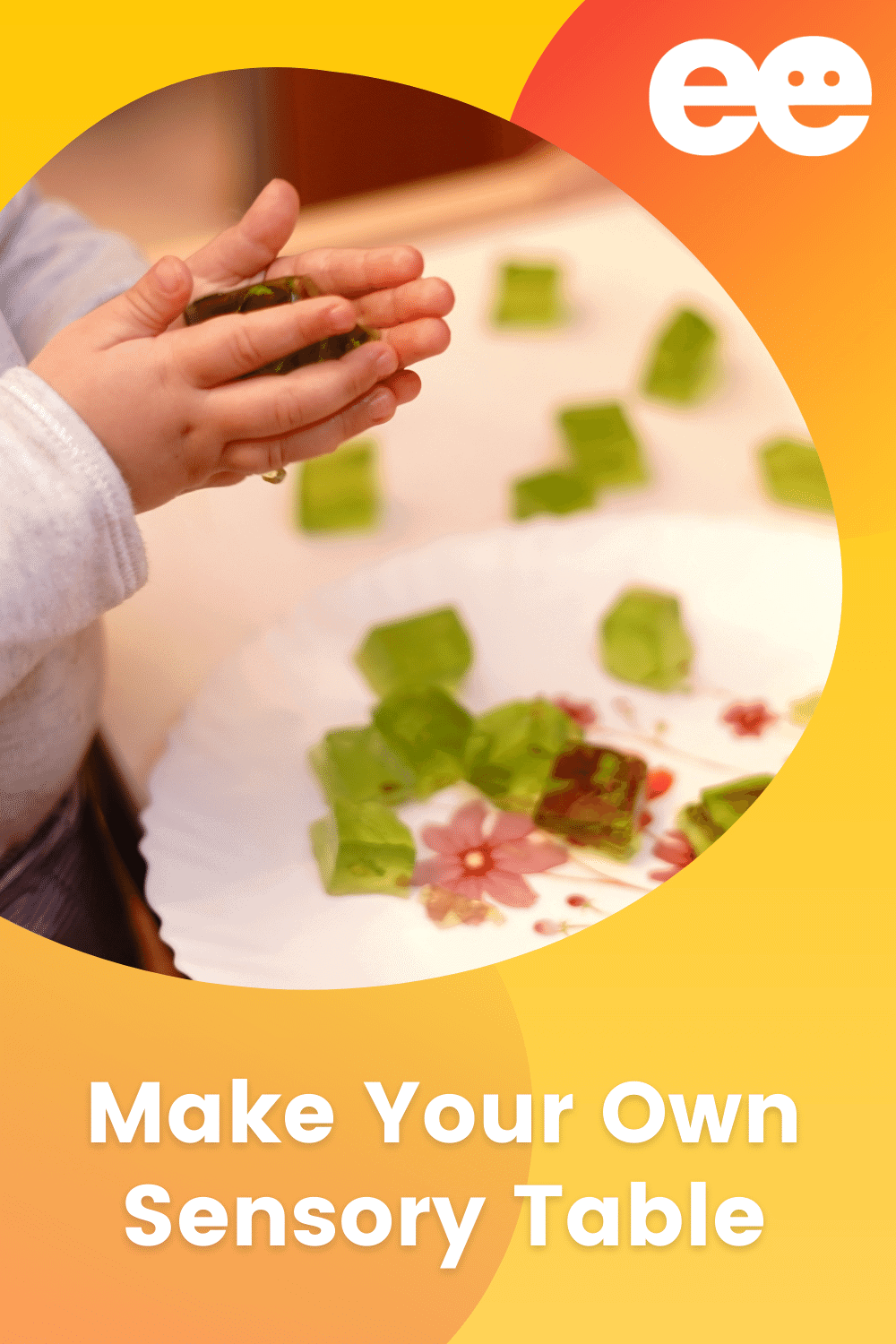 Want more ideas and inspiration from other early childhood professionals?
Join my Empowered Educator Community on Facebook today!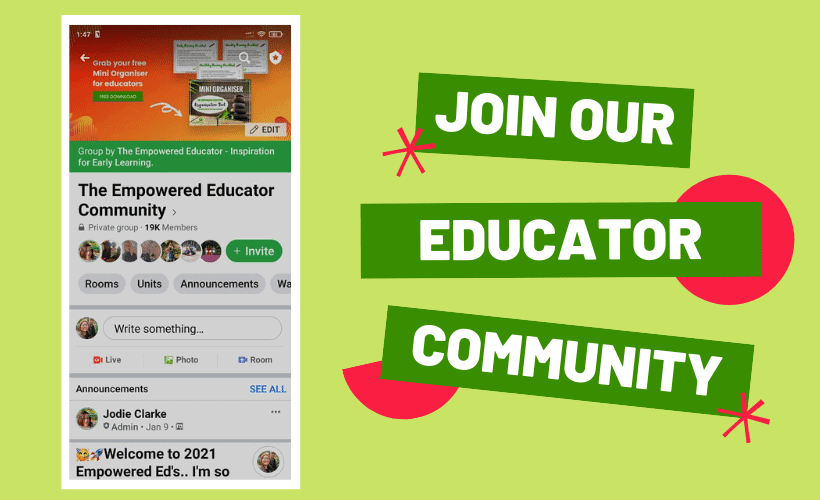 Jodie Clarke is an early childhood professional supporting educators who want and need to stay passionate about the work they do! She has 30 years hands-on experience in the early childhood and human services sectors across many different roles.
Jodie is mum to 3 in Australia and has already helped thousands of educators with their work through her popular blog posts, activity ideas, online training and e-books.