I love finding ways to incorporate natural materials like wood into our outdoor play. Using resources like wood cookies/biscuits, tree stumps and wooden slabs does not mean you need to spend a fortune on packaged tree blocks or spend hours trying to think of interesting ways to play with them. They truly are a back to basics material that children just love to engage with…if you provide the opportunities for them to do so.
Children don't care if your natural resources aren't beautifully stained or sanded or presented….that's the idea of introducing nature into play, it doesn't need to be perfect as a tool or toy. I personally think it is important for children to feel the roughness of the bark, see the beautiful and inconsistent markings, see the rough holes and shapes made in some of the cut logs. Nature isn't perfect and that is an important concept for children to investigate so if you have been wanting to find ways to play with wood then don't overcomplicate things – just do it.
We are lucky to have a lot of trees in our yard and I also have a handy partner who just silently rolls his eyes and picks up the chainsaw when I request some more wood stumps or slabs but you can try the following tips if  you aren't as lucky but don't have the money to spend on the already done for you options.
Ask friends to keep an eye out in their own backyards for fallen branches or small logs.
Use a handsaw to cut small cookies from a branch or thin log (don't worry about different thicknesses – it adds to the beauty as a play material)
Call your local treeloppers or landscapers and ask if you might be able to pick up some stumps from them or purchase cheaply.
Always keep an eye out when bushwalking or visiting large parks for interesting fallen branches and knobbly bits of wood.
The main thing to keep in mind is that you don't need perfect and you don't need overly involved play invitations to start introducing wood cookies and stumps into your outdoor play experiences. I'm sharing 8 of my favourite ways to play below to help get you started . Some are more suited to 3 years and up but most are suitable for toddlers as well and you can easily modify or just step back and watch how the children determine they will use the materials you have provided – they often have better ideas than us adults anyway!
Ready? Let's take a wander through the photos of play in action!
While His Patient Self was out cutting fallen logs for firewood recently I decided it was the perfect opportunity to restock my supply of wood cookies. He has learnt not to question these sort of requests fortunately and before to long I had a wonderful little supply ready to be used in different ways.
1. Make a Clock
My 6 year old twins have recently been very interested in trying to tell time and with clocks in particular. Not really a fan of the little clock stencils they have been bringing home from school I decided to get them outside creating their own clocks and exploring time with a more hands on approach.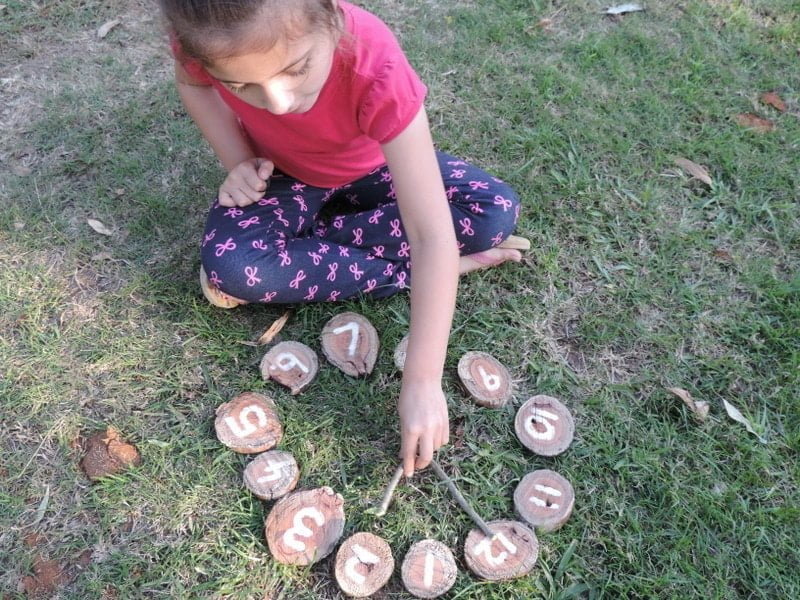 I simply used my trusty chalk pen to write the numbers 1-12 on a few of our new cookies (encourage older children to help you write numbers on them if it is something they enjoy!)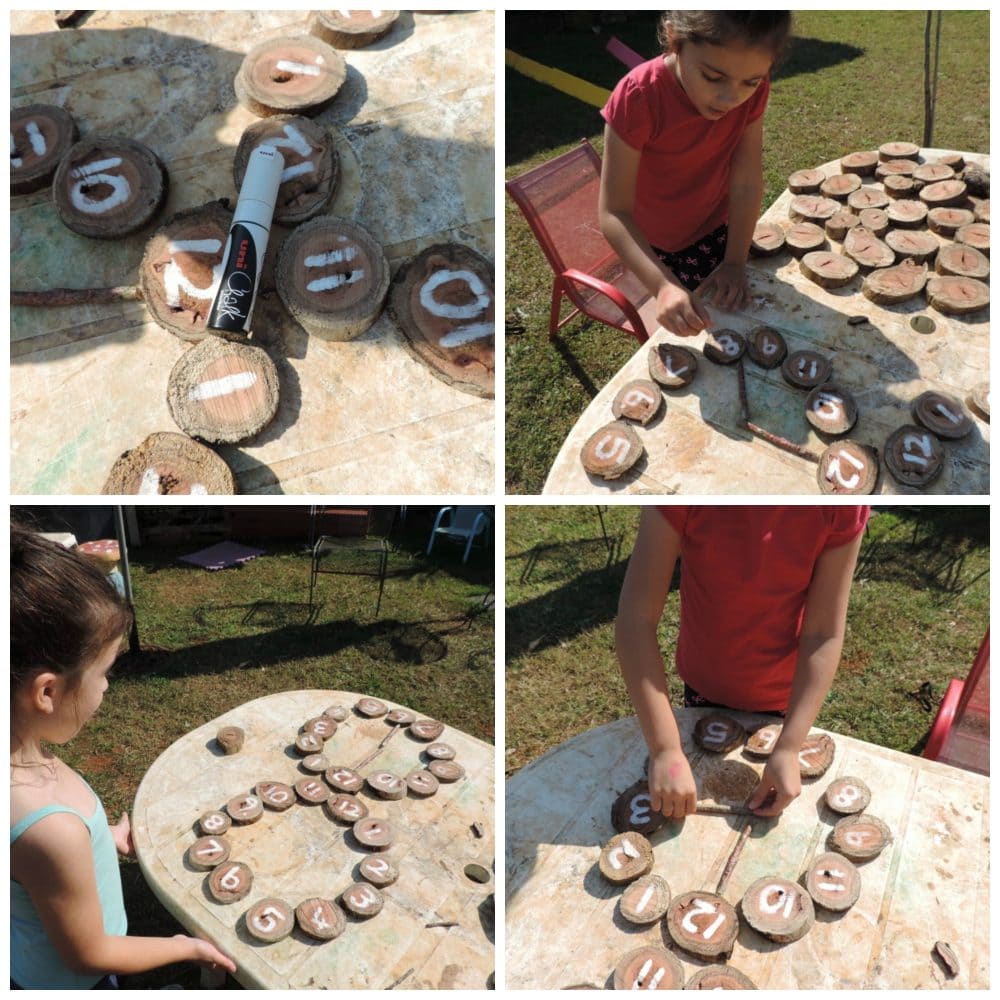 We then went walking to collect some twigs to use as the clock hands and talked about why one is shorter than the other and moves faster. It was quite the challenge for them to get the numbers in the right order in a circle shape so I wouldn't recommend this as an activity for younger children.
But my 6 year old girls absolutely loved it and I feel like it was much more interactive as I called out a time and they showed me by moving their twigs rather than colouring in the hands and numbers on a stencil. They do enjoy doing that to though I have to say so it's good to be able to provide a balance in their learning when I can.

Ruby decided she wanted to use a short and long piece of bamboo instead of the twigs as she 'could see the time better'. Why not go for a walk with the children and see what else you might find outside that you could use with your clocks!
2. Make a Geoboard
A great way to use smaller wooden stumps is to make a simple geoboard. The children can be involved right from the creation of this activity as you show them how to make it before they can use it! All you need is :
Rubber bands
Wooden slabs
Nails with large heads
Hammers for the children to use (I use tack hammers as I find they are easier for younger children to hold)
Slightly hammer in a few nails then let children practice hammering skills by tapping them in further (make sure not to go all the way!)
Add a selection of rubber bands…
Then let them create their own unique patterns – it's just as much fun taking the bands back off and starting again to!
Also a fun way to explore simple shapes and patterns.
3. Number Play – Counting and Sequencing
Use the number blocks as a simple sorting and counting tool. Take a walk around and collect some twigs, leaves, flowers or other similar items you can use to group, sort, match and count with.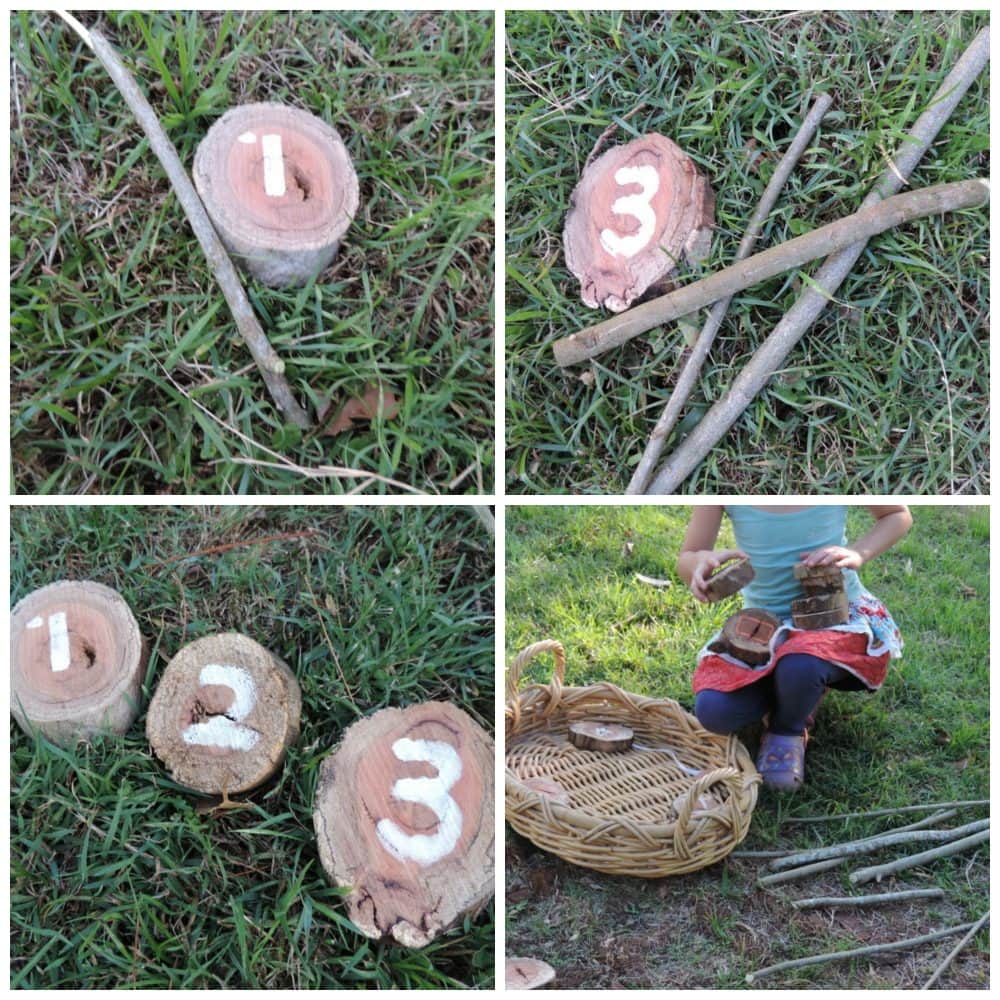 You can also use them as a simple sequencing and number recognition game. Younger children will just enjoy making their own patterns or towers or carting them around the yard. The whole time though they are seeing the numbers as they play – doesn't matter that they can't yet count or put them in order!
You can also play an easy counting game that gets everyone moving. Ask a child to pick a number cookie up, everyone yells out the number and then you call out an action to do – "Let's do 5 jumps on two feet for the number 5!"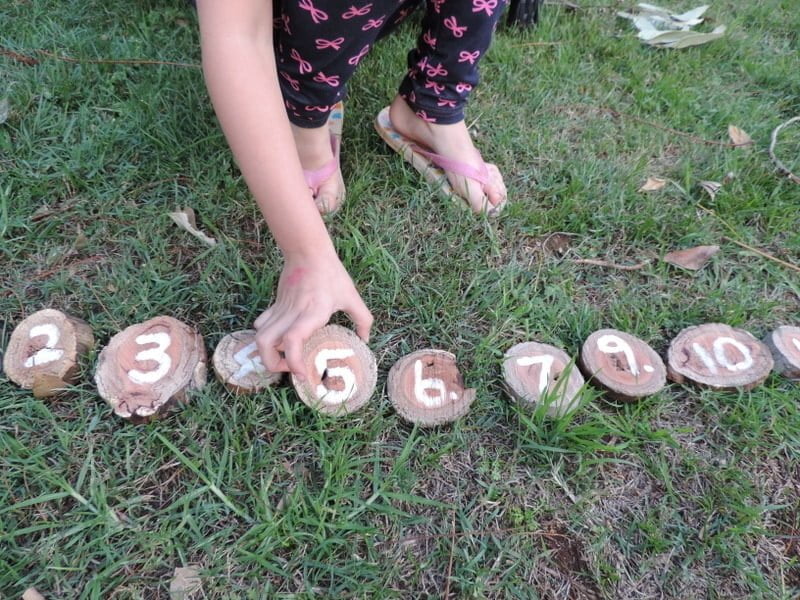 4. Make Wood the Canvas
If you have easy access to wood slabs and wood offcuts or scraps why not turn them into canvases? Use chalk pens or a thin paintbrushes dipped into water or watercolours and watch the masterpieces unfold. Display them around the outdoor play environment to prompt conversation and a sense of pride and belonging to the space.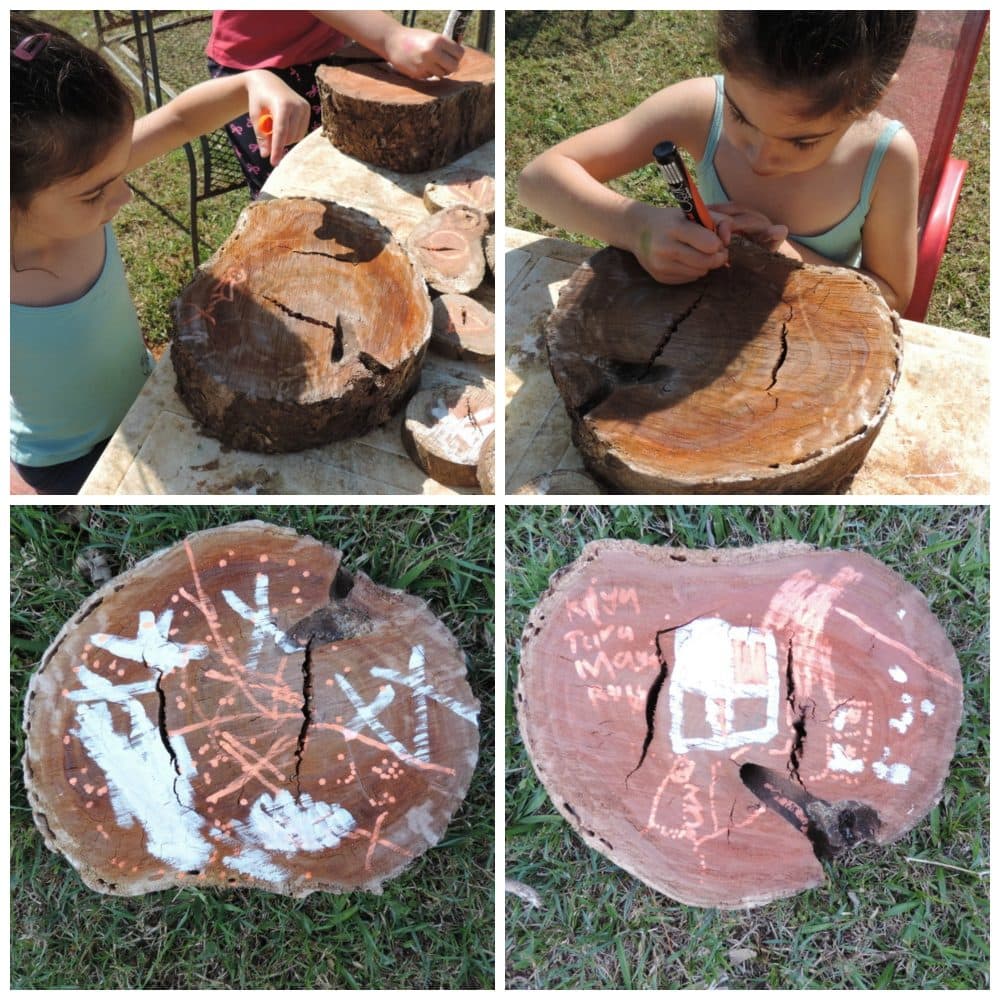 5. Invite Imagination in with a Fairy Ring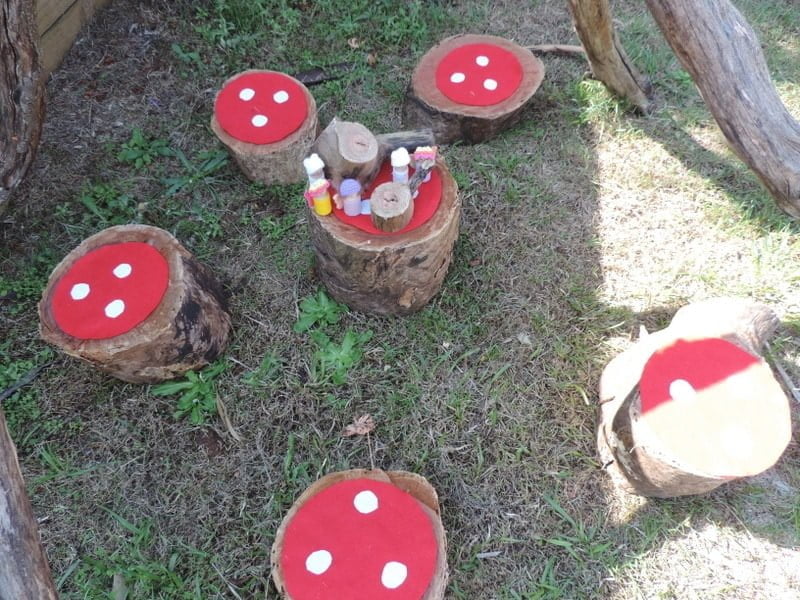 Create a simple invitation to play by arranging your stumps in a ring in an out of the way corner of the yard- perhaps for fairies or other favourite toys to come and play, a tea party to occur, sand or mud cooking to be created or simply a quiet magical place to sit.
If you want to turn the stump stools into mushrooms cut a circle from red felt, glue a few white felt circles on and then place on top of your wood stumps. The felt grabs the wood and stays there quite nicely but they are also easily removed at the end of play.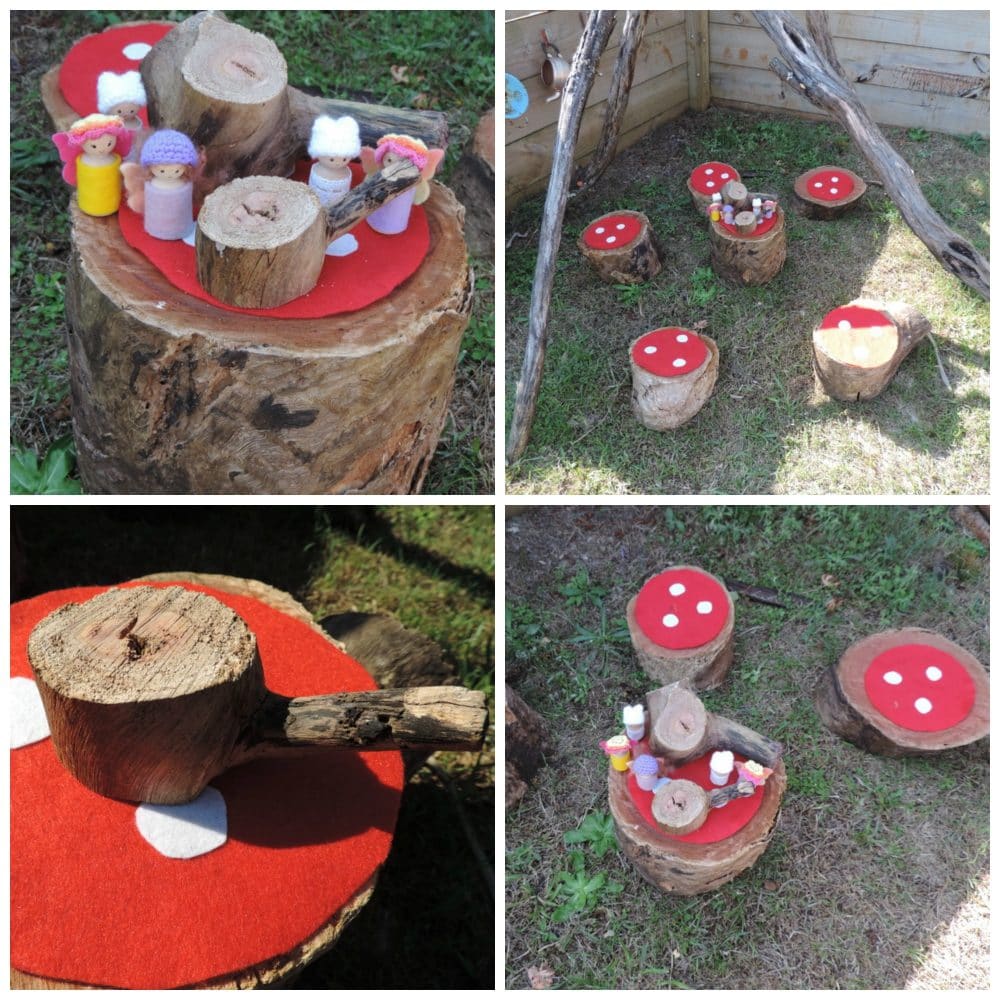 6. Play Shape Tic Tac Toe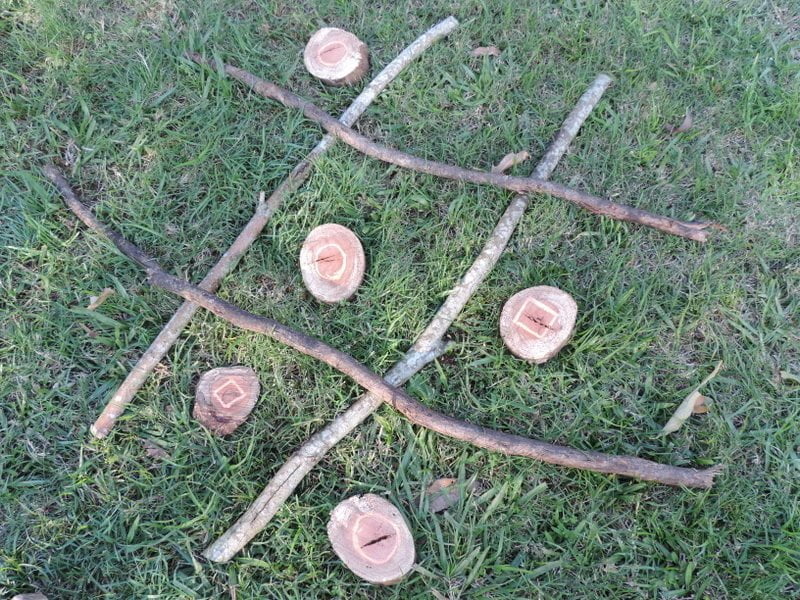 To introduce a little fun with shapes why not use the chalk pen to draw some simple shapes on wood cookies or offcuts and use as pieces in a game of tic tac toe. We used some fallen sticks collected from the yard to set up a couple of play grids, you could set up as many as you wanted.

Who can find a triangle? How many squares do you have? How many circles in a row do you need to win the game?
If children are to young for the strategy of a game like this why not lay all the pieces out and let them create patterns in the grids or stack them as blocks or group into 'all the circles' etc. Hide them around the yard and go on a treasure hunt or shape scavenger hunt. What shape can you find?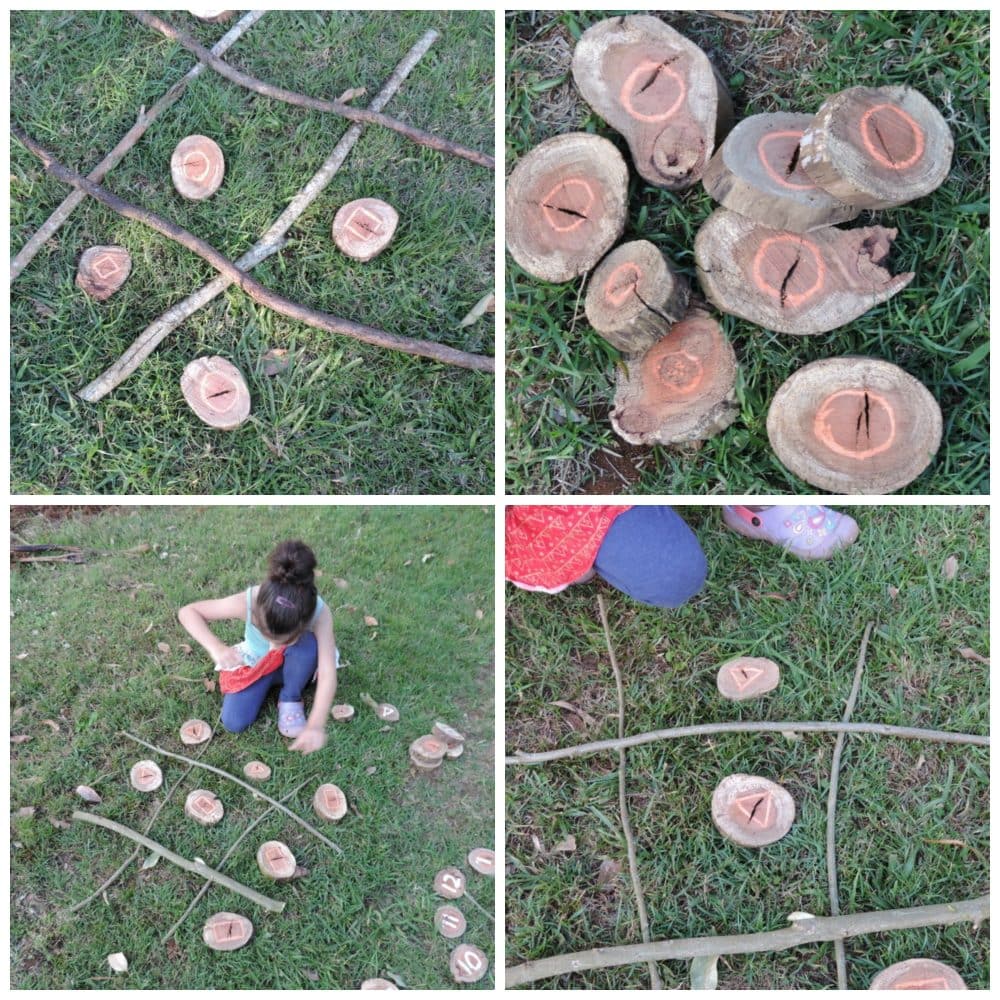 7. Make Stepping Stones & Obstacle Courses
One of my absolute favourite things to do with large wood cookies and stumps and logs is to create simple paths and obstacle courses. I like to keep them free so I can move the pieces around the yard to provide new challenges and stepping stones to explore. We go through the sandpit, past the long wavy grass, under the cubby, over the hill and down the other side….
8. Provide Access as Loose Parts 
And the easiest idea of them all is to just keep a slection of wood cookies of different sizes and textures freely accessible as loose parts to be used as the children wish in their outdoor play.
Ours have often been used as money in the shop, food in the sand kitchen, blocks in the rock quarry or simply carted around in buckets or trucks. I keep a selection in a tub near the sandpit and smaller ones in pots on the wall at child height.
I hope you have been inspired to introduce wood cookies and wood slabs into your outdoor play. Remember to keep it simple and start with what you can find – nature does not require perfection and neither do children when they play!
Want more ideas & inspiration and to connect with other passionate professionals who love working with children?
Why not join my exclusive
It's FREE!
Jodie Clarke is an early childhood professional supporting educators who want and need to stay passionate about the work they do! She has 30 years hands-on experience in the early childhood and human services sectors across many different roles.
Jodie is mum to 3 in Australia and has already helped thousands of educators with their work through her popular blog posts, activity ideas, online training and e-books.