It can be a challenge setting up activities for toddler play – they have short attention spans, love to scoop, dump and leave a trail of treasure in their wake and activities never seem to go to plan! My big tip for parents and educators planning for toddler play is to keep it simple!
And develop a love for trays and baskets of all shapes and sizes – they will become your best friend when trying to simplify setup, interaction and clean up of toddler activities. Don't believe me? I've collected a huge list of ideas to share with you that I have used over the years.
The reality of working with toddlers is that they are exploring boundaries, they have lots of new skills developing daily and want to challenge what they can already do.
They also demand your undivided attention, get tired quickly and are apt to then lose the plot over the wrong coloured cup or need to go to the toilet at the worst moment. That's reality (and developmentally appropriate by the way!). So rather than fighting against this try and go with their unique personalities and flow, take steps to be organised ahead of time.
I've worked with toddlers and babies in child care centre rooms as well as in mixed multi age environments in occasional care and family day care so I've picked up a few strategies to save my sanity yet keep the learning playful for the children over the years. Here are my top 3 tips when working with toddlers.
Plan ahead of time – have all the materials you need ready to go, the paint in pots, a bucket of water and washers for hands so there are no endless trips to the bathroom to wash hands.
Do activities outside whenever possible!!! This way you can leave the tables or activities set up for a little longer and meet a toddler's need to drift back and forth between running off some energy then coming back to focus for a little bit on an activity before they head off again. When you only ever set up these types of activities inside frustration can occur on both sides because educators often try and direct the play to 'keep it at the table' or give up and wonder why they took all that time to set something up they played with for 2 minutes. When you go outside you will find they play with it a lot longer!
Love and use those trays, tubs and baskets. Why? Because there is often not enough time when playing with toddlers to prep, interact then clean up before everything seems to go downhill and you need to attend to nappies, toileting, tears and tantrums!
I use trays and tubs because it means I can prep everything before children arrive, throw them all into the tub or tray and leave somewhere I can grab quickly and head outside without a lot of juggling and bringing things in and out which takes up valuable time – and trust me, toddlers need the attention on them….when they suddenly realise you aren't focusing on them with all this fussing around to setup an activity the attention seeking behaviour will begin!
The other great thing about doing activities with toddlers outside and using trays and tubs is that you don't have to clean up straight away – you can remove paint and other messy bits and pieces you would rather be out of reach when finished and throw back in the tub or on the tray, put it up high then simply hose off the table or pass out the sponges and water so they can help you clean. Worry about cleaning the stuff in the tub or tray later – like rest time or late afternoon as they play.
So with those tips in mind and my philosophy of keeping play simple for both children and educators I thought I would share a few examples of ways I have used trays, tubs, baskets and outdoor play over the past few years.
There is a lot of photo inspiration to scroll through here and because they are so simple there is little need for me to write about each activity so I'll just add a tip here and there because the idea is not to try and recreate the activities shared exactly but to take some ideas and new energy away with you to modify and share with the children in your care.
Most of these activities work very well for 3-5 year olds as well and were often used within a multiage group environment. Tweak them to suit your own resources, setting and ages but above all keep it simple and keep it playful – complicated does not mean more opportunities for learning in the early years!
Keeping Activities for Toddler Play Simple
If you have younger toddlers and older babies why not put some little treasure baskets together of simple materials (I usually source mine from the op or thrift shops or $2 store). Keep safety in mind obviously but don't underestimate the power of simple resources – open ended materials allow children to use the 'toys' in any way they want to without some goal or purpose to try and meet. Let them experiment with some simple basket ideas.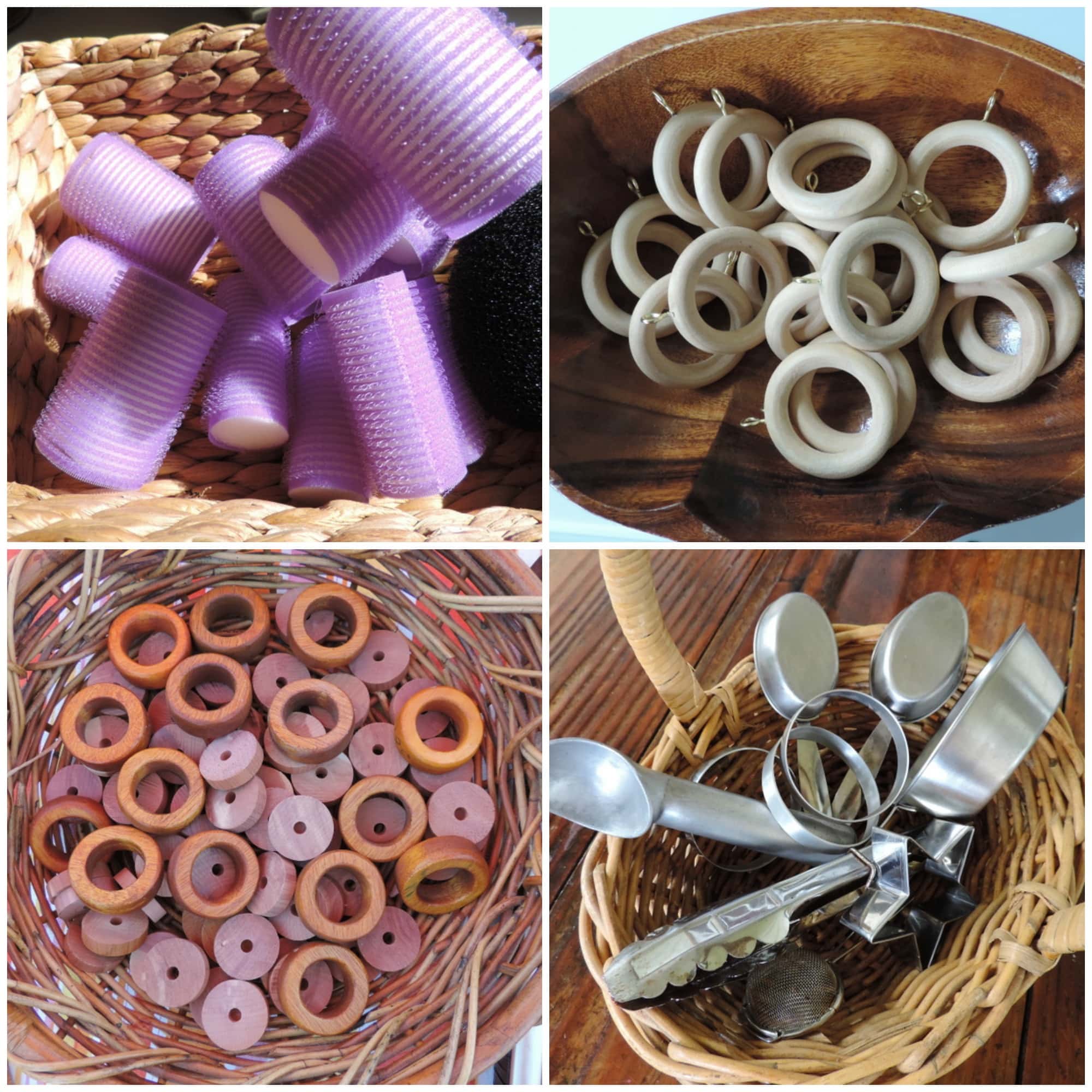 Baskets in the Garden
The garden is a wonderful environment for investigation, colour, counting, sorting and sustainability concepts as well as social interaction and language development. Pass out the baskets and encourage children to find their own natural treasures or introduce baskets of leaves, flowers, vegetables, grasses, herbs etc they can add to their own play.
Baskets, Tubs & Trucks Passionfruit Stand
This activity works with any fruit, vegetables or herbs from the garden that the children help to grow and collect. Toddlers love to be helpful so involve them in growing and caring for plants in their environment when you can! We turned our glut of passionfruit into a fruit stall/shop and I passed out the baskets and tubs then let the play evolve as the children's imaginations took over.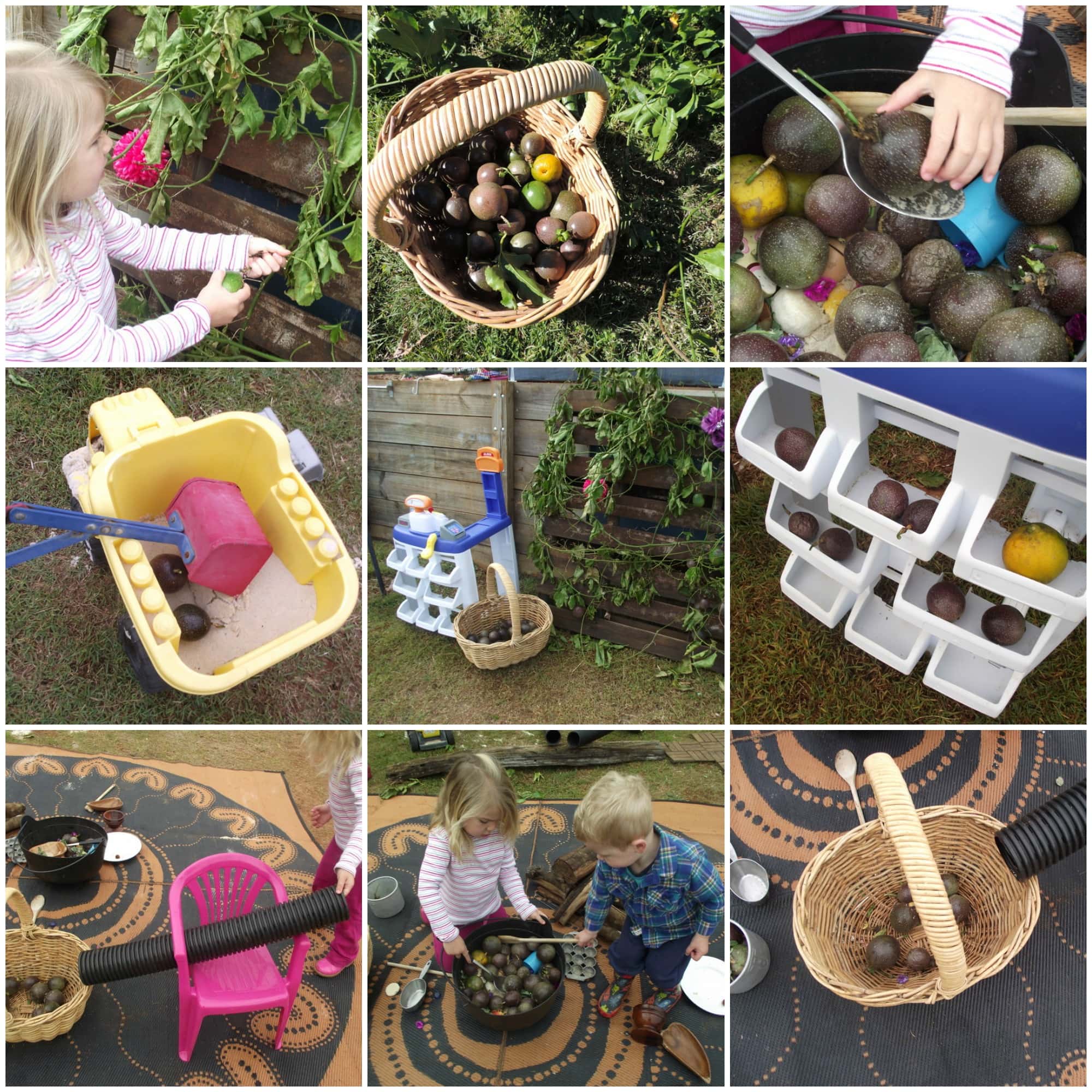 Bubble Wrap Crush & Stick Tray
Egg shells make a fantastic resource for craft  but they are better crushed to avoid the sharp edges – we coloured ours another day with some edicol dye in water and when dry I added them to a tray lined with bubblewrap – another sheet of wrap over the top for extra sensory fun then the toddlers went to work with their hammers. The popping of the bubble wrap and the crunching of the eggshells is so much fun.
We extended the play by rolling in paint with a little PVA glue added then rolling across our eggshell trays.
Playdough Fine Motor Basket
If you see wooden rings of any kind then make them yours  seems to be my motto! So I enjoy presenting them in different ways. This simple activity used playdough as a stable base to press craft sticks into then little hands practised threading the rings onto the sticks. I also left the hammers out and some preferred to hammer their sticks into the dough first then add the rings!
Muddy Animal Wash Tray & Tub
All you need is a tray or two of shaving foam with a little brown edicol dye (or food colouring) to create mud trays – or you could of course just make your own real mud and use that! Add some jungle or farm animals, shaving brushes and nail brushes (easier for little hands to hold and move around) and a tub of water. Show them how to mix the foam with the dye to make a colour then play with the animals in the mud.
When they are finished they can dunk them in the water and scrub all the 'mud' off with their brushes. They will go back and forth many times with this one!
The Wash & Clean Tubs
So simple it needs no explanation I'm sure but I will just say make sure to mix up your props and the size of your buckets and tubs to add interest to the simple task of washing dishes!
Breadmaking Boards
This one is so much sensory fun but I do advise setting up beforehand and doing it outdoors as it does get messy. I also find it helpful to give each child their own board and dough to create with in their own space in the way they want to. Make your bread dough with the children or make the dough ahead of time and just have fun kneading, squishing and forming into shapes to bake then eat!
Pebble Open Ended Play
Don't shy away from using pebbles and stones with toddlers – yes they need a little extra supervision but there are so many ways they can choose to add them to their play and if you are consistent with how to look after and use them they will probably surprise you!
In the water tub with some scoops and trays is an absolute favourite with all ages!
Truck Pebble Hunt Pots
Another way to introduce pebbles and gems. Add some pots and trucks then also scatter a few around the yard and they will be so busy searching for their treasures and loading their trucks that you won't see them for ages!
Potion Pots
You can often find plastic pots like this cauldron in the $2 shops – I also use the large boiling pots that I find in the op shops. Add some simple real kitchen tools like spoons, whisks, cups and ladles, a few loose parts and some greenery then stand back and watch the potion making and cooking begin!
Mobile Boxes
Adding elements to smaller spaces like shoeboxes and wooden boxes allows toddlers to explore more closely and also move them around if they choose to do so.
Ice Cube Scoop & Sort Tub
You can pretty much find these plastic ice cubes anywhere now but you could of course use something similar you already have. Pour them into a tub of water, add some egg carton trays, tea strainer 'nets', tongs and spoons then watch them go fishing to scoop then fit into their tray!
Add some bubbles and whisks to extend the fun.
Colourful Bear Catch & Sort Tub
If you have some of these little counting bears why not take them outside and add to a tray of watered down goop -the sticky goop is just under the surface of the water so they need to 'rescue' the bears using spoons, tongs (or hands to make it easier).
You can easily extend it into a counting, sorting and colour recognition game – it's a whole lot of sensory fun!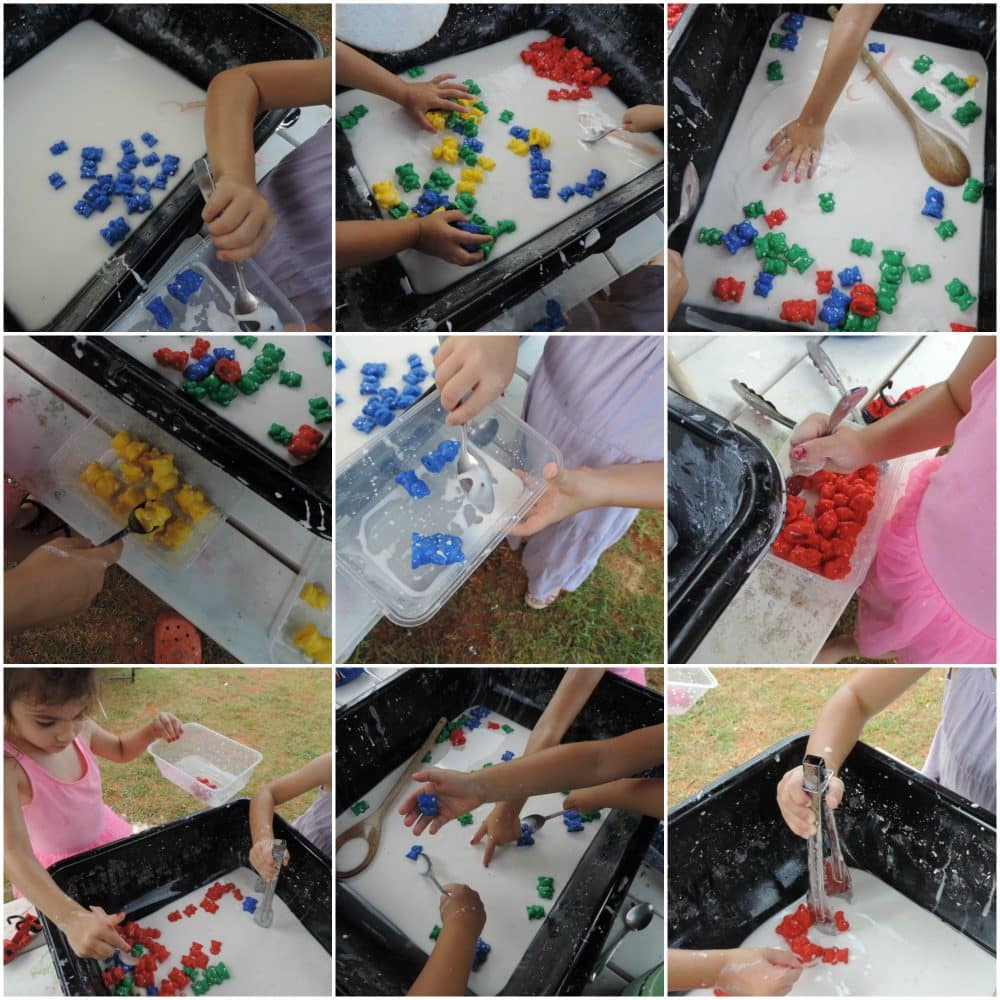 Beans & Bottles Tray
Some dried beans, juice containers from the recycle bin, formula scoops and tweezers come together to create a fun fine motor activity. Who can fill their bottle first? Screw on the lids tightly then shake them to make music!
Balloon Target Practice Tub
Fill some sauce bottles with coloured water, a tub with water and a few half inflated balloons then see who can hit the targets! Challenge older children by making them stand further away.
Balloon Scoop & Drop Tub
Use the balloons in a different way the next day by providing some sieves and a water tray for the children to practise eye-hand coordination and fine motor control as they catch and drop in some balloon fishing fun!
Salty Sensory Tray
Line a tray with salt, fill some small spray bottles with coloured water (I just use edicol powder dyes and water) then stand back and watch the patterns and colours appear.
What colour did you make there? How does the wet salt feel different to the dry salt? If the younger toddlers struggle with the spray bottle lever use some juice bottles with a small hole punched in the lid so they can just squeeze the bottle to spray paint onto the trays.
Ball Fit & Sort Trays
Muffin trays of all shapes and sizes are the perfect base for this ball or rock activity. Easily modified for different ages – you can start without the cardboard tubes and just fill the trays first for younger ones.
Is that ball too big for that tube? Why did that ball go inside? Can you balance the ball on top of the tube? How many balls do you have in your tray? Is that ball bigger or smaller than that one? So many more possibilities to explore!
Slippery Ball Trays
A little lumpy cornflour paint coloured green and added to trays along with some balls, tongs and plant pot bowls makes for an interesting and engaging activity.
How many can you collect? Is it slippery? What colours did you catch? How can you help each other to collect more?
Knock Em Down Trays
Small baking trays collected from the op shop and filled with sand are just the right size for toddlers to use. Hand out the spray bottles, line up some little people, dinosaurs or animals in the sand along with a few other 'obstacles' then see how many they can knock down with their spray!
Doing this activity outside also allows toddlers to explore their creativity by using their spray bottles in different ways around the yard. I use edicol dye so it just washes off at the end of the day and easily comes out of clothes!
Wood Scrap Bin & Basket Play
I always have a few bins or tubs of wood offcuts and often just wheel it out into the yard for the children to add to their play in different ways.
A few pots of paint and some brushes led to some interesting construction projects.
Whisk & Scoop Bubble Tub
Toddlers love to work and play in their own little space so where possible I try to provide the option of a few tubs and trays for them to use. This activity encourages them to use fine motor muscles, explore bubbles and learn how to make them using their whisk (add a little dishwash liquid). Sieves add to the fun – can you catch some bubbles? What do they feel like? What colour shall we make them?
Playdough Sort & Create 
After matching our teddy bear counters to the same coloured playdough the activity soon turned to mixing colours then a basket of spice jar lids led to many interesting creations. Open ended play is so much fun and I love seeing what different ages create and how they use the materials in different ways!
Bean Bag Boxes
This is an old favourite and so easy to do (the older children actually love this one too!) I make my own beanbags from material scraps then fill with dried beans or rice but you can use any old beanbags of course. Add some boxes and watch them continuously throw into the box then take them out and start again.
Adding some shredded paper to the same boxes is also messy but keeps them busy playing for ages!
Baby Washing Bowls, Tubs & Trays
Also a classic and so easy to setup but try and think outside the box a little and try different spaces and materials each time. These are some of our favourites below..
Squeeze bottles filled with soapy water add a little extra fun to bath day for the babies!
Extend the play by adding some pump bottles and dolls with hair so they can do some shampooing. The pump bottles also challenge those fine motor skills!
When the bathing is done, throw in some whisks to the tub and watch the interest reignite!
Phew…that should keep you going for a while! Have I convinced you to start using trays and tubs yet? You will find more easy play ideas like this for younger children in my Play Planners!
If you want more ideas and inspiration why not join other early childhood educators from around the world in the friendly Empowered Educator Community here.

Need some ideas to invite open ended play experiences using everyday and upcycled materials? Click below for a FREE Empowered Ed visual action guide...
Jodie Clarke is an early childhood professional supporting educators who want and need to stay passionate about the work they do! She has 30 years hands-on experience in the early childhood and human services sectors across many different roles.
Jodie is mum to 3 in Australia and has already helped thousands of educators with their work through her popular blog posts, activity ideas, online training and e-books.