Looking for a little inspiration to make your own resources for play? If you need some more learning resources or equipment but just don't have the budget for expensive educational materials why not try getting creative with natural and recyclable materials or upcycle and turn an object into something with a new purpose!
When it comes to making your own resources it can be difficult to know where to start, what materials you should keep or collect and how you can modify old items to turn them into something new – especially if you aren't a crafty or creative type!
My 3 best tips to help you make your own resources for play are:
Visit markets, garage sales and op shops regularly – keep an eye out for everyday household items that children will be familiar with to add to your dramatic play spaces, block corner and manipulative play. Use clothes, shoes, scarves and ties to stock your dress up collection, search for interesting items that might be used by small hands for posting, carrying, emptying, items with shiny surfaces, material remnants, netting, old curtain rings and other similar materials to use for posting, threading and loose parts and my favourite…purses and bags, the more interesting the better!!
Regularly raid your recycle bin and make sure the families using your service are aware of how they can help you to collect items to repurpose for play. Parents can provide a wealth of new resources for you from their workplaces…things that were otherwise going to be thrown out…reels, cardboard rolls, shredded paper, newspaper, butcher's paper, old kitchen equipment, old keyboard, phones…the list goes on. Including parents and carers in your resource collecting (some might say hoarding but of course we all know better ;0 ) can be a fantastic way to incorporate the children's culture and sense of belonging into their care environment as well. Don't forget to visit the second hand building supply centres or your local recycle and resource centre to find pipes, planks, wood, tiles, tools, old sinks, chairs, tables and so much more!
Explore and share from nature – leaves, branches, bark, twigs, stones, pebbles, sand, mud, clay, shells, flowers, grass, bamboo, pine cones, gumnuts. Natural materials can be collected easily in your local area and when you source locally you are helping children to identify what is growing and available in their community. Use instead of counters, paintbrushes, canvases, sequencing games, puzzles, brought collage materials…the list goes on!
I know it helps with inspiration and ideas to get started with a DIY project when you see how others are using these types of materials to make their own resources so I've pulled together a collection of wonderful (yet simple to try) ideas from some of our clever Empowered Ed Community Members over on Facebook.
I really enjoy sharing these community inspiration posts as it highlights just how dedicated, creative and committed our early childhood educators are toward providing playful learning experiences for children while also maintaining a sustainable approach (and saving money at the same time!). I'm sure you will agree with me as you scroll through the photos!
Let's explore some different ways educators have recycled, upcycled and created their own resources and equipment using simple materials and a little hard work!
Creative Play with Planks, Spools, Tyres, Bricks and Boxes.
Shared by community members (looking left to right)
Belinda Bryce turned her wooden spool into this lovely tabletop and added some nuts, bolts and natural materials for lots of fine motor fun.
Jenny Ainsworth makes the most of old tyres in her outdoor play environment setting up small worlds and sensory play experiences.
Jenny Ainsworth
Shared by community member Carla Blackburn.
I love how Carla involved the children in this DIY project turning simple reels, wooden planks and a little chalkboard paint into an interactive car and road space that the children can modify as they need to!
Got a box handy? Keep the play simple with these ideas….
Lynette Lyn provided some wooden sticks and a large box and suddenly everyone was in a rowboat!
Lindianne Clinch upcycled an old ipad box and turned it into a shaker box for making sound!
Shared by community members (looking left to right)
Danielle Charlton provides some real building inspiration using pavers and bricks.
Who knew cardboard boxes could hold up gutters for golf ball runs? Casey Johnson made it happen!
Rhiannon Johnson shared her own budget friendly version of a DIY car track using chalkboard paint and old wooden planks.
To explore more community inspiration using tyres you can visit this post.
Looking for more ideas to use those spools or reels you just collected? This post is jam packed with photos for you!
Craft, Create, Build & Upcycle
Shared by community members (looking left to right)
Jackie Wulf made her own food for dramatic play fun using pictures, glue and wood cookies.
Tara Rondinelli showed us how to make some simple but colourful story stones to invite the retelling of their outdoor adventures.
Linda Mountain turned her stones into letters – so many ways to play with these.  Read through this post to see how we made our own letter stones and used them for play and learning.
Shared by community members (looking left to right)
Dawn Hall explained her vision behind this upcycled 'chalk' board. "Got my hands on an old crib. This is the base. It has a ledge. Forget using chalk. Hope the students will enjoy a vertical build. Also liked the idea of using leftover lumber painted chalk so they can design their own" Now that is thinking outside the box when it comes to DIY creativity!
Keryn Short showed us her unique Aboriginal symbol wood chips.
Jenny Ainsworth reminded us that we don't just need to use paintbrushes when we get the paint out – add a little texture, nature and variety!
Shared by community members (looking left to right)
Tamara Miller crafted some simple snowmen for dramatic and sensory play using old socks!
Danielle Chernekoff made these mini cushions or beanbags for matching. They were made out of recycled pieces of material and the stuffing of a cushion that was broken – sustainability at it's best!
Verena Koch used her crafty skills to create this cuddly resource.
Shared by community members (looking left to right)
Emma Gibbs upcycled some simple materials and combined them with a little imagination to create this smurf town!
Jody Brien made sure she was using up the old craft items when she put together this canvas sign.
Helen Evans turned an old cot panel into a petrol station complete knobs, nozzles, tubes, brushes and payment keypad!
Before you throw that plastic water dispenser into the recycle why not get creative and turn it into a toolbox like this one made by Karinna Lanham!
Shared by community members (looking left to right)
Emma Gibbs upcycled an old photo frame and turned it into an interesting sensory board for babies and toddlers!
Renata Plesa Stipanovic found a new way to challenge fine motor and coordination skills using cardboard rolls and spoons from the recycle bin then adding pompoms and tweezers.
Leigh-Anne Evans showed us her clever version of a sensory board – love the selection of materials and textures to explore.

Another version of a cardboard roll fine motor game shared by community member Danielle Chernekoff
Shared by community member Kelly Maxfield
Kelly turned this second hand rabbit hutch into a farmyard dramatic play invitation.
Creative Kitchen Play
Shared by community members (looking left to right)
Jenny Ainsworth set up this dramatic play invitation outdoors using lots of little second hand treasures. I can only imagine the cooking and creativity that will take place soon!
Jasmine Jones showed us how she collects and presents real resources for the children to select and add to their play. Shiny surfaces are always a favourite.
Rebecca Wilson replicates a real kitchen space with this little corner. I love the simplicity and scattering of real and yet different kitchen items. This feels like a home for children to make their own.
Shared by community members (looking left to right)
Mignon Piper made us all envious of her fabulous mud kitchen that includes real hotplate elements, microwave and kitchen tools.
Lissa Hunt showed us how to turn pallet timber into a simple sink/kitchen area for outdoor play – this would fit into even small yards!
Dawn Hall added wood slabs to a spool along with some shiny kitchen items and suddenly the children had a stove to play with.
Shared by community members (looking left to right)
Jackie Wulf  reminded us that the humble pallet makes a perfect surface to enhance outdoor play. Don't you just want to get in there and play in the mud too?
Allysha Richardson shared this sweet little market stall setup in her outdoor space…let's grab a basket and start shopping!
Michelle Gale added pipes  and joins to create an interesting ball run in her kitchen space.lots of different pathways and tunnels to try here.
If you would like to have a try at making your own pallet mud kitchen follow the easy steps in this post.
Love Those Lids!
Shared by community members (looking left to right)
Arti Mansata Thakkar made this number recognition and counting game using milk carton lids and cardboard. Easy but fun!
Debbie Wassell created this hanging display of the children's work threading yoghurt lids onto string. So colourful and much better than throwing those lids in the bin!
Janelle Duncan made name recognition interactive using lids with letters and cardboard. When finished the children could simply post the lid letters into recycled nappy wipe containers!
Abigail Brown upcycled these salt and pepper shakers from Kmart and "used them as a prompt to help children to develop their sense of smell ( and to learn how to sniff, not blow!). I have printed photos to encourage matching and show them what they are smelling" Another clever way to incorporate lids into play and give an original item a brand new purpose!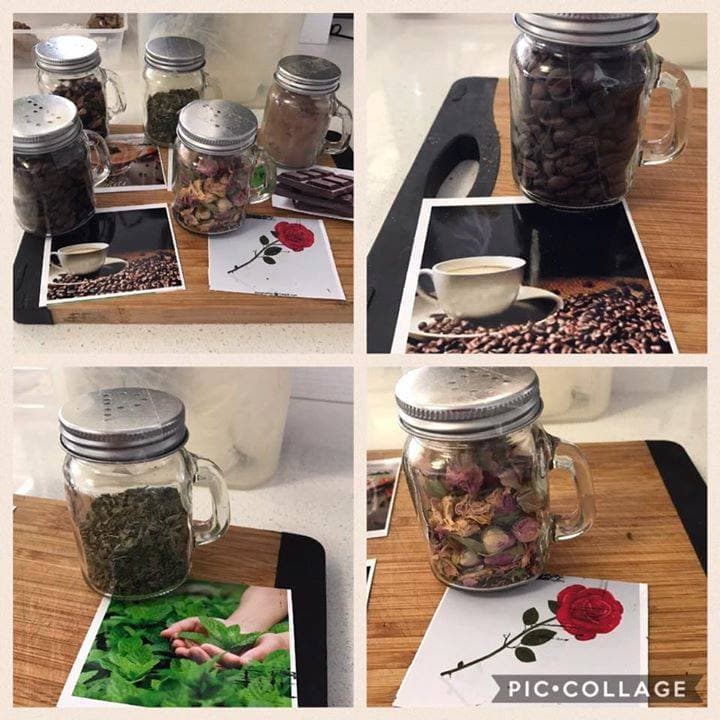 Shared by community member Janelle Duncan
Shared by community members (looking left to right)
Jennifer Nicodemus Fernandez showed how recycled pediasure lids can quickly become a fantastic stacking resource!
Jasmine Jones cleverly turned these moccona coffee jar lids into interesting visual investigations and prompts.
Debbie Wassell used her collection of white lids to create a snow clearing sensory tub!
Shared by community member Mignon Piper
So much opportunity for sensory and imaginative play here with this table. Genius idea using the lids as a wall!
Loose Parts Storage & Play
Shared by community members (looking left to right)
Renata Plesa Stipanovic turned soft drink bottles and recycled jars into loose parts storage.
Sharlene Jury shared her loose parts play area with us – so inviting with interesting open ended materials for children to explore, choose and add to their play.
Lynda Weggelaar showed us how she presents her loose parts for play. I love the addition and presentation of the Cd's and the plain wrapped boxes to use as bases and blocks…or whatever the children decide they might be!
Shared by community member Linda Tandy
Linda turned these simple bamboo poles into lots of lovely loose parts to explore and create with!
Shared by community members (looking left to right)
Tamara Miller showed us how creative children can be when offered a simple tray of pebbles and other open ended materials along with sand.
Kylie Graham shared her loose parts construction area with us – look at all the different sized boxes and cardboard shapes to engineer and problem solve with!
This remnant of play shared by Dawn Hall reminds us off the magic of making loose parts and open ended materials available to children. Got to love the pallet and milk carton table too!

You can access a free guide to setting up your own loose parts collection HERE.
Getting Creative With Nature
Shared by community members (looking left to right)
Renata Plesa Stipanovic used a collection of pine tree fronds for sorting into glass jars and also as a wonderful textured canvas from nature to paint.
Renata P
Keryn Short shared this beautiful hanging display her children created by painting onto tree bark.
Shared by community members (looking left to right)
Frosyni Magkafaki created this simple hands on invitation to explore and investigate indigenous symbols using natural materials.
Tara Rondinelli provided sticky contact paper letters and a lovely collection of natural materials for the children to create this Summer mural.
Karinna Lanham offered a selection of different sized sticks along with a basket of wool for the children to get creative with some wool wrapping.
Shared by community members (looking left to right)
Carlene Cox-Newton shared this glorious native Australian flora and clay provocation. Oh the colours, the textures, the smells…the creativity as they design with nature.
Renee Smith showed us how clay is a perfect partner to items collected from nature – when we put a little extra effort into setting up activities it can invite engagement and exploration.
Kylie Harper shared her table of natural sensory inspiration with us. So many different textures, colours and elements of nature to explore and create with. Beautiful AND simple.

Shared by community members (looking left to right)
Joanne Wooding incorporated nature simply into her sensory tubs and small world play.
Laurie Pal has been busy working on building this sensory path in her yard – lots of different textures to walk on!
Cassandra Duckworth shared this unique and lovely fairy house full of whimsy, different textures and possibilities for the imagination to go wild!
Shared by community member Sally Mallett
Sally created this invitation to encourage exploration of bugs, imagination and creative self expression!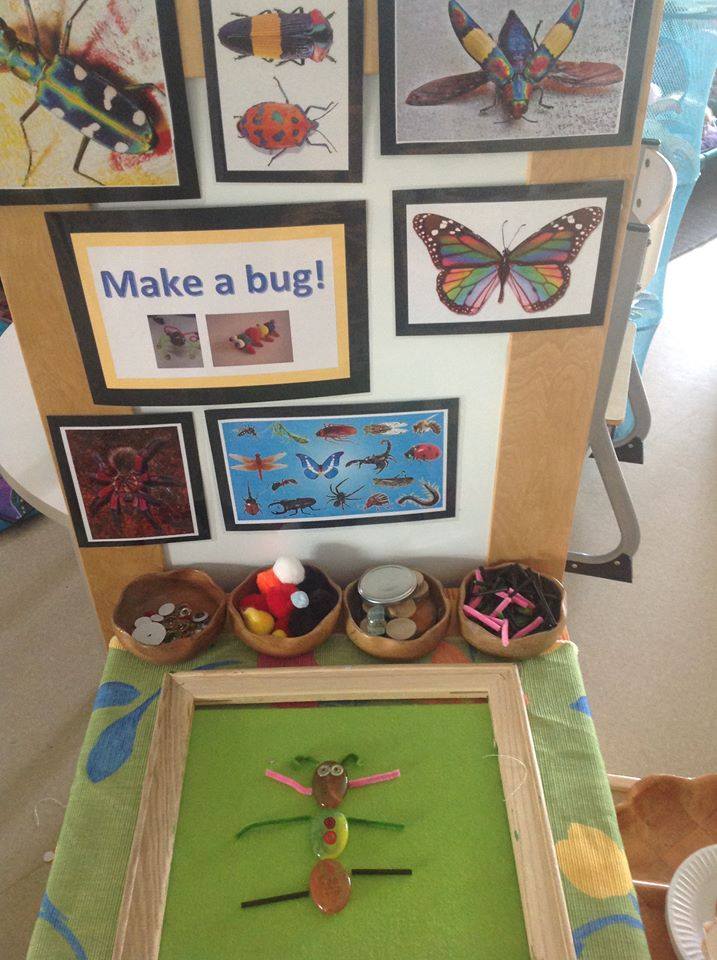 Keep the crows and parrots from eating your fruit and vegetables by helping the children create this recycled pot scarecrow!
Old Becomes New Again.
Shared by community members (looking left to right)
Harsha Gunasekera used colourful scarves and a recycled tyre rim to make this interesting hands on toy for baby to explore.
Veronica Green added recycled cardboard cotton reels to other simple elements to create this playful counting and number recognition game.
Carlene Cox-Newton turned an old tyre into a hanging display to showcase the children's creativity.

Shared by community members (looking left to right)
Jasmine Jones inspired us again with her fantastic collection of second hand treasures and open ended materials for the children to select from.
Erin MF upcycled this old cot into a creative desk space just the right height for little people!
Helen Evans gave her outdoor cubby new life by turning it into a police station to invite dramatic play and engagement.
Shared by community members (looking left to right)
Karinna Lanham put together this number ball maze using just a few simple materials from the recycle box!
Maxine Burr shared 3 favourites with us using boxes – a ball maze, push and pull strings and a posting box. Love the simplicity – everyone can try these ideas!
Maeva Naomi got creative with this homemade colour, counting and sorting game using paper tubes and craft sticks to post.
Shared by community members (looking left to right)
Kylie Graham showed us the perfect way to use those election posters! Collect squeezy bottles, add a little water colour or powder paint then get squirting! Hose off at the end and reuse!!
Helen Evans worked with the children to make their own groceries for dramatic play using familiar labels and brands. Who needs the Coles minis when you can make these instead?
Lynda Weggelaar shared how she brought this collection of op shop materials together to create a simple threading, construction and fine motor activity.
Feeling inspired to save some money and try making your own resources? Take an idea from here and there and modify until it suits the material, children and spaces that you have available. Use the community examples above to help you come up with new and different ideas to try – not as something you have to recreate!
Thank you to all of the talented educators from our Empowered Ed Community for letting me showcase their creativity and inspiration with everyone else.
Need some ideas to invite open ended play experiences using everyday and upcycled materials? Click below for a FREE Empowered Ed Visual Action Guide...